All Nippon Airways 1H2014: profits up despite greater sixth freedom traffic push in Tokyo hub
Analysis
All Nippon Airways reported a larger first half profit (for the six months to 30-Sep-2014) in line with its projection. ANA's delivery was comprised two different strategies for its domestic and international network. ANA's core domestic market saw load factors improve at the expense of yields, a strategy ANA is undertaking to boost traffic and make up for sluggish consumer demand following consumption tax increases, something initially ANA wasn't concerned about.
In the international market, ANA has seen yield grow but load factor decline as its large capacity ramp-up at the start of the year is still being absorbed. This growth was concentrated in Europe, where ANA's performance lags compared to its other foreign markets.
With more international, and especially long-haul growth, ANA is pushing sixth freedom traffic, typically lower yielding. This segment, albeit small, is growing faster than traffic to/from Japan. The higher share of premium seats on long-haul has helped ANA record 12% of its international passengers in business class, up from 10% in 2010.
All Nippon Airways was selected as CAPA's Asia Pacific Airline of the Year 2014, based on its strategic leadership
1H2014 revenue grows above costs with significant operating profit improvement
ANA's air transport revenue in 1H2014 increased 8.8%, slightly slower than the 9.1% increase in total revenue. However, this was faster than the 7.8% increase in ASKs. Capacity and revenue grew faster than costs (7.4%), although fuel costs increased 12.8% due to the yen's depreciation. Air transport's operating profit increased 32.3%, slightly slower than the 33.8% increase in total operating profit.
ANA Holdings revenue up 8% – financial highlights 1H2014 and Q2FY2014:
Three months ended 30-Sep-2014:

Operating revenue: JPY467.9 billions (USD4504 million), +8.4% year-on-year;
Operating costs: JPY410.4 billion (USD3951 million), +7.2%;
Operating profit: JPY57.5 billion (USD553.5 million), +17.6%;
Net profit: JPY32.2 billion (USD310.0 million), +20.6%;

Six months ended 30-Sep-2014:

Operating revenue: JPY854.8 billions (USD8298 million), +9.1%;
Operating costs: JPY796.8 billion (USD7735 million), +7.7%;
Operating profit: JPY57.9 billion (USD562 million), +33.8%;
Net profit: JPY35.7 billion (USD346.6 million), +78.5%;

FY2015 forecast:

Operating revenue: JPY1700 billion (USD16,503 million);
Operating profit: JPY85.0 billion (USD825.2 million);
Net profit: JPY35.0 billion (USD339.8 million). [more - original PR - English/Japanese]
*Based on the average conversion rate at USD1 = JPY103.88 for 2QFY2015
*Based on the average conversion rate at USD1 = JPY103.01 for 1HFY2015
The result is admirable when put in the context of FY2011 having a lower operating profit despite a far more favourable exchange rate.
Trends of operating profit: 1H2011-1H2014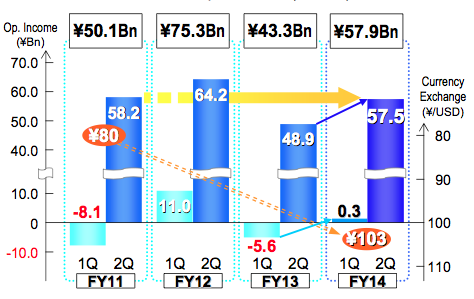 ANA's long-haul growth produces a new focus on sixth freedom traffic
As ANA reaches the limit of demand to and from Japan, it is increasingly focusing on transit traffic, especially between Asia and North America, where ANA's Tokyo hubs are ideally positioned to facilitate transfers. ANA says that on indexing traffic based on 2013 levels, international sales in Japan grew by 9-12%. Inbound demand to Japan grew at a faster 24%, and sixth freedom traffic ("trilateral" on the second graph below) increased 33%.
ANA index of types of Japan sales FY2013=100: 1H2013, 1H2014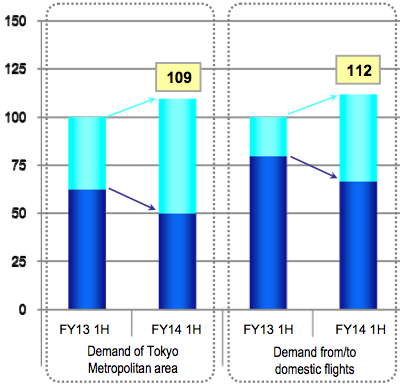 ANA index of types of overseas sales FY2013=100: 1H2013, 1H2014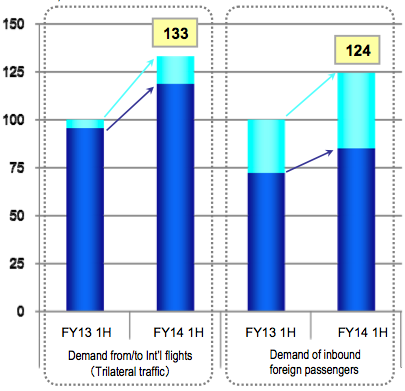 ANA's core market, in size and profitability, is outbound demand from Japan, where ANA can attain a premium for offering Japanese service. Inbound demand is smaller, and sixth freedom traffic even smaller. But it is this latter segment that holds growth potential as the markets around Japan will grow faster than Japan. The once-domestic ANA is shifting towards a much more international focus, with plans to have more international capacity than domestic capacity.
See related report: All Nippon Airways to have more international than domestic capacity - but revenue still in Japan
European expansion shows improvement but not out of the woods yet
ANA in the last year has expanded on European routes after flat growth (unlike North America, which has steadily been growing). ANA gained more slot pairs than rival Japan Airlines for access at convenient Tokyo Haneda airport. ANA says it can attain a higher yield for the convenience of Haneda. ANA has shifted a number of Narita flights to Haneda while also adding some new flights, such as Tokyo Narita-Dusseldorf. ANA's Haneda expansion was relatively low-cost as the foreign destinations remained the same. Only Dusseldorf required a new station.
See related report: All Nippon Airways grows with new Haneda slots, with some replacement of Narita services
ANA's large expansion in Europe came amidst sluggish economic performance whereas North American growth has occurred with an improving economic environment. 2Q2014 saw stronger improvements in European RPKs (dark blue line in graphs below) than ASKs (light blue bar in graphs below). However, 2Q coincides with a peak travelling season and 2Q has seen stronger performance than other quarters in the past.
A trend to watch is if the market has by now absorbed the capacity ANA injected, or if 3Q and 4Q will see sluggish performance now that the peak season is over.
ANA trends by international market: 2012-2014
ANA's expansion saw it go from offering about 10,000 weekly seats to Western Europe to offering about 14,000. ANA in Jan-2015 will have about a 23% share of the Japan-Western European market, up from about 14% in Jan-2012. Other periods however may not show as much of a gain, as foreign airlines in particular are making more nuanced seasonal adjustments.
However, the unmistakable trend is that ANA has become the largest airline between Japan and Western Europe.
Japan to Western Europe (seats per week, one way): 19-Sep-2011 to 19-Apr-2015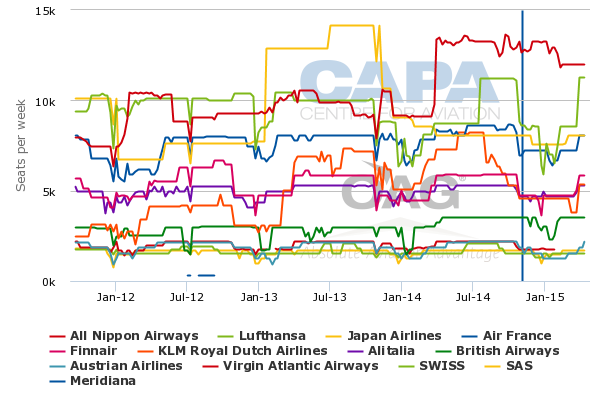 Overall in the international market, yields improved 0.4% but unit revenue decreased 2.1% as ANA's breath-taking 22.5% increase in ASKs was faster than the 19.5% increase in RPKs.
This led to a 1.9ppt decrease in load factor. Revenue increased 20%, about in line with the 19.5% increase in RPKs.
ANA international performance summary: 1H2014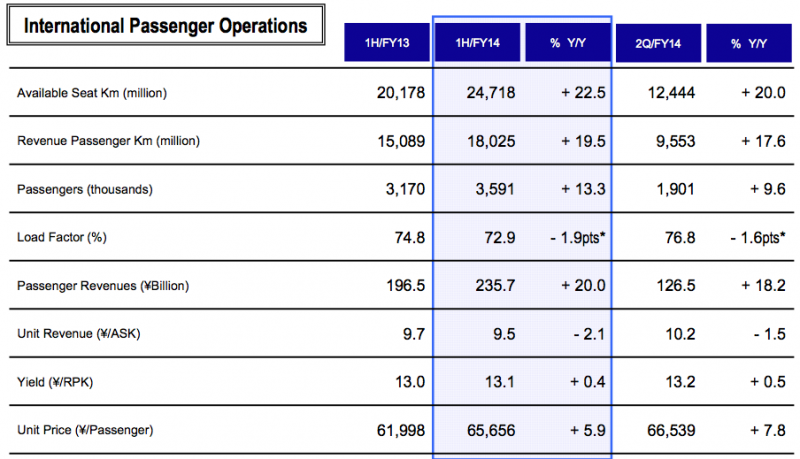 ANA growing market share between Japan and North America
North America is a larger market for ANA than Europe, and ANA has grown more steadily in North America, recently introducing service to Vancouver, its first Canadian market. ANA has about the same capacity as JAL, but both are smaller than Delta. Delta, however, is decreasing capacity and the Japanese carriers will likely become larger than Delta in the near future.
ANA had about a 14% share of the North American market in Apr-2012 and will increase this to 20% in Apr-2015.
Japan to North America (seats per week, one way): 19-Sep-2011 to 19-Apr-2015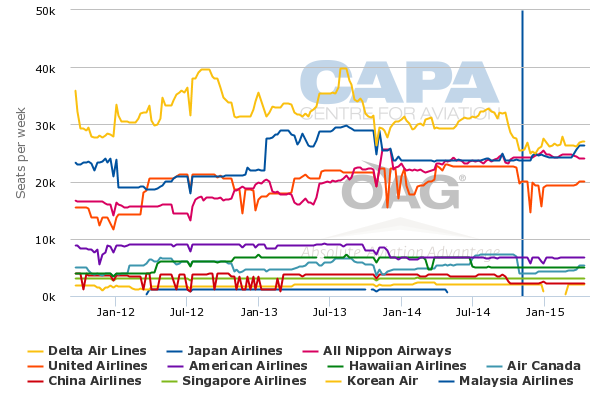 ANA's share of business class passengers growing on international flights
Long-haul growth has helped ANA record an increase in its share of passengers from business class from 10% in 1H2010 to just over 12% in 1H2014. ANA reached 13% in 2H2013, and should be able to exceed this in 2H2014.
ANA trends in international business class performance: 2010-2014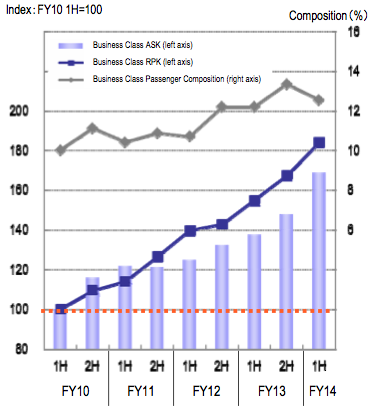 These figures are well above IATA's calculation of the share of premium traffic, but are skewed because for ANA this calculation is only international flights, where there is greater premium demand. Measuring absolute growth in premium traffic at ANA is difficult as yield information is not disclosed. Further, ANA's premium traffic growth has occurred as ANA has grown more in long-haul markets than short-haul markets. Long-haul markets are typically served with aircraft operating with a larger number of premium seats than short-haul international aircraft.
However, on short-haul international flights, premium yields can be far larger than long-haul premium yields. This is not reflected in ANA's presentation, which looks only at passenger trends.
In the last year alone, long-haul North America and Europe routes increased their share of ASKs and RPKs by about 2ppt, while revenue increased about 3ppt, reflecting ANA's greater growth in long-haul markets than short-haul ones.
ANA metric by operation region: 1H2013, 1H2014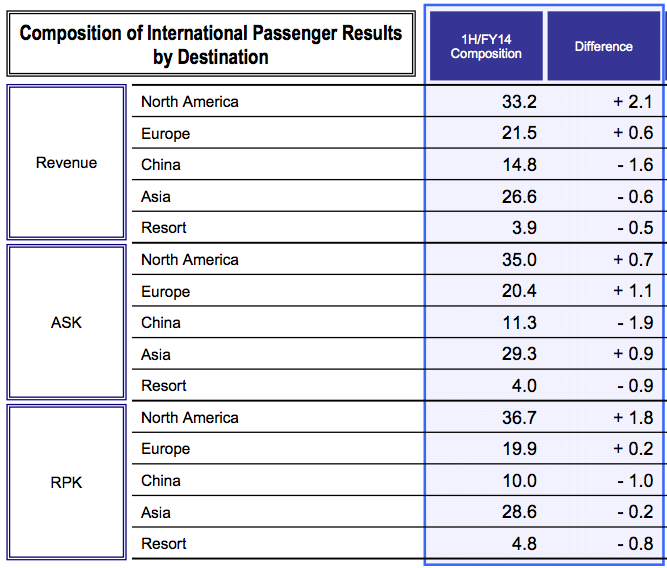 ANA is growing international traffic and cargo faster than the market average.
ANA international passenger growth compared to all carriers' growth at major Japanese airports: FY2013-FY2014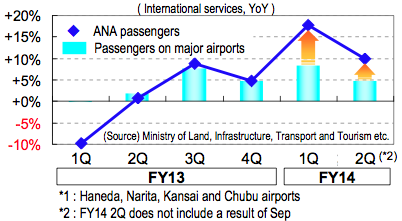 ANA international cargo trends: FY2012-FY2014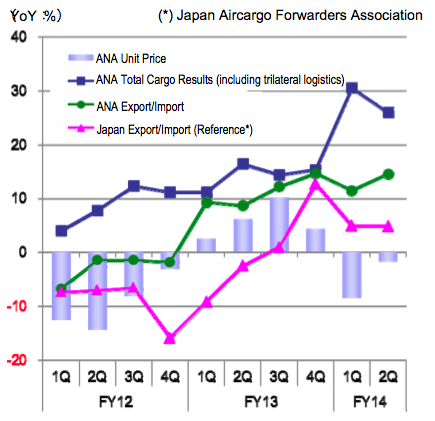 ANA continues discounting strategy in the domestic market
ANA's core domestic market was marked by few notable matters. ANA continued its strategy of decreasing capacity (ASKs down 1.6%) while increasing RPKs (up 1.8%) through price discounting. This led to a 1.3% decrease in yield but 2.1% increase in unit revenue as the load factor increased 2.1ppt. ANA is continuing to improve load factors, but with a 1H2014 load factor of 63%, there are still significant improvements that can be made.
ANA domestic performance summary: 1H2014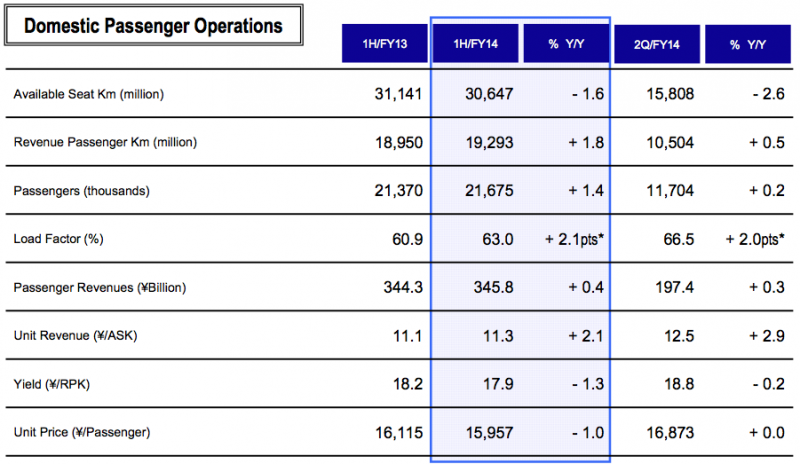 ANA's promotional fares were up about 15% in 1QFY2014, and about 25% in 1QFY2014 compared to FY2013. ANA started heavy promotional fares in 4QFY2014, likely in the lead-up to Japan's increase in consumption tax. ANA would have encouraged passengers to book tickets before the tax went up, in line with anecdotal evidence from other businesses of a rush in activity before the tax increase. A trend to watch is if 4QFY2014 promotional fares exceed the level offered a year prior. ANA and JAL had been adamant they had not seen any negative impact from the increase in consumption tax, but ANA now says recovery in personal consumption has "stalled".
More promotional fares come with the trade-off that the gap will be slightly decreased (but still overall large) between ANA's pricing and that of its two LCCs, Peach and Vanilla Air.
ANA retains its full-year guidance
ANA is experiencing mixed factors. Domestic demand is weakening but ANA is stimulating it through discounting, while lower than expected fuel prices will benefit ANA, especially after disproportionate increases to the weakening yen. Whereas JAL has revised its full year guidance, ANA is keeping to its original guidance issued in Apr-2014.
Fuel will surely remain a topic of discussion, as airlines wait to see if very welcomed decreases in fuel prices reflect weakening consumer sentiment. For many airlines, decline in demand could exacerbate already large ticket discounting. But ANA is unique in that it can off-set any weakness in consumer demand by simply making its domestic operation more efficient, a long over-due move.
There is less room for efficiency gains in ANA's international network, a concern as ANA shifts to an international strategy at the same time many other airlines are doing the same and have the advantage of a lower cost base.