Air Canada wins approval for low-cost carrier but now faces the challenge of defining the operation
Air Canada's plans to create a new low-cost subsidiary to better compete in leisure markets is far from a foolproof scheme to wipe away the legacy cost elements that management believes make Air Canada mainline uncompetitive on various levels. The airline faces the danger of disrupting those markets with additional capacity those routes are unlikely to absorb. In its planned slow ramp-up, the new carrier will also likely create upfront costs that might not be recovered until the low-cost carrier reaches full scale, which will further pressure Air Canada's costs in the short-term.
Other than touting the establishment of the low-cost carrier as a significant growth platform to allow Air Canada to compete in the crucial low-cost space, few details have emerged about the new airline. Air Canada has not stated if it will seek a separate operating certificate for the carrier, if there will be a separate management structure, estimated aircraft utilisation levels, seat density or how network planning and optimisation between the two carriers will be carried out.
Air Canada has a five-tiered fare structure ranging from its non-rufundable "Tango" fares to its "Executive Class Flexible" offering, but the carrier has not disclosed if its new low-cost unit would offer a single fare class. The carrier is either keeping its vision for the carrier at arm's length, or still determining how to craft the structure of the new airline to make a positive contribution to its business strategy.
A new contract recently imposed on Air Canada's pilots by a federal arbitrator allows the carrier to move forward with the establishment of a low-cost subsidiary. The airline tabled its interest in launching a LCC over a year ago, but opposition from pilots and subsequent acrimonious negotiations between pilots and management left the establishment of the new subsidiary on ice. Now that the arbitrator has sided with Air Canada and ruled the carrier's contract should be imposed on pilots, Air Canada has the authority to create a low-cost carrier with a lower pilot pay scale.
Federal mediators also imposed contracts on Air Canada's mechanics and baggage handlers in Jun-2012. Attempting to launch a low-cost carrier in 2013 against the backdrop of significantly low employee morale creates a distinct disadvantage for Air Canada's low-cost aspirations.
See related article: Air Canada touts continuing transformation as 2Q2012 losses widen
Air Canada's management remains bullish on the potential created by the establishment of a low-cost carrier in allowing the airline to jumpstart stagnant growth. Company CEO Calin Rovinescu argues that Air Canada's cumulative growth since 2007 has been less than 7% while the rest of the industry has moved forward to capture leisure markets. With the lower cost structure of the new low-cost carrier, Mr Rovinescu believes Air Canada can enjoy the success other airlines have achieved by operating in that space.
Hybrid fleet of wide and narrowbody aircraft
One definitive detail Air Canada has disclosed is the fleet composition of the new carrier – 30 A319s and 20 Boeing 767 – sourced from the mainline fleet. Carrier management has explained those aircraft have lease expirations during the next 24 to 36 months, arguing that transferring them over to the yet-to-be-defined low-cost carrier represents pure growth for the Air Canada group. But it is not clear if those aircraft will be replaced in the mainline fleet. If not, Air Canada will merely be transferring existing capacity to a lower-cost base operation, which could grow independently if it is more lean.
Such a move would not be unprecedented with Delta transferring capacity to Song and United to Ted, although both units are now gone. The Qantas Group had a similar experience with its LCC, Jetstar. More recently Iberia has transferred routes to lower-cost base Iberia Express with the division standing apart from Iberia mainline primarily on salary and productivity differences from staff.
Air Canada actual and planned fleet: 30-Jun-2012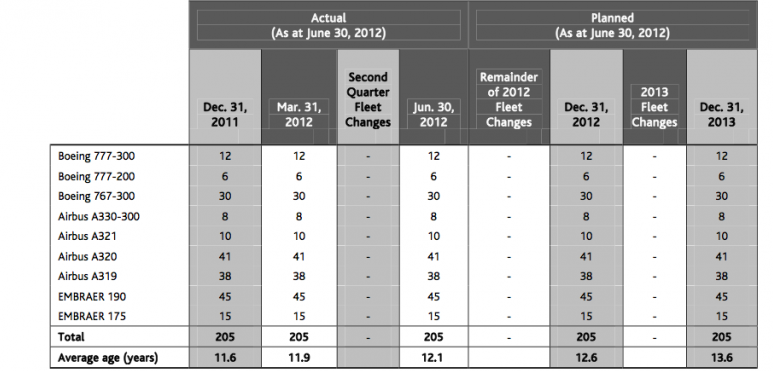 Air Canada begins taking delivery of its first of 38 Boeing 787s on order that are designed for 767 replacements in 2014, and recently stated it is studying its mainline future narrowbody needs. As part of that examination Air Canada will likely opt to dispose of its sub-fleet of Embraer jets that consists of 15 E175s and 45 E190s. The new pilot agreement includes job security for cabin crew operating those aircraft.
Air Canada does plan some obvious product distinction between mainline and the new LCC. That could entail a pure low-cost, bare-bones strategy where every frill beyond the seat has a price, or Air Canada could evolve toward the hybrid, medium frills model sweeping the low-cost space. Iberia's low-fare arm Iberia Express has purposefully billed itself neither as hybrid or low-cost carrier, and the Express operation is closely linked to mainline's frequent flyer programme, and tied to Iberia's long-haul network planning.
See related articles:
Air Canada's low-cost operation will encompass both long and short-to-medium-haul flying, which results in questions arising over the fate of the Executive class featuring lie-flat seats that is currently present on the carrier's 767-300 aircraft. Longer-haul, low-cost operators that Air Canada has studied, including Qantas' Jetstar and Singapore Airlines' new low-cost offshoot Scoot, offer a business class on their longer-haul flights operated with Airbus A330s and Boeing 777s, but the the offerings reflect more of a regional business class (no lie-flat or angled-flat seat) than the business class offerings from full-service carriers that are growing in sophistication. AirAsia X, however, does offer a lie-flat seat. Cebu Pacific, which will operate A330s in 2013, plans to have only economy seats. If Air Canada opts for a pure low-cost model, it could operate the 767s in a single-class configuration, which was similar to the strategy of low-cost trans-Atlantic carrier Zoom, which ceased operations in 2008. Zoom did offer a premium economy seating option on its long-haul flights to Europe.
Seating configurations for Air Canada's Boeing 767-300s/300ERs spans roughly four configurations. In the highest-density configuration the carrier offers 260 seat split between 18 seats in Executive class and 242 in economy. The other 767 configurations include a 247 seat version split between 223 economy seats and 24 in Executive class, 211 featuring 24 in Executive and 187 in economy and a 191-seat aircraft with 25 Executive class seats and and 166 in economy. The 767-300's maximum capacity is 290 or 299 depending on exit door configuration, according to Boeing. So Air Canada could see considerable density increases.
The A319s targeted for Air Canada's low-cost operation will likely need to undergo an interior overhaul as the current two-class configuration on some of the aircraft featuring 14 seats in Executive class and 106 in economy is a less dense seating capacity than the 145-seat max of the A319 model (with a single pair of overwing exits). The 132-seat single class configuration of the carrier's A319s is fewer than the 145-seats featured on the A319s operated by ultra low-cost carrier Spirit Airlines. If Air Canada is seeking to build a true low-cost model, then additional seats are necessary to ensure overall lower unit costs. A denser seat configuration is especially necessary for the lower-yielding leisure markets to the US and Caribbean that Air Canada is targeting for its new low-cost carrier.
Is the leisure market the most viable market to optimise growth?
In addition to other details, specific routes for Air Canada's new low-cost carrier for the moment are undisclosed. The carrier's management has indicated the carrier would operate to sun destinations in the US and Caribbean and long-haul flights to Europe using a fleet of 30 A319 narrowbodies and 20 767s. Mr Rovinescu also indicated that some leisure routes currently operated by Air Canada are "better served outside mainline". Presumably he means that a portion of the leisure markets would be transferred over to the new carrier whose cost base would make the routes more viable.
A look at some of the changes Air Canada is making to its winter 2012-2013 schedule could provide clues to its approach in handing over routes to its new low-cost arm. According to Airline Route the carrier is replacing 93-seat E190s with A319s on a single weekly flight from Calgary to Los Cabos, on one of three weekly flights from Halifax to Orlando and on two of three weekly services from Ottawa to Orlando.
On a single weekly flight each from Montreal to Cayo Largo, Cozumel and Holgiun, Air Canada is replacing its 146-seat A320s with A319s. Other routes where the carrier is replacing A320s with A319s include three daily flights from Toronto to Miami, one weekly flight from Winnipeg to Cancun, two weekly flights from Toronto to Santa Clara, one daily flight from Toronto to Punta Cana, a single weekly flight from Toronto to Puerto Plata, a daily service from Toronto to Nassau, one of two weekly flights between Toronto and Cayo Coco and one of three weekly flights from Toronto to Antigua (a route being launched by WestJet).
At the same time Air Canada during the upcoming 2012-2013 winter season is exiting the crowded Vancouver-Calgary market, which is also served by WestJet, Sunwing and Air Transat. Prior to the planned Dec-2012 suspension, Air Canada is operating Boeing 767-300s on the pairing. The route could be possibly be resurrected under a low-cost structure that allows Air Canada to be more competitive.
Vancouver to Cancun capacity by carrier (seats per week, one way): 19-Sep-11 to 10-Feb-13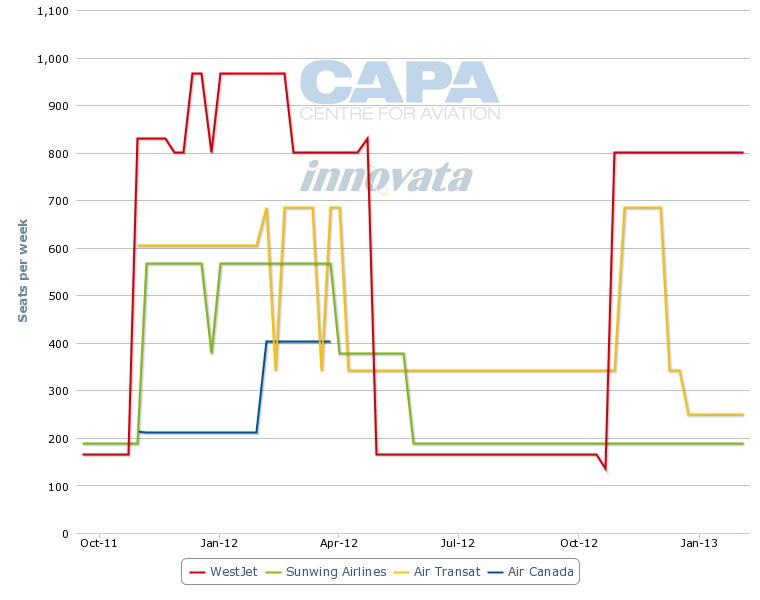 The reality is the so-called sun destinations are well served by Canadian and US carriers alike, including Air Canada. At WestJet more that 50% of its capacity is dedicated to transborder markets (largely leisure destinations) during the high season for sun destination travel in the northern hemisphere.
WestJet breakdown of transborder and international capacity: Jul-2010 to Jun-2012

WestJet is not resting on its laurels while Air Canada develops its low-cost strategy to improve the economics of leisure markets. During the 2012-2013 winter season WestJet's new routes will include Kelowna-Los Angeles, Ottawa-Fort Myers, Thunder Bay-Cancun, Montreal-Turks and Caicos, Montreal-St. Martin, St. John's-Punta Cana and Winnipeg-Cabo San Lucas. The carrier also plans to expand service from various Canadian gateways to Hawaii, California, Las Vegas, Phoenix, Mexico, Jamaica and the Dominican Republic.
WestJet also serves a number of sun destinations from Air Canada's largest base in terms of seats on offer, Toronto. During early 2013 WestJet is launching flights from Toronto to Antigua/Barbuda, Curacao and Liberia, Costa Rica.
Air Canada top 10 hubs/bases/stations ranked by capacity (seats per week): 20-Aug-2012 to 26-Aug-2012
Other sun destinations that WestJet serves from Toronto include Kingston, Montego Bay, San Juan, Cancun, Holguin, Varadero, Nassau, Cozumel, Miami, Tampa, Turks and Caicos, and St. Maarten.
Schedules in Innovata running to Feb-2013 show that all of those markets are well-served, and in most cases by multiple carriers. Three of the markets – Montego Bay, Cancun and Varadero – are served by four carriers: Air Canada, Air Transat, WestJet and Sunwing. Air Transat and Sunwing operate both scheduled and chartered flights, and are owned by travel companies Tranast and Sunwing Travel, respectively.
Carriers operating on WestJet's sun destinations from Toronto: Aug-2012
| Route | Carriers |
| --- | --- |
| Montego Bay | Air Canada, Air Transat, Sunwing and WestJet |
| San Juan | Air Canada, Sunwing and WestJet |
| Cancun | Air Canada, Air Transat, Sunwing and WestJet |
| Holguin | Air Canada, Cubana de Aviacion, Sunwing and WestJet |
| Varadero | Air Canada, Air Transat, Sunwing, and WestJet |
| Nassau | Air Canada, WestJet |
| Cozumel | Air Canada, WestJet |
| Miami | Air Canada, American, WestJet |
| Tampa | Air Canada, WestJet (Sunwing serves Tampa/St. Petersburg) |
| Turks & Caicos | Air Canada, WestJet |
| Saint Maarten | Air Canada, WestJet |
Air Canada and WestJet also will compete on WestJet's new flights from Toronto to Antigua/Barbuda and Liberia.
WestJet also has a footprint in leisure markets through an intertwined relationship with Thomas Cook that entails the low-cost carrier leasing two Boeing 757-200s from Thomas Cook for flights to Hawaii, the second consecutive year of this operation. Thomas Cook pilots operate the aircraft on behalf of WestJet from Calgary to Honolulu and Maui and between Edmonton and Maui. WestJet's flight attendants are staffed on the 757 flights. In turn, WestJet has expanded a two-year agreement with Thomas Cook to become the travel group's exclusive airline in Canada through the provision of capacity to Sunquest Vacations, Thomas Cook's Canadian tour operator. WestJet nabbed the expanded Thomas Cook business from Air Canada's main regional partner Jazz.
See related article: Yanking of Jazz Thomas Cook contract underscores ever-growing difficulty in regional airlines
It is difficult to determine exactly which markets Air Canada would deploy the A319s operated by its low cost carrier without creating potential disruptive capacity additions, driving down fares and essentially lower yields for all carriers in the market.
While leisure travel is sometimes more resilient during an economic downturn, carriers cannot count on the market being totally resilient as economic uncertainty lingers. Air Transat's parent Transat recently attributed its 1H2012 loss of CAD43 million (USD41 million) to over-capacity and competitive pricing pressure in its sun destinations. It is difficult to imagine that Air Canada's expansion into more of those markets would stimulate any meaningful demand, which would create problems for Air Canada to achieve profitability in those markets even if its operating costs are closer to that of its fellow low-cost operators.
See related article: Air Transat offers little clarity of when its, and parent company's fortunes will turn
Air Canada might achieve improved profit potential on long-haul routes
Air Canada could have more profit-generating opportunities on the long-haul routes planned by its new low-cost subsidiary. The carrier has stated that the new cost structure could improve some marginal trans-Atlantic routes, and some reports, albeit none recently, have indicated Air Canada is also considering Asian routes for its new carrier.
The performance of the airline's low-cost, long-haul routes have some improved odds of being successful since there are fewer contenders in those markets. But Air Canada will have to create a substantially lower cost base to sway passengers from the robust competition by full-service carriers that are already on relatively lean operating cost bases.
Sunwing operates flights to Western Europe, but the majority of its seat capacity is deployed to the Caribbean. Air Transat deploys more than 90% of its seating capacity to Western Europe, creating some competition for Air Canada. Air Transat offers two-to-three weekly flights on many of its flights from Canada to Europe, which could give Air Canada a scheduling advantage if the airline's new low-cost arm operates trans-Atlantic flights on a daily basis. The LCC could potentially ride on the Air Canada brand, further enhancing value over competitors if, for example, the LCC sold Aeroplan frequent flyer miles.
Sunwing Airlines international capacity by region (% of seats): 20-Aug-2012 to 26-Aug-2012
Air Transat international capacity by region (% of seats): 20-Aug-2012 to 26-Aug-2012
Air Canada's seasonal, leisure oriented flights to Europe would appear to be candidates for the transition to low-cost operations as many of those routes are operated with 767-300ERs including flights from Toronto and Montreal to Athens, Barcelona and Toronto to Dublin, Toronto to Madrid and Montreal-Rome.
The larger issue in launching service during 2013 is whether the uncertainty clouding the European economy will continue to linger. Air Transat cut its capacity in its Atlantic markets by 4% between May-2012 and Oct-2012 to improve load factors and pricing in its European markets. Similar to the sun destinations, additional capacity into the secondary European markets that are potentially under consideration by Air Canada could suffer from overcapacity.
But Air Canada has likely carefully studied the Qantas-Jetstar model which includes connections between the mainline and low-cost carrier that could give the combined entity a larger scale and the advantage of potentially leveraging a larger, complimentary network.
Long-haul, low-cost flights from the Americas to Asia are a relatively unproven concept, with Oasis Hong Kong dabbling in the market before a shareholder dispute and large initial losses saw the airline collapse. The long flight distance from Asia to North America also means fixed costs such as fuel are higher and a LCC has limited movement in price discounting. Asia's low-cost long-haul carriers – AirAsia X, Jetstar and Scoot – are finding a sweet spot in flights typically under eight hours.
Additionally, while Asia is a booming growth market, premium passengers drive a significant portion of the revenue North American carriers garner from its Asian routes. Air Canada management stated that during 2Q2012 the CAD21 million (USD21.2 million) increase in premium cabin revenues was driven "largely due to significant growth in premium cabin yields on Air Canada's Pacific services". In creating the new carrier Air Canada needs to carefully manage the balance of maintaining its premium cabin yields while managing the introduction of low-cost operations.
It is not clear if Asia would be featured in the initial route roll-out of the planned low-cost carrier. Reports that surfaced in Jun-2012 indicating Air Canada would base the new carrier in Vancouver to focus on Asian markets have subsided, and Asia was not included in the list of regions ticked off by Mr Rovinescu when discussing the new carrier in Aug-2012.
The earlier reports of an Asian focus also indicated that Air Canada would keep its stake in the carrier to less than 50%, and would seek co-ownership with a foreign carrier and financial institutions. Those reports surfaced prior to the imposition of Air Canada's contract on pilots, and could have been a tactic the carrier used to raise concern during pilot negotiations to obtain buy-in for the new venture from cabin crews.
Trying to pare down legacy costs during a slow LCC ramp-up
Air Canada management has taken great care to stress the introduction of its new low-cost carrier would entail a slow ramp-up to its planned 50-aircraft operation. But during the time it takes to spool-up, the carrier will still be incurring start-up costs for the new operation as it manages to whittle down its often-cited legacy cost base.
Other than lower labour rates, Air Canada has not offered much insight into how it plans to achieve a lower cost structure at its new subsidiary. The carrier could get some ownership cost relief from lessors as it works with those partners to renew and extend leases for the aircraft targeted for the new carrier. If the new carrier is run as a separate unit, the airline could negotiate new maintenance contract and other supplier agreements to lower its cost base.
Air Canada faces a challenge in narrowing the gap between its legacy cost base and the cost performance of the low-cost carriers it is trying to emulate. During 2Q2012 Air Canada's unit cost excluding fuel and the costs of ground packages at Air Canada Vacations were nearly CAD12 cents (USD12 cents) compared to CAD9 cents (USD9 cents) at rival WestJet. Ultra low-cost carriers Allegiant Air and Spirit recorded 2Q2012 unit costs of USD5 cents and USD6 cents, respectively. Air Canada's costs are also higher than its legacy peers in the US, which leaves many questions unanswered with respect to how the carrier intends to create a new carrier with a cost structure 30%-50% lower than its existing cost base.
Select carrier unit costs excluding fuel: 2Q2012
| Carrier | Unit costs |
| --- | --- |
| Air Canada | USD12 cents |
| Allegiant | USD5 cents |
| Delta | USD8 cents (excludes profit sharing) |
| JetBlue | USD7 cents |
| Spirit | USD6 cents |
| United | USD8 cents (excludes third party business expense) |
The labour agreements imposed on three of the carrier's large employee groups will help to ease some of the legacy cost pressure Air Canada has worked to reduce. But at the same time the carrier faces significant erosion in its company culture due to the imposition of the agreements.
While Air Canada has achieved an ability to create its new low-cost subsidiary through the new contract imposed on the pilots, buy-in from the pilots for the scheme remains weak. Along with the close evaluation it has conducted of the creation of Qantas' low-cost subsidiary Jetstar, Air Canada also needs to look at how the creation of Jetstar continues to fuel dissatisfaction among Qantas mainline pilots, who were embroiled in contentious concession disputes during 2011.
See related article: Alan Joyce wins gamble on Qantas grounding but now awaits market's lasting return
As it works to firm its concept for its new low-cost subsidiary Air Canada faces similar consternation among its pilots. The carrier cannot afford to ignore the pilots' anger, and the company's management needs to work to ensure their buy-in if the new carrier has any chance of succeeding. That could be Air Canada's greatest challenge going forward as pilots have concluded the imposition of the airline's contract by the federal mediator undermines any effort to forge a positive cultural change at the carrier.
Background information
Air Canada route map: 31-Dec-2011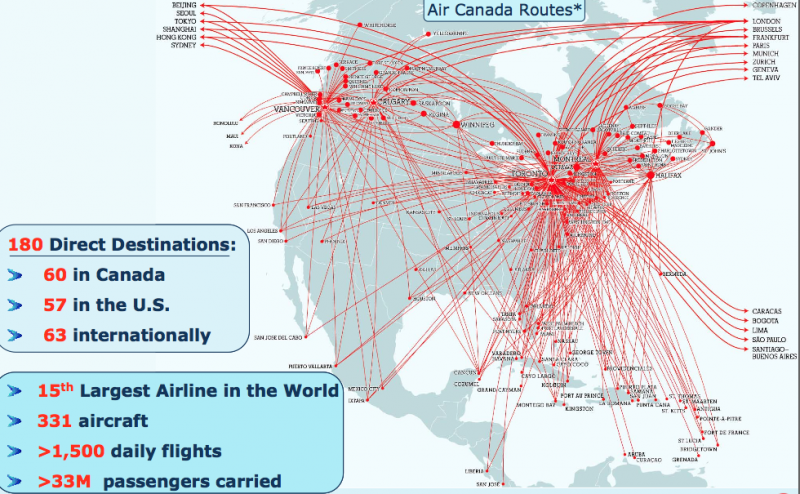 WestJet route map: May-2012