Virgin Australia, buoyed by yield growth, to split company to allow further foreign ownership
Analysis
The re-positioned Virgin Australia will change its corporate structure to split into different companies its international and domestic networks in order to allow for further international investment. In doing so Virgin Australia is converging two market nuances.
First, Australia and New Zealand are unique in allowing 100% foreign ownership of domestic airlines. The Virgin Australia Group (and its predecessor the Virgin Blue Group) has been flying international routes for most of its 11-year history, subjecting the company to not being foreign owned by more than 49%. This cap was briefly breached when Air New Zealand took a stake but rectified with a slightly decreased stake from ANZ. By splitting its domestic and international operations into two companies, the new holder for international operations – the unlisted Virgin Australia International Holdings – can comply with foreign ownership requirements while the domestic operation company – Virgin Australia Holdings – will face no foreign ownership restriction.
Although Virgin does not directly have prospective additional foreign investors lined up, Etihad CEO James Hogan earlier this month expressed its interest in taking a stake in Virgin if one became available. Mr Hogan also said he said Etihad investing in one or two additional carriers this year.
Air New Zealand paid a premium – although it argued it was still a good deal – for a 14.99% stake in Virgin in Jan-2011, increased to 19.99% in Sep-2011. The move is seen as preventing another carrier – namely Etihad – from doing so. ANZ will have to pay more to maintain that proportional position - or probably accept other carriers moving in. Mr Borghetti refuted this ownership split was due to requests from alliance partners who are not holders, saying Virgin needed to introduce a mechanism to comply with ownership restrictions and may as well do so in a way to benefit investors. Mr Borghetti declined to comment on what other airlines thought, which includes the thoughts from current holder Air New Zealand. Virgin expects most new foreign investors to be institutions, not airlines.
Second, Virgin Australia is proving that it is a valuable airline investment. The company's new strategy to focus on the corporate sector, announced in Aug-2009 by new CEO John Borghetti, showed results in the six months to 31-Dec-2011 (1H2012), capping a period in which Virgin made significant product changes – new lounges, further roll out of business class, updated frequent flyer programme – to woo the corporate market. Virgin in 1H2012 had its most successful six months in its history, posting an underlying profit before tax of AUD96.1 million and a statutory profit after tax of AUD51.8 million.
Virgin Australia group profit and loss summary: 1H2012 (six months to 31-Dec-2011)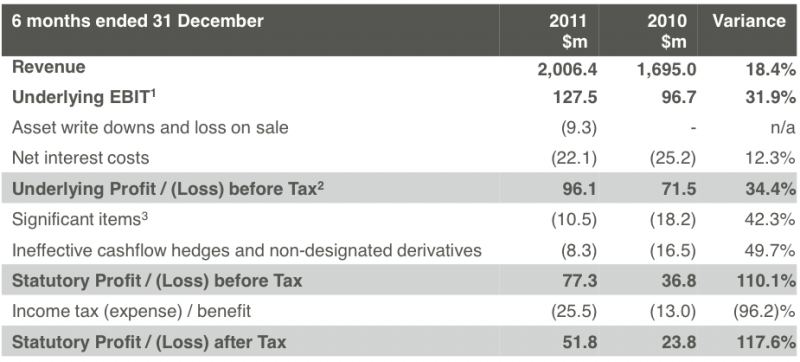 In 1H2012 Virgin Australia's domestic revenue climbed 18.4% year-on-year, significantly outpacing a 5.3% increase in capacity (measured in available seat kilometres). For international operations, traditionally less profitable in Australia, revenue climbed 13.2% on top of a 9.2% increase in capacity. The company's underlying EBIT of AUD127.5 million was nearly twice that of competitor Qantas mainline. Virgin's EBIT was also 60% of the combined Qantas-Jetstar EBIT despite Virgin Australia having 28% of Qantas-Jetstar's capacity.
The Virgin Australia group's margin (underlying EBIT) climbed 2.2 ppts to 6.4% compared to Qantas Group's 3.4% margin. Virgin Australia's domestic operation had a 6.2% margin while international (including short/medium-haul 737s and long-haul 777s) had a 6.4% margin. Qantas does not breakdown its mainline domestic and international operations, the latter of which is loss-making, but its mainline margin was 1.1%.
Growth in international yield was a result of the realisation of 777 network changes announced in Aug-2010 and implemented in early 2011. Virgin has also added services to Indonesia and Vanuatu, which are traditionally very profitable.
Virgin Australia domestic operations summary: 1H2012 (six months to 31-Dec-2011)

Virgin Australia international operations summary: 1H2012 (six months to 31-Dec-2011)

Virgin Australia domestic and international operations summary: 1H2012 (six months to 31-Dec-2011)

More strong and early gains in corporate market
Virgin Australia, as expected, reported further gains in the corporate market, a result of the Australian market having business competition for the first time since Ansett Australia's Sep-2011 collapse. Virgin is targeting the corporate market not just for higher yields but more diverse revenue streams to protect it from a heavy focus on leisure traffic, which has more elastic demand than the corporate sector.
Virgin in 1H2012 gained 35 new corporate accounts, renewed 17 – some with significant share gains – and lost none. Corporate and government accounts comprise approximately 17% of revenue, up from 13% in FY2011. That represents 81% growth in corporate and government revenue in 1H2012 year-on-year. Virgin's share of high-yield fares (defined as business class, premium economy, and flexi economy fares) represented 25% of revenue in Dec-2011, up from 11% in Jul-2010.
The 17% share corporate and government accounts represent is approximately the same as having a 17% share of total corporate and government market in Australia, Mr Borghetti says. He has set out in Aug-2010 to double Virgin's share to 20% over a three-year period, with most gains made in the past 6-10 months. Virgin will likely surpass 20% ahead of schedule and target further growth.
Virgin Australia composition of high yield fares as share of total revenue: Jul-2010 & Dec-2011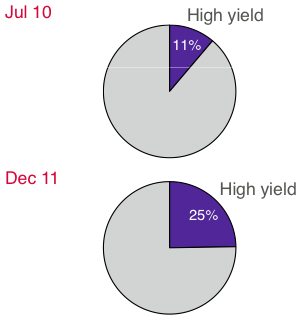 Yield growth strong since July
Virgin Australia sees that its domestic yield growth commenced in earnest in Jul-2011, two months after its May-2011 overhaul of its fare structure, re-branding, introduction of business class and re-vamp of new lounges.
Virgin Australia domestic yield growth (Jul-2010=100): Jul-2010 to Dec-2011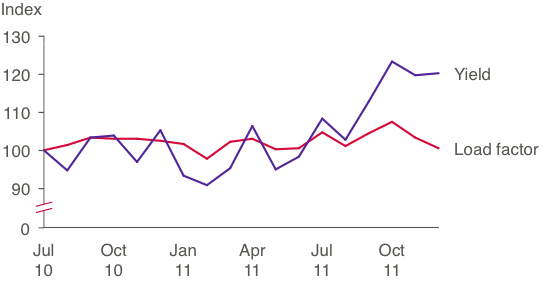 Virgin says that in the six months following the introduction of business class and its first widebody domestic services in May-2011, it carried three times to number of business class passengers compared to premium economy passengers in the prior corresponding period. While this further vindicates the carrier's decision to drop premium economy and introduce business class, the figures for business class are skewed given large capacity increases with the A330s, but the growth is undeniable. Virgin expanded business class across its domestic network on 18-Jan-2012 and reports business class seats are selling higher than premium economy seats. This is particularly impressive as its workhorse 737-800s used to typically have 12 premium economy seats but now have eight business class seats, indicating demand is growing despite premium seat supply decreasing.
Virgin Australia business versus premium economy reserved seat index (01-Jan-2012=100): 01-Jan-2012 to 16-Feb-2012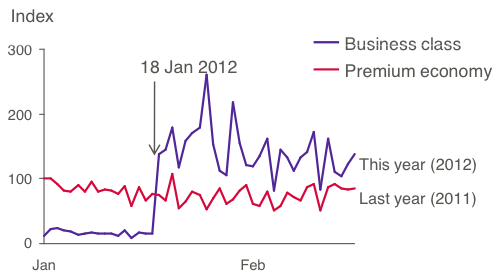 Marginal one-off revenue increase from Tiger and Qantas groundings
Mr Borghetti said Virgin experienced little uplift from the five-week grounding in Jul-2011 of Tiger Airways. "There was no uplift at all," Mr Borghetti said. "Effectively zero."
The uplift from the two-day grounding of Qantas Airways in Oct-2011 "in terms of profit outcome, it was in the single digit millions, and for that matter mid-to-low single digit millions," Mr Borghetti said, effectively placing a figure around AUD3-7 million.
Qantas last week disclosed that Jetstar gained AUD10-20 million from the Tiger grounding and AUD5-10 million from the Qantas grounding. Jetstar CEO Bruce Buchanan said he expected Virgin to be a bigger beneficiary from the Qantas grounding given Virgin's network overlaps more with Qantas' than Jetstar's does with Qantas.
See related article: Qantas cuts international services to grow profitable domestic market as Jetstar grows all around
Alliances triple inbound revenue as integration progresses
Virgin's alliances – predominantly with Air New Zealand, Delta Air Lines, Etihad Airways and Singapore Airlines – have seen inbound domestic revenues triple, albeit from a low base, Mr Borghetti told CAPA earlier this month. Many of the alliances still have additional implementation work to implement, which when progressed will further boost revenue. Virgin has not disclosed a financial figure for inbound domestic revenue. Separately, Etihad Airways said its partnership with Virgin Australia saw a 700% increase over what Etihad achieved with Qantas, although this too was from a low base. During the reporting period the alliance with Air New Zealand commenced. Virgin recently implemented a codeshare with Delta Air Lines and Singapore Airlines, but the benefits will be more measurable at the end of FY2012.
Virgin Australia alliance scorecard

Virgin has announced network changes as a result of all alliances except with Delta. Virgin commenced flights to Abu Dhabi as part of its partnership with Etihad, announced Sydney-Darwin services as part of its partnership with Singapore Airlines (whose subsidiary SilkAir will commence Darwin-Singapore flights) and has made changes as part of its partnership with Air New Zealand.
Although Virgin and Delta received anti-trust immunity only in May-2011 after a protracted lobbying effort – and could not discuss their alliance prior to approval – Virgin has not put a time frame on the alliance, largely a reflection of Delta, a significantly larger carrier, rightfully being preoccupied with other matters. Delta is expected to add capacity to allow Virgin to shift trans-Pacific flights between Australian ports. Virgin does not currently have spare capacity to increase trans-Pacific capacity.
Virgin has re-iterated statements from Aug-2011 that it will continue to forge niche alliances to serve leisure and business destinations. Last year it reached agreements to codeshare to Hawaii with Hawaiian Airlines and to Hong Kong with Virgin Atlantic. Once Virgin's partnership with Malaysia Airlines ends, Virgin and its partners will cover 15 of the 20 most popular international routes out of Australia based on Oct-2011 BITRE data (16 if Etihad's and Virgin's Abu Dhabi-Sydney service is counted as comparable to Dubai-Sydney). Qantas and its partners will serve 19 of the routes. Both will serve the 10 largest.
20 largest international routes out of Australia: Oct-2011
Strong growth in regional Australia and resource industry as ATR fleet expanded
While Australian domestic traffic has historically been tied to consumer confidence – which is currently weakening – Jetstar says it has broken from that correlation and is seeing strong demand. Virgin, however, is seeing signs of slightly weakening domestic traffic on traditional routes. After growing 5.3% in 1H2012 Virgin in 2H2012 will have an undisclosed growth figure that Mr Borghetti said once normalised would be in the mid single digits (excluding the ATR operation, which Virgin counts as a new business type). "We'll watch the market very, very carefully and we'll have the ability to flex down or up if we need to," Mr Borghetti said, reflecting the uncertain state of consumer demand.
Qantas Group in 2H2012 plans a normalised growth of 5.0%, with Qantas CEO Alan Joyce adamant the Qantas Group will adjust capacity based on Virgin's capacity in order for the Qantas Group to maintain a 65% market share. "The ability for us to scale back is a consequence of our competitors not adding as much capacity as believe," Mr Joyce said earlier this month. In comparison, Mr Borghetti has consistently stated he will not follow Qantas in "drawing a line in the sand" as to how much market share Virgin Australia will maintain, saying instead growth will only be achieved at optimum profit levels.
Virgin's growth will continue to be in three areas: the Melbourne-Sydney-Brisbane triangle route, coast-to-coast flights linking the east coast to Perth and regional Australia, the latter of which is excluded from Virgin's 5.3% figure. Growth in regional Australia and to mining and resource points in Queensland and Western Australia remains extremely strong. Virgin will accelerate expansion of its ATR72 fleet, which commenced operations in Oct-2011 to predominately serve regional points in eastern Australia. Virgin will extend the lease on two ATR72s and take two additional ATRs.
Virgin Australia ATR network: as of Feb-2012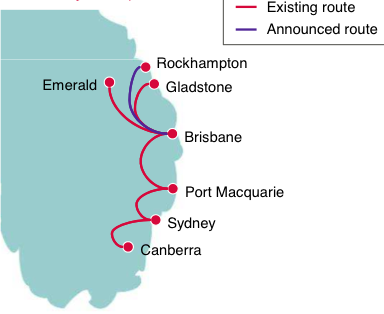 Virgin Australia fleet: as of Feb-2012

Its remaining fleet projections through Jun-2013 remains the same as last advised in Aug-2011: 71 Boeing 737s, 5 777-300ERs, 18 Embraer E190s and 6 A330s in addition to the ATRs. Total fleet by Jun-2013 is projected to be 108 aircraft, although Virgin retains flexibility, particularly with its workhorse 737 fleet. Additional A330s are guaranteed although not yet announced. Virgin is believed to be working towards a fleet of upwards of 20 A330s in the medium term. Given recent fluidity in delivery schedules and available used aircraft, Virgin may see further A330 expansion prior to Jun-2013. The aircraft will continue to be deployed on domestic trunk routes – Sydney/Melbourne-Perth, Sydney-Melbourne and later Brisbane-Perth – but also used to open new destinations in Asia.
Further investment in product
Virgin Australia announced it would introduce business class in a 2-1 configuration with a 38" pitch on its E190 fleet in FY2013 (commencing 01-Jul-2012). Its ATR fleet will remain without business class.
Virgin Australia E190 business class concept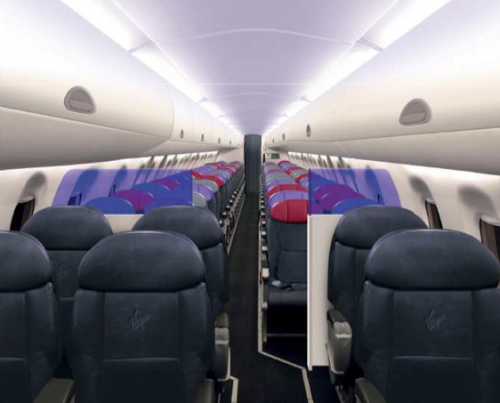 Virgin will also expand lounges due to demand on top of previous announcements to enhance its Sydney lounge and open new lounges in Darwin and Gold Coast. Virgin is also progressing with a planned revamp of its 777-300ERs to be concluded in FY2013, as well as supplying wireless in-flight entertainment, which can save upwards of 500kg per 737 and reduce retrofit and maintenance costs. Virgin had announced it would supply undisclosed portable tablets to business class passengers and rent them out on flights over three hours in economy, and Virgin further clarified today the tablets would be Samsung Galaxy devices and available from Apr-2012. The streaming wireless IFE, currently trialled by Qantas on a single 767-300, will commence trial with Virgin later this year.
Virgin will also expand and upgrade its domestic terminals at Melbourne and Sydney – Brisbane was updated in 2011 – including having additional aerobridges to accommodate the A330. Virgin has not previously operated widebody aircraft domestically.
Outlook remains strong
Virgin Australia's outlook remains strong with the company forecasting a full-year improvement over its results in 2011 but citing volatility would not comment if the operation would be profitable. In order for the company not to be profitable, there would have to be significant structural changes, including a drastic increase in fuel or major drop in demand.