VietJet launch not affected by AirAsia pullout
Analysis
AirAsia's decision last week to not go forward with its Vietnamese joint venture is a major setback for the AirAsia Group and Vietnam's promising aviation market. But by no means does it spell an end or even a delay for AirAsia's Vietnamese partner, VietJet Air, which is moving forward with plans to launch services in Dec-2011 without AirAsia.
VietJet is well advanced in its launch preparations and in fact, as CAPA reported last month, was already expecting to begin operations without the AirAsia brand. VietJet was also already planning to source its initial batch of A320s directly from lessors rather than from AirAsia's massive order book. As a result, AirAsia's participation and planned 30% investment in VietJet seemed tentative despite AirAsia repeatedly stating over the last year that it remained committed to implementing the agreement initially forged in Feb-2010 with VietJet primary shareholder Sovico Holdings.
Clearly the powerful AirAsia brand and website would have helped VietJet, particularly on international routes. AirAsia's success in establishing affiliates in two other ASEAN countries, Indonesia and Thailand, illustrates the benefits a pan-Asian brand can bring. But the success of other LCCs in the Indonesian and Thai markets (such as Lion Air and Nok Air) also shows local LCC brands can thrive, particularly domestically.
The opportunities in the Vietnamese market are huge, particularly for LCCs, which can stimulate growth by lowering fares. There is no reason VietJet cannot stimulate air travel among Vietnamese through a local brand. Vietnam's domestic market has been growing at double digit clips since 2007, with full-service operator Vietnam Airlines the main beneficiary. Even faster growth is possible as LCC penetration rates increase.
Currently LCCs account for only 16% of total domestic capacity in Vietnam, with Jetstar Pacific the only Vietnamese LCC. The other major domestic markets in ASEAN – Indonesia, Malaysia, Philippines and Thailand – all have LCC penetration rates above 50% (which assumes Lion Air and Citlink as LCCs in Indonesia).
Vietnam domestic capacity by airline type (based on seats per week): 10-Oct-2011 to 16-Oct-2011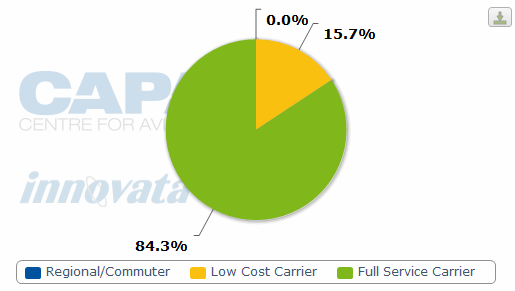 But for LCCs to be able to tap the full potential of the Vietnamese market, the Government needs to loosen air fare regulations and its views on foreign ownership and control, including the use of foreign brands and websites. The Vietnamese Government rejected multiple requests by VietJet to use the AirAsia brand, prompting AirAsia to ultimately decide against establishing the planned joint venture. The Government also previously indicated it would require Jetstar Pacific to adopt a more local brand. So far Jetstar has been able to keep its branding in Vietnam – a point VietJet is likely to bring up as it is forced to compete against Jetstar without the AirAsia brand.
Vietnam's Government needs to be more open to adopting the looser regulations of its neighbours when it comes to cross-border ventures. Following other ASEAN countries in allowing the use of foreign airline brands would ensure the success of Vietnam's LCC sector. Jetstar Pacific needs to continue using the Jetstar brand to succeed, particularly as it looks to enter the international market next year, and VietJet should have the freedom to similarly adopt a new brand after it launches – potentially the AirAsia brand under a resumed partnership or the brand of another Asian LCC.
In fact, AirAsia said last week that while conditions are not currently right to pursue a joint venture with VietJet it may later relook at establishing a Vietnamese affiliate under the right conditions and environment. The required conditions are essentially a more liberal operating environment, particularly a change in the policy against the use of foreign brands.
AirAsia is still convinced of the opportunities in the Vietnamese market. But it simply isn't willing to invest in a Vietnamese carrier unless it has assurances that the carrier can have the same look, strategy and model as its other affiliates. There's no reason to bet that the use of the AirAsia brand at VietJet will later be approved when AirAsia has so many other fantastic opportunities at expanding elsewhere in Asia where there are no such restrictions and challenges. Moving forward with the risk that the Vietnamese Government may not open up anytime in the foreseeable future is simply not worth it. The Australia-based Jetstar Group has learned the hard way that doing business in Vietnam can be challenging.
Jetstar Pacific has not yet turned a profit and has so far expanded far slower than initially anticipated after the carrier was partially acquired by Jetstar and transformed into an LCC in 2007. CAPA reported last month that Jetstar, which owns 30% in Jetstar Pacific, now expects the Vietnamese affiliate will grow its fleet from seven to 10 aircraft by the end of 2013.
VietJet could quickly overcome Jetstar Pacific as Vietnam's largest LCC as it plans to have 15 aircraft by the end of 2014. A few of months ago VietJet solicited bids from lessors and VietJet sources tell CAPA the carrier remains confident it can secure two to three aircraft in time to meet its target for launching in mid-December. VietJet is also working on securing a second batch of aircraft for early 2012, when it aims to launch international services.
VietJet, for the first few months, plans to focus entirely on Vietnam's three biggest routes – Hanoi-Ho Chi Minh, Ho Chi Minh-Danang and Hanoi-Danang. These three main trunk routes now account for over half of total domestic capacity in Vietnam and over half of Jetstar Pacific's total capacity. But from an LCC perspective these routes are currently under-served with LCC penetration rates of only about 20% – far lower than all other similarly sized domestic routes within ASEAN.
Meanwhile, despite not proceeding with a Vietnamese affiliate, AirAsia will continue to grow its presence in Vietnam's international market using its existing affiliates. AirAsia is already the largest foreign airline group in Vietnam, accounting for 5% of international capacity in the Vietnamese market. The group has a relatively large presence in Ho Chi Minh, which is served by all three of its existing carriers, and Hanoi. AirAsia will also become only the third international carrier at Danang in Dec-2011, when it begins serving Vietnam's third largest city with four weekly flights from Kuala Lumpur.
With new affiliates to be launched in the Philippines later this year and in Japan next year, AirAsia will have the flexibility to open more routes into the rapidly expanding Vietnamese market without needing a local affiliate. But a Vietnamese affiliate is still the preferred route over the medium to long term as it would allow AirAsia to access the country's fast-growing domestic market and open international routes to China and Singapore – two key markets with big growth potential.
See related article: Vietnam's LCC market poised for explosive growth as VietJet AirAsia launches and Jetstar expands