Vietnam's LCC market poised for explosive growth as VietJet AirAsia launches and Jetstar expands
Analysis
The Vietnamese aviation market is poised for significant low-cost carrier growth as a new AirAsia affiliate launches services at the end of this year and the country's first LCC, Jetstar Pacific, plans to finally implement long-delayed expansion plans. Meanwhile flag carrier Vietnam Airlines is preparing to launch its own LCC subsidiary or unit by 2014. Three LCCs may seem like too many for a market which last year consisted of only about 20 million passengers, but is reasonable when considering the rapid economic growth in the country and the small size of its LCC sector compared to other ASEAN countries.
Vietnam has by far the smallest LCC market among the six main ASEAN countries
The opportunities in Vietnam are undeniable. Vietnam is currently the sixth largest aviation market in ASEAN, based on total capacity and fleets, although it has the third largest population in the region.
From a low-cost carrier perspective, it is by far the smallest market among the six major ASEAN countries. Under 20%, Vietnam's domestic LCC penetration rate is also significantly lower than the global and Southeast Asian averages for domestic markets.
Major ASEAN markets, key facts and size of LCC fleet

Domestic LCC penetration (%, based on seats) by country: 2010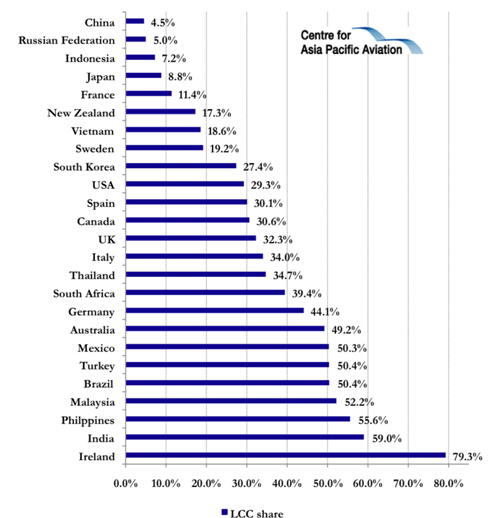 If Qantas LCC subsidiary Jetstar had its way, the LCC penetration figure in Vietnam would be a lot larger and on par with Southeast Asia's other markets. Jetstar very early on identified the huge potential of Vietnam's LCC market, acquiring over four years ago a 27% stake (later increased to 30%) in the country's second carrier, Pacific Airlines.
New AirAsia affiliate poised to have larger fleet than Jetstar Pacific by 2014
Jetstar immediately helped Pacific Airlines, which was a tiny carrier with only four B737-400s, adopt the LCC model. The transformation was capped with a re-branding to Jetstar Pacific in 2007. At the time, Jetstar expected rapid expansion for its new Vietnamese affiliate in both the domestic and international markets as well as a quick transition to new A320s.
But Jetstar Pacific instead pulled out of the international market and has since been only operating domestically. The carrier also has been fairly slow in expanding and renewing its fleet, which still consists of five ageing B737-400s along with only two A320s. Even as Jetstar Pacific starts to accelerate expansion, with plans now in place to phase out its B737-400s and have an all-A320 fleet consisting of 10 aircraft by the end of 2013, it could quickly be overtaken by AirAsia's new Vietnamese affiliate.
VietJet Air plans to launch services in Dec-2011 and within the first few months have a fleet of five A320s operating both domestic and international routes. It plans to add five A320s per year starting in 2013 and by the end of 2014 operate 15 aircraft while capturing about 20% of the domestic market.
VietJet AirAsia sees private ownership as an advantage
VietJet plans to follow the same pure no frills LCC model as Jetstar Pacific but is confident it will be able to pursue faster expansion because it is 100% privately owned, with a 30% stake held by AirAsia and 70% by local partners. VietJet believes having government ownership can be a barrier to pursuing rapid growth because any expansion proposal at a government-owned company, including new routes or aircraft, must go through a lengthy approval process. While VietJet will not face this particular challenge it still needs government approval to use the AirAsia brand – something which has so far proven elusive and could be critical to its long-term success although it is prepared to launch and rapidly grow without the AirAsia name if necessary.
Jetstar Pacific's share of the Vietnamese domestic market (and therefore Vietnam's overall LCC domestic penetration rate) was only 18.6% in 2010, a discouraging drop compared to the 23.7% share captured in 2008. Expansion was put on hold during 2009 as the de-evaluation of the Vietnamese dong impacted demand at the lower end of the market with the country's middle class having less discretionary income for travel. Jetstar Pacific expansion also was put on hold in early 2010 as the government conducted an investigation into the carrier's fuel hedging losses. During these periods of stagnation for Jetstar Pacific, Vietnam Airlines continued to expand rapidly.
Vietnam LCC domestic capacity share (%) of total seats: 2001 to 2010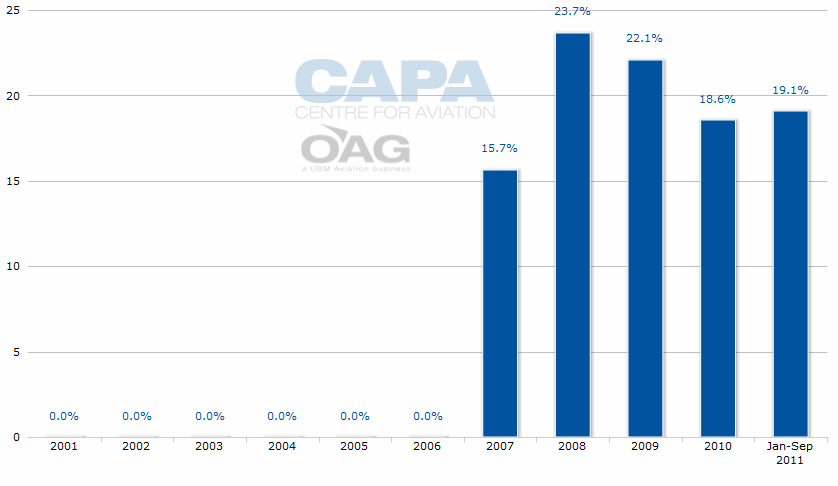 Jetstar Pacific resumed expansion in late 2010, adding its second A320 and capacity on some of its domestic routes. As a result, Jetstar Pacific saw its market share increase slightly earlier this year. But Jetstar Pacific has seen its share of the market again drop recently, dropping to only 15% this month, based on Innovata capacity figures.
Domestic capacity in Vietnam by carrier (seats per week), 5-Sep-2011 to 11-Sep-2011

Vietnam Airlines is now again expanding at a faster clip than Jetstar Pacific. A new full-service regional airline, Air Mekong, also entered the domestic market in Oct-2010 and now accounts for 7% of domestic capacity in Vietnam, taking away market share from both Jetstar Pacific and Vietnam Airlines.
Overall Vietnam's domestic market has been growing at a rapid clip even with the relative absence of low fares. Domestic capacity been expanding at a double-digit annual clip since 2007 and, unlike the Vietnam's international market, there was no hiccup during the recent global financial crisis. Total domestic capacity doubled between 2007 and 2010 to over 12 million annual seats, led primarily by growth at Vietnam Airlines as Jetstar Pacific's growth was relatively slow during this period.
Vietnam total domestic seats (millions): 2001 to 2010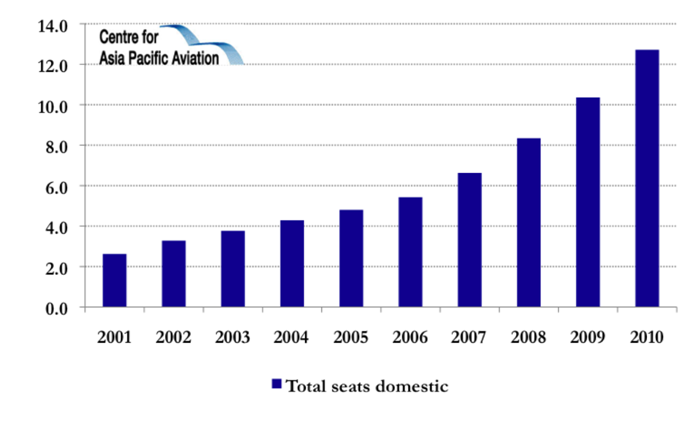 IATA projects Vietnam's domestic market is expected to continue growing over the next several years at average annual clip of about 11%. This forecast will likely prove to be conservative if the LCC sector expands as expected, stimulating more rapid growth through lower fares.
Domestic fares in Vietnam remain high; there is huge room for market stimulation
Domestic fares remain relatively high in Vietnam as Vietnam Airlines has not yet needed to match the low fares offered by Jetstar Pacific. For example, the lowest fare offered by Vietnam Airlines between Hanoi and Ho Chi Minh, which is by far the country's largest domestic route, is typically about USD600 round-trip, based on data from IRA Software.
Vietnam Airlines currently offers much lower fares on some international routes where it has more LCC competition. For example, between Ho Chi Minh and Singapore, a popular route in which LCCs carriers account for about half of the total capacity, Vietnam Airlines' lowest fare is typically only USD350 round-trip.
The fact Vietnam Airlines hasn't yet matched Jetstar Pacific's fares, which start at only about USD50 round-trip on the Hanoi-Ho Chi Minh route, indicates the market should be able to support a big increase in low fare seats. This could come in Dec-2011, when AirAsia partner VietJet aims to launch services on domestic trunk routes.
Capacity and competition in Vietnam's three main domestic routes to increase significantly
VietJet plans to initially operate a fleet of two or three A320s on Vietnam's three biggest routes – Hanoi-Ho Chi Minh, Ho Chi Minh-Danang and Hanoi-Danang. These three main trunk routes, which connect Vietnam's three major cities, now account for over half of total domestic capacity in the country. From an LCC perspective these routes are currently under-served as their LCC penetration rates are much lower than similarly sized domestic routes in other countries.
It is also clear more LCC rather than FSC capacity is needed on these routes following the failure in late 2009 of Indochina Airlines. Indochina was a privately-owned full-service start-up carrier which served the three main domestic routes using wet-leased B737-800s for one year before shutting down. Indochina has been looking at re-launching and adopting a budget carrier model, which could give Vietnam up to four LCCs although the prospects of Indochina returning to the market seem unlikely.
Jetstar Pacific now only has about a 21% share of capacity across Vietnam's three main routes. More LCC capacity should stimulate demand and result in more Vietnamese flying between the country's three main cities. Jetstar Pacific now competes primarily against buses and trains. But train travel is extremely slow and will not be speed up anytime soon as Vietnam has delayed any consideration of high speed rail (HSR) as it focuses instead this decade on building a highway network.
Lack of HSR creates huge opportunities for the LCC sector
The guarantee of no competition for at least the next decade from HSR, which could result in three-hour journeys from Danang to Hanoi or Ho Chi Minh and six-hour journeys from Hanoi to Hoi Chi Minh, is welcome news for LCCs. The new highway network will have some impact on shorter flights but not on the key Hanoi-Danang-Ho Chi Minh corridor, especially if fares are low enough to compete with the long bus rides. A larger portion of travellers will also almost certainly shift to air travel as more low cost seats open up and as Vietnam's middle class expands.
Hanoi-Ho Chi Minh is a particularly arduous bus or train journey, now taking over 24hours to cross the 1,100km between Vietnam's two main cities. The Hanoi-Ho Chi Minh route is already the third largest route in Southeast Asia and the 14th largest in the world, just behind Los Angeles-San Francisco. The prospect of more low fare seats and the rapid commercial development now taking place in both cities should make this route even bigger.
Top 5 routes in Southeast Asia (seats per week, one-way, 5-Sep-2011 to 11-Sep-2011)

Jetstar Pacific now accounts for 23% of all seats between Hanoi and Ho Chi Minh, compared to 73% for Vietnam Airlines. Air Mekong, which otherwise does not compete with Jetstar Pacific because it predominately serves regional routes and does not yet have any flights at Danang, has the remaining 4% of the Hanoi-Ho Chi Minh market.
Capacity on Hanoi-Ho Chi Minh route (one-way seats per week, 4-Jul-2011 to 26-Feb-2011)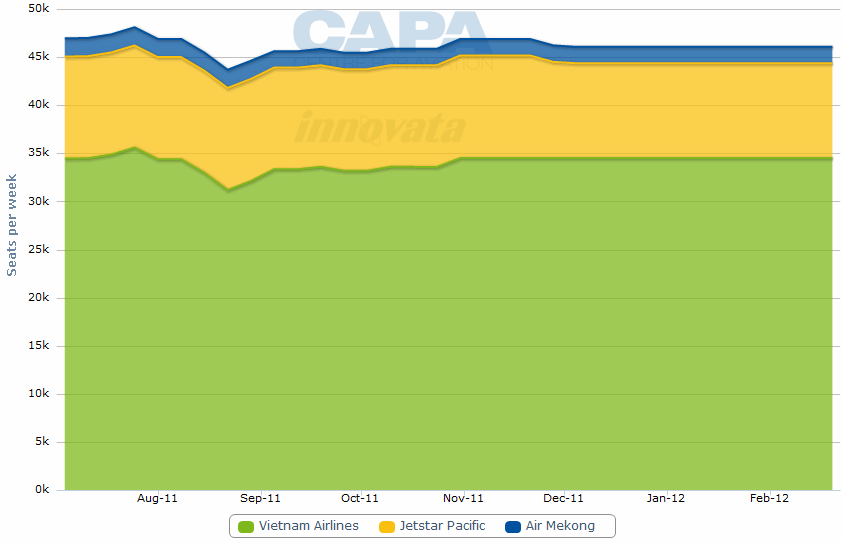 There are only six domestic routes and six airports in Vietnam with LCC service
Jetstar Pacific currently only serves six routes compared to nearly 40 domestic routes for Vietnam Airlines when including its regional subsidiary VASCO. Vietnam Airlines competes against Jetstar Pacific on all six routes.
Almost 50% of Jetstar Pacific's capacity is allocated to Hanoi-Ho Chi Minh, which is by far the largest domestic route for both Jetstar Pacific and Vietnam Airlines. Another 21% of Jetstar Pacific's capacity is now allocated to Ho Chi Minh-Danang but only 8% on Hanoi-Danang.
Jetstar Pacific's six domestic routes by capacity (seats per week for 5-Sep-2011 to 11-Sep-2011)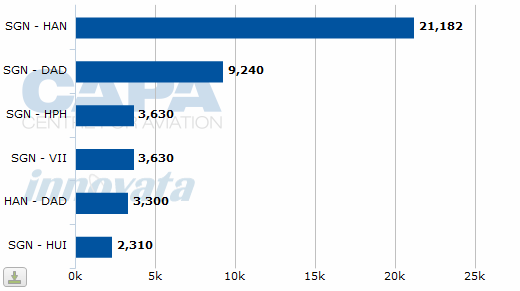 Vietnam Airlines' top 10 domestic routes by capacity (seats per week for 5-Sep-2011 to 11-Sept-2011)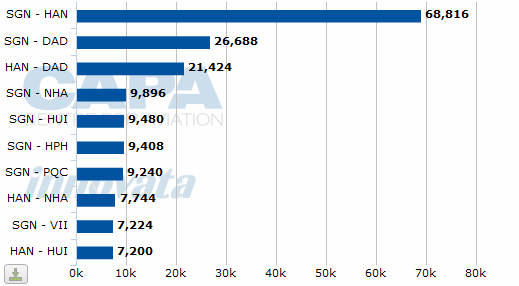 Due to Jetstar Pacific's relatively limited network there is currently only LCC service at six Vietnamese airports – Hanoi (HAN), Ho Chi Minh (SGN), Danang (DAD), the central imperial town of Hue (HUI), the central-north city of Vinh (VII) and the northern port city of Haiphong (HPH). Until recently Jetstar also served the south-central beach town of Nha Trang. All these destinations have tourist potential as well as growing local demand for low fare service.
The six airports served by Jetstar Pacific are also among Vietnam's largest eight airports. The only airports in the top eight not served by Jetstar Pacific are Nha Trang and Phu Quoc, a popular tourist island near the southern border with Cambodia which cannot accommodate narrowbody aircraft due to runway limitations.
Vietnam's top 10 airports based on capacity (seats per week, 5-Sep-2011 to 11-Sep-2011)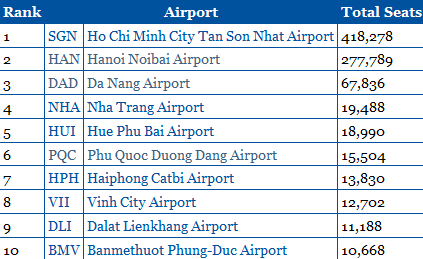 Vietnam's LCCs to focus on international routes rather than regional domestic market
While growth at the country's secondary airports is also anticipated, it is unlikely there will be much if any LCC capacity deployed to the 15 airports in Vietnam that have commercial service but are not currently served by Jetstar Pacific. Jetstar Pacific is expected to continue focusing on domestic trunk routes and allocate a big portion of its additional capacity to the international market, which it could re-enter next year.
VietJet also says it plans to expand internationally within a few months after launching service on the three main domestic trunk routes. Medium-size domestic markets such as Hue and Haiphong will be considered later but not initially. Regional domestic destinations such as Dalat, a popular tourist town in the mountains of southwest Vietnam that currently has the country's ninth largest airport and can accommodate A320s, is not currently on VietJet's radar screen.
VietJet sees more short-term opportunities in launching international services from its Ho Chi Minh base and Hanoi. The carrier is now analyzing several potential international routes, focusing on destinations which are already served by the AirAsia Group, including Singapore and China.
The greater China market is of particular interest to VietJet. As the carrier is looking to leverage where there is existing AirAsia infrastructure, Hong Kong, Macau, Taipei and the six mainland Chinese airports now served by the AirAsia Group - Chengdu, Guangzhou, Guilin, Hangzhou, Shenzhen and Tianjin - are all possibilities.
All three of Vietnam's existing and planned LCCs target China market
Vietnam-China is a big potential LCC market, which Jetstar Pacific and Vietnam Airlines are also interested in serving. There are currently only 24,000 round-trip seats per week provided in the Vietnam-China market, according to Innovata data. There are now twice as many seats provided in the Vietnam-Singapore market. Vietnam-Taiwan also now has about 25% more seats than Vietnam-China.
Low fares is key to unlocking the tremendous growth potential of the Vietnam-China market as it would stimulate demand from China's growing middle class, which is increasingly starting to take their holidays overseas. Vietnam is extremely well positioned to take advantage of the expected boom in the outbound China tourist market, given its proximity to China, the appeal of its tourist destinations and the relative low cost of holidaying in the country.
Jetstar Pacific is now looking closely at the greater China market and leveraging the Jetstar Group's existing infrastructure in China. Sister carrier Jetstar Asia will serve 12 airports in greater China by the end of this year. China will likely become Jetstar Pacific's first international destination when it resumes international flights.
Vietnam Airlines prepares to launch LCC brand by 2014 with China a main focus
CAPA has been told the China market was a main driver in Vietnam Airlines' decision to start preparations for its own budget brand. Vietnam Airlines now serves four destinations in mainland China but believes it needs a budget product to tap the market's tremendous growth potential, particularly secondary cities where there is not much business demand. As the new China flights will primarily cater to Chinese budgets tourists (and to a lesser extent Vietnamese budget tourists), Vietnam Airlines is looking at offering this market a new no frills product.
Vietnam Airlines also has been enticed to look into introducing a second brand to cater to the low end of the market as a response to the anticipated LCC growth in its domestic market. In addition, Vietnam Airlines has seen how other Southeast Asian flag carriers have added budget brands in recent years and how two peers, Singapore Airlines and Thai Airways, earlier this year unveiled plans for new brands that will be launched in mid-2012. Vietnam Airlines is now the only major Southeast Asian flag carrier without a second brand.
CAPA has been told Vietnam Airlines is now aiming to launch its budget brand by 2014 and will serve both the domestic and international markets. More details on the carrier's budget strategy could be revealed as Vietnam Airlines goes for an initial public offering, which is now slated for next year.
Vietnam Airlines' new budget carrier subsidiary or unit will have big ramifications for the country's emerging LCC sector. In addition to opening new markets in China, the new brand will be used to compete more directly against Jetstar Pacific and VietJet on domestic trunk routes while Vietnam Airlines continues to also offer a premium product in the domestic market.
Vietnam is a big enough market to support three LCCs
The prospect of three LCCs competing on trunk routes may seem daunting but is not unusual in Southeast Asia. For example, in the similarly-sized Philippines there are three LCCs in the domestic market and will likely be two more by the end of this year. Other big routes in the region such as Singapore-Bangkok also now support three LCCs.
Vietnam's three LCC players (Vietnam Airlines, Jetstar Pacific and VietJet AirAsia) also are guaranteed there will not be any new start-ups to contend with as the Vietnamese government has said it will not approve any new airline applications until at least 2015 (Indochina Airlines would still be able to resume services because it has an existing license). The government is keen to prevent the market from over-heating but is eager to have more competition and more LCC capacity as it will help the country's overall economy and tourism industry.
All three players say they are not concerned there could be too much LCC capacity. "Competition is common and we're ready for that," VietJet deputy general manager Nguyen Duc Tam tells CAPA. "I think it's a huge market. The market is there."
Jetstar Group CEO Bruce Buchanan tells CAPA that Vietnam "is a rapidly growing market" which should be able to absorb additional capacity as Vietnam's middle class expands. "There's huge growth."
Jetstar Pacific looks to turn the corner; plans all-A320 fleet by end of 2013
Jetstar's venture in Vietnam was groundbreaking in that it was the first joint venture forged between a government-owned company and a foreign firm. Mr Buchanan acknowledges there has been growing pains but says Jetstar Pacific, which has been unprofitable since its launch, is now well positioned to capitalise in the anticipated growth. "The Vietnamese market is tightly controlled. It's not an easy market to succeed in. It's taken a number of years to get our business to where we are now. I think it's got very strong, bright prospects," he says. "There's a great opportunity there but it's a long road."
Mr Buchanan adds the "primary focus" for now is to stabilize the business and renew the fleet. Leases on the Jetstar Pacific's five B737-400s are expiring over the next two years, according to Ascend data. This gives Jetstar Pacific an opportunity to finally transition to an all A320 fleet and have a common fleet with its sister carriers, thereby reducing its cost structure. Mr Buchanan confirms the B737-400s will be phased out over the next two years and says in this time span Jetstar Pacific's A320 fleet is now slated increase from two to 10 aircraft.
While Jetstar Pacific seems to be finally turning the corner, its growth path is still well behind original plans. The carrier initially had plans to operate a fleet of 14 aircraft by the end of 2009 and as recently as a few months stated it was planning a fleet of 15 A320s by 2014.
The initial expansion plan wasn't implemented in part because of tough economic conditions, including de-evaluation of the Vietnamese dong. Mr Buchanan says conditions are now better and the government's decision earlier this year to de-regulate the fare cap has created more room for LCC growth.
AirAsia committed to VietJet but is not yet providing aircraft or its brand
Tough economic conditions and de-evaluation of the dong also persuaded VietJet, which has been working on establishing a carrier in Vietnam since 2007, to put on ice its initial launch plans. Last year the project was re-started as economic conditions improved and the AirAsia Group acquired a 30% stake in the company. Vietnam's Sovico Holdings in the process reduced its stake in VietJet to 60%. The remaining 10% is held by other local partners.
While the AirAsia Group is committed to investing in the company it has not yet committed any of its own aircraft to the venture. VietJet plans to lease its initial fleet although future aircraft could be sourced from AirAsia's large A320 and A320neo order book. VietJet says it is now evaluating several aircraft lease proposals for CFM56-powered A320s. It hopes to find aircraft in the same 180-seat configuration as AirAsia although it is willing to compromise on this if necessary.
The Vietnamese government has not yet approved VietJet to use AirAsia's brand and website. The government also previously suggested Jetstar Pacific would need to adopt a more local brand although so far Jetstar has been able to keep its branding in Vietnam – a point VietJet is likely to bring up as it continues to seek approval to use the AirAsia brand.
VietJet is still hoping the brand approval will come through prior to its planned Dec-2011 launch but is prepared to launch under the VietJet brand with the possibility of adopting the AirAsia brand later. The AirAsia brand would help VietJet with marketing, particularly overseas as it starts to fly international routes early next year.
The powerful AirAsia brand will also help VietJet locally as the AirAsia Group is already the largest foreign airline group serving Vietnam. All three of AirAsia's existing affiliates now serve Vietnam and combined have 5% of Vietnam's international market.
Four other low-cost carriers also now serve Vietnam – Singapore-based Tiger Airways and Jetstar Asia, Australia-based Jetstar Airways and Philippines-based Cebu Pacific. Combined foreign LCCs now account for about 14% of total international capacity to and from Vietnam.
Vietnam LCC international capacity share (%) of total seats: 2001-2011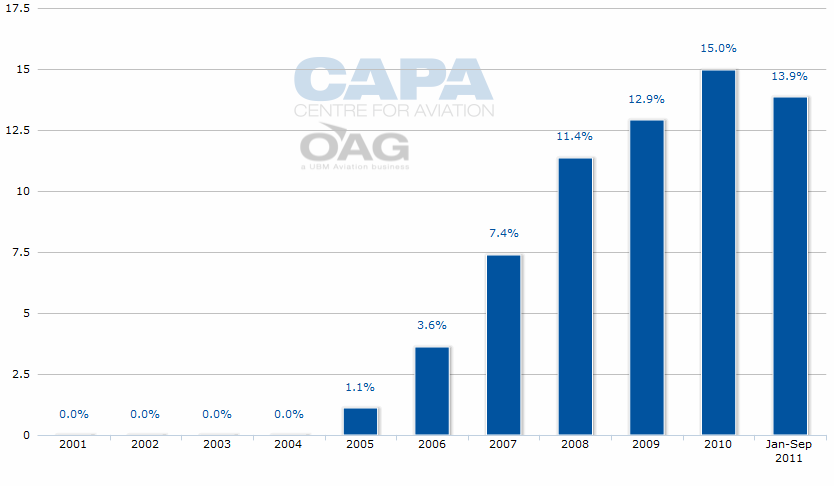 But there are currently only 11 international routes from Vietnam with LCC service, which shows Vietnam has just scrapped the tip of the iceberg when it comes to international LCC growth. Of these 11 routes, 10 are within Asia with the only exception being Jetstar Australia's Darwin-Ho Chi Minh route.
Ho Chi Minh-Singapore is currently the largest international LCC route from Vietnam. With four daily frequencies, Tiger Airways now has more capacity on the route than Singapore Airlines. Jetstar Asia also has three daily flights between Singapore and Ho Chi Minh. AirAsia is now unable to operate this important route because it doesn't have an affiliate in Singapore but that will change once its new Vietnamese affiliate is up and running.
Vietnam's LCC international routes by capacity (seats per week for 5-Sep-2011 to 11-Sep-2011)

North Asia is not yet linked with Vietnam by any LCCs. In addition to greater China, the Vietnam-South Korea and Japan-Vietnam markets have huge LCC potential. The Japan-Vietnam market could eventually be served by Vietnamese LCCs and the three Japanese LCCs which are now slated to launch next year. Vietnam's central geographic location in Asia makes it ideal for LCC services because almost all of the region's destinations are within narrowbody range.
Conclusion: Vietnam LCC sector on the cusp of something special but more government support still needed
Vietnam is clearly in position for massive LCC growth in both the domestic and international markets. But as the slow start by Jetstar Pacific has proven, Vietnam is not an easy market to crack.
The aviation market remains highly regulated and needs to open up further for the country's LCC sector to truly take off. LCCs need completely unregulated fares, open skies agreements, the freedom to expand fast and the ability to leverage established pan-Asian brands.
LCCs also need ample space at airports. Currently both Ho Chi Minh and Hanoi airports are approaching capacity. A second terminal project now underway at Hanoi should be sufficient although LCCs would benefit from the opening up of the ground handling sector.
For Ho Chi Minh, waiting for a new airport that is now not slated to open in 2020 is not a valid option. A proposal to build an LCC terminal in the military side of the existing Ho Chi Minh Airport, where both Jetstar Pacific and VietJet are based, needs to be advanced. An LCC terminal at Ho Chi Minh would allow LCCs to expand rapidly at Vietnam's largest market and lower costs. It would also make it easier for LCCs to adopt new technologies which are important to LCCs worldwide but have not yet been implemented in Vietnam such as home-printed boarding passes.
Vietnam has a long way to go before its LCC sector realises its full potential. But the ingredients are there for phenomenal growth.
This is the first in a three part series of analytical articles on the emerging Vietnamese market that will be published by CAPA over the next few weeks.