Toulouse-Blagnac Airport deal signals rekindling of airport privatisation in France
Analysis
France's traditionally conservative aviation policy has meant that air services have focussed around Paris. The result is that there are few large airports outside the capital.
Moreover, the privatisation of France's airports has been a long drawn out, stop-start process, which involved Aeroports de Paris at one end of the scale and a number of secondary level airports serving small cities at the other.
Sat patiently in the middle have been the primary level airports (only one of which handles more than 10 million ppa despite that designation).
But with the forthcoming privatisation of Toulouse Blagnac airport their time may have come at last.
For many decades French airports have traditionally been managed by local chambers of commerce and industry (CCI) under a form of concession from central government.
They include not only the smaller secondary and tertiary level airports (France has over 300 public airports of all shapes and sizes and quite a few more public-military ones but only around 45 commercial ones) but also the larger primary level ones such as Lyon, Nice, Marseille, Montpellier, Toulouse, Bordeaux, Nantes and Strasbourg.
Privatisation in France was generally a process of decentralisation
As is so often the case, the process is dependent on political processes and whims. A very low level of privatisation activity took place before the IPO of Aeroports de Paris in 2006. Prior to that date it was mainly a process of decentralisation.
It was the rapid growth in the low cost airline segment in the mid-2000s that drove the demand for private sector involvement, mainly from the budget airlines, which became frustrated at the archaic and rigid charging system that was in place, which guaranteed high operational costs. The justification for the high charges was that France was, as it still is, the most visited country on Earth, with 84.7 million tourists in 2013, 15 million more than the US. Many of those visitors come by road or sea rather than air of course - but why let a little statistic like that get in the way of a price rise?
Another factor in the melting pot was the recognition of the continuing role of the state in transport, such as the rail network, everything from rural services through commuter lines to the high-speed TGV trains. Conveying the privatisation ethos in France is not easy where transportation is concerned.
But a form of 'liberalisation' was set in motion from around 2005, the creation of airport limited companies having been agreed to in 2002; also a move towards the State performing regulatory functions and moving away from its ownership role.
All airports and airfields owned by the French government were devolved to those local authorities – meaning municipal, departmental or regional governments – that were willing to assume the responsibility. This devolution took place during a rare period of decentralisation implemented by the Raffarin government and a precursor to the widespread devolution of powers and operational control that is currently anticipated in the UK
See the related report https://centreforaviation.com/analysis/reports/uk-air-transport-policy-post-scotland-vote-devolution-could-reshape-previous-aviation-plans-188827).
The devolutionary principles paved the way for some early attempts at privatising smaller airports through a management system.
Instances of airport privatisation increased between 2009-10
In what could reasonably be viewed as an era of experimentation, the privatisation of the French airports system at this level was ramped up during the following 18 months. Some of them are little more than general aviation strips while others handle several millions of passengers each year.
The experiments involving operators such as Vinci, Keolis and others having been deemed successful, Vinci Airports was permitted to acquire a 99% stake in the capital of the operating companies of four regional airports in France, including Grenoble-Isère, Chambéry-Savoie, Clermont Ferrand-Auvergne and Quimper-Cornouaille airports, following an acquisition of the stakes previously owned by Keolis.
Vinci Airports also signed a public service contract for the operation of Rennes-Saint Jacques and Dinard-Pleurtuit airports for a period of almost 15 years, effective 01-Mar-2010.
The table below outlines some of the deals that were done at the time and some of the airports that remained under local municipal control, brought up to date (2014) courtesy of CAPA's airport investors' database. The table is of secondary and tertiary level airports only when there is some private sector involvement.
French secondary and tertiary level airports and their public/private sector operators
| | | |
| --- | --- | --- |
| Airport | Public/Private Sector Operator(s) | Pax 2013 if known |
| Vatry (cargo airport) | SNC Lavalin; Aeroport de Montreal, Keolis et al | n/a |
| Vannes | SEVA; SNC Lavalin | - |
| | SGAAM; Keolis | - |
| | SGATC; Keolis (now SNC Lavalin) | - |
| Grenoble-Isère | SEAG; Vinci-Keolis | 337,600 |
| Chambery-Savoie | | 218,000 |
| | SEAAFA; Vinci-Keolis | 425,000 |
| (Albert) Picardie | SEAAP; Keolis-Group K | - |
| | VTAN; Veolia (now with SNC Lavalin) | 195,300 |
| (Paris) Beauvais-Tille | SAGEB-CCI; Veolia (51/49) | 3,900,000 |
| | CCI (now SNC Lavalin managed) | - |
| | Vinci | 481,000 |
| | Vinci | 131,000 |
| | | 382,000 |
| | CCI – Veolia - Sanef | 1,660,000 |
| | CCI – SNC Lavalin | 24,000 |
| Quimper-Cornouaille | Keolis-Vinci | 113,500 |
| | CCI – SNC Lavalin | - |
| | CCI – Keolis | 80,000 |
| | Vinci | 108,000 |
| Reims | CCI – SNC Lavalin | - |
| | CCI – SNC Lavalin | 25,500 |
The second table details the main primary airports, which remain wholly in the public sector apart from those in Paris.
French primary airports and their public (-private) sector operators
| | | |
| --- | --- | --- |
| Airport | Public/Private Sector Operator(s) | Pax 2013 if known |
| | CCI Bordeaux/Local Authorities/French Republic | 4,600,000 |
| | CCI Lyon/Local authorities/French Republic | 8,500,000 |
| | Marseille Provence CCI | 8,200,000 |
| | S.A Aéroport de Montpellier Méditerranée comprising six public sector organisations | 1,400,000 |
| | Vinci | 3,900,000 |
| | CCI Nice/Local authorities/French Republic | 11,500,000 |
| | Aeroports de Paris (Republic, corporate, investment fund, institutional investors, Schiphol Group, Vinci, Predica) | 62,000,000 |
| Paris ORY | Aeroports de Paris (Republic, corporate, investment fund, institutional investors, Schiphol Group, Vinci, Pedica) | 28,200,000 |
| | CCI Toulouse/Local Authorities/French Republic | 7,500,000 |
The only really important primary French airports to have been privatised so far are Paris Charles de Gaulle and Orly. Otherwise the airports that are being lined up to be privatised if there is a favourable outcome at Toulouse mainly share a common thread: namely an ownership pattern that is similar to the Germanic system (Germany and Austria), whereby ownership is shared amongst the Chamber of Commerce (CCI), local authorities and the state.
In Germany the variation is often the exclusion of the CCI in favour of local and Lander (provincial) ownership in co-operation with the state while in Switzerland the Canton (province) also often takes a senior role.
Aeroports de Paris' IPO changed the landscape
But the big event was, of course, the IPO of Aeroports de Paris, an organisation which comprises Charles de Gaulle, Orly and Le Bourget airports plus several heliports.
Legislation introduced in Apr-2005 transformed Aéroports de Paris into a limited company fully owned by the State, permitted to sell no more than 50% of the equity. The legislation also corporatised airport limited companies to manage the twelve most important regional airports, still owned by the State, the local chambers of commerce and industry, and local governments but with the future potential to offer their shares to both public and private partners and it was anticipated that central Government would eventually sell a certain amount of its holding in these companies.
(Prior to the passing of the 2005 legislation the economic oversight of French airports was assumed by the General Directorate for Civil Aviation, along with the General Directorate for Competition Policy, Consumer Affairs and Fraud Control. The General Directorate for Civil Aviation continues to regulate and set air navigation services charges).
Ultimately, AdP was partially privatised by IPO in 2006 and subsequently engaged in an 8% cross-shareholding with the Netherlands' Schiphol Group. Thereafter, (2013), small stakes were sold to Vinci and Predica.
Paris Charles de Gaulle Airport ownership as of 31-Dec-2013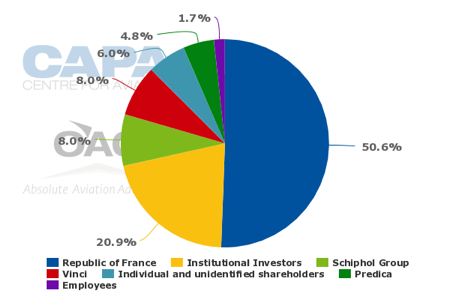 (The same applies to Orly, Le Bourget airports and other AdP assets)
In the wake of the IPO AdP refocused away for five years from foreign airport investment and management and on to its own two core airports – Charles de Gaulle and Orly – although it does remain an active investor, if not as intensely as before. It took a 38% stake in TAV Airports in 2012, an organisation with which it now works closely although in respect of the Toulouse transaction, which is outlined in more detail below, it is co-operating in a consortium with the relevant new entrant to the business Predica.
Expenditure at Charles de Gaulle in particular resulted in parts of that airport now being at the very least on par with airports such as Singapore and Dubai and taking a measureable lead in service quality over its nearest international rival, London Heathrow, which did not start to close the gap until the completion of the Queens Terminal (T2) earlier this year.
Political considerations were at the heart of the Paris IPO, as with the sale of Toulouse today
The Credit Rating Agency, Standard & Poor's put AdP on credit watch following the launch of its IPO, a transaction that was rushed through in the wake of one of the regular bouts of rioting (about employment legislation) for which France is famous and which was linked in the media to a huge public pension hole the government needed urgently to fill. The AdP transaction was supposed to kick-start airport privatisation in France but that was not the case owing to the financial crisis that set in from late 2007, along with political inertia.
These activities were, and remain, subject not only to the economic situation but to the demands of the fast-changing political world just as it is in other European countries such as Spain, and in particular the competing ideologies of left and right wing parties concerning the privatisation of state assets against an economic background of stagnation. This has been the case in France (and Spain) during the last three years. French GDP actually grew by 0.3% in the last quarter, but that was an unexpected result.
It was thought that the 2012 election of a socialist President, Francois Hollande, probably meant that the privatisation of significant regional airports such as Bordeaux, Nice and Toulouse would be further delayed and that the low-key experiments of private management contracts at small regional airports would continue to be the only examples of any sort of privatisation outside of Paris. If there were to be any privatisation of primary airports, Lyon and Nice were considered to be the leading candidates.
Prior to presidential elections the government froze plans to sell its stakes in Lyon, Montpellier, Toulouse and Bordeaux airports after local authorities opposed the plans.
The government had intended to sell just under 50% per cent of its share on to private companies such as Vinci, which was already operating nine airports in France and AdP. Central government though was opposed to selling the airport stakes to the local authorities. Originally, the sale was to be carried out before the presidential elections, which took place in May-2012.
It appeared as if the transactions would be suspended for a long time but that reckoned without the cash-strapped government's sudden and urgent need to finance the purchase of a 20% stake in power and rail sector multinational, Alstom, in order to veto a foreign takeover. The sale of its stake in Toulouse Airport was one way of contributing to that.
Airport construction activity in France seeks investment at a key time
Privatisation of France's primary airports is expected to bring investment into the industry and at an important time, as several airports have bold expansion plans.
Leading the field is Lyon's Saint Exupéry Airport which announced an ambitious EUR260 million (USD287 million at the time) five-year investment plan in 2012, involving two terminals. Some of the main projects are detailed below.
| | | | |
| --- | --- | --- | --- |
| Airport | Construction classification | Investment USD | Target completion date |
| | Terminal extension (low cost) | n/k | 31-Aug-2015 |
| Lyon | New terminals | 287,500,000 | 31-Dec-2020 |
| Marseille | Terminal expansion | 41,100,000 | 31-Mar-2015 |
| Nantes | Proposed replacement airport (Notre-Dame-des-Landes Airport) for the Atlantique airport | 750,000,000 | 31-Dec-2019 |
| Paris Beauvais | Taxiway rehabilitation | 2,720,000 | 31-Dec-2014 |
| Paris CDG | Terminal renovation/new head office/new terminal | 68,000,000 | 31-Dec-2025 |
| Paris ORY | General modernisation | 610,000,000 | 01-Dec-2018 |
| Toulouse | Unspecified infrastructure improvements | 13,500,000 | 31-Dec-2019 |
Nantes - the one new airport under construction in France - has faced violent protests
The new Nantes airport at Notre Dame des Landes in northwest France is one of only two such developments in CAPA's Construction and CapEx Database, and it is one that has been beset by difficulties.
The two-runway project with connections to the motorway and rail networks is intended to help improve regional connectivity without unduly distorting competition in the internal market. The Aéroport du Grand Ouest project will relocate the existing Nantes Atlantique Airport to the site of Notre-Dame-des-Landes, a little over 30km to the north of Nantes and it will open with an initial capacity of four million ppa, increasing to nine million ppa by 2050. Atlantique Airport (three million ppa capacity) is considered to be too close to the city to be expanded.
The EUR600 million (USD750 million) project was approved in Feb-2008, with an anticipated opening date in 2015. The contract for implementing the project was awarded to Société Aéroports du Grand Ouest, a subsidiary of the Vinci group, which also operates the existing airport under a management contract.
The date was subsequently pushed back to the end of 2019 by the signing of the Water Act and other biodiversity bylaws. Protests against the construction of the new airport turned violent in Aug-2013 and more so on 22-Feb-2014 when between 20,000 and 50,000 protestors (depending on conflicting estimates) contested the development, with around 1000 radical environmentalists staging a more violent protest, smashing shop windows and causing damage to a post office and the local offices of Vinci.
Currently there is an impasse with opponents, who now include the Green Party, left-wing politician Ségolène Royal and Arnaud Montebourg, until recently Minister of Industrial Renewal and a potential Presidential Candidate, joining the front line protestors, who have built a 'defence zone' around the site.
The other 'new' airport development is at Reims, where the existing general aviation facility that serves the city and the Champagne-Ardenne region, may be opened up for commercial services. The airport is owned by the CCI de Reims et Epernay and operated by SNC Lavalin.
The choice of Toulouse airport may have been influenced by a lack of construction activity
To return now to the Toulouse airport privatisation and to establish, firstly, why it was selected.
Apart from the usual and well worn reasons for privatising airports, such as modernising their management and providing better public airport service, there is no major construction activity under way at Toulouse and that is perhaps one reason why it was selected as the guinea pig for privatisation at this level; ensuring that potential investors are not lumbered with the prospect of debt in the form of sunk costs in infrastructure enhancements they feel they do not need.
That might well be the case in France, where LCC penetration of both the domestic and international markets continues to grow as shown in the tables below. LCCs still do not require extravagant infrastructure and there are already some striking examples of cost-cutting, for example at the Marseille Airport low cost terminal (MP2) and at Bordeaux's Billi terminal.
France - LCC International Capacity Share (%) of Total Seats: 2001 – 2014*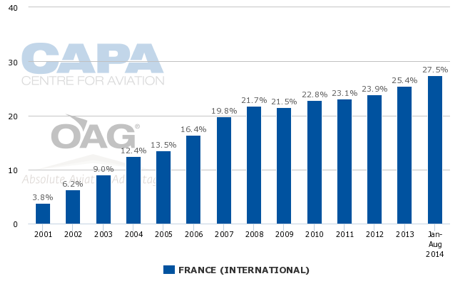 France - LCC Domestic Capacity Share (%) of Total Seats: 2001 – 2014*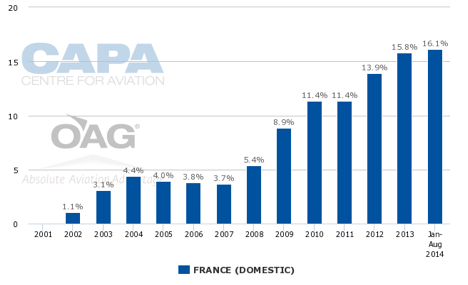 That penetration is not yet so deep at Toulouse itself, where over 70% of capacity is still made available by full service carriers.
The LCC presence includes that of easyJet, which is bigger than Air France (as it often is within France) but not of Ryanair, which operates at five airports surrounding Toulouse: Brive, Bergerac, Lourdes, Carcassonne and Rodez.
Toulouse Blagnac Airport capacity – seats by carrier type (system) 10 to 16-Nov-2014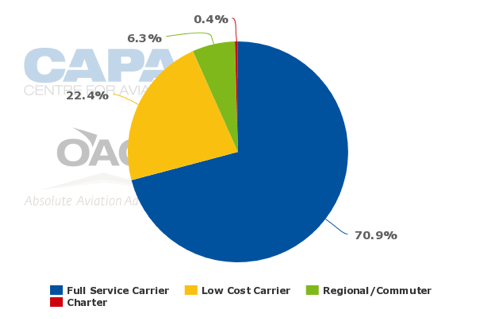 The airport also has fairly equal shares of local vs. foreign airlines and of international vs. domestic capacity.
Toulouse Blagnac Airport share of movements by local versus foreign airlines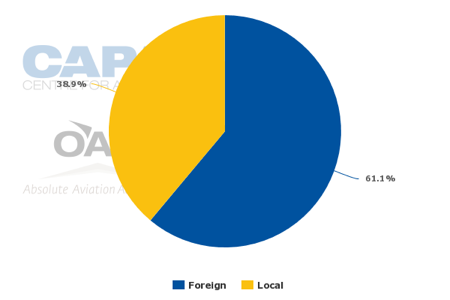 Toulouse Blagnac Airport international vs. domestic capacity seats share, 10 to 16-Nov-2014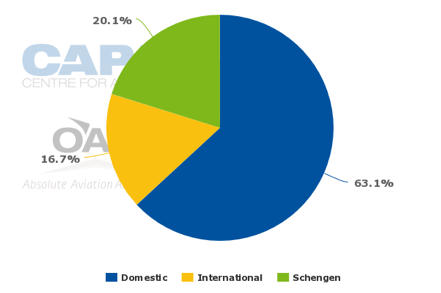 Moreover, there is not much room to expand at Toulouse anyway as the Blagnac airport is hemmed in on three sides by commercial and residential properties, as shown below.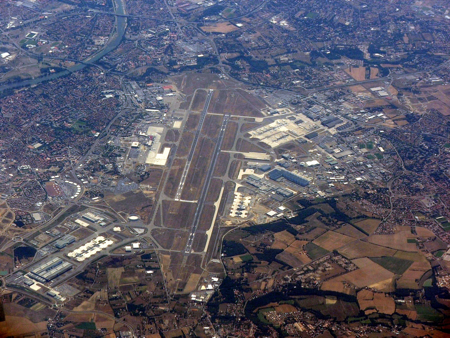 Within France, it is believed in some quarters that there are political overtones to the decision to select Toulouse first, swayed by the degree of influence of certain parties in each city under consideration and because Toulouse, as the smallest in terms both of passengers and revenues of the 'big four' provincial airports would probably be the easiest to manage through this critical pilot procedure.
Moreover, Toulouse has a history of being first in a new procedure. In Mar-2009, it became the first major regional airport to sign an economic oversight contract with the French government. The contract permitted a maximum charge increase of 2.5% plus inflation for the first year, 1% for the second year, and then 1.9% for 2011, 2012, and 2013.
So at one and the same time there are some built in advantages for potential investors as well as some potential pitfalls, making this airport a suitable experiment for the government, at least.
Toulouse–Blagnac Airport transaction details
Toulouse–Blagnac Airport has been a limited liability company since 23-Mar-2007.
Shareholders are the French government (60%), Toulouse Chamber of Commerce and Industry (25%), the Regional Council (5%), the Departmental Council (5%) and the Urban Area (5%). Toulouse–Blagnac Airport S.A. operates under a franchise agreement granted by the French government until 2046.
Simplified chart of Toulouse Blagnac airport ownership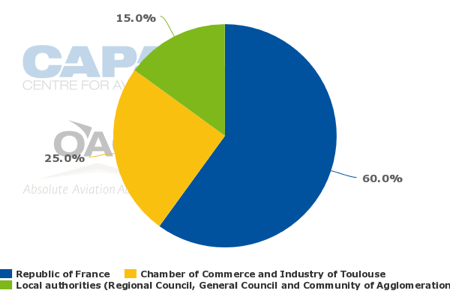 Larger authorities want to buy in – but that is not what the French government wants
The French government announced that it would sell a 49.99% stake in the airport in Jul-2014, with the intention of selecting a buyer by Nov-2014. Non-binding offers were required to be submitted by mid Sep-2014. At the same time the government invited Toulouse's Chamber of Commerce to sell its 25% stake in parallel.
While it has not yet done so it is interesting to note that The Finance Ministry did receive expressions of interest from the Department of Haute-Garonne and the Midi-Pyrénées region for its stake. Haute-Garonne is the département for which Toulouse is the main city, and is, itself, part of the Midi-Pyrénées region. If these two bodies were to buy the government's stake, it would simply be a matter of passing responsibility down the governmental food chain, leaving the airport managed by local and regional government in co-operation with the Chamber of Commerce. There would be no 'privatisation' as such but the ownership would pass entirely to organisations dedicated to improving the lot of this part of France.
Outside this public sector interest the sale did provoke some excitement in the private one. 10 Expressions of Interest in Toulouse Airport were lodged by mid Sep-2014 and consortiums forming to bid. At the close of bidding on 31-Oct-2014 they included:
Three other potential buyers dropped out, namely the Macquarie Group, Ferrovial and the Capitol Alliance.
The latter, comprising Germany's AviAlliance, Banque Populaire Occitane and Caisse d'Epargne Midi-Pyrenees, and infrastructure management company OFI InfraVia, said it had not been able to "secure optimal conditions as to the terms of the response to the tender".
Ferrovial did not comment on its decision while it is understood that Macquarie's decision was related to fiscal and regulatory uncertainty and to comments by Ségolène Royal (who is involved in anti-Nantes airport protests, see above) concerning a different transport sector, but one that Macquarie has interest in as an investor. Ms Royal said in Oct-2014 that she was in favour of imposing a levy on profits from lucrative motorway toll operations to replace revenue from a suspended "ecotax" on heavy truck traffic.
These decisions more or less remove all foreign interest from this transaction. Aeroports de Paris, Predica (Credit Agricole), Vinci, CDC (Caisse des Dépôts et Consignations, a state French financial organisation serving the economic development of the country since 1816) and EDF (Électricité de France S.A) are all French while SNC Lavalin is headquartered in the heart of Francophone Montreal in Quebec, Canada, and has so many airport construction and management projects under its belt in France that it might as well be French.
In this particular instance the 'construction' side of SNC Lavalin's character is evident. It has stated it will not contribute any funds in its bid for Toulouse Airport with its two Chinese partners to cover 100% of the finances. SNC Lavalin will instead be the operational and strategic partner, providing expertise to the grou).
So, with this background the Toulouse Blagnac privatisation exercise appears likely to be destined to keep the management of the airport very much 'in-house.'
Toulouse Airport privatisation comes at a time when the future of French air transport is even more uncertain

Vinci in particular is an active investor at present. It has interests in 23 airports now including the 10 French ones mentioned in the table above, absorbed ANA Airports of Portugal in 2013 and more recently has been chasing down the sale of 75.5% of the stock of Ljubljana Airport in Slovenia (eventually losing out to Fraport), a concession on Belgrade Airport and the expansion tender at Santiago Airport in Chile.
Not everyone is in favour of the deal of course; is that ever the case. The CEO of Airbus for example, which uses the airport for flight testing, recently came out against it citing fears of an increase in land value.
The privatisation is taking place against a background of what might be described as mixed messages about the future of air transport in France. In its 20-year growth forecast released in mid Oct-2014 and covering the period to 2034, IATA suggested that France will fall from seventh to 10th largest passenger market globally. But that is also because of the high growth levels expected in three of the BRIC nations; Brazil, India and China, and also in Indonesia.
Quite apart from the strikes that have affected Air France-KLM's performance this year unit revenue weakness weighed on the underlying performance of the group and lowered the like for like operating result in 1H2014.
See the related report: https://centreforaviation.com/analysis/reports/air-france-klm-3q-operating-profit-tumbles-due-to-pilot-strike-but-underlying-trend-is-also-down-193980).
In FY2013 (ending December 2013) the carrier (including its many French and Dutch subsidiaries) did achieve an operating profit for the first time in four years (EUR130 million, compared to a loss of EUR336 million in the previous year). A net profit proved elusive however but at least the loss was reduced. Revenue was stable at EUR25.5 billion.
Much depends on the airline's Transform 2015 programme, which mainly focused on cost and debt reduction, and on key initiatives introduced under its new Perform 2020 plan. As a result of these measures Air France-KLM is expected at least to break even and might report a net profit in 2014.
The low cost airline market is set to grow
The low cost airline market in France seems set to grow, Air France-KLM having abandoned its attempts to launch Transavia Europe in the face of fierce opposition from pilots' unions, but will now put all its LCC growth energies into Transavia France. The leisure market addressed by Transavia is a big part of this market segment, which has seen strong and growing competition from foreign LCCs such as easyJet, Ryanair and Vueling.
The share of seats taken by low-cost carriers in France is still less than in Europe as a whole but as the charts above demonstrated it is growing and Transavia France should provide a further boost, albeit at the expense of the yield gained from airline charges at airports.
Traffic figures are down right now for Sep-2014 at many French airports including Toulouse, which recorded a 14% passenger decrease in that month with 13.4% less aircraft movements. This figure is mainly accounted for by the pilot strikes referred to earlier however, with domestic flights being affected far worse than international ones.
Cargo volume actually increased by 5.1% in that month. The overall trend for passenger traffic is still slightly down for the eight months Jan-Sep at -0.1%. This compares with -1.3% at Lyon and -0.7% at Marseille. In all cases the outlying rogue September figure is included but the overall outlook is not healthy either.
Lyon Airport has a good case to be next for privatisation

After Toulouse, assuming the transaction outcome is successful, eight other airports will follow: Nice, Lyon, Bordeaux, Marseille, Montpellier, Strasbourg, Fort de France (Martinique) and Réunion's Saint-Denis airport, the latter two both being French territories.
The favourite is probably Lyon, as it has probably the highest growth potential, lying fairly centrally in the country, with a catchment area amounting to 15 million people. Moreover, it is linked directly into the country's high speed train (TGV) service and north-south/east-west motorways and has 900 hectares of land reserves.
(See the related report: https://centreforaviation.com/analysis/reports/lyon-antoine-de-saint-exupery-airport-pride-of-lyon-poised-to-grow-77326).
Aéroports de Lyon deliberately dedicated two years to consolidate its traffic in 2012 and 2013, before refocusing on growth in 2014 with the objective of achieving 11 million passengers in 2016, from 8.5 million in 2013. But it has been subject to the same lethargy in the market as the rest of France so far this year, even if it escaped the worst effects of the pilot strikes in September.
Priority there is being placed on strengthening medium-haul routes to expand and complete the network of international destinations. Focus is being placed in particular on Russia, Greece, eastern European countries and Scandinavia. The growth in medium-haul traffic is expected to help to highlight the attractiveness of the platform to introduce long-haul routes to the Gulf region, North America and Asia. Emirates has served the city since 2012 and has increased frequency to and from Dubai to daily.
By 2016, the new Terminal 3 will be directly connected to an extended Terminal 1 creating a new 15,000 sqm public area including 4,000 sqm of shops and services as well as 10,000 sqm of commercial centre in the heart of the restricted area. The project is due to be completed in time for the hosting of the Euro 2016 football championships in France. Lyon will be a host city.
The selection of the airport as an easyJet base in 2008 together with the presence of low-cost airlines such as Jet4you, Air Arabia, Transavia, and Vueling means that the low-cost offer from Lyon is developing.
Another part of Lyon's armoury is that Aéroports de Lyon, in collaboration with Eurocontrol and French Air Traffic Control, is implementing a Collaborative Decision Making (CDM) programme at Lyon-Saint Exupéry Airport.
Whatever the outcome of the Toulouse transaction it is a 'game changer' and has certainly whetted the appetite of French companies.
From an external investor's perspective though there must be some concern about the continuing presence of the public sector, both as owner and back seat observer, and as to just why the likes of Macquarie, Ferrovial et al decided not to proceed any further.
But in France's typically inertia-driven aviation policy, this is still a welcome move, however modest.