Small and medium sized European airports show greater growth potential for 2009
On the basis of annual traffic figures for 2008 released so far this month it appears that small and medium sized airports in Europe fared at least as well and sometimes better and that their prospects may also be better for 2009.
Sample European airports passenger numbers and passenger number growth (% year-on-year) in 2008: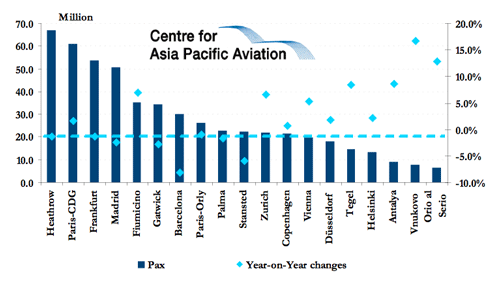 BAA figures not looking good but Stansted will benefit from AirAsia X services

Momentarily, many eyes are on events in the UK, where a third runway has been approved for the immensely capacity-constrained London Heathrow Airport, to run in tandem with mixed mode operations on existing runways and a sixth terminal.
As reported extensively in Airport Business Daily and Airport Investor Monthly, BAA still faces a long haul to get these measures past a sceptical public and many of the government's own MPs. Adverse publicity on this matter over a long period, together with the ill-fated opening of T5 in Mar-08 and the high cost of domestic air travel have helped firm up a negative appreciation of Heathrow in the UK and abroad.
The advent of Europe-US Open Skies during 2008 and the potential for more direct US air services at Heathrow has only partly combated this negativity and Heathrow ended 2008 at -1.4% passenger volume, with 66.9 million. With no new terminal coming in 2009, just the news that construction work on the Heathrow East project will be delayed until the end of the year, the prospects for Heathrow for the year on a scale of 1-5 (1 very poor; 5 very good) are no better than 2, as the management braces for what will inevitably be more bad publicity generated by the environmental movement, plus a cloudy outlook over the outlook for aviation liberalisation. Prospects rating for 2009: 2.
To the south of London, Gatwick fared worse with -2.8% passenger volume to 34.2 million. The annual figure disguises the impact of -13.8% in Dec-08, partly caused by the desertion of some long haul flights to Heathrow as slots became available and partly because of the effect of the economic downturn on what is essentially the main leisure travel airport for London and the Southeast, still oriented heavily towards vacation charters and budget airline flights. Not figuring in the chart above is Gatwick's horrendous freight result of -37.1% for the year. Gatwick is in a transitional period as it is to be sold within the next few months and the new management will have a job to convince some sceptical airlines about its long-term future without the bringing forward of the construction of a second runway. Prospects rating for 2009: 2.
Stansted Airport, having recorded continuous growth during the previous ten years, also witnessed a passenger traffic decline in 2008, this time by 6% and by 13% in Dec-08 as the effect of Ryanair's laying up or redeployment of aircraft based there for the winter began to take effect. A loss of 7.5% aircraft movements over the year suggests that Stansted's halcyon days as the premier budget airport may be over as Ryanair renewed its call for BAA to be replaced as the owner/operator, something with which the Competition Commission agrees. Potential positive developments in 2009 would be planning approval for a second runway and terminal extension but environmentalists will fight both hard. Stansted will also benefit from the commencement of AirAsia X flights in Mar-09, opening up large swathes of the Asia Pacific region to budget travellers from the southeast of England via Kuala Lumpur and vice versa. Prospects rating for 2009: 3.
Meanwhile, London City Airport (not on chart) continued where it left off in 2007, with a record 3.3 million passengers, 12% up on 2008, which itself was 15% up on 2007. Crucially, it saw 10% growth in Dec-08 despite the suicidal gloom in the City of London financial district that is its main market. The management points to the investment it has made in passenger facilities and high service standards as the key to growth this year but remains cautious about prospects for 2009 until financial stability returns to the City and the wider economy. British Airways has clearly decided in favour of LCY, identifying it as the only British airport apart from Heathrow at which it wants to grow (via its Citi Express division), becoming the biggest carrier there in the process. In 2009 it will add its experimental A319 all business class service to New York. Prospects rating for 2009: 4.
Significant investments in Paris underpin its claim to be Europe's #1 hub

Across the English Channel and into mainland Europe where Aeroports de Paris ended the year with mildly positive passenger growth and aircraft movement figures, except for movements at Orly. The largest increase was passengers at Charles de Gaulle airport, +1.6% to 60.9 million, just six million, or 9%, behind Heathrow. AdP will be watching events in London carefully as it has undoubtedly benefited from stalled expansion in England while pressing ahead vigorously with both passenger and supporting infrastructure projects at CDG and Orly to underscore its positioning as the key European hub rather than Heathrow/Gatwick. It is too early to say how the cross-shareholding and wide co-operation agreed with Schiphol Group (Amsterdam) will affect the handling of flights, many of which are operated by Air France-KLM within their own merged organisation. Prospects rating for 2009: 3.
The 'other half' in the marriage, Amsterdam Schiphol Airport, ended 2008 with a slight decline in passengers (-0.8% to 47.4 million); aircraft movements (-1.8%); and cargo (-1.4%). Schiphol Group has felt it necessary to revise its passenger forecast for 2009 from -1% (made in Aug-08) to -6% as a result of the global economic slowdown and deepening of the financial crisis. Adjustments will be made to the budget and scheduled investments accordingly. While it remains Europe's fifth largest airport by passenger numbers the once rising star that branded itself London's third airport (before the growth of Stansted) with its impressive connections is now fenced in by the airport passenger tax that was introduced in Jul-08, to the distaste of many of its low cost airline operators and their passengers especially. The tax has undoubtedly contributed to the decline in passengers. Prospects rating for 2009: 2.
Another airport that covets the title of Europe's Hub is Frankfurt Rhein-Main of course. The continent's third busiest facility saw 53.5 million passengers in 2008 (-1.3%) on movements of -1.4% with cargo volume at -2.7%. Frankfurt has had capacity issues of its own and will be encouraged by the approval this month, by the Hesse State Court, of its expansion plans, including the construction of a fourth runway (for landing only) and Terminal 3, to enable the airport to increase hourly aircraft movements from 80 to 125. Construction work will commence imminently. On the other hand, the imposition of a proposed night curfew will do nothing to improve its global passenger connectivity and its international cargo operations. Expect the proposal to be contested fiercely. Prospects rating for 2009: 3
Spain has a torrid time
Spain's two main airports, at Madrid and Barcelona, both set to be privatised this year, had a torrid time in 2008 as the domestic economy went into freefall as the result of a crash in the construction sector, and that was even before the credit crunch and wider economic downturn took hold. Little wonder that Ferrovial, essentially a construction company, had tried to spread its risk by buying up BAA in 2006.
Passenger traffic was down at Madrid by 2.4% to 50.8 million and by 8.2% at Barcelona to 30.2 million. Madrid retains its position as Europe's fourth busiest airport. Both airports were able to record an increase in cargo volume. But again the annual figures do not tell the whole story. December saw a shocking decline in passengers at Madrid (-11.8%) and Barcelona (-16.7%) with large falls also recorded for cargo volume. Barcelona's aircraft movements were down by over 18%.
The outlook for 2009 is even worse as inbound vacation passengers from the UK start to dry up as the result of a collapse in Sterling (GBP) against the Euro (EUR) and as the 'flight' home of many expatriates gathers momentum when they find they can no longer afford to live there. Many expats (there are over a million from the UK alone) would typically make four or more air journeys to the motherland each year. On top of that is the uncertainty of what happens if 'One Hub' British Airways assumes majority control of a BA-Iberia merger. The only positive development is the opening of Barcelona's futuristic new terminal for the summer 'high season'. Prospects rating for 2009 (Madrid and Barcelona): 1.
Italy's Aeroporti di Roma (Ciampino and Fiumicino airports) reports growth of 4.4% in passengers in 2008 to 40 million exactly, on movements of +1.4% and cargo growth of 2.2%. This is an exceptional result taking into account the three years of turmoil and uncertainty that was the Alitalia sale saga, complete with regular strikes. However, passengers decreased in Dec-08 by 4.6%, movements by 12.7% and cargo by a whopping 12.7%. Rome has become popular with short-term budget long weekenders in 2008, even taking over from Prague, and that was very much to the benefit of Ciampino Airport. Now the Alitalia sale is complete and Air France will have a say in the running of the new entity (although the strikes still continue) and the 'war' between Rome and Milan since the re-emergence of a Berlusconi-led government has settled a little, prospects for AdR have improved. Prospects rating for 2009: 3.
Yes, we can

But as the opening paragraph indicated it is some of Europe's smaller airports that seem to have adopted the Obama election mantra 'Yes, we can' and which often turned in some better than average results in 2008.
Germany's Dusseldorf Airport for example, in the middle of the Ruhr industrial belt that one assumes would be less badly affected by the downturn than the financial belt around Frankfurt, recorded an increase of 1.8% passengers for the year to 18.2 million. The management takes a more positive view for 2009, insisting that air traffic always develops dramatically after economic recovery; a recovery that it must assume will happen sooner rather than later.
Austria's Flughafen Wien saw growth at all its four airports in 2008 apart from Friedrichshafen, which was down by 0.9%. Vienna Airport achieved growth of 5.2%, Malta 4.7% and Kosice (Slovakia) 33.3%. The Vienna result was achieved despite the demise of Austrian Airlines (AUA), which now requires some short-term emergency financing while Lufthansa takes control of its future and the rapid growth of hub competitor Prague Airport. That 'future' for AUA and its Vienna base is just as uncertain as is Iberia's at Barcelona although Lufthansa has made clear its intention that AUA should exist as an autonomous entity at Vienna as Swiss does at Zurich. Nevertheless, a cautious Flughafen Wien management expects a 5% drop in passenger numbers in 2009, a year in which it will open a number of terminal enhancements. Prospects rating for 2009: 3.
Prague International Airport's preliminary passenger numbers show an increase of 1.6% year-on-year to 12.7 million in 2008. That figure might have been more but for the effects of the downturn in the last six months. The city authorities no longer welcome groups of foreign partygoers as they used to and this was a significant part of the throughput. Word quickly gets around on Facebook et al. The airport still expects passenger numbers to reach 20 million by 2020. Whether or not it will be privatised this year still remains open to question. It has been re-valued downwards to a little over EUR2 billion, pretty much the same as London Gatwick, which is almost three times bigger. Prospects rating for 2009: 4.
Switzerland's Geneva Airport (not on chart) also bucked the global downturn by recording an increase of 5.7% passengers over 2007, to 11.5 million, the highest number in its history, while Zurich Airport managed a solid +6.6% to 22.1 million. Zurich, as a hub for the Lufthansa-owned Swiss airline, has almost reached the level of pre-eminence it had during the heyday of the Swissair era. Switzerland, remaining outside the Euro zone, may well be a popular destination for both business and leisure visitors in 2009. It is notable that airlines like Ryanair have improved and increased their ski-vacation flights this winter, and Switzerland is a popular destination. Prospects rating for 2009: 4.
Belgium's Brussels Airport managed a 3.6% increase in passengers over the year although their numbers declined by 9% in Dec-08. Brussels is repositioning itself to take on Charleroi-Brussels South airport by opening a low cost terminal.
Secondary airports keep on growing

Apart from the very good business performance at the niche and almost unique London City Airport, remarkably, the legions of secondary airports catering to no-frills flights also carry on growing as the low cost boom ploughs on even if it has started to falter in some countries. Typical of their performance is Italy's Orio al Serio airport (Bergamo), which serves parts of Milan with low cost flights in the same way Stansted does for London. It managed a 12.9% increase in passengers to 6.5 million for the year.
Also showing strong growth was Berlin Tegel, also Antalya (Fraport) and Moscow's previously ignored 'third' airport, Vnukovo, which managed over 15%.
Background information:
For comparison purposes, according to Airports Council International, in the 11 months ended 30-Nov-08, passenger numbers at its member airports were -0.3% compared to the same period in 2007. International +2.1% and domestic -2%.