Qantas and China Southern Airlines to partner, clawing back at gains from Cathay Pacific & SIA
Analysis
Another benefit for Qantas is that this move probably blocks Virgin Australia from further consideration of a partnership with China Southern – it could also be a pre-emptive defensive measure should China Eastern and Virgin Australia partner. The implication for Asian aviation is Qantas clawing back at the inroads Singapore Airlines (but especially Cathay Pacific) have made in the Australia-China market. Qantas has suggested that the China Southern partnership could deepen, and it is not far fetched to think Qantas could in this way find in China the strategic partner Cathay Pacific never wanted to be.
To be clear, the Qantas-China Southern partnership is no Qantas-Emirates deal. Few partnerships ever will be. But the partnership is bold, if on a smaller scale. The main points are: Qantas will codeshare on China Southern flights between Australia and China and an initial four onward domestic cities while China Southern will codeshare on nine domestic Australian routes and one trans-Tasman to Auckland, which China Southern serves non-stop from Guangzhou.
An important if briefly-mentioned item in the Qantas statement was that the two are exploring opportunities to partner in other areas, such as pilot training assistance from Qantas and cargo opportunities. These strategic components are often more important to Chinese carriers than the revenue/traffic components. The growth of Chinese airlines has been compressed, and as it is they lack expertise. So they seek international experience to learn and improve their own operation. Hub management is learned from Delta while transfer traffic strategies come from KLM, to name some examples.
Of the network components, Qantas is embracing a carrier that very quickly emerged as a serious player in Australia with strengths elsewhere in the world. China Southern was a relatively unknown entity until 2009 with about 100,000 annual seats in Australia. A strategic re-direction saw it aim to capture the Australian market and its traffic to/from China and larger Asia as well as Europe. That was met with swift growth: China Southern increased capacity in Australia from 170,000 seats in 2010 to 520,000 in 2013. China Southern now accounts for half of the China-Australia market. To put this further in perspective, in all of 2003 China Southern in Australia had about 60,000 seats, an amount it now offers every six weeks. China Southern also flies its A380 between Guangzhou and Sydney, advertising through connections to Europe, although the impact of this will require time to mature.
China-Australia seat capacity by carrier: 2003-2013
Qantas has previously been absent from the rapid China-Australia growth
The Australia-China market more than doubled in available seat capacity between 2009 and 2013. Between 2005 and 2010 the market grew by about a third, or 200,000 seats, but then in a single year – 2010 to 2011 – grew by about 300,000 seats.
Qantas has been excluded from this growth. 2008 saw a push in Asia with Melbourne-Shanghai and Sydney-Beijing services launched (among others), but these were withdrawn with the financial crisis and fuel price increases, leaving only a daily Sydney-Shanghai service. There are structural challenges to Qantas' disadvantage. Qantas' cost base is high and the Chinese market is heavily outbound. The swathes of capacity have not been matched with like levels of profitability. Australia is a strategic market for Chinese carriers, China Southern especially, whereas Qantas is working to reduce international losses.
Qantas holds its ground on the Sydney-Shanghai service, in business class especially, but growth is likely sometime away and will never rise to the level of China Southern. Some airlines would sit on their hands or seek protection; Qantas decided to be strategic.
It would be easy to make the situation one in which Qantas and China Southern are competitors. But the Australia-China market is larger than Qantas and Chinese carriers: Cathay Pacific (and to a lesser extent Singapore Airlines) are notable players, and they saw China Southern as far greater competition than Qantas did.
There are a few opportunities for Qantas. First is to sell China Southern flights to enlarge its offering, especially to corporate customers. Australians are particularly attached to their frequent flyer accounts, so Qantas can effectively profit from selling China Southern codeshares and offering frequent flyer points. China Southern gets access to short-haul Australia/New Zealand flights to enlarge its reach while also gaining from Qantas' distribution.
And of course there is the competitive element. Qantas will try to route back passengers onto its codeshare rather than have them fly with Cathay Pacific and Singapore Airlines, some of Qantas' fiercest competitors. While Qantas in a statement wanted to promote its ties across greater China, it noted its "relationship" with Cathay Pacific was "through oneworld" – a narrow view but accurate since all other notable ties are lacking. Multilateral global alliance links are very limited in their own right; it is the bilateral agreements that deliver the main benefits. According to OAG, Cathay and Qantas have no codeshares with each other.
The China Southern-Qantas deal is relatively straightforward, and all around smart. It combines the rare trait in aviation of an airline practising humility and teaming up – in a significant way – with a larger player, but also realising an enemy's enemies are your friends (and with some work, business partners).
See related reports:
China Southern complements China Eastern partnership, but there will be some overlap
Qantas will codeshare on China Southern's flights to Guangzhou from all of its Australian ports: Brisbane, Melbourne, Perth and Sydney. Details are still to be confirmed, such as whether Qantas will code on all of China Southern's flights (where there is more than a daily offering) or just some flights. The impulse would eventually be to maximise the offering given the high frequency of Cathay Pacific and Singapore Airlines (Virgin Australia's codeshare partner). Qantas' codeshare with China Eastern is based on a block-space arrangement.
Qantas has no intention (yet at least) to fly its own aircraft to Guangzhou, unlike in the China Eastern partnership where Qantas already flew to Shanghai. Qantas is effectively selling China Southern's network without much direct network gain for itself. It is difficult to see Guangzhou in the medium-term having enough high-yielding traffic to sustain a non-stop Qantas service.
Guangzhou is China's second-largest airport (third-largest region for flying if amalgamating Shanghai Hongqiao and Pudong) but its manufacturing strength does not produce the yields of financial capital Shanghai or government seat of Beijing. Guangzhou and larger Guangdong province are easily accessed from Hong Kong, which Qantas serves from Brisbane, Melbourne and Sydney.
For now, Qantas will not code on China Southern's Guangzhou-Auckland service. Third-country codesharing is difficult in China, which still follows a basically protectionist policy. From a strategic perspective there could be different possibilities: Qantas might rather see its passengers cross the Tasman and take a China Southern flight from Australia or Qantas' to Shanghai. Alternatively, the competition – Air New Zealand and Cathay Pacific – can offer triangular routings for passengers visiting both Australia and New Zealand. But this is a small market.
Qantas will now partner with two Chinese airlines, a rather significant feat for a carrier not in SkyTeam, which has three Chinese members. The size of China geographically and as an air market means the China Southern partnership complements China Eastern although there is some overlap. China Southern is Asia's largest airline and the largest carrier in the domestic Chinese market while China Eastern is the second largest.
Top 10 Airlines in the domestic Chinese market ranked on seat capacity: 2-Dec-2013 to 8-Dec-2013
Rank
Airline
Total Seats
1
CZ
China Southern Airlines
1,667,156
2
MU
China Eastern Airlines
1,462,963
3
CA
Air China
1,107,412
4
HU
Hainan Airlines
592,988
5
ZH
Shenzhen Airlines
543,807
6
MF
Xiamen Airlines
502,203
7
3U
Sichuan Airlines
420,772
8
SC
Shandong Airlines
381,744
9
GS
Tianjin Airlines
289,472
10
FM
Shanghai Airlines
259,741
The China Eastern codeshare mainly focuses on northern destinations, although some southern destinations such as Fuzhou, Kunming and Guangzhou are included. The China Southern codeshare will focus on southern China. Xiamen will be a new codeshare destination for Qantas. Qantas will also gain a more efficient routing into Fuzhou and Kunming via China Southern's Guangzhou base versus China Eastern's Shanghai base. There is also the large advantage of China Southern flying from more Australian destinations than China Eastern.
Qantas will also codeshare with China Southern to the far northwestern city of Urumqi. China Southern was something of a de facto option since China Eastern only serves Urumqi from Shanghai Hongqiao whereas Qantas and China Eastern's long-haul flights go into Shanghai Pudong. The single hub at Guangzhou could in the long-term play more favourably than the split airport system in Shanghai.
Announced Qantas codeshare destinations with China Eastern (orange dots), China Southern (blue dots) and overlapping China Eastern/Southern markets (red dots): 02-Dec-2013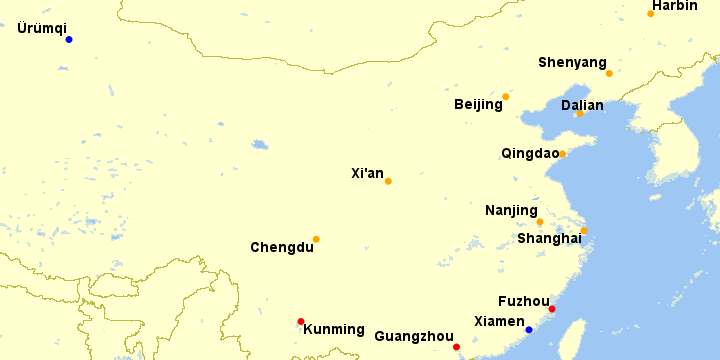 It is not just geography that helps delineate (albeit with some fuzziness) the partnerships. China Eastern has no ambitions to mirror China Southern's Australia strategy. China Eastern should be placated so long as Qantas helps sell its Australia-China flights, and none of those overlap with China Southern. Most of China Eastern's Australia flights depart from Shanghai, where there is enough demand to go non-stop rather than consider an alternative routing via Guangzhou on China Southern.
China Eastern would like some feed onto its domestic network, but is well aware what Qantas can supply compared to the size of the Chinese domestic network is the size of a rounding error. More important to China Eastern is having access to Qantas' domestic and trans-Tasman flights, which Qantas should be able to offer concurrently without conflict from China Southern.
It also helps that China Eastern and China Southern have good relations with each other. The two codeshare extensively and China Southern's former chairman Liu Shaoyong was transferred to an unwieldy China Eastern to pull it into shape, bringing affinity at the top level. So close people see China Eastern and China Southern to each other that there is occasional – and unsubstantiated – talk the two will be merged. That is a leap to make, but does underscore that the two are united in a competitive fight with the flag carrier, Air China.
See related reports:
Qantas has secured more ground in Asia while Virgin Australia is pre-occupied
In an Australian context, Qantas has gained much in Asia over the last year. Its partnership with China Eastern was strengthened while the Emirates partnership made way for Qantas to sell Emirates' Australia-Asia network and offer a combined schedule. The shift of London Heathrow flights away from Singapore to Dubai facilitated a much-needed overhaul of Qantas' Asian network, which had largely been timed around when it was best to connect in Singapore for European flights rather than the best times for Asia-terminating passengers. For example, flights that used to arrive in Singapore late at night – ideal for a short connection onwards to London – now arrive early in the evening, ideal for passengers terminating in Singapore.
See related reports:
Virgin Australia meanwhile has made limited gains. Its sole major partnership is with Singapore Airlines, which covers the ASEAN part of Asia well but is circuitous for North Asia. Virgin Australia had been considering a North Asian partner – long the intention – but this seems to have been delayed due to developments at home in its key domestic market. Some were positive, such as taking over Tigerair Australia and adopting a two-brand strategy as well as acquiring Skywest for regional services.
But the more distinct developments have been negative: Virgin's rapid capacity expansion was matched by Qantas, leading to financial losses. That further aggravated Virgin's high cost of transformation as it renovated lounges, retrofitted aircraft and took on new aircraft. In Nov-2013 Qantas called into question Virgin's ownership structure and this will take some time to be resolved, further distracting Virgin.
It is unclear what Virgin Australia's options in the North Asian region are now. A Cathay Pacific partnership could tick the box of aligning to a prestigious brand (and aggravating Qantas) but Cathay tends to be a lone ranger and not one to pursue deep partnerships; also, Hong Kong's restrictive approach to codeshares and other matters limits the number of onward flights that can be sold, and those that can be are limited. Japan, Korea and Taiwan are generally too far north for partners, and in any event the real prize is China.
Virgin could try to sway China Eastern or China Southern away from Qantas, but both seem firmly in Qantas' camp, especially considering the cooperation between China Eastern and Qantas in Jetstar Hong Kong.
That leaves Air China, whose main base in Beijing is likely too far north. Recall the map of Qantas' codeshare destinations: most are convenient from Guangzhou and Shanghai but from Beijing would be circuitous. Shanghai's Juneyao and Spring are open to partners, as are potential renewals of Hainan group airlines (Hainan briefly served Australia in the past) but none currently serves Australia. North Asia, however, is not the main preoccupation for Virgin now compared to the developments home.
Qantas and China Southern expect to finalise and launch the codeshare in early 2014. Then it will become apparent what the commercial impacts are on Cathay Pacific and Singapore Airlines. China Southern is typically the lowest-priced option between Australia and China while Cathay is slightly more in economy and significantly more in business. Qantas will want to gain from selling the China Southern codeshares, but will not want to price too high as that reinforces the position of Cathay, and SIA. Then again the exact terms of the codeshare could give Qantas limited inventory to work with, creating demand for corporate customers or those who want QF-coded flights.
The bigger target is clearly Cathay Pacific, which not only serves more of the codeshare destinations than Singapore Airlines but whose Hong Kong hub makes for more efficient connections than via Singapore. Notably, some of the codeshare destinations are not served at all by Cathay Pacific or its Dragonair subsidiary.
While the two plan to grow, there will always be more cities (albeit with incremental traffic) served by mainland Chinese carriers than Cathay/Dragonair. Cathay's strategy will be to emphasise its premium offering as well as high frequency, although its connections to secondary mainland Chinese cities can be lower than from China Eastern or China Southern.
Comparison of Qantas' China Eastern/China Southern codeshare cities also operated by Cathay Pacific and Singapore Airlines: Dec-2013
Qantas is making gains in Asia but has room to improve, and should prepare to cede territory to Virgin
The China Southern codeshare gives Qantas a boost in the key market of China while China Southern gains much necessary onward feed, local distribution and a degree of validation. Recognition is deserved since China Southern, like peers, has made significant improvements in product and service, although it openly admits it has more to improve.
Qantas' network still has shortcomings elsewhere in Asia. Its rejig with Emirates (and cutbacks the year prior) resulted in much more capacity being available to Asian destinations as opposed to capacity that mostly continued onwards to Europe. Selling that at optimal yields has been challenging. Qantas does not have the network – in Asia or to Australia – of Cathay Pacific or Singapore Airlines. Qantas has said it is pursuing partnership opportunities in Asia, in particular for its three cities that were former stopover points for Europe: Bangkok, Hong Kong and Singapore. The closest Qantas seems to have come is a tentative partnership with Bangkok Airways. Hong Kong has Cathay and Dragonair interlines available, but these have limits.
A more wide-reaching solution would be integration between Qantas and its Singapore-based Jetstar Asia and proposed Hong Kong-based Jetstar Hong Kong networks. Qantas mentioned this in passing and nothing has eventuated yet. Jetstar Asia has a wide network around the region, including to business cities, which Qantas could use if it found a solution appropriate to the market for putting passengers on Jetstar Asia, a low-cost carrier. Singapore and Hong Kong are the anchors of Qantas' Asian network, and will be for some time. Unlike Europe and Emirates, there is no one cure-all solution for Qantas – or Virgin, for that matter.
Qantas is exercising a degree of maturity and far-sightedness many carriers lack. Qantas has realised it cannot be all things to all people everywhere, so should where relevant combine its strengths with those of others; the sum is greater than the parts. This thinking has not come easy.
Qantas for many years had a sense of self-entitlement that partially resulted in financial damage, internationally at least. CEO Alan Joyce sought to reorganise this and the result is that, despite the controversy and lingering resentment from some staff (mostly pilots), the future has become easier. The Qantas-Emirates deal certainly made further partnerships easy to embrace, and at Qantas there is now a platform for innovation.
Qantas and China Southern come out of this deal looking very smart – more so than after the Qantas-China Eastern deal in 2012. No doubt there will be consequences and some territory shifted to Virgin, but Qantas' Asian competitors are largely stuck in old ways of thinking. That will limit their ability to change.