North America-to-China airline growth characterised by individualism
Analysis
The North Atlantic to Europe market is the largest long-haul segment for North American airlines, but it is the Pacific to Asia routes that growth opportunities are the largest. In 2010 there were 392 daily flights between North America and Western Europe, according to OAG.
In 2015, this is forecast to be 441. Between North America and Asia, there were 124 daily flights in 2010 but in 2015 there will be a forecast 178.
These figures must be qualified, but they clearly illustrate the changing North Pacific market. The capacity figures do not reflect profit, which is typically stronger across the Atlantic. For some airlines, North America-Asia has been unprofitable. It has remained and even grown due to "strategic" interests, although the current low fuel price will do much to support profitability on these long, fuel hungry sectors.
American Airlines is a good example of this phenomenon
In Jun-2014 on the eve of launching services from Dallas to Shanghai and Hong Kong (the latter American's longest flight at over 8,000 miles) CEO Doug Parker said Asian routes were "investments for the long term". Fast forward to Jan-2015 and President Scott Kirby remarked: "with fuel prices where they are today, we'd expect even our Asian routes to be profitable in 2015."
It could be argued profits are higher across the Atlantic due to anti-trust immunised joint ventures, which have also allowed airlines to keep capacity in check since there are fewer competing entities.
But joint ventures are taking hold across the Pacific, too with Air China and Air Canada tying up, following the American-JAL and United-ANA JVs. Delta has also been pushing Korean Air.
The figures also reflect flights and not seats. Smaller aircraft, including single-aisle equipment, can be used on the Atlantic while the Pacific has relied on larger aircraft. This is changing with the 787 and A350. The next-generation widebodies are opening routes other aircraft cannot. They are also making other routes more profitable and allowing for growth other aircraft could not provide.
In short, there is a varied spectrum of change on the North Pacific market. Some influences are external, like growing economies in Asia. Some are due to government influence, such as visa policy, air service agreements or route subsidies. Others are due to aircraft and hubs, to new airline entry and others originate from changed boardroom strategies. Collectively they add up to multiple opportunities.
But with almost all airlines taking them up, these same circumstances can also generate challenges, as competition intensifies. There will be winners and losers, but everyone hopes to be in the former category.
Cartography illustrates many stories of the Pacific evolution. US airline route maps are no longer anchored around Tokyo. Of the big three US airlines, United has been the most diversified. In 2005, 57% of its Asian capacity was to Japan. American and Delta had 100% of their Asian capacity to Japan.
In 2014, this shifted to American having 42%, United 41% and Delta 65%. With the launch of Dallas-Beijing flights in Jun-2015, American for the first time in its history will have more capacity to China than to Japan.

Even seasoned airline executives are getting impromptu geography lessons as new Chinese cities are added to route maps: China Southern's Wuhan-San Francisco and China Eastern's Nanjing-Los Angeles are two recent examples. Four secondary Chinese cities are now linked to North America.
It is not just the non-stops losing favour. Delta and United are decreasing their intra-Asia flights, mostly from Japan. Some flights are being replaced by partners, such as United cancelling Tokyo-Bangkok in favour of an ANA codeshare. Delta is winding down flights as it adds non-stops to Asian cities outside of Japan.
The numbers are still small, but the direction is clear.
Xiamen Airlines may soon add a secondary route to North America. If that eventuates, Hong Kong Airlines, MIAT Mongolian Airlines and TransAsia will be the only North Asian widebody operators not yet flying the trans-Pacific route. Both TransAsia and Hong Kong Airlines would like North American services in the medium term.
It is not all about growth and expansion however. For the most part, routes and capacity have been added; but there are exceptions, mostly among Southeast Asian airlines, for whom the long haul from further south makes for very expensive flying.
Malaysia Airlines and Thai Airways are all but non-existent in North America while Singapore Airlines has ended its ultra-long-haul non-stops to Los Angeles and Newark. Routes that were previously marginal or acceptably loss-making are too difficult with added competition.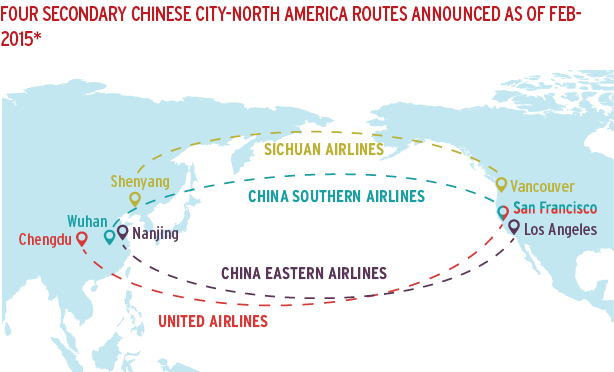 It is in Southeast Asia that Gulf carriers make a rare appearance in the Asia-US market. Gulf carriers can be competitive to Southeast Asian destinations, mostly from eastern US points – in this case heading westwards.
For most airlines, aviation is a story of hubs and connectivity; there are few more powerful drivers of growth. United has been the most diversified, and largest, because of its strong west coast US hub at San Francisco. That (with a suitable management mindset) gave it a base for Asian services. American Airlines in Chicago and Dallas never had that, nor did Delta in Atlanta or later Detroit and Minneapolis when it merged with Northwest.
The latest development is in Los Angeles, long a fragmented market. Both American and Delta want to establish a long-haul base there. Delta is adding Los Angeles-Shanghai service while American is mulling further Asian routes from Los Angeles. American serves Shanghai and Tokyo from Los Angeles. A build-up there follows American's Asian growth in Dallas. In the space of two years between 2013 and 2015, American will go from one Asian destination to five, mirroring Delta's quick build in Seattle.
Next generation aircraft are unlikely to link a secondary city on each end of a route, like Nanjing-Seattle. Trans-Pacific routes at one end or the other will generally be dependent on a hub. An exception may be services from Los Angeles, where US carriers do not have strong hubs and the Asian destination is not a hub for a strategically close partner.
Asia-North America traffic can also provide connections as part of a connecting journey to Latin America. Given the distances between the continents and overall fragmentation, third-continent hubs have the advantage. Airlines from Europe and North America, but increasingly the Middle East, carry this traffic. US airports and airlines are disadvantaged, much to their frustration, by not being permitted to have transit without the need for a visa – a problem that Canada has been able to address successfully.
The three main US airlines are placing significant pressure on US officials to curtail Gulf carrier growth, despite the apparently limited benefits it would bring for US carriers. Indeed, other US airlines oppose the big three's position and it would require a political upheaval to revoke the open skies UAE agreement in place. In contrast, there would be almost no aviation objective to having transit without visa, and this would deliver clear benefits.
Vancouver Airport does have transit without visa and is pushing for a greater role in the Asia-Latin America market. But to its disadvantage, Canada's protectionist bilateral regime favours Air Canada. As a result, Asian and Latin American carriers often have limited traffic rights which otherwise might help them combine.
One of the most discussed topics in US aviation is Delta establishing an Asian hub in Seattle. In 2015 Delta serves six Asian cities from Seattle, up from three in 2012. Delta has launched domestic services to feed international flights but also to take advantage of the opportunity it sees in Seattle. This is a David and Goliath story of the mighty Delta against smaller Alaska Airlines, which has little else besides its Seattle hub. But could be argued that Alaska's enduring high performance was inviting competition.
Delta's build up in Seattle has largely been done in isolation, rather than in partnership with its former partner Alaska Airlines. This raises the matter of what some see as Delta being aggressive, a behaviour perhaps manifest in Asia too. Delta asked/demanded, to gasps in Japan, for its decades-old Haneda slots to be returned, even though this number of slots was more than Haneda recently offered to all international airlines.
Delta has sought a JV with Korean Air, the largest Asian airline across the Pacific. When Korean rebuffed Delta, drastic measures were taken as Delta cut earning rates for frequent flyers travelling on Korean. Incheon airport, which in 2014 carried fewer transit passengers than in 2013, is lobbying for Delta to move its Japan hub to Korea's flagship gateway. Airports play a larger role in route development than many people recognise, but this frayed Delta-Korean relationship likely needs more soothing than Incheon can generate.
The Delta-Korean Air spat has its origins in Delta believing Korean Air has "unfairly" used its Seoul hub to carry China-US traffic. The China-US market has been big but was largely neglected by Chinese and American carriers, leaving it to airlines in Hong Kong, Japan and Korea. Sixth freedom traffic accounts for 20-40% of the China-US market (the range reflecting the statistical difficulties with Chinese data).
Chinese and American airlines, the end-to-end operators, are fighting back against the intermediate operators. Air China, with favourable geography at its Beijing hub in northern China, was the first, quickly building a North American route network. It serves more US cities from China than United, and in 2015 will have three daily Beijing-Los Angeles flights. Air China is slowing after its recent large expansion, but will gear up again as it uses 787-9s to link Beijing with secondary US points. China Eastern, long bereft of long-haul aircraft, expects most of its new 777-300ERs to be used in North America.
China Southern will be challenged with its more southerly Guangzhou hub, which lacks geography and premium yields. Beijing-based Hainan Airlines is also challenged since Air China has so far retained exclusive rights on its Beijing services. Hainan has had to look elsewhere, mostly flying to secondary US cities like San Jose and Seattle. It is starting to link US cities from more than one Chinese city; Boston will be served from Beijing and Shanghai. The saving grace is Hainan using smaller and fuel-efficient 787s.
Taiwan's EVA Air and China Airlines are minor players in the mainland China-North America market. They lack regulatory approval to carry outbound Chinese passengers beyond Taiwan while cross-Strait yields are high enough on an O&D basis that connections would dilute revenue.
In a market full of growth, it is largely China Airlines as the exception for adding services. It may add seasonal increases, but the airline sees the market too low-yielding when high transfer rates are built in. It also wants to bed down performance as it replaces 747s with 777s. EVA Air also stole China Airlines' thunder to North America, arguably leaving limited room for China Airlines.
The Pacific is witness both to some of the strongest partnerships (JVs in Japan) and the sourest relations (Delta-Korean Air). But overall, Asian-American partnerships are in their infancy. It is only in 2015 Delta will co-locate in Shanghai with locally-based partner China Eastern. This will reduce minimum connecting times; about a third of Delta's Shanghai passengers connect beyond. Hubs are in their infancy. There is little activity between Air China and United. Air China is forming a JV with Air Canada but, unlike the US, Canada does not require open skies to establish a JV.
American Airlines is in need of a partner in China. It has a limited relationship with Hainan Airlines; the biggest objective is to bring a Chinese airline into oneworld, possibly from another alliance (China Eastern is mooted as the weak link).
There are smaller partnerships too. Singapore Airlines codeshares on North American routes with Asiana and more recently EVA Air, with the latter more likely to gain ground, albeit on a small scale. The American Airlines-Korean Air partnership is confined to one route.
There is the possibility of new types of partnerships evolving across the Pacific. All Nippon Airways had been looking to acquire airlines, but this is mostly linked to supporting intra-Asia growth. Still, some move could potentially give ANA a boost across the Pacific.
Hainan Airlines has sought to overcome its weaker position under China's route restrictions by investing in foreign airlines and having them fly into China. It is early days but this strategy has not manifested itself. Hainan bought a stake in France's Aigle Azur for the small French airline to make the leap and serve Beijing, but a lack of Russian overflight approvals has prevented that. And even a minority level acquisition of a US airline would be met with fierce union resistance over questions of effective control.
Thankfully for Asian carriers, US airlines, focussed on high profitability in their home market, are conservative with their growth.
North American airlines prefer to rely on their core European and South American network. Many - but not all - North Asian carriers have little else besides North America. Advances by North American carriers may not be met kindly by their Asian counterparts, seeking to preserve market share.
Further, recent hard product improvements have not been met with the small but important soft service touches that are part of every day life in Asia; for example China Airlines offers a dozen or more types of tea; American Airlines offers two.
There is no doubt – if they are to regain lost ground from intermediate airlines – that Chinese and American carriers will need to discover a greater taste for partnering. Here timing is a key consideration. Establishing a foundation of services may eventually allow greater leverage when it comes to negotiating a partnership, especially where there is such a high level of anticipated growth.
Compared with the more mature trans-Atlantic market, alliance strategies were more zero-sum based, requiring rapid moves to cordon off a market share.
Three alliances now define the Atlantic market, but there is less alliance romance across the Pacific where airlines discriminate against their partner codeshares by applying high beyond-gateway access charges. (This does however create niche connecting opportunities for airlines like Hawaiian Airlines, and feed access for independent carriers like JetBlue.)
In Asia, not only are airlines exploring growth independently, some are working hard to aggravate potential suitors. The current North America-Europe alliances had established histories, following earlier marriages like Atlantic Excellence and Qualiflyer. However, in Asia's fast growing, high potential, aviation market, history is only now being written.
Dating can be positive as airlines seek long-term partners who can strengthen their position in a market that will deliver much growth – and be relatively shielded from Gulf carriers or any others in third-continent hubs.