Moscow Domodedovo Airport suffers traffic dip but prepares for growth
Analysis
Moscow's and the Russian Federation's second largest airport, Domodedovo (DME), handled 30.7 million passengers in 2017. Although it returned to growth last year, this figure was virtually unchanged from 2013. Traffic fell again in 1H2018, in spite of a boost from the FIFA World Cup held in Russia this summer.
DME ranked as Europe's 13th biggest airport by passenger numbers in 2017. It is mainly a point-to-point airport, although 17.8% of passengers were transfer traffic last year. Terminal developments to expand and integrate terminals 1 and 2 are aimed in part at improving the handling of transfer traffic at an airport that is dominated by domestic and short/medium haul international flights.
Together with new runway capacity, they are also aimed at ensuring that DME is positioned for more consistent growth in the future.
Summary
Russia's and Moscow's number two airport, DME, returned to growth in 2017 after two years of falling traffic, but traffic is falling again in 2018.
S7 Airlines is the biggest airline at DME, where Russian carriers have almost four fifths of seats. LCCs have only 1% of seats.
Domestic traffic was 55% of passengers in 2017, and short/medium haul routes dominate international capacity.
Domodedovo returned to growth in 2017, after two years of falling traffic
DME's 2017 passenger count of 30.7 million compared with 40.1 million at Moscow Sheremetyevo and 18.1 million at Moscow Vnukovo. DME's figure was 7.7% higher than in 2016 but below its peak of 33.0 million reached in 2014, and barely more than its 2013 total of 30.5 million.
The airport's former number two airline, Transaero Airlines, ceased operations in Oct-2015. This resulted in falling traffic in both 2015 and 2016, in spite of capacity growth by the airport's leading airline, S7 Airlines, and number two, Ural Airlines.
The airport also suffered from the bankruptcy of VIM Airlines, which ceased operating in Oct-2017, but this carrier had only a small presence and this did not prevent DME's return to growth last year.
Nevertheless, DME's growth rate of 7.7% in 2017 was slower than Sheremetyevo's 17.8% and Vnukovo's 30.1%.
But passenger numbers dropped again in 1H2018
Moreover, growth has gone into reverse in 2018, with a decline in passenger numbers of 1.6% in the first six months, versus +13.1% at Sheremetyevo and +19.8% at Vnukovo.
DME's passenger count fell in the first five months of 2018 but then grew by 0.4% in Jun-2018, boosted by the FIFA World Cup. The competition ran from mid Jun-2018 to mid Jul-2018, when traffic was up by 10.5%.
The underlying trend of falling traffic at DME in 2018 reflects a drop in demand on domestic and CIS routes, whereas international demand to/from countries outside the CIS is growing. Traffic to/from Turkey has been particularly strong, led by leisure traffic.
The regional airline RusLine moved from DME to Vnukovo in Mar-2018, helping to explain the fall in domestic and overall traffic in 2018 (the exit of VIM Airlines in Oct-2017 is also affecting this year's traffic growth rate).
Moscow Domodedovo Airport annual passenger numbers: 2008 to 2018*
Russian operators dominate, with 78.1% of seat capacity at DME. S7 Airlines is the biggest operator by seats at the airport, with 44.0% of seats in the week of 13-Aug-2018, according to data from OAG. DME is also S7's biggest hub by seats.
S7 has a clear lead over number two Ural Airlines (15.7% of seats), third placed Red Wings (8.5%) and fourth placed Nordstar (3.1%).
Lufthansa, fifth overall, is the biggest foreign airline presence, with 2.1% of seats. Seven other non-Russian airlines have more than 1.0% of seats: Uzbekistan Airways (1.9%), Belavia (1.8%), Aegean Airlines (1.5%), Emirates (1.4%), Air Moldova (1.3%), British Airways (1.2%) and Qatar Airways (1.1%).
Moscow Domodedovo Airport: airlines by seat share, week of 13-Aug-2018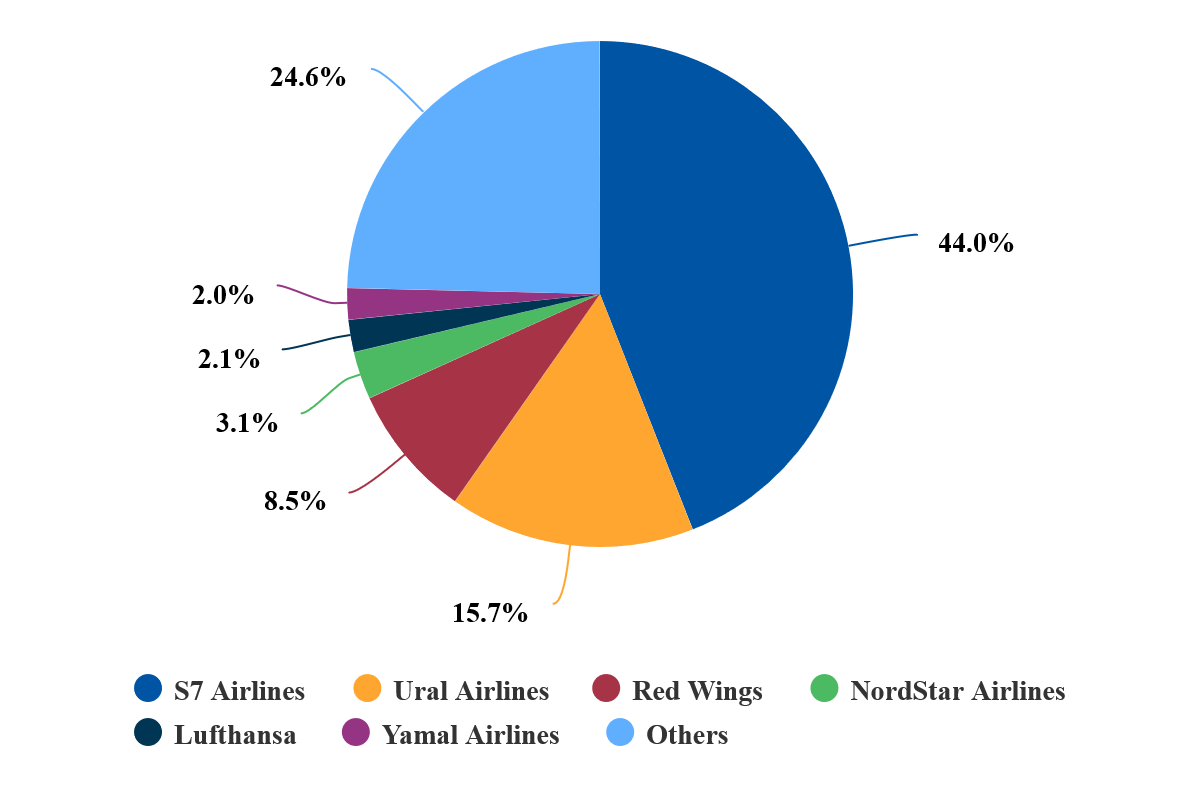 LCCs have only 1% of seats
LCCs have only 1.1% of seats at DME, with only two operators: Pegasus and Vueling. Vueling has reduced its presence at DME – since its peak summer capacity reached more than 6,000 weekly seats in 2014 – to less than 1,300 in summer 2018.
EasyJet operated to/from DME between Mar-2013 and Mar-2016 and Germanwings (operating as Eurowings) served the airport from Oct-2015 to Oct-2016. AirBaltic withdrew in 2015.
Domestic traffic made up 55% of passengers in 2017
The dominance of Russian airlines at DME reflects the importance of the domestic market.
Exactly half of the airport's seat capacity in the week of 13-Aug-2018 is domestic (source: OAG), but this period is near the height of the summer, when international capacity is seasonally high. DME's 2017 annual passenger numbers were split 55% in favour of domestic traffic.
International demand has been adversely affected in recent years by the weakening of the rouble and by economic weakness, partly resulting from sanctions against Russia. This has switched the balance of its traffic from international to domestic routes, although traffic data for 2018 so far indicate that this balance may be starting to tilt back this year.
Short/medium haul accounts for 95.8% of international seats
DME's international departing capacity is dominated by short/medium haul routes, particularly in regions with strong historical links to Russia.
In the week of 13-Aug-2018, Eastern/Central Europe accounts for almost half, 49.3%, of international seats (Europe as a whole is three quarters, 74.6%). Central Asia makes up 12.3% of international seats and the Middle East represents 8.0%.
Together with North Africa (0.9%), these short/medium haul regions account for 95.8% of international seats from DME.
The leading destination market by country is Ukraine, followed by Germany (helping to explain Lufthansa's position as the leading foreign airline). The top 10 countries also include Uzbekistan, Bulgaria, Turkey, Montenegro and Belarus, in addition to the UAE and Western Europe's Spain and Italy.
Moscow Domodedovo Airport: departing international seats by region, week of 13-Aug-2018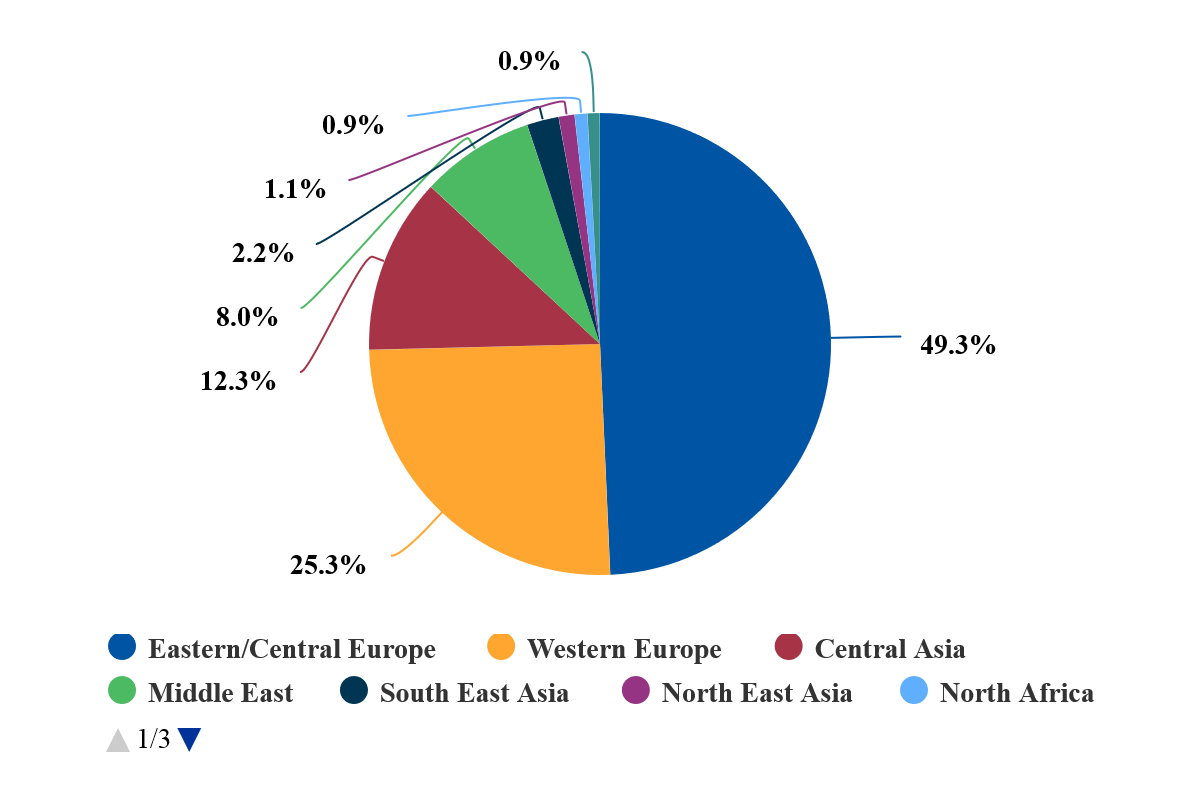 All three big Gulf airlines are present at DME
Only 4.2% of DME's international departing capacity is on long haul routes (2.2% to South East Asia, 1.1% to North East Asia and 0.9% to the Caribbean). Its larger Moscow airport rival, Sheremetyevo, has far more long haul connections, particularly to Asia and North America.
Nevertheless, the presence of all three of the big Gulf carriers gives DME indirect, one-stop, connections to a large number of destinations in Asia Pacific and Africa.
Emirates is the leading Middle Eastern airline at DME, which it has served since 2003. It has increased its peak weekly capacity from approximately 5,200 seats in 2016 to 7,300 in 2018.
OAG data into the early part of 2019 indicate a further increase to more than 8,800 weekly seats. Emirates codeshares with S7 on domestic Russian routes.
Qatar Airways, number two by seats between DME and the Middle East, has increased its weekly capacity from approximately 2,000 seats in 2016 to more than 4,300 in 2018. Passenger numbers on the Doha route grew by 47% year-on-year in 1H2018.
Etihad is much smaller, with only 1,000 weekly seats.
Infrastructure expansion positions DME for future growth
DME opened new facilities at its Terminal 2 in time for the FIFA World Cup this summer, adding capacity for an additional five million annual passengers.
This will be integrated with Terminal 1 under the airport's plans to implement its 'Under One Roof' concept, with a combined capacity of 45 million passengers. A new runway is also nearing completion. Expansion of Terminal 3 is planned to become operational in 2023, giving the airport an overall capacity of 75 million passengers.
DME may have suffered from falling between two stools, since it is neither a major hub with long haul connections like Sheremetyevo (the main hub for Aeroflot) nor a smaller but fast growing LCC base like Vnukovo (home to Russia's only LCC, the Aeroflot subsidiary Pobeda).
Nevertheless, Moscow is the capital of Europe's most populous country and has plenty of scope to support three main airports. The Russian economy and air traffic have been volatile in recent years, but aviation remains a long term growth industry. DME's infrastructure expansion positions it for future growth.