LATAM's 4Q2012 yields are damaged by aggressive competitive expansion in the US-Brazil market
Analysis
Competitive pressure in long-haul markets between the US and Brazil was a major driver in the 10.3% year-over-year decrease in yields during 4Q2012 for the powerful newly minted LATAM Airlines Group, which is the combination of Brazil's leading carrier TAM and South American group LAN. The performance in long-haul markets is likely disappointing for the group as its performance in Brazil's cooling domestic market improved during the last three months of 2012.
In some ways the competitive pressure on long-haul markets from the US and Brazil will be short-lived as TAM and American Airlines are working to forge a codeshare partnership that will see the two historic rivals team up in the market now that LATAM has selected oneworld as its alliance of choice. Once all the regulatory approvals for the tie-up are in place, TAM will be able to benefit from onward connections in Miami and New York that it currently does not enjoy. Based on current schedules in Innovata (24-Mar-2013 to 30-Mar-2013) TAM and American presently account for 69% of the capacity between the US and Brazil.
Brazil to United States (seats per week, one way): 19-Sep-2011 to 15-Sep-2013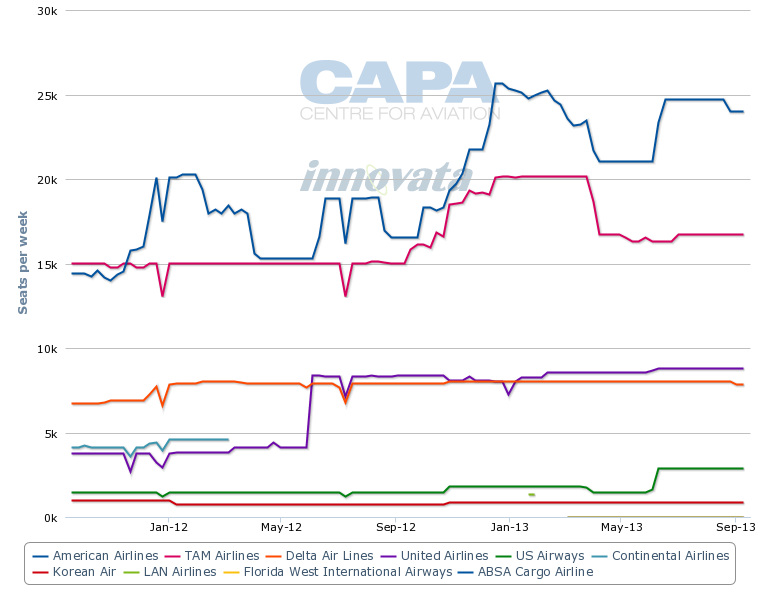 The decline in LATAM's yields and corresponding 7% fall in passenger unit revenues were mainly attributable competitive pressure in its international market. Both LATAM and its international competitors introduced ample capacity on international routes as ASKs in LATAM's international network increased 13% year-over-year during 4Q2012.
LATAM Airlines Group change in select operating statistics: 4Q2011 vs 4Q2012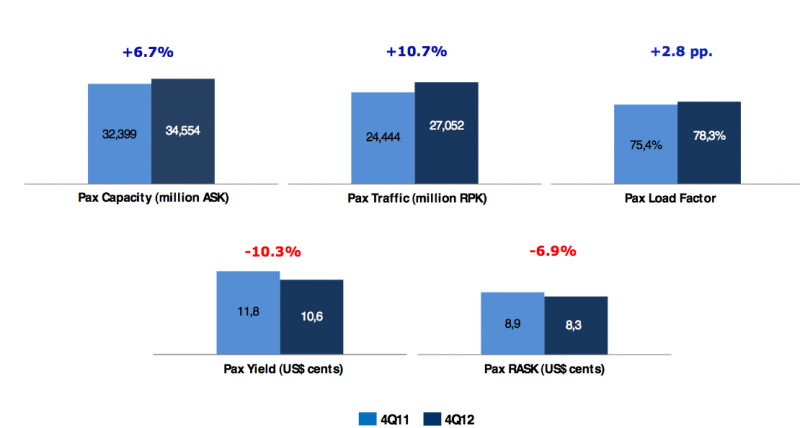 LATAM executives recently explained to analysts that both their company and other carriers introduced excess capacity in international service, particularly in the US-Brazil market, noting American and United added 16 weekly frequencies between the US and Brazil and LATAM's capacity between the two countries increased about 22% year-over-year during 4Q2012. The result was carriers "becoming aggressive in their commercial conditions", LATAM executives explained, which created pricing pressure in the markets.
American's during 2012 introduced direct flights from Miami to Manaus while also increasing frequencies between Miami and Belo Horizonte and Brasilia. The carrier also expanded weekly frequencies from Dallas to Sao Paulo.
TAM responded by increasing frequencies from Miami to Belo Horizonte and Brasilia. The carrier also upgauged its Sao Paulo-Miami flights from 223-seat Airbus a330s to 362-seat Boeing 777-300ERs, a seat expansion of roughly 63%. TAM also introduced service between Rio de Janeiro and Orlando in Oct-2012, but later opted to cut the flight in early Apr-2013. It service from Sao Paulo to Orlando remains intact.
See related article: American Airlines and TAM continue to expand US-Brazil as other markets show signs of weakness
LATAM executives assured that the company's fortunes should improve on international service between the US and Brazil during 3Q2013, noting that is the timeframe of when the carrier expects to turn a positive result from the added capacity from Sao Paulo to Miami and New York.
Company management also stressed that the planned codeshare with American Airlines, which is subject to approval from Brazilian authorities, was a significant element of its international network strategy going forward as the tie-up would allow TAM to improve connections at American's hubs in Miami and New York JFK. Presently, TAM is limited in its offerings beyond those markets as its Star partner United has no presence in the robust Brazil-Miami market and serves the New York metro area from its Newark hub.
Lima remains as key connection point in the combined LATAM network
LATAM has no plans to deter from building up its hub in Lima to build the market as a stopover to connect passengers from North and South America. The company will leverage the combined networks to funnel traffic through Lima. Now that the merger is complete LATAM can flow traffic from Brazil through Lima as well as passengers from other important Southern Cone markets of Argentina and Chile. Presently LATAM is focusing on changing flight times to improve connections in Lima, said company officials.
While LATAM is keen to leverage its strength as Lima's largest carrier, where it accounts for about 53% of the seating capacity, the market's second largest airline Avianca-TACA began basing a widebody Airbus A330 jet in Lima during late 2012 to boost capacity between Lima and Buenos Airs and its hub in Bogota. A second widebody will be placed in Lima in 2013 to to expand capacity between Lima and Miami.
Lima J Chavez International Airport capacity by carrier (% of seats): 25-Mar-2013 to 31-Mar-2013
Lima is rising to a position of prominence in the networks of both LATAM and Avianca-TACA as means to partially compete with Panama, where Copa enjoys a strategic advantage of connecting passengers between North and South America. Since both of Latin America's largest airline groups now plan to bolster their connection capabilities in Lima, competitive pressure for both companies is likely to intensify in the short term as Avianca-TACA works to strengthen its presence in the market and LATAM ensures its retains its commanding share.
See related article: TACA continues expansion in Peru with A330s ahead of rebranding as Avianca
A promising rebound in the Brazilian domestic market
Pressure in LATAM's international markets during 4Q2012 was somewhat counter-balanced by improvement in the company's performance in the Brazilian domestic market, which was weak throughout the majority of 2012. Although TAM's 4.2% reduction during 4Q2012 in ASKs was 11.3ppt below the 15.5% cut ushered in by its main Brazilian domestic competitor Gol (partially due to the shuttering of Gol's subsidiary Webjet in Nov-2012), TAM's traffic grew by nearly 12% while Gol recorded a 9% decline in its traffic. LATAM said it is working to improve revenue management within the different passenger segments in the Brazilian domestic market, with an emphasis on stimulating demand among price sensitive travellers.
LATAM predicts it will continue to improve its performance in the Brazilian domestic market during 2013, and estimates a double-digit unit revenue increase year-over-year.
LATAM Airlines Group operating performance year-over-year in the Brazil domestic market: Oct-2011 to Feb-2013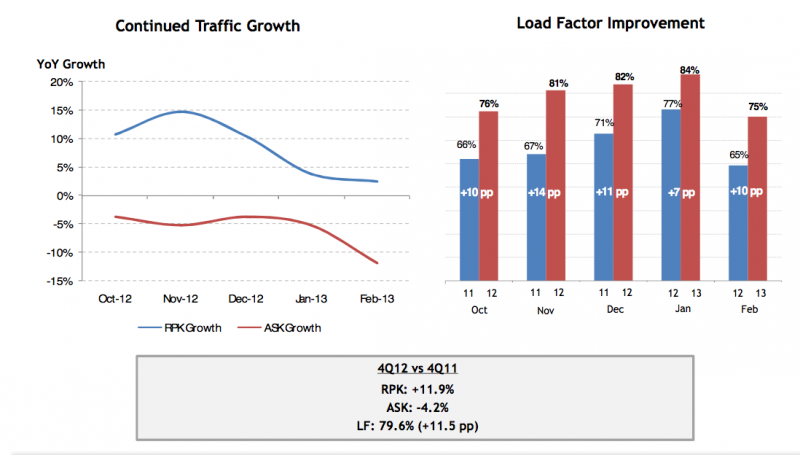 LATAM plans to reduce ASKs in the Brazilian domestic market by 5%-7% during 2013 as company executives stressed that capacity discipline is key to regaining profitability in Brazil. Gol's planned capacity reduction is slightly more pronounced than its rival as it expects to cut domestic ASK growth between 8% and 10% in 2013.
Both of Brazil's largest carriers have declared that their fortunes in the domestic space will improve during 2013. Gol has joined its rival in predicting that its unit revenues will rise by double digits during 2013 and is encouraged that even smaller regional carriers including Azul-TRIP and Avianca Brazil are slowing down their capacity growth.
Gol is encouraged that the domestic market will strengthen during 2013 as evidence by its 10% unit revenue growth in Jan-2013 and a 14% year-over-year increase during Feb-2013. The trends appear positive as the majority of Gol's operations are centred in the Brazilian domestic market.
See related article: Gol pledges a financial turnaround as it records a second annual loss, USD745 million
LATAM's 4Q2012 profits are hurt by integration charges
LATAM during 4Q2012 recorded a profit of USD8.5 million after recording USD21.9 million from transaction expenses and USD52.7 million in aircraft sales and redelivery costs. Factoring out those special items LATAM posted a USD115 million net profit even as revenues remained roughly flat at USD3.4 billion.
LATAM Airlines Group financial results: 4Q2011 vs 4Q2012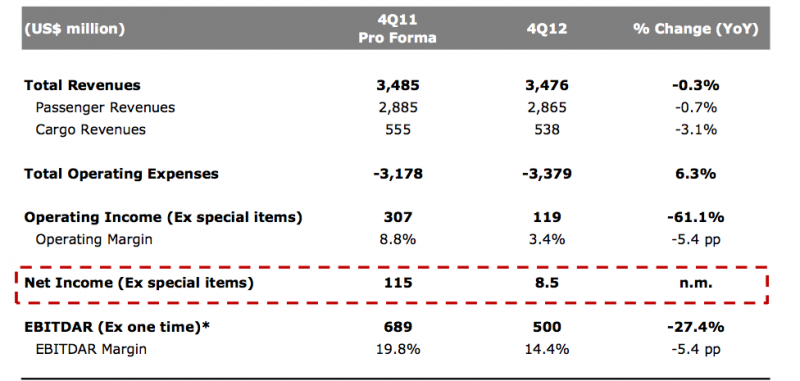 Company executives estimate that LATAM should achieve USD250 million to USD300 million in merger synergies during 2013, and the group remains on track to achieve its full USD600 million to USD700 million synergy target in 2016. However, the group will incur certain integration expenses as it makes progress on its synergy goals.
There is also an evaluation under way of the combined carrier's fleet plan in response to the competitive and macroeconomic environment. Presently, the company's projections indicate a combined fleet of 323 aircraft by year-end 2013, a decrease of four shells from year-end 2012.
LATAM Airlines Group fleet projections: 2012 to 2015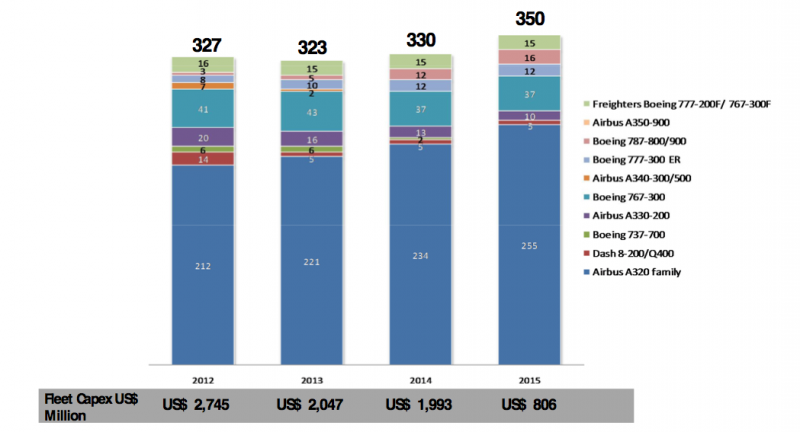 LAN and TAM officially merged in Jun-2012, which means that the two companies are not terribly far along in the process of maximising their respective fleets and networks to really produce any meaningful results from the new LATAM Airlines Group. While there seems to be some miscalculation in the reaping the benefits of spooling-up the US-Brazil market, there are important pieces in place for LATAM to meet its synergy targets.
With Brazil's domestic market improving, TAM's jump from Star to oneworld and the company's leading position in Lima, benefits from the merger should surface in 2013. The usual risks of high fuel prices, currency fluctuation and aggressive competition could continue to pressure the group during 2013, but its heft and scope as the preeminent airline group in Latin America puts LATAM in a strong position to weather potential obstacles that could pressure its results.
See related article: Europe to Latin America: why European airlines are practising their-samba, salsa, tango and rumba