LATAM Airlines Brazil still has aims to create a hub in Brazil's northeast, but instability remains
Analysis
Brazil's recession has forced the country's airlines to adjust their capacity and network strategies in the short term as economic growth contracted in 2015 and 2016. LATAM Airlines Brazil during 2015 declared plans to establish a hub in the country's northeast to create efficient connections between South American and Europe, but economic weakness forced the airline to put those plans on hold.

But LATAM remains steadfast in its belief that a northeastern hub is necessary for efficient trans-Atlantic connections, and it aims to move forward with those plans once demand in Brazil stabilises.

LATAM is joining other airlines operating in Brazil in concluding that generally, traffic is recovering at a slow pace, with corporate business taking some time to reach levels recorded prior to the country's recession.
LATAM has to freeze plans for a new hub
Two years ago LATAM Airlines Brazil outlined plans to establish a hub in the northeastern region of the country, and named Fortaleza, Natal and Recife as potential candidates.

See related report: LATAM Airlines Group continues to build network utility as currency pressure remains an overhang

LATAM's logic in deciding to create a new northeastern hub was to create more direct access for its customers to trans-Atlantic markets, resulting in faster turnaround times and lower operating costs. The bulk of TAM's trans-Atlantic flights are operated from São Paulo Guarulhos – the country's busiest airport, located in the southeastern region of Brazil.

At that time, LATAM estimated 1.5 million passengers would travel on the routes from the new hub, which could service 10 European destinations. At one point, LATAM aimed to start operations from the new hub in 2016.

But Brazil's 3.8% and 3.6% contraction in GDP growth in 2015 and 2016 thwarted those plans as the country's passenger numbers fell 7.1% year-on-year in 2016.
Brazil annual passenger numbers from 2013 to mid-2017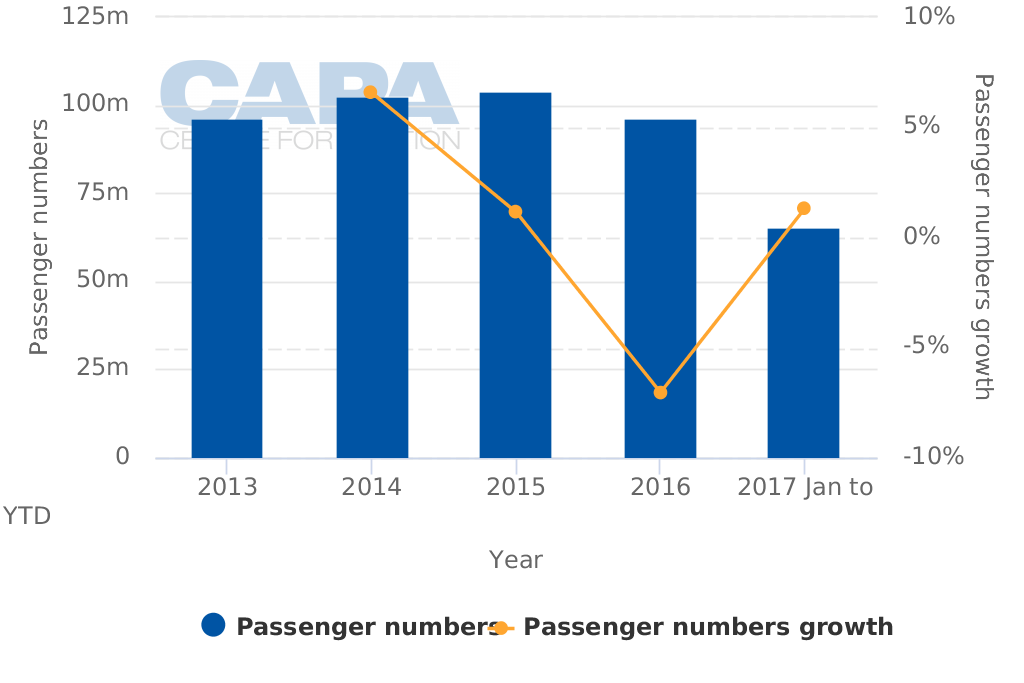 But a new northeastern hub remains an important part of LATAM's long term strategy.
During the recent CAPA Latin America Aviation Summit, LATAM SVP clients and LATAM Airlines Brazil president Claudia Sender Ramirez told CAPA TV that the company absolutely believed northeastern Brazil to be a strategic location for connections from South America to Europe and Africa. She said that LATAM needs demand to pick up in order for the hub to become a permanent fixture in the company's network.
Claudia Sender Ramirez, LATAM SVP clients and LATAM Airlines Brazil president
Azul makes a push from Recife – a potential northeastern hub for LATAM
As previously reported by CAPA, Recife was the largest metropolitan region among the three airports under consideration by LATAM to be a northeastern hub.

Recently, LATAM's Brazilian rival Azul has outlined a push from Recife, which is its third largest base measured by seats. During 2018 Azul plans to operate its new Airbus A320neos on flights from Recife to the Argentinian destinations of Córdoba and Rosario. It also aims to launch domestic service from Recife to Caruaru, Serra Talhada and Mossoró once those airports are certified for the airline's ATR 72 turboprops.

Although Córdoba and Recife will only be served once a week from Recife, those services could be a test case for connections through Recife to Lisbon (a route operated by Azul's codeshare partner TAP Air Portugal). According to schedules from CAPA and OAG, TAP operates more than 20 weekly frequencies on the pairing.

LATAM holds a 20% to 31% share of ASKs from Fortaleza, Natal and Recife for the week of 9-Oct-2017. It is the second largest airline at Fortaleza and Natal based on that metric, and the third largest at Recife.
LATAM Airlines Brazil ASK share for potential new hubs in northeastern Brazil: week of 9-Oct-2017
| | |
| --- | --- |
| Fortaleza | 30.5%, second largest airline |
| Natal | 31.5%, second largest airline |
| Recife | 20.6%, second largest airline |
LATAM Airlines Brazil cites a slow recovery in corporate traffic
According to statistics from ANAC, Brazil recorded 0.3% growth in domestic passengers for the first eight months of 2017, with the country's airlines transporting 59.4 million passengers.

Ms Sender Ramirez explained that Brazil's economy was "picking up slowly", and leisure traffic was growing faster than corporate traffic. She remarked that customers were opting to invest in flying for pleasure, due (in part) to lower fares in Brazil.

She said that corporate traffic was still taking a long time to reach levels recorded in 2014 and 2015. Azul Alliances and Distribution director Marcelo Bento Ribeiro, also speaking to CAPA TV at the conference, made a similar conclusion. Azul's prognosis for Brazil is a slower recovery than "everybody anticipated, but it is definitely there, and will be steady".
LATAM – Brazil oversupply is occurring on a case by case basis
Azul has concluded that capacity reductions in the Brazilian market – largely from GOL and LATAM Airlines Brazil – have resulted in a market that is right-sized. LATAM Airlines Brazil's forecast for domestic supply in Brazil during 2017 is a decrease of 1% to 3%.

Some regions within Brazil are oversupplied, while others need more capacity, said Ms Sender Ramirez. Data from CAPA and OAG for the week of 9-Oct-2017 show that Brazil's domestic ASKs are projected to grow 2.2% in 2017.
Brazil domestic ASK growth from 2012 to early 2018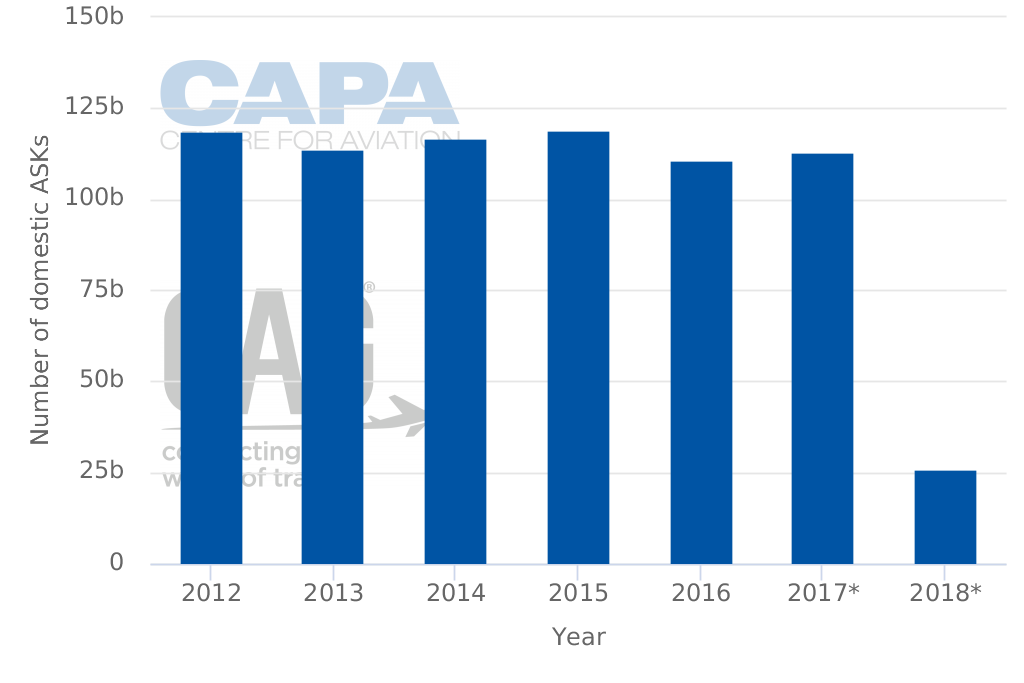 LATAM Airlines Brazil's domestic routes introduced in 2017 include São Paulo Guarulhos to Rio Santos Dumont, Londrina and Joinville. The airline has also added flights between Belo Horizonte and Fortaleza and Vitória.
From Foz do Iguaçu LATAM Airlines Brazil has launched service to Brasília and Curitiba, also launching services between Fortaleza and Manaus, and from Rio de Janeiro to Goiânia.
LATAM Airlines Brazil has served some of those routes in the past. The additions at this point are part of a push by LATAM to capitalise on growth opportunities in certain point-to-point markets.

See related report: LATAM Airlines Group makes strategic moves to bolster network strength as regional dynamics change

Some Brazilian airlines have concluded that international demand is solidly rebounding. Ms Sender Ramirez stated that overall, internationally, "we see a more balanced equilibrium between supply and demand", but it varies, depending on "which region we are talking about".

According to data from CAPA and OAG, Brazil's international ASKs will grow at a slower rate than domestic ASKs during 2017, increasing just 0.5%.
Brazil international ASK growth from 2012 to 2018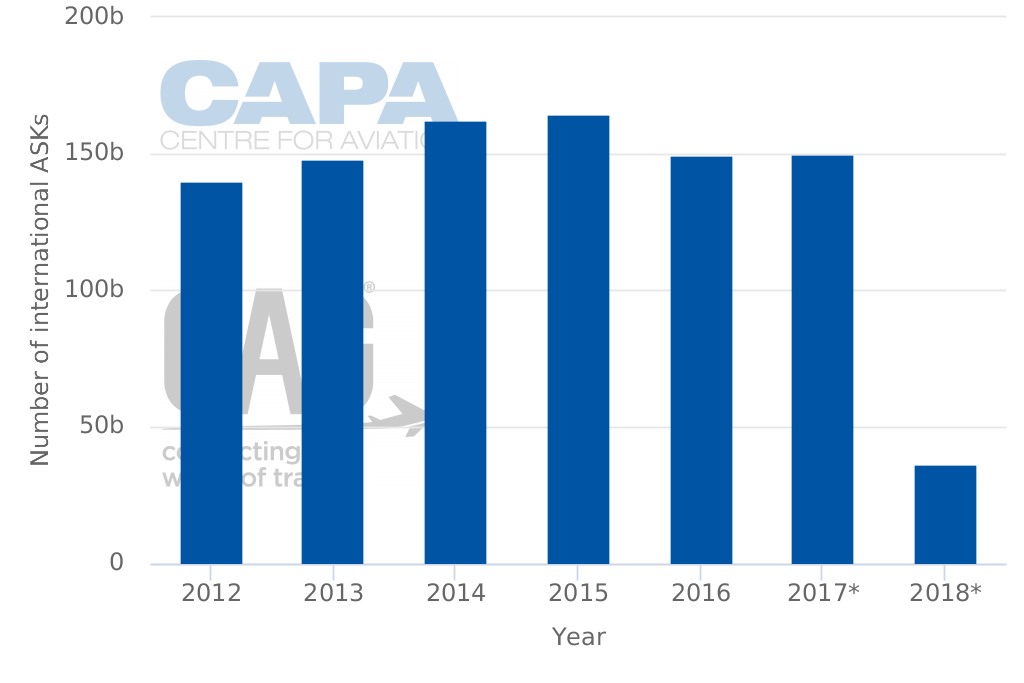 LATAM Airlines Group has revised its international capacity growth (intra Latin America and long haul): from flat to 2% growth to an increase of 3% to 5%. Much of the push is from the airline group's hubs in Lima and Santiago.
From Lima, LATAM is adding new flights to Cartagena, Mendoza, Tucuman, Rio de Janeiro and San José, Costa Rica. New services from Santiago include Santa Cruz, Rosario, Tucuman, Neuquén, San Juan and Melbourne. LATAM airlines Brazil is adding flights from Rio to Orlando, and from Brasília to Punta Cana.
LATAM Airlines Brazil takes realistic view of current and future conditions
Even as traffic trends in Brazil appear to be turning positive, LATAM Airlines Brazil is taking a realistic view of the market place –evidenced by its decision to deepen its capacity reductions in the domestic market during 2017. But despite the overall reduction in Brazilian domestic capacity, LATAM Airlines Brazil is adding routes it has deemed to be strategic growth opportunities.

Over the longer term, LATAM Airlines Brazil has not abandoned plans to create a new hub in northeastern Brazil, which will further alter competitive dynamics in Brazil's international market.