Korean Air maintains capacity discipline to narrow 2Q2014 loss
Top level figures at Korean Air show flat traffic and revenue in 2Q2014 being paired with lower costs to reduce operating losses while currency gains bring large improvements to net profits. But these figures belie large changes at Korean Air's core business as China sees large gains and Japan large decreases. Traffic is returning from Europe while the Americas show weaker point of sale, possibly due to SkyTeam colleague Delta Air Lines making international commercial changes to bring Korean Air to the negotiating table for a partnership.
Encouraging momentum in 1Q2014 has slowed in 2Q2014 as costs no longer show the sharp decreases of 1Q2014. Korean Air will scale back in Japan while growing in China and the Americas. China growth however is not to prized destinations while Americas growth may hinge on Delta's cooperative spirit - or not. LCC competition, already strong in the domestic market, will continue with more foreign LCCs entering. Korean Air is seeking a larger profile for its LCC subsidiary, Jin Air, by deploying widebody aircraft to short and long-haul points. The pre-emptive move may be short lived as Asiana would like to establish a new Seoul-based LCC if existing LCC Air Busan agrees.
Loss reduction programme loses momentum in 2Q2014
Korean Air in 1Q2014 reversed a KRW140 billion operating loss to a KRW17 billion (USD15.9 million) operating profit, a swing of KRW157 billion. In 2Q2014 momentum decreased with 2Q2013's KRW43 billion operating loss narrowing to a loss of only KRW27 billion, a reduction of KRW16 billion.
2Q2014 dented year-to-date performance, with 1H2014 remaining in the red, although at a reduced KRW10 billion loss from 1H2013's KRW183 billion. At a net level Korean Air continues to benefit from exchange gains and reversed a KRW677 billion loss in 1H2013 to a KRW149 billion net profit.
Korean Air non-consolidated summary: 2Q2014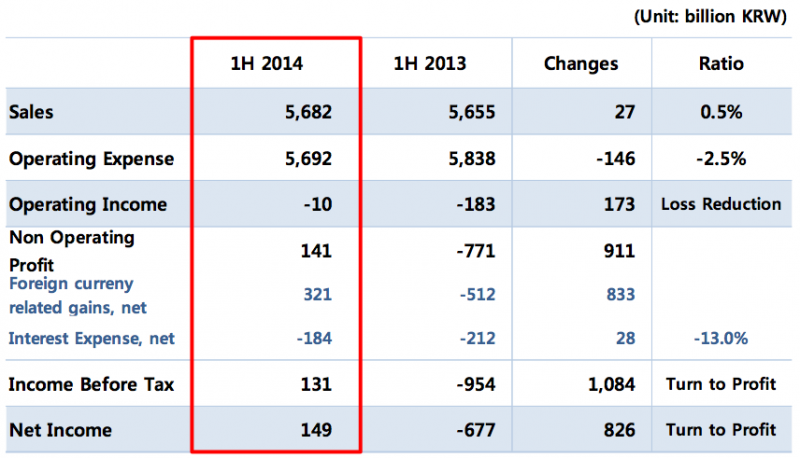 Cost reduction loses momentum in 2Q2014 on flat revenue
2Q2014 saw essentially flat revenue and costs, with revenue growing 0.6% and costs 0.1%. Capacity, measured in RPKs, grew 3.1% in 2Q2014 and 0.6% in 1H2014. Although it is good to see revenue growing faster (albeit very marginally) than costs, and costs growing slower than capacity, this is a loss of momentum from 1Q2014 when a minor 0.2% increase in revenue and 1.7% decrease in ASKs was paired with a much faster 5% decrease in expenses.
Driving the strong cost decreases in 1Q2014 were fuel and labour. Fuel costs decreases 6.2% due to a 4.4% decrease in into-plane cost and a 0.8% decrease in consumption. This momentum slowed in 2Q2014 as 1H2014 fuel costs were down only 4.7% on a 1.1% decrease in costs and a 1.0% increase in consumption. Labour costs decreased 10.9% in 1Q2014 but momentum once again slowed in 2Q2014 as 1H2014 labour costs were down only 5.2%.
Korean Air key expenses: 1H2014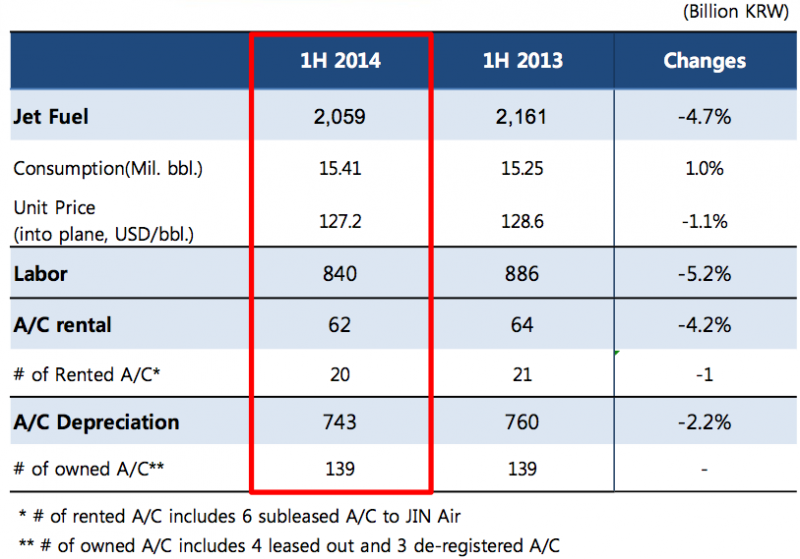 The share of costs in 1H2014 was broadly comparable to 1H2013, with fuel recording a 1ppt decrease and other costs a 1ppt gain.
Korean Air operating expenses: 1H2014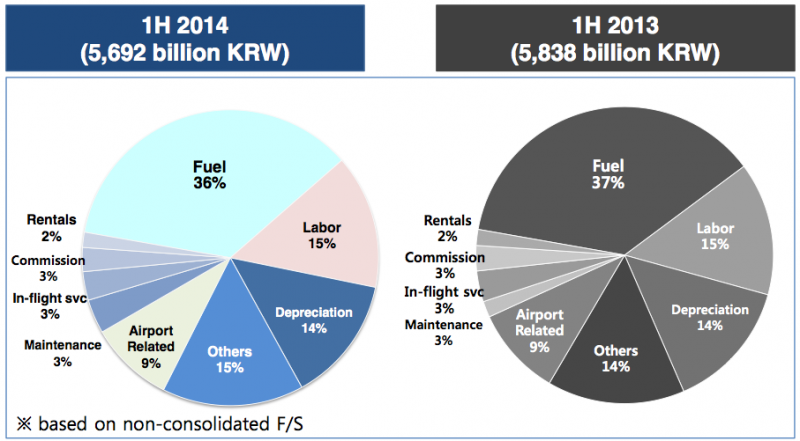 Revenue and RPK changes show correlation, except in China and Japan
The story in Korean Air's 2Q2014 traffic is continuing weakness in Japan but this being offset by gains in China. Other markets – which comprised 78% of revenue – saw unsurprising changes with revenue broadly tracking RPK adjustments.
The exceptions are weakening domestic revenues due to increased LCC competition, with LCCs continuing to make gains in Korea's small domestic market. LCCs account for 34% of available domestic seats in Korea in the year to Aug-2014, according to OAG data.
South Korea LCC Capacity Share (%) of Domestic Seats: 2001-2014*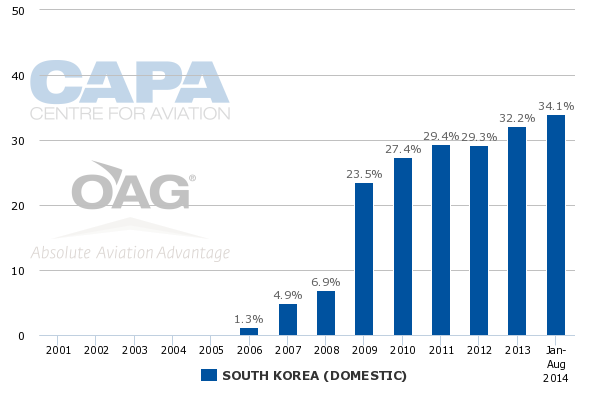 The Oceania region, comprising Australia and also island destinations like Guam, showed a 2% revenue decrease despite 4% RPK growth. Korean LCCs are targeting beach markets like Guam while over-capacity between Asia and Australia has opened up a number of discount transit fares, including on low-cost carriers like AirAsia X.
Korean Air RPK and revenue change by region: 2Q2014 versus 2Q2013
| | | |
| --- | --- | --- |
| Region | RPK Change | Revenue Change |
| Americas | -2.0% | -3.0% |
| | 5.0% | 5.0% |
| Domestic | -4.2% | -7.0% |
| | -17.0% | -20.0% |
| | 15.0% | 21.0% |
| SEA | -3.0% | -3.0% |
| Oceania | 4.0% | -2.0% |
Korean Air is having to deal with market changes in China and Japan but so far is able to manage these adjustments with the increase in Chinese revenue offsetting the decrease in Japanese revenue. Japan's decrease is partially due to political matters as well as the weakening yen and increased transit options for Japanese passengers (through another foreign hub or now more numerous Tokyo Haneda connections).
Chinese growth is due to interest in Korean culture as well as Chinese tourists shying away from Southeast Asian markets due to the MH17 tragedy, political instability in Thailand and weakening interest in Singapore.
See related reports:
Korean Air is responding by decreasing Japanese capacity, including through temporary destination cuts to smaller cities like Akita and Oita. Despite being the peak summer season, Korean Air's capacity to Japan in early Aug-2014 is down 12% from a year prior.
South Korea to Japan (scheduled seats per week, one way): 19-Sep-2011 to 1-Feb-2015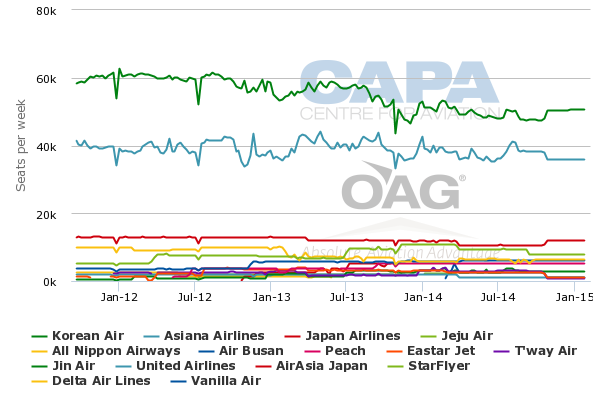 Meanwhile in China Korean Air's seat capacity in early Aug-2014 is up 9%, although this is not a complete view of the market as many services are on a charter basis and not reflected in scheduled capacity. The Korea-China bilateral was finally expanded earlier in 2014 but with marginal gains. Korean Air in 3Q2014 expects to increase frequency to Beijing, Guangzhou, Yanji, Shenzhen, Wuhan and Mudanjiang.
South Korea to China (scheduled seats per week, one way): 19-Sep-2011 to 1-Feb-2015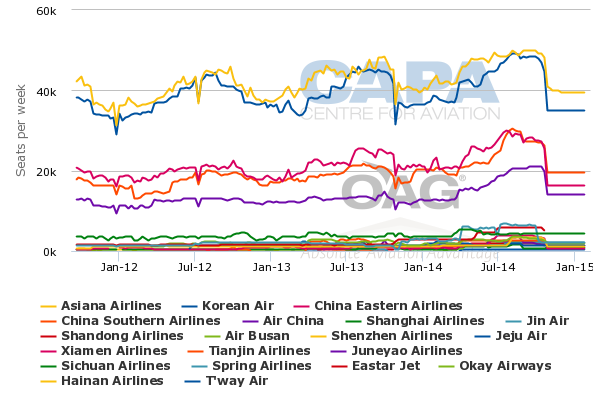 Korean Air plans to grow in the Americas after cutting capacity, in addition to growing in Southeast Asia.
South Korea to North America (seats per week, one way): 19-Sep-2011 to 1-Feb-2015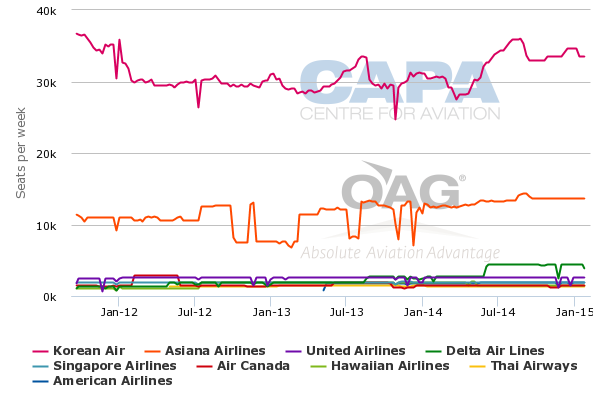 South Korea to Southeast Asia (seats per week, one way): 19-Sep-2011 to 1-Feb-2015
Outbound Korea, China and Europe show gains while Americas decrease
Passenger revenue by point of sale is shifting. Korea grew by 1% due to the strengthening won while overall Korean outbound passengers grew 3%. Japan decreased as expected while Europe's 11% growth has been faster than overall capacity and revenue growth, indicating more European point of sale. Conversely Americas revenue has decreased by 5%, faster than the overall changes.
This may be due to Korean Air's SkyTeam partner Delta implementing a number of changes that disincentives Delta frequent flyers from flying Korean Air. Delta likely hopes these measures will hurt Korean Air and lead Korean Air to form a partnership.
Korean Air passenger revenue by regional sales: 2Q2014 versus 2Q2013

Korean Air records yield and load factor improvements in cargo
Korean Air is perhaps unique in Asia for being optimistic on the cargo business in the short term. Korean Air now has the largest dedicated freighter fleet in Asia and of all the major Asian airlines, has grown its freighter fleet the most.
See related report: Asian air cargo in a rut: despite all issues, freighter fleet flat but finally starting to decrease
Korean Air grew with a 3.2% increase in AFTKs and a 3.5% increase in yield, which – unlike at other airlines – did not come at the expense of load factor, which increased 1.2ppt to 79.7% (above the average).
There was little correlation with the passenger side of the business as cargo revenue weakened in China and Southeast Asia while growing in the two largest markets of the Americas and Europe, which collectively accounted for 71% of cargo revenue.
Korean Air cargo revenue by route operation: 2Q2014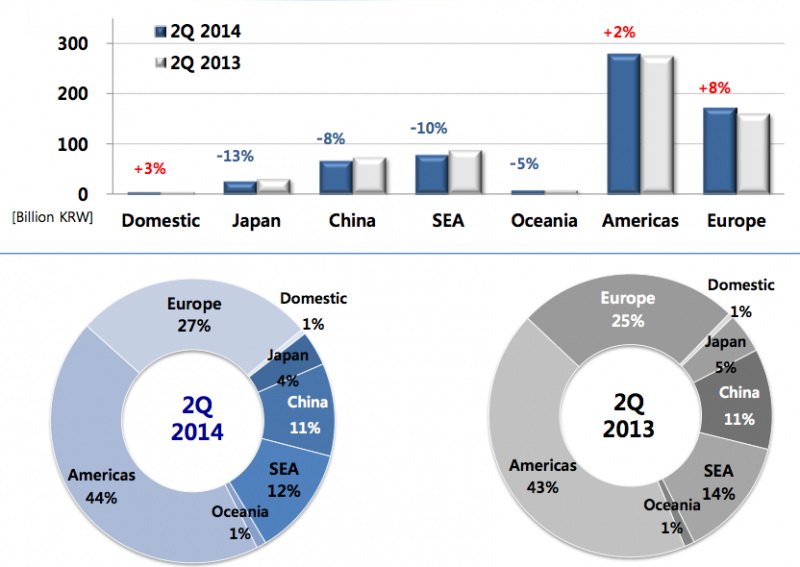 Korean outbound cargo increased 9% while transit cargo increased by 2%. Korean Air expects cargo volume to continue to increase in 2014 and aims to capture cargo from China and emerging cargo markets, as other cargo carriers are doing. Uniquely, Korean Air has flagged "strategic partnerships" with other airlines. Cargo partnerships are increasing within and outside Asia.
IAG partners with Qatar Airways while Cathay Pacific and Air China have a cargo partnership, in addition to Cathay's partnership with DHL for Air Hong Kong.
Korean Air takes its 10th and final A380. Three A330s due for delivery in 2014
Korean Air ended 2Q2014 with 146 aircraft, the same as 1Q2014, although there has been up-gauging. Deliveries for the rest of 2014 included one A380 in Jul-2014 (its 10th and final) and an A330 in each Sep-2014, Nov-2014 and Dec-2014.
Korean Air Fleet Summary hulls: as at 8-Aug-2014
As CAPA previously noted, Korean Air is likely to look at an aircraft order as its only delivery after 2017 is projected to be one 787 in 2018.
Flat growth may continue to be wise
Korean Air continues to stand out in Asia for not pursuing large growth. This may be wise as core markets see changes that, while balance each other out (or are even favourable), do require significant management bandwidth to manage. In addition, concerns remain over Korean Air's debt, meaning expansion good for the long term could fuel debt concerns in the short term.
Korea was the first major North Asian market to have LCC developments but these have stalled in recent years. Korean Air is now injecting new energy – and aircraft – into its subsidiary; LCC Jin Air will take three 777-200s from Dec-2014 for short and long-haul routes. There are opportunities to reach new destinations as well as pursue a dual-brand strategy and have Jin Air take over lower yielding leisure routes.
A long-haul division is important if Korean Air is to compete in the low-cost long-haul space that AirAsia X, Thai AirAsia X, Scoot and NokScoot are already occupying or plan to occupy. With short-haul aircraft, Korean LCCs are pressed to reach points south of Thailand or Borneo, and even then do not have widebody aircraft unit costs.
See related report: Jin Air may become a long-haul low cost operator in 2014/15 and take the lead in Korea's LCC market
Korean Air's advantage may however be brief, as Asiana too is hoping to establish a new LCC (potentially with long-haul routes) in Seoul, finally competing in Korea's main LCC market after limiting partially-owned Air Busan to its smaller namesake city, Busan. But Asiana is challenged by Air Busan shareholders who rightfully see the new LCC impacting Air Busan's business. A Seoul LCC presence will be necessary for Asiana, adding to a more dynamic market in Korea.
As markets and business divisions undergo varied and significant change, a pause for consolidation may be a valid option for Korean. It will be important to ensure that there is long term vision to regain the initiative.