Airlines and tourism markets hurt as Chinese tourists divert from Southeast to Northeast Asia
Analysis
A confluence of factors is seeing Chinese short-haul tourists avoid Southeast Asia and instead favour Northeast Asia. Arrival figures at Southeast Asia's three key markets for Chinese tourists – Malaysia, Singapore and Thailand – are reporting fewer Chinese tourists than in 2013 while North Asian markets are reporting growth, often above 2013's growth. Consequently Southeast Asian airlines are suffering weakened yields and low load factors.
The political situation in Thailand is impacting arrival figures there while Malaysia has seen a sharp downturn due to the MH370 incident, with many Chinese believing conspiracy theories while others are avoiding Malaysia in a de facto protest. The cumulative impact is a 20% decline in Apr-2014 arrivals, the latest available.
Singapore has been caught up in this anti-Southeast Asia feeling, experiencing a 39% decline in Apr-2014 and 17% for the year so far – an even larger decline than in Malaysia. Vietnam-China tensions flared in May-2014, but Jun-2014 arrival figures still show 6% growth in Chinese tourists, although this is well down from the 43% growth in the year to May-2014.
This is the second part of a two-part report. The first looked at Chinese inbound markets in Northeast Asia.
See related report: Outbound Chinese tourists to surpass 100 million in 2014. Northeast Asian airlines first to benefit
Chinese visitors are declining in Southeast Asia while they increase in Northeast Asia
Overall Chinese outbound visitor numbers are known to be growing but the exact amount is difficult to say due to the inconsistent nature of Chinese statistics. A bellwether is the international performance of Chinese airlines, and specially Air China, China Eastern and China Southern, which have the largest international capacity of China's airlines.
The three are reporting growth – typically in excess of 10% – in regional (Hong Kong/Macau/Taiwan) and international passengers.
Air China, China Eastern and China Southern international and regional passenger year-on-year growth: 2014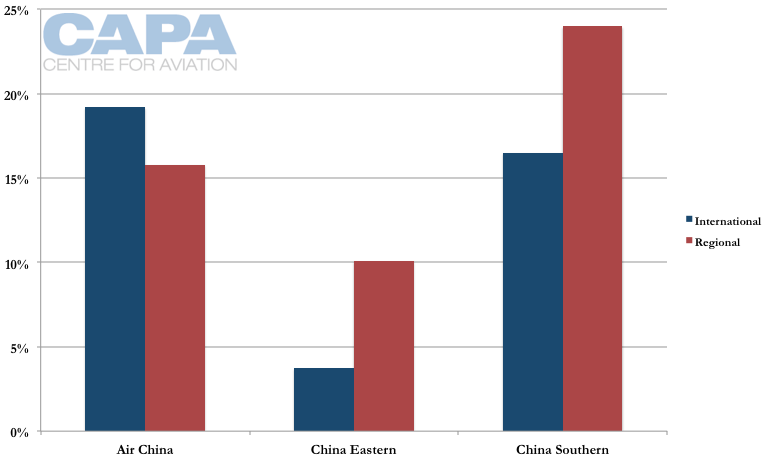 It is evident Chinese short-haul tourists are trading Southeast Asian destinations for Northeast ones. But in what quantity is difficult to say. Historical growth rates vary considerably owing to visa liberalisation, air service expansion and other factors. The short-haul nature of many markets (mainly in Northeast Asia) means sixth freedom options are limited and impractical, making markets dependent on non-stop flights.
Chinese tourists in Southeast Asian markets could be decreasing due to political relations but also individual preferences: Korea's culture continues to attract Chinese visitors (especially with thanks to television shows) while Japan is seeing a rebound; Chinese who went to Southeast Asia in 2012 or 2013 in protest of Japan may now elect to visit Northeast Asia and have an expanded range of flight options to do so.
Northeast Asia is achieving higher Chinese visitor arrival rates than in 2013. Japan's figures are distorted due to weak performance in 2013, but 2014's figures have rebounded above 2012, despite territorial disputes.
The exception is Macau, which is reporting slower growth, likely linked to China's anti-corruption and austerity measures. In media reports Macau has been linked to government-funded junkets, making travel there more conspicuous.
Year to date changes in Chinese visitor arrivals to select Northeast and Southeast Asian countries/territories: May-2013, May-2014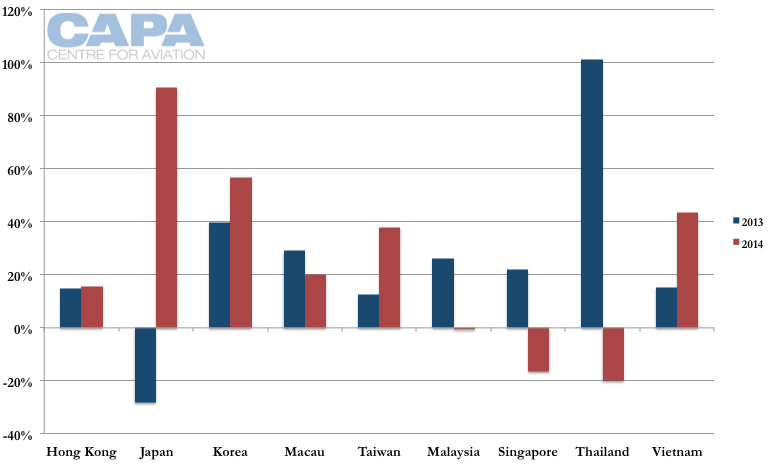 Malaysia sees 20% decrease in Chinese tourists in Apr-2014
Malaysia reported a 19.5% decrease in mainland Chinese tourists in Apr-2014, the latest data available. This is consistent with the backlash Malaysia experienced from China over the MH370 tragedy, with Chinese opting to avoid all of Malaysia even if reaching the country on airlines other than Malaysia Airlines. Malaysia as a country has wrongly become linked to conspiracy theories about MH370. In some instances Chinese travel agencies have an unofficial ban on selling tickets to Malaysia.
However, Malaysia had experienced slowing growth prior to the MH370 incident in Mar-2014. January and February in past years showed strong growth individually or when averaged out; the changing time of the Lunar New Year distorts year-on-year comparisons.
In 2012, January and February visitor arrivals were collectively up 28%, while in 2013 January and February visitor arrivals were collectively up 24%. But in 2014, combined January and February arrivals were up a much slower 8%. Waning interest from Chinese tourists over the Lunar New Year may indicate that the Mar-2014 and Apr-2014 downturn is aggravated by a lower growth base.
Inbound Chinese visitors to Malaysia: Jan, Feb, Mar and Apr 2011 through 2014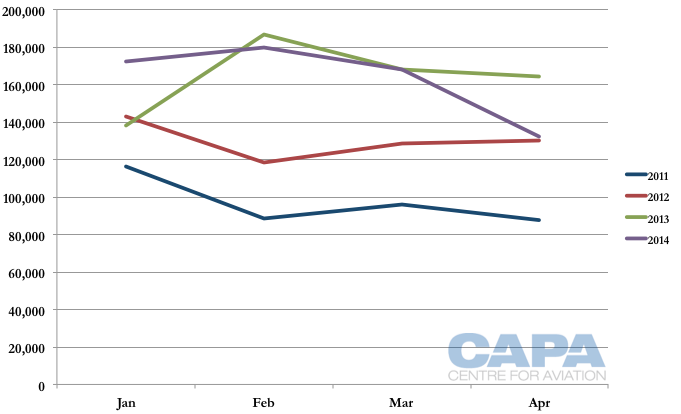 Malaysia Airlines and China Southern have decreased capacity in the Malaysia-China market. Malaysia Airlines was the largest carrier until Jul-2013 when AirAsia surpassed it. In Jul-2014 it will be the third largest after AirAsia X, which is growing while Malaysia Airlines shrinks. China Southern is the fourth largest carrier but by some distance. Both MAS and China Southern decreased capacity from mid-Apr-2014.
MAS took about one-third of seats, going from approximately 12,000 weekly seats in the off-peak (non-New Year) season to a brief low of 8,000 in mid-Jun-2014. MAS from Sep-2014 is planning to level off capacity at approximately 11,000 seats. This is not a full rebound: capacity will be down to early 2012 levels. China Southern decreased capacity from approximately 3,600 weekly seats in the off-peak to 1,600 in May-2014 and early Jun-2014. China Southern as of Jul-2014 plans to gradually restore its 3,600 weekly seats by Nov-2014.
Complicating the capacity changes and future growth is the increased capacity from AirAsia and AirAsia X, which have lower cost bases than MAS or Chinese peers and give them stronger prospects. As such, MAS – and perhaps China Southern – may have more limited growth in the future due to AirAsia and AirAsia X's increase. This could make it difficult to separate out the MH370 impact on MAS from its ambitious local competitor.
AirAsia X expects its China revenue to overtake Australia's and the AirAsia Group has a more neutral branding that is distanced from Malaysia, unlike MAS – a potential factor depending how long the MH370 response lasts. With a wide and growing range of connections, AirAsia and AirAsia X can sell points beyond Malaysia.
China to Malaysia (seats per week, one way): 19-Sep-2011 to 11-Jan-2015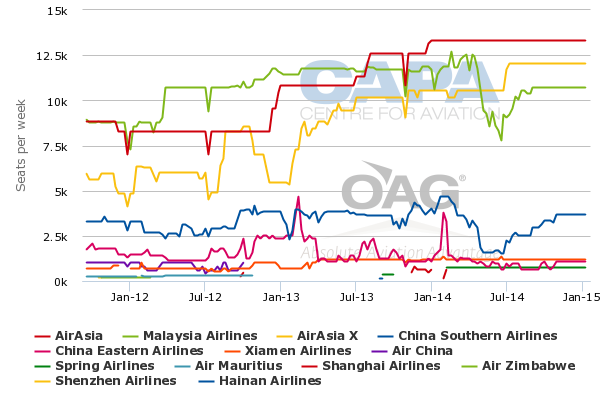 The growth from AirAsia and AirAsia X will not be enough to allow Malaysia to offset MAS and China Southern's decreases. The Malaysia-China market dipped in Jun-2014 and early Jul-2014 to below 2013 levels but still above 2012 levels.
Tourism figures show inbound Chinese tourists in Apr-2014 below 2013 levels but slightly above 2012 levels; declines past 2012 levels are likely.
China to Malaysia (seats per week, one way): 19-Sep-2011 to 11-Jan-2015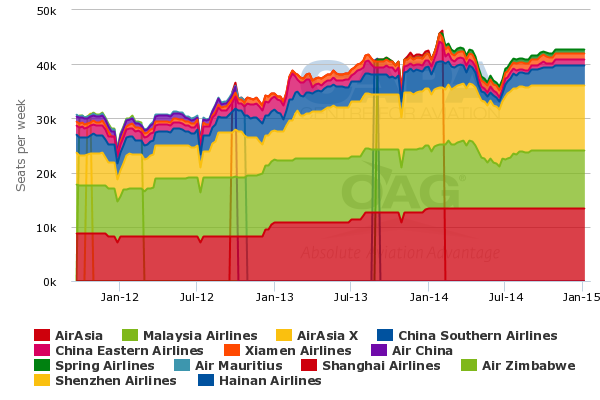 Chinese arrivals to Singapore down 6%, including 15% in Mar-2014 and 39% in Apr-2014
Singapore like Malaysia has only released data through Apr-2014, and based on this data Singapore is a larger concern than Malaysia. Jan-2014 and Feb-2014 Chinese arrivals combined were down 6% compared to Malaysia's 8% growth. In 2013, January and February arrivals were up 23%, and in 2012, 26%.
Meanwhile Mar-2014 arrivals decreased by 15% (a larger downturn than Malaysia's 0.1% decrease) and in Apr-2014 decreased by 39% (again a larger downturn than Malaysia's 20% decline). Apr-2014's visitor arrivals were slightly above Apr-2011's, erasing two years of growth.
Inbound Chinese visitors to Singapore: Jan, Feb, Mar and Apr 2011 through 2014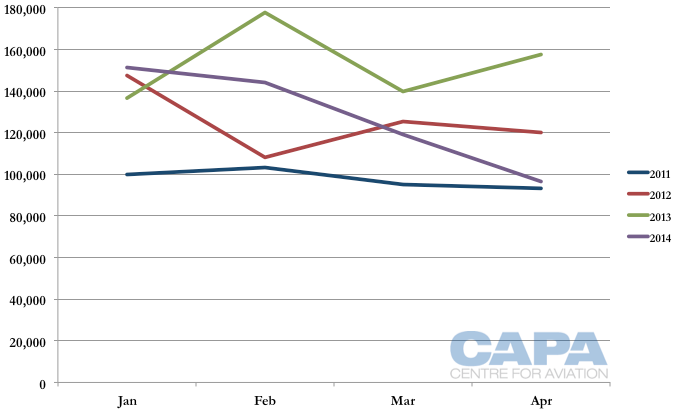 Chinese tourists typically visited Singapore as part of a three-country Singapore/Malaysia/Thailand "Sinmathai" trip. With tourists already avoiding Thailand due to the political environment, many also opted to forgo Singapore, although Singapore officially has not said as much. Chinese tourists typically spent the least amount of time in Singapore, finding it expensive with limited attractions.
Gambling, especially at Marina Bay Sands, was a big draw. Now with China exercising closer scrutiny on government official junkets and corruption, Singapore has lost some attraction. With Chinese tourists then avoiding Malaysia in response to MH370, only Singapore was left on the Sinmathai itinerary, and was seldom the primary interest for many visitors, so they have skipped the three altogether.
Singapore is not taking it lying down. In Jun-2014 Singapore launched a SGD1 million (USD800,000) market initiative to woo back mainland China visitors. Official Chinese media have promoted Singapore as a destination and an especially viable alternative to Malaysia and Vietnam, with which China is also involved in territorial conflict. The articles, however, failed to note the decline in visitor numbers so far this year.
The sharp downturn in visitors is a contrast to the slight 1% decrease in overall seat capacity for 2014 compared to 2013. The largest impact is from China Eastern, which is decreasing China-Singapore capacity by 18% in 2014 compared to 2013, according to OAG. SIA, the largest carrier, is increasing capacity by 3% while regional arm SilkAir is growing 10% and will be the third largest carrier in the market (second largest for a few weeks around Aug-2014).
Jetstar Asia has cut capacity by 26% while Tigerair is growing by 21%. Spring Airlines in Apr-2014 launched a daily Shanghai Pudong-Singapore A320 service but in May-2014 decreased this to three weekly.
China to Singapore (seats per week, one way): 19-Sep-2011 to 11-Jan-2015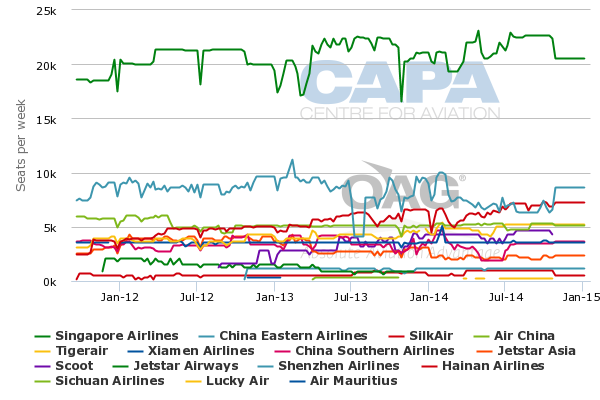 Thailand suffers the largest drop in visitors from China
Thailand has understandably seen a drop in tourist arrivals given the domestic political situation. In the year to May-2014, visitor arrivals were down 6%, but this is not across the board. Visitors from Europe for example are actually up 7% while the Americas shows growth below 1%. Oceania is flat.
This could be attributed to a number of possible factors: nonchalance of the visiting tourists; the generally favourable media coverage Thailand has received, as well as popular tourist areas outside Bangkok intentionally being left unaffected. Further, long-haul visitors tend to book holidays in advance, making them more costly to cancel once the local environment changes, while short-haul visitors book closer to departure.
China is the single largest cause of the decreased visitor arrivals, with approximately 400,000 fewer Chinese visiting Thailand in the first five months of 2014 than 2013. Proportionally, however, China's 20% decline (well above the average 6% decline) is eclipsed by Taiwan's 27% decline and Hong Kong's 39% decline.
Travellers in these markets often travel in groups arranged by agencies, which have cancelled tours. In mature markets travellers tend to make decisions on their own, relying less on group bookings. Korea will potentially overtake Thailand as the largest outbound market for Chinese travellers. There should be an increase from Hong Kong following the Jul-2014 lifting of a travel alert to Thailand.
Year-on-year changes in inbound visitors to Thailand: Jan-2014 to May-2014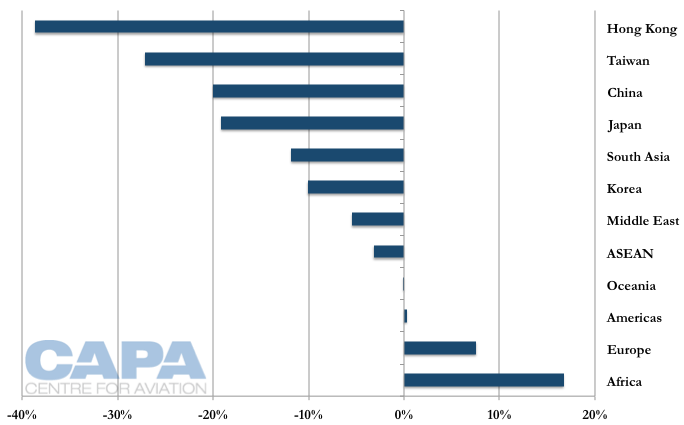 Despite the decrease in Chinese visitor arrivals, the China-Thailand market is due to see an increase of 6.8% seats in 2014, according to schedules filed with OAG. Dominant carrier Thai Airways is planning modest growth, with sharper growth from China Southern and Thai AirAsia.
See related report: Thai AirAsia plans rapid domestic and international growth in 2014 despite challenging conditions
China to Thailand (seats per week, one way): 19-Sep-2011 to 11-Jan-2015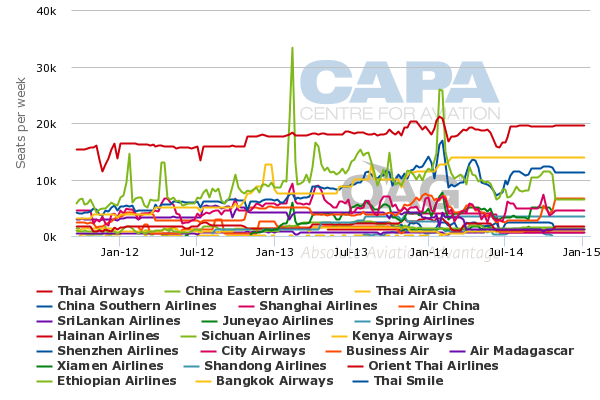 Bangkok Suvarnabhumi reported a 14% drop in overall passengers and 15% drop in international passengers in May-2014 while Bangkok Don Mueang (primarily a domestic airport) reported a 3% increase in international passengers.
Phuket reported flat overall growth and flat international growth.
Bangkok Suvarnabhumi International Airport monthly passenger numbers: 2012-2014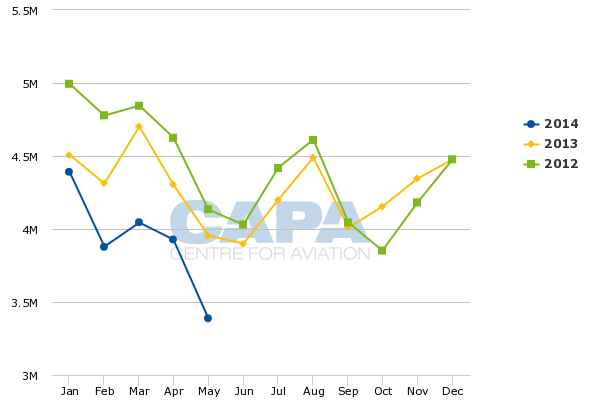 Bangkok Don Mueang Airport monthly international passenger numbers: 2012-2014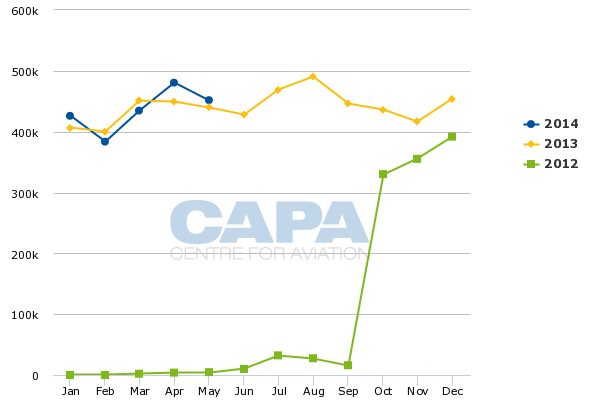 Phuket International Airport monthly passenger numbers (International): 2012-2014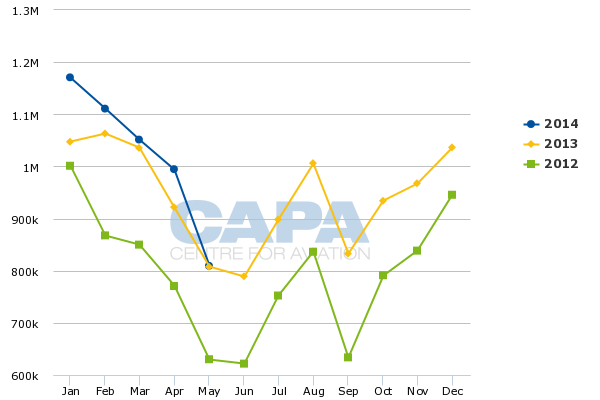 Vietnam experiences a short-term capacity drop due to anti-China protests
The Vietnam-China market has weakened since a May-2011 incident when China deployed an oil rig in the South China Sea, a section of water it deems as its territory while Vietnam believes the territory is theirs. There were extensive and sometimes violent anti-China protests in Vietnam that received considerable media attention in China. There were also evacuation flights of Chinese nationals from Vietnam.
This incident may prove to have shorter-term impacts. May-2014 Chinese visitor arrivals in Vietnam were up 31% and 6% in Jun-2014, the first month for which the full impact could first be felt.
Unlike the effects of the Japan-China dispute, visitor arrivals in Vietnam are posting moderate growth compared to an immediate decline. Jul-2014 figures should be down by virtue of lowered capacity, but provided the political situation continues to hold steady this should be the limit of weakened figures.
Inbound Chinese visitors to Vietnam: Jan, Feb, Mar, Apr, May and Jun 2011 through 2014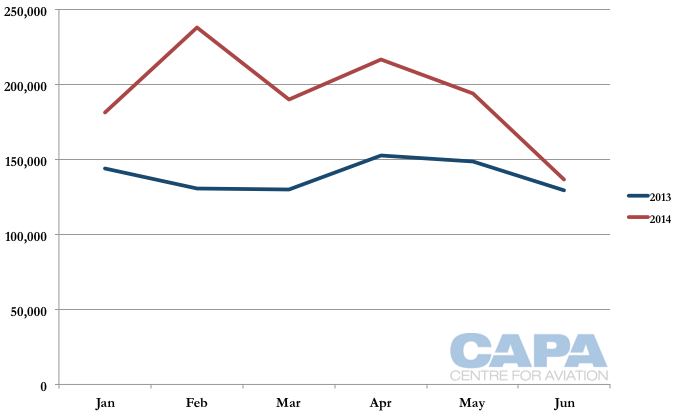 Vietnam Airlines and China Southern, the two largest carriers in the China-Vietnam market, have sharply reduced Jun-2014 and Jul-2014 capacity, Vietnam Airlines by two-thirds and China Southern by over a half.
China Southern in Aug-2014 is planning to restore capacity in full, even adding some growth, while Vietnam Airlines from Sep-2014 is planning to partially restore capacity but at a lower level; further adjustments are likely.
China to Vietnam (seats per week, one way): 19-Sep-2011 to 11-Jan-2015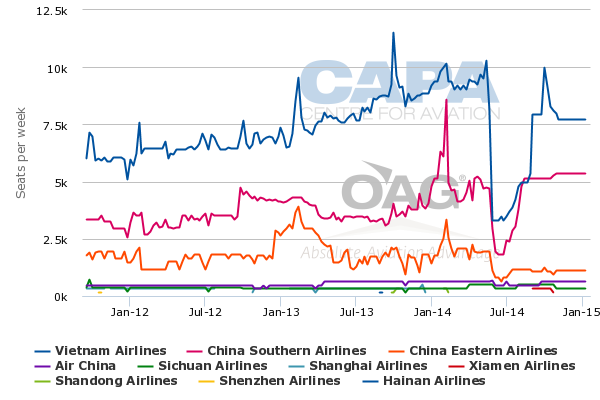 With massive potential comes heightened risk
North Asia is benefitting from a series of events which currently seem to be linked to Chinese visitor arrivals decreasing in core Southeast Asian markets.
These Asian markets have been the early recipients of the largest Chinese outbound flows and have quickly adapted to a recognition that the China market will progressively swamp all others. Consequently, with such rapid and substantial growth, any slowdown can quickly have a pronounced impact on any inbound market. This looks very likely to be a feature of this new tidal wave of growth, no matter what market. Chinese media and shifts in political winds can abruptly - but often temporarily - turn off traffic flows.
So, for tourism authorities in the forefront of this expansive growth, it will be wise to adopt risk management strategies that are more thoughtful than they have previously needed. There is little doubt that in the long term Chinese tourists will change the face of global tourism. But managing the short and medium term blips will be a big part of a China tourism strategy.