Hainan Airlines' first 787s go to Chicago, Seattle & Toronto but Air China gets Beijing's key routes
Analysis
Originally due to arrive in China in time for the country's 2008 Beijing Olympics, the 787 even missed the 2012 London Olympics. Once the aircraft were finally ready in 2012, Chinese certification lagged and then the 787's battery-induced grounding put a further hold on delivery. But now in sight is an end to the saga and start of commercial service of the 787 in China.
Three operators hold 35 orders: China Southern for 10 787-8s, Hainan Airlines for 10 787-8s as well and Air China for 15 787-9s. Xiamen Airlines has a pending order for six 787-8s. China Southern is due to be the first carrier to take delivery and Hainan the second, but Hainan was first to announce deployment plans, which include domestic services and long-haul flights to Chicago, Seattle and Toronto.
But, as a less privileged, private airline, Hainan Airlines could be constrained by its own government on which routes it can use the full 787 fleet, as the airline faces route restrictions out of Beijing, its main long-haul base – as China Southern painfully experienced when it sought to fly from the capital with its A380.
Hainan Airlines' main base is at Beijing, not namesake Hainan island
Hainan Airlines is officially based at Haikou in its namesake holiday island of Hainan in southern China, but Beijing is its main operating base and Hainan enjoys yield premiums operating out of the country's capital.
Not only does the carrier have more domestic seats from Beijing than Haikou, it also has more domestic seats from Guangzhou than Haikou.
Hainan Airlines top 10 hubs/bases/stations by domestic seats: 27-May-2013 to 2-Jun-2013
For international capacity, Beijing is its largest base by far. Haikou barely compares. Hainan island bills itself as the country's island getaway, not dissimilar to Hawaii's relationship with the US. Hainan has yet to attract international tourists the way Hawaii has (notably with Japan). Hainan's northern side is home to Haikou and has less favourable weather than Sanya in the south. Sanya is the gateway to the leisure component of Hainan island. International travel restrictions or bureaucratic affairs (from both the Chinese and foreign sides) make Hainan, a domestic location, an easy holiday location.
The island province has been used by Beijing as an experiment in airline liberalisation, establishing open skies (only to and from, but not beyond) in order to test the attraction for foreign airlines and tourism. In this respect it has generated a little interest, but it is still very much a Chinese style resort area - illustrating the need to co-ordinate tourism product in sync with air services marketing.
With no country having a larger market than China, Hainan island may find it easier to concentrate its efforts on the domestic market, which also has pockets of considerable wealth. No doubt international opportunities exist (already there are minor flows from places like Hong Kong and South Korea), but international marketing requires a different product in terms of elements like language and food, and combined with China's generally weak international marketing skills, the time-benefit ratio for international markets is not there in the medium term.
Hainan Airlines itself would like to increase tourism at Hainan island, but the island connection in the carrier's name does not drive route strategy.
Hainan Airlines top 10 hubs/bases/stations by international seats: 27-May-2013 to 2-Jun-2013
Until Chicago, Hainan Airlines' long-haul network was secondary cities
Under China's one route, one airline policy, only one Chinese carrier is allowed to operate a long-haul service. Exceptions are made, typically for Air China to fly key routes out of Shanghai (including Frankfurt and Sydney). Shanghai is the home of China Eastern, which is not allowed the reciprocity to fly long-haul from Beijing. Although the two – and China Southern – are state-owned, they are competitive with each other and only Air China is considered the "flag carrier", a status that grants it associated perks.
Beijing as a base has the potential advantages of supporting high-yielding traffic since it is the country's capital as well as facilitating convenient long-haul transfers. Beijing's geography in the north gives it shorter routings to Europe and North America than Shanghai, China's only other city to support large amounts of premium long-haul traffic. Guangzhou is home to China Southern, which has garnered the limelight in the past year or two because of its faster international expansion than its two peer airlines, but premium traffic is weaker. China Southern tried unsuccessfully to operate A380 services from Beijing, the proposal being rejected by the CAAC.
See related reports:
Hainan Airlines' disadvantage is having to share the globe with Air China. As the country's largest international airline Air China already serves many long-haul points, meaning Hainan would have a difficult time flying alongside Air China on those routes, although Air China and Hainan do both fly from Beijing to Moscow. Only three Chinese carriers make the top 10 ranking of carriers with international seats to/from China. Shanghai Airlines, owned by China Eastern, is fourth at #16 and Hainan fifth at #19.
Top 10 Airlines ranked on international seats from China: 27-May-2013 to 2-Jun-2013
Rank
Airline
Total Seats
1
MU
China Eastern Airlines
271,015
2
CA
Air China
238,642
3
CZ
China Southern Airlines
206,894
4
KA
Dragonair*
158,850
5
OZ
Asiana Airlines*
91,460
6
KE
Korean Air*
81,776
7
NH
All Nippon Airways*
60,748
8
HX
Hong Kong Airlines*
54,772
9
SQ
Singapore Airlines*
43,580
10
JL
Japan Airlines*
37,844
Hainan's long-haul network has thus comprised secondary points like Berlin and Seattle that Air China did not serve. That changed in 2012 with Hainan's intent to open Beijing-Chicago. This raised an interesting issue. Air China does not serve the route itself, instead codesharing with Star Alliance partner, United, something that clearly does not carry the same regulatory weight as flying with its own metal. Using this opening, Hainan considers Beijing-Chicago its first prime long-haul route.
See related report: Hainan Airlines to enter under-served Beijing-Chicago market with 787 service
In its eagerness to establish internationally, Hainan has had false long-haul starts in the past, briefly operating Shenzhen-Sydney. It would of course prefer more first tier cities, but has found some niches that work. Seattle performs nicely and at Berlin Hainan partners with local carrier airberlin for onward feed. The partnership was expanded in Apr-2013 to also cover Berlin-Copenhagen, Berlin-Gothenburg and Berlin-Oslo services from 01-May-2013. That adds to other codeshare flights including Berlin-Stockholm, Berlin-Cologne, Berlin-Dusseldorf, Berlin-Karlsruhe, Berlin-Frankfurt, Berlin-Munich, Berlin-Nuremberg, Berlin-Saarbrücken, Berlin-Stuttgart, Berlin-Vienna and Berlin-Zurich.
Hainan's full long-haul network includes Beijing-Abu Dhabi (twice weekly 767), Beijing-Brussels (five times weekly A330-200), Beijing-Male (three times weekly 767), Beijing-Moscow (three times weekly A330-300), Beijing-Seattle (daily A330-200), Beijing-Saint Petersburg (twice weekly A330-300), Beijing-Toronto (three times A340-600) and Beijing-Zurich (twice weekly A330-200).
Hainan is the only Chinese carrier in Berlin and Seattle and has no direct route competitor. On the Beijing-Toronto route Hainan has to compete with from Air Canada, which has double to four times Hainan's capacity.
Beijing Capital International Airport to Toronto Pearson International Airport (seats per week, one way): 19-Sep-2011 to 17-Nov-2013
Capacity decreases after 787s replace A330s/A340s
Hainan Airlines is due to receive 5 of its 787s this year; they are to be configured in a two class arrangement, seating 36 in 2-2-2 in business and 177 in economy for a total of 213 seats, according to the carrier. Beijing-Seattle is served by Hainan's 222-seat A330-200, so there will be a 4% decrease in capacity per flight. The decrease in seats is in economy as Hainan's A330-200 has 36 business class seats as well.
Toronto will see larger decreases in capacity provided there is no increase in frequency (currently three weekly through the end of schedule). Hainan's A340-600 seats eight in first, 60 in business and 220 in economy for a total of 288. Toronto will lose first class with the 787s, but this premium level is generally unprofitable for Chinese carriers. China Southern has even mooted the possibility of removing or decreasing first class from its fleet entirely.
See related report: China Southern Airlines considers removing first class, with China's new government austerity
Overall capacity on the Toronto route, again provided there are no frequency changes, will decrease 26%. Business class decreases 40% while economy decreases 20%. Hainan will likely add frequencies with time, which will help it capture the market that needs a daily or close to a daily offering if it is to capture any premium share. Hainan has had to use A340-600s to Toronto as they are the carrier's only suitable aircraft for that long route.
While Hainan has less overall capacity than Air Canada on the Beijing-Toronto service, it has about 50% more business class seats per flight. Premium cabins are challenging for Chinese carriers to fill at optimum yield levels, a result of their marketing and distribution but also the local market's premium maturity. Filling premium seats from foreign points is especially challenging for Chinese carriers. Premium seats are often sold at a large discount compared to foreign competitors.
The end of first class and the reduction per flight in business class seats, combined with the greater efficiency of the 787 over the A340-600, will no doubt help Hainan's position in Toronto. As for Seattle, Hainan will gain the 787's efficiency while carrying fewer low-yielding economy passengers.
Chicago was envisioned to be launched with the 787 but the aircraft's delivery delays meant Hainan scheduled an A330 and later A340-600 when further analysis showed the A330-200 did not have sufficient range to reach Chicago. If Hainan is unable to launch Chicago with the 787, it will see similar improvements to Toronto when the 787 replaces the A340-600.
(Hainan originally planned for four weekly 787 flights to Chicago, but this was decreased as the operating aircraft was changed to a larger one: the plan to use the A330-200 was tied to having three weekly flights while the more recent plan to use the A340-600 was accompanied with a frequency chance down to two weekly flights.)
Seattle is Hainan's largest international destination ranked on seat capacity, followed by Brussels. Of its long-haul destinations, Berlin is fourth, Moscow fifth, Toronto sixth, Male seventh and Saint Petersburg 10th.
Hainan Airlines top 10 international routes ranked on available seat capacity: 27-May-2013 to 2-Jun-2013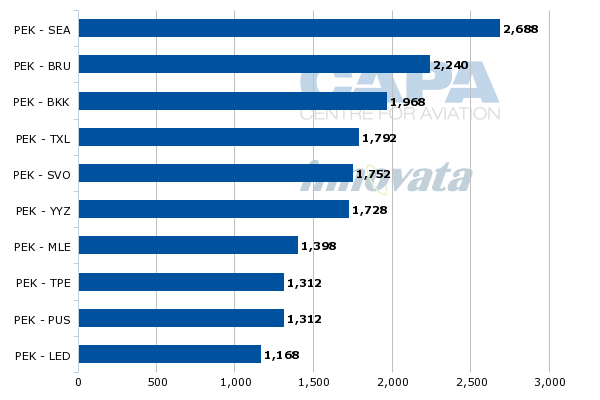 Hainan has flagged its 787s will initially be used on domestic services: twice daily on Beijing-Haikou and daily on each Beijing-Chengdu and Beijing-Shanghai. Over the medium term after crew familiarisation is complete, the 787 could continue to see domestic service for utilisation purposes. Hainan is deploying the 787 on trunk routes that can sustain medium sized widebody capacity. The A330 is already a common sight on trunk routes in China (indeed, Hainan even uses its A340-600s between Guangzhou and Beijing).
Widebody deployment on trunk routes is a reflection of demand but also the Chinese government's preference for carriers to use larger capacity aircraft to make better use of very limited airspace and slots. It is not unheard of for slots to be offered only for a service operated by a widebody movement.
The 787's introduction could allow Hainan's limited A330 fleet to increase frequency on other long-haul services, beef up domestic trunk routes and/or redeploy the A330s to other HNA affiliates. Hainan has invested for example in France's Aigle Azure, which is due to receive two A330s to commence Beijing-Paris flights - in this case exercising French rights.
Hainan has about a 9% share of the Beijing-Chengdu market.
Beijing Capital International Airport to Chengdu Airport (seats per week, one way): 19-Sep-2011 to 17-Nov-2013
Hainan is also a smaller player in the Beijing-Shanghai market with about 7% of capacity.
Beijing Capital International Airport to Shanghai (Hongqiao and Pudong) (seats per week, one way): 19-Sep-2011 to 17-Nov-2013
Hainan's presence between Beijing and Haikou is far more pronounced. It accounts for about 60% of capacity.
Beijing Capital International Airport to Haikou Airport (seats per week, one way): 19-Sep-2011 to 17-Nov-2013
Looking ahead, Hainan Airlines prime destination opportunities are constrained in the face of Air China's hold
International flying is a minor part of Hainan Airlines's operatins. About 16% of ASKs are on international routes but the carrier derives only 10% of revenue from the international market. This is not uncommon; domestic yields are far higher than international ones for Chinese carriers. Nonetheless, with 10 787s on order, Hainan will be looking for more 787 destinations than the three it has already announced.
But the carrier will be limited by Air China's hold on existing routes from Beijing. Hainan is interested in serving New York City, and while Air China serves JFK and no Chinese carrier serves Newark, Chinese authorities are so far considering the two destinations the same, blocking Hainan from a direct service. But New York is not entirely ruled out as recent reports suggest the carrier may be able to serve New York via Toronto.
Hainan could look to replace other A330 cities (in Europe plus Male) with the 787, but a drawback is the A330 does a tidy job in those markets and is a lighter aircraft than the 787, offsetting some of the 787's efficiencies. But if Hainan needs more domestic widebody capacity, pulling A330s would be the way to go.
The 787's real strength, however, is on long and thin routes. Air China has carved out many secondary points in Europe while North America's gateways are more open to serve. Range could however be an issue; China Eastern found the 787 would not be able to link North America's east coast with Shanghai, although Shanghai is further south than Beijing.
International artners will grow in importance for Hainan, which fully recognises their value. The first step may be a closer relationship with American Airlines, which also flies between Beijing and Chicago.
There is no doubt that Hainan Airlines is commercially capable of serving points – it is well-regarded as a lean and internationally-minded Chinese carrier – and that there exist theoretical business cases for Hainan on long-haul routes from Beijing.
But the same might have been said of China Southern and its quest to fly the A380 from Beijing. Although Hainan has wider opportunities given the 787's much smaller size than the A380, the biggest challenge to Hainan will not be its own business or structure, nor the market's potential, but rather route limitations until China allows greater competition amongst its carriers.
A more open Chinese market will be valuable for the economy overall, but unfortunately for Hainan, there are no signs currently that this is on the agenda.