China Southern Airlines considers removing first class, with China's new government austerity
Analysis
China Southern's high profile expansion into long-haul markets has not all achieved results. Load factors are high but yields low, with CEO Tan Wan Geng in a surprisingly frank admission conceding, perhaps the obvious, that long-haul profits for Chinese airlines are "very difficult". Most long-haul routes – even from higher-yielding cities like Shanghai – are loss-making, while they are profitable for international competitors.
Pressure is increasing as the country's new leadership imposes austerity measures, some cosmetic, some real, ranging from fewer dishes at banquets to cuts in international travel spending. Airlines are feeling the heat and China Southern as a result is considering removing first class on aircraft that also have business class. China Southern has first class on A380s, A330s and its forthcoming 787s. The carrier would in this case consolidate to having only a business class, or at least reducing the number of first class seats.
Such a move would add China Southern to the growing list of carriers reducing or removing first class from some of their aircraft, including Emirates, Lufthansa and Qantas.
'Four dishes and a soup' austerity impacts Chinese carriers – first class may go
The political climate in China has changed following the recent leadership changeover. The new government, fearing the Communist Party's future if high profile corruption and displays of wealth continue, is clamping down. One measure that has caught public attention is a move away from lavish state dinners with nearly a dozen courses to a comparatively simpler "four dishes and a soup" meal.
There is debate over whether such moves address the underlying problem, but either way public displays of wealth, such as first class and international travel, are for the time being at least under scrutiny. Air China and China Eastern, the country's third and second largest carriers respectively, are coy about publicly admitting they are feeling pressure in the form of decreased premium sales or lower yields.
Research out of China indicates some signs of weakening yields, but the carriers reply to this by pointing to traffic, which has grown year-over-year in volume – but not necessarily yield. Across China's three largest airlines – China Southern, China Eastern and Air China – traffic was down in Jan-2013 but up in Feb-2013, a result of the popular Chinese New Year travelling season occurring later than in 2012.
(Air China has not released final Feb-2013 traffic figures. Because of the variations in the month in which the lunar new year falls, it is necessary to compare Jan/Feb aggregated figures year on year.)
The annual post-Christmas slowdown and then peak Chinese New Year travelling period would disguise any marked decline from austerity measures.
Air China monthly traffic: 2011-2013
China Eastern monthly traffic: 2011-2013
China Southern monthly traffic: 2011-2013
Privately, however, some carriers admit considerable pressure as a result of the new government's austerity efforts. Mr Tan did not offer comparative statistics but said recent reductions in government traffic have caused China Southern to evaluate whether to decrease or remove first class. Between Guangzhou and Los Angeles, operated by the A380, economy has performed satisfactorily but the carrier feels considerable pressure on first class.
Any weakening of government traffic could well have pushed China Southern over the edge of an already long-haul route structure challenged for profitability. While there is the possibility Mr Tan's comments could have been to drum up support for government officials to resume normal travel patterns, his remarks to analysts, not the media, make that intention seem less likely.
Across its three-class fleet, China Southern has 116 seats
There are 62 aircraft in China – all widebodies – that have both first and business class, according to CAPA's Fleet Database. Collectively they offer 516 first class seats. The largest share, with 234 seats (45% of total) is Air China, followed by Hainan Airlines with 126 seats (25%), China Southern with 116 seats (23%) and finally China Eastern with 40 seats (7%).
Hainan's figure is high as it took three A330s from sister carrier Hong Kong Airlines configured in an all-premium configuration that Hong Kong Airlines used on a short-lived service between Hong Kong and London. Hainan is now flying these three aircraft in the domestic market as it seeks a long-term use for them. Without these three all-premium aircraft, Hainan's first class seat count is a more modest 24.
See related article: Hainan Airlines becomes a test bed for all-premium operations in domestic China
So China Southern effectively has the second-largest share of intercontinental first class seats. Its share of first class seats is about equal to its share of intercontinental seats, likewise for Air China. China Eastern in northern summer 2013 will account for about 24% of intercontinental seats but has only 7% of first class seats. This is the result of its widebody A330s having business class as the top cabin whereas China Southern's A330s have a modest four seats (but it has 19 such aircraft in service in Mar-2013).
China Eastern's only other long-haul aircraft is the A340-600, of which it has five, each with eight first class seats. China Eastern's A340-300s offered first class but these were retired in 2012. Air China also has A340-300s, 747s and 777s with first class seats. China Southern's A380s also offer first class, as will its forthcoming 787s (planned to have four first class seats, 24 in business and 200 in economy). China Southern's 777-200s do not offer first class.
Market share alone does not dictate first class seat share. Air China is advantaged by its base in Beijing, China's capital that consequently sees heavy politically related first class travel as well as private sector travel to the nation's capital. The profitability of this, however, is questionable as who pays for first class (the government or the airline) can be unclear. China Eastern is also theoretically advantaged by being based in Shanghai, China's financial capital, which would generate financial sector traffic. But the internationalisation China's carriers are pursuing is occurring at the same time as many of the world's airlines continue to shrink or eliminate first class. China's carriers are weak in international marketing, which often means their constantly improving service goes unnoticed; supply and demand are not finding each other. And when they do, premium yields can be weak, and often a fraction of what other non-Chinese carriers can achieve, even if hard products on new aircraft are comparable or better to foreign peers.
Certainly, the very consideration from China Southern (amongst others) that first class may need to go is partial validation China Eastern is not missing an opportunity with so few first class seats.
First class seats where first and business class offered on widebody Chinese aircraft: 28-Mar-2013
Number of First Class Seats
Which first class seats should China Southern remove, partially or entirely?
Assessing a reduction in first class seats could be challenging. Of the 24 aircraft that have first class in addition to business class, all but five (the A380s) have only a single row of first class seats. Having a half row would be a novelty for the industry - and effectively improbably. China Southern's 10 787s on order will follow the A380 configuration in having eight first class seats in two rows.
Removing first class on certain aircraft is possible, and scores of airlines have done this. But China Southern's long-haul capacity is increasingly comprised of transfer traffic, including notable long-haul to long-haul connections, and not point-to-point traffic that can better sustain first class on individual routes. With long-haul connections, eliminating first class on one route could reduce demand on the corresponding service. Isolating certain connections to have or not have first class is difficult with a relatively small long-haul fleet, as China Southern has.
China Southern Airlines Fleet Summary: as at 29-Mar-2013
China Southern Airlines fleet breakdown for aircraft in service: 29-Mar-2013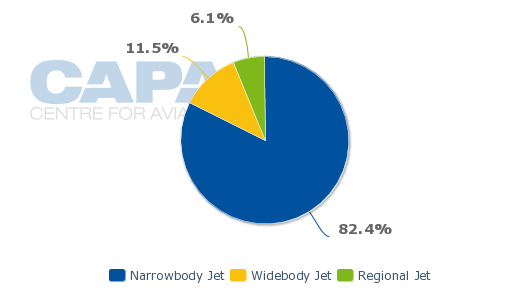 Airlines worldwide are increasingly removing first class
China Southern need not worry or be embarrassed about removing first class: it would be in good company. The stalwart in the region, Cathay Pacific, has said it has no opinion on the future of first class – a blunt assessment for one of the world's premium carriers - while recently, belatedly admitting premium economy seating.
Of the global long-haul behemoths, for whom regional premium traffic is actually increasing in volume, Emirates has said it is displeased with first class load factors and may remove the class on some A380s, this in addition to plans for two-class configuration on new aircraft. Lufthansa meanwhile garnered headlines when it announced it would remove first class from 15-20% of long-haul routes. The carrier currently has first class on 94% of long-haul routes compared to about 80% at British Airways and 40% at Air France.
Comparative figures with Chinese carriers do not come into focus so easily as aircraft often operate short-haul sectors (international services are predominantly within North and Southeast Asia), but Air China has first class on 37% of its widebody fleet, and on aircraft used primarily for long-haul sectors, the figure is above 50% of aircraft. China Eastern has first class on 15% of its widebodies but about a third of long-haul aircraft. China Southern has first class on 62% of widebody aircraft and around 70% of long-haul aircraft – but these higher proportions are the result of China Southern having fewer domestic widebody aircraft.
Elsewhere in the world, a single premium cabin is becoming typical. KLM, with over 70% of its passengers connecting, has only business class. Virgin Atlantic pioneered the business class that rivalled first class, and began to eat into the distinction between the two cabins. American Airlines is phasing first class out of 777-200ERs (the cabin will remain on 777-300ERs), United continues to evaluate how to integrate its first and business long-haul fleet with Continental's business-only (in the premium section) fleet, Qantas had planned for its remaining A380s to have no first class before the orders were delayed, amongst other examples.
While removing or reducing first class could raise eyebrows and reduce higher yield opportunities, it may ultimately be a more profitable move to make better use of the real estate for the time being.
China's airlines have a way to go before their brands will attract foreign premium travellers in numbers and if Beijing's (perhaps temporarily) image sensitive bureaucrats aggravate the damage, premium seating may be at risk in the short term. If nothing else though, it would help ensure that the Chinese carriers' previously spotty business class products continue to be upgraded to global levels, where full lie-flat has become the benchmark. China Southern and Air China have already made leaps on their respective A380s and 777-300ERs.
As the industry evolves faster than ever, the Chinese industry is racing to keep up. History in other areas suggests that its airlines will one day excel, but meanwhile the heat is on to achieve profitability.