Flybe moves towards Chapter 4 in its restructuring: Profitability
Analysis
Last month, Flybe announced that it would establish a new base at Robin Hood Doncaster-Sheffield Airport in summer 2016. The airport is only ten years old and among the UK's smallest, ignored by most of its leading airlines and mainly used by Wizz Air to serve destinations in eastern Europe. Sheffield is the UK's fourth biggest city, but it lacks connectivity.
Flybe will offer a combination of leisure and business routes, together with vital links to major hubs in Paris and Amsterdam. And the airport will suit Flybe's strategic preference for avoiding competition. It will launch eight routes from Robin Hood, and has indicated that it will also have ten other new routes from other airports in 2016.
Flybe has undergone a lengthy period of restructuring, including more than two years under current CEO Saad Hammad and is now growing once more. The airline's results for the first half of its FY2016 indicate that it may indeed now be entering what Mr Hammad calls the profitable growth chapter of its story.
Flybe will launch eight new routes from Doncaster-Sheffield from Mar-2016, deploying two Embraer E195 aircraft on a total of 42 weekly departing flights offering 500,000 seats annually. Flybe expects to increase the number of passengers using the airport from 900,000 in 2015 to 1.35 million in 2016 (which implies a load factor of 90% on the new routes).
According to data from OAG for the week of 14-Dec-2015, Doncaster-Sheffield currently offers only 18 destinations, all in Europe and none of them domestic. Ten of these destinations are in Central/Eastern Europe (six in Poland), seven are summer sun destinations (six in Mediterranean locations and one, Sharm el-Sheikh, in Egypt). The remaining destination is Dublin. Six of the current destinations are winter only, reflecting a highly seasonal route pattern at Doncaster-Sheffield.
Flybe will launch year round routes to Amsterdam, Berlin Tegel, Paris CDG, Jersey, Newquay, Alicante, Malaga and Faro. Flybe had previously operated a summer only once weekly service from Doncaster-Sheffield to Jersey.
Flybe: new routes for summer 2016 from Robin Hood Airport Doncaster-Sheffield
Wizz Air currently has a 70% share of seats at Doncaster-Sheffield, where Thomson Airways (27%) and Aer Lingus (less than 4%) are the only other airlines (source: OAG, week of 14-Dec-2015).
From Mar-2016, Flybe will be the sole operator on five of the new routes. On Alicante and Malaga, OAG data indicates that Thomson Airways will be a competitor at least until the end of Apr-2016, but schedules data for Thomson do not currently extend into May-2016 and so its plans for the rest of summer 2016 are not yet confirmed. Thomson has also operated the Faro route as summer only for the past two years, but only from May and so, for similar reasons, its plans for summer 2016 on this route are not yet clear.
In Apr-2016, Flybe will be the number two airline at the airport, with 37% of seats (week of 25-Apr-2016, according to currently available schedules data from OAG). Wizz Air, which is also growing at Doncaster-Sheffield, will remain the biggest operator, but with a reduced share of 44%. Thomson's share will be 17%, and Aer Lingus' share will be 2%. According to OAG data for the first full week of Apr-2016, just after the start of the summer season, total seat capacity at the airport will roughly double compared with the same week of 2015.
The new Flybe routes will make a significant difference not only to total traffic levels at Doncaster-Sheffield, but also to the level of connectivity in the region that it serves, in particular through the new routes to the major European hubs of Amsterdam and Paris CDG.
Flybe's seven other new commercial routes for 2016
In addition to the eight routes to be launched from Doncaster-Sheffield in Mar-2016, Flybe has so far indicated plans for seven other new commercial routes in 2016. These are Birmingham to Rotterdam and Knock, Manchester to Rotterdam, Edinburgh Knock, London City to Rennes (peak summer only), Cardiff to Chambery and Newquay to Aberdeen.
The two routes to Knock and Cardiff-Chambery are re-entries for Flybe. According to OAG, there are no other airlines on any of these routes.
Flybe: other new commercial routes for 2016
| Route | Launch | Weekly frequency | Aircraft | Competitors |
| --- | --- | --- | --- | --- |
| | Feb-2016 | 12 | Dash 8 | Flybe monopoly |
| | Sep-2016 | 12 | n/a | Flybe monopoly |
| | Mar-2016 (re-entry after Oct-2013 exit) | 6 | n/a | Flybe monopoly |
| | Mar-2016 (re-entry after Mar-2015 exit) | 6 | n/a | Flybe monopoly |
| | Jul-2016 (seasonal, to Sep-2016) | 6 | n/a | Flybe monopoly (also operates year round London Southend-Rennes) |
| Cardiff-Chambery | Dec-2015 (re-entry after Apr-2014 exit) | 1 | | Flybe monopoly |
| | May-2016 | 1 | Dash 8 | Flybe monopoly |
Three publicly supported routes
Flybe has also gained three new routes supported by the UK government's GBP7 million regional air connectivity fund, which aims to support routes that would otherwise be commercially unviable. Under this scheme, it will be the sole operator on Dundee-Amsterdam, Newquay-Leeds Bradford and Norwich-Exeter.
Flybe CCO Paul Simmons said daily Exeter-Norwich service is a "route we believe could work because it's a difficult journey by road or rail, but it needs some funding for the first three years to get it off the ground" (Exeter Express and Echo, 3-Dec-2015).
Flybe: new routes for summer 2016 supported by UK government's regional air connectivity fund
| Route | Weekly frequency | Competitors |
| --- | --- | --- |
| | 7 | Flybe monopoly |
| | 5 (3 in winter) | Flybe monopoly |
| | 7 | Flybe monopoly |
Flybe's growth is balanced by cuts too
In spite of the new routes, Flybe's growth is not indiscriminate. For example, it is reducing its frequencies on routes from Southampton to Alicante, Malaga and Faro. It had originally suspended these routes completely at the start of the winter 2015/2016 schedule, but then reintroduced them from Dec-2015.
More significantly, Flybe is to close its Bournemouth base, bringing about the closure of six routes from Mar-2016. It will consolidate routes served from England's south coast into its nearby Southampton base. Earlier this year, in May-2015, Flybe closed its 23 times a week service from London City to Dublin, only launched at the start of winter 2014/2015 (but it is increasing frequencies on other routes from City this winter).
See related reports:
London City Airport: the changing competitive landscape at the UK capital's most expensive airport
Flybe swaps Gatwick for Southend & London City. Higher charges will necessitate improved yields
Flybe has a strong domestic UK market position
Ranked by the number of weekly flights, Flybe is by some distance the biggest airline in the UK domestic market, with more than twice the number operated by its closest rivals British Airways and easyJet. Of course, its much smaller aircraft mean that its position is not quite as strong when it comes to the ranking by domestic seats, but Flybe is still second by this measure, behind easyJet, but still ahead of BA (data source: OAG, week of 14-Dec-2015, see table below).
Flybe's 1H2016 results presentation cites statistics from the UK Civil Aviation Authority showing that it is the biggest airline by passenger numbers in the UK regional domestic market (this excludes London). With 64% of its flights and 59% of its seats on domestic routes, this leadership position is a strength.
See related report: Flybe SWOT Analysis: strengths as an airline do not necessarily convert to sustainable profits
Top five airlines in the United Kingdom domestic market ranked by share of frequencies 14-Dec-2015 to 20-Dec-2015
| Rank by frequency | Airline | Share of frequencies | Share of seats | Rank by seats |
| --- | --- | --- | --- | --- |
| 1 | | 44.4% | 29.0% | 2 |
| 2 | | 19.2% | 28.0% | 3 |
| 3 | | 19.1% | 31.53% | 1 |
| 4 | | 6.4% | 2.2 | 6 |
| 5 | | 3.1% | 5.8% | 4 |
A strategic preference to avoid competition, but poor past record of profitability
The new routes planned by Flybe for 2016 will maintain its strategic preference to avoid competition. Of the 18 routes listed in the tables in this report, Flybe will be the sole operator on 12. Previous analysis by CAPA, in Dec-2014, showed that Flybe faced no competition from other airlines on 78% of its city pairs.
See related report: Flybe: a niche occupied by few other airlines, but still with a unit cost disadvantage
Its fleet of regional jets and turboprops brings it a route network that includes many regional airports where larger competitors with larger aircraft cannot operate. This also allows it to offer direct flights to major destinations from regions that would otherwise suffer from a lack of connectivity. As Europe's largest independent regional airline, Flybe is also relatively safe from strong competition from another regional player.
These near monopolistic features of Flybe's business model might be expected to yield high margins. However, as CAPA noted in its Dec-2014 analysis (see link above), "In spite of these advantages and what looks to be a relatively efficient cost base by comparison with other European regional airlines (according to our analysis), Flybe has yet to re-establish sustainable levels of profitability".
Flybe's 1H2016 results are a further step to more healthy profit levels
That was a year ago. Its FY2015 results, reported in Jun-2015, revealed another loss, but Flybe adjusted this for various non-recurring items to demonstrate that it had made a positive "illustrative profit".
See related report: Flybe: FY2015 result goes down - and up - but shows progress with restructuring
Since then, Flybe has returned to growth in both traffic and revenues and has demonstrated more convincingly, without having to rearrange its numbers, that it has taken further steps on the road to a more healthy level of profitability. Its 1H results for FY2016 (Mar-2016 year end, so 1H was Apr-Sep) revealed group revenue growth of 10.3% to GBP340 million and an improvement in the pre-tax result from a loss of GBP3.3 million in 1H2015 to a profit of GBP22.9 million in 1H2016.
In the core Flybe UK operation, the number of seats grew by 13.1%. Passenger numbers increased by 10.2% as load factor fell by 2.0ppts to 76.3%, but passenger revenue per seat was almost flat (down 0.3% to GBP54.56) thanks to a 1.6% increased in yield per passenger.
A drop in other revenue, including contract flying, meant that total revenue per seat fell by 1.6%, but lower fuel prices and other cost efficiencies helped Flybe to reduce cost per seat at the faster rate of 8.9%, helping it to turn a loss of GBP0.40 per seat in 1H2015 into a profit of GBP3.78 per seat in 1H2016. Due to its hedging programme, the full benefit of lower fuel prices will not be felt until the end of FY2016.
New routes dilute revenue per seat, but balanced by unchanged routes
The almost stable performance of passenger revenue per seat was driven by growth in revenue per seat on existing routes with no capacity change and on those with a heavy cut in capacity, balanced by falling revenue per seat on new routes and on those with strong capacity growth (see chart below). This experience should give Flybe some confidence that the likely dilution in revenue per seat on its route launches in 2016 will be balanced by growth in unit revenue on unchanged routes (supported by its strong market share).
Flybe percentage of total seat capacity and revenue per seat change year on year by route category 1H2016*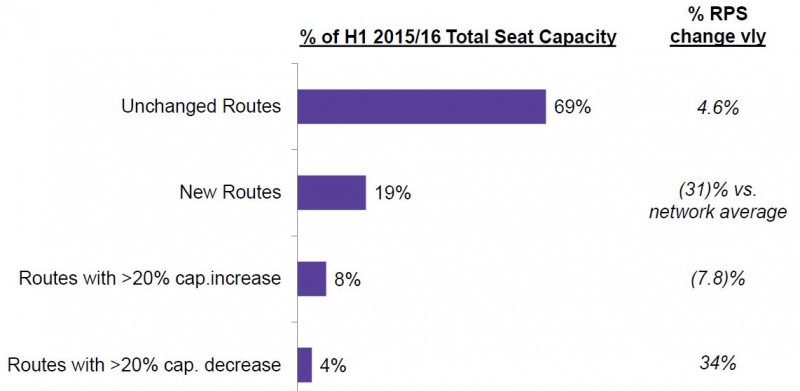 Flybe moves towards profitable growth
In addition to the earnings improvement, Flybe's 1H2016 results announcement confirmed that it has also dealt with its last major legacy issue inherited from previous management, which involved unwanted Embraer E195 aircraft in the fleet.
CEO Saad Hammad, who joined Flybe in 2013, describes Flybe as now moving into Chapter 4 of its transformation. Chapter 1 was restructuring, Chapter 2 was rebirth, Chapter 3 was establishing growth platforms while resolving legacy issues and Chapter 4 is profitable growth.
Mr Saad is finally in a position to pursue this growth without any of the issues that clouded his initial period at the airline.