Flybe swaps Gatwick for Southend & London City. Higher charges will necessitate improved yields
Analysis
After withdrawing from London Gatwick Flybe has recently announced its re-entry into the London market. It is to launch seven routes from London Southend, to be operated by franchisee Stobart Air (formerly Air Arann) using ATR equipment. In an even more eye-catching move, it will also launch five new routes from London City Airport, operated by its own Q400 fleet.
Flybe's initial pricing of routes from both airports looks attractive, but each has relatively high airport charges. Although Stobart may offer lower costs at Southend than Flybe could achieve, it will need to ensure sufficient yields to offset the jump in charges.
This may be challenging. The Southend routes face little competition, but it is not a premium yield market. While London City attracts business travellers and good airline yields, Flybe's routes from there will face significant competition on a city pair basis (including LCC competitors). Flybe is still implementing an important cost reduction programme, but achieving good yields will be the key to success on its new London routes.
Flybe's new routes from London City Airport (LCY), to Edinburgh, Belfast, Dublin, Inverness and Exeter, will start operations on 27-Oct-2014 and are on sale now. Flybe's choice of aircraft on these new routes will be five 78 seat Bombardier Q400s from three of its existing bases.
It expects to carry up to 500,000 passengers annually on these routes, which, given the weekly frequencies, suggests a targeted load factor of only 55%. Nevertheless, this is a very ambitious passenger target, given that the airport handled a total of 3.4 million passengers in 2014.
Flybe's schedule generally facilitates a same day return based on a working day in London for passengers based in one of the new destinations, but not the other way around. This, together with London City's positioning as a preferred airport for business travellers, suggests that there may be good demand for Flybe's first flight into City and last flight out each day, but demand may be more patchy during the middle of the day.
In addition to the announced routes from London City, Flybe plans off-peak leisure destinations in ski locations, regional France and northern Spain. More announcements on these routes are expected in the coming weeks. Although primarily a business travellers' airport, LCY is increasingly attracting leisure routes too.
See related report: London City Airport talks aviation: 'In the city, there's a thousand things I want to say to you'.
Significant competition on a city pair basis on the LCY routes
British Airways also operates LCY to Edinburgh (a route that CityJet has recently ceased) and CityJet is a competitor on the Dublin route from the airport; but, on an airport pair basis, Flybe will be the sole operator on three of the five new routes.
On a city pair basis, however, it faces competition on all but one of the five routes. In all four cases, there is LCC competition and in three cases there are multiple competitors. Flybe has much higher average fares than the LCCs and must be hoping that London City will attract a defensible premium.
Flybe routes from London City to commence 27-Oct-2014
Destination from LCY

Weekly one way frequency

Competitors
on airport pair

Competitors on city pair

28x

21x

None

Aer Lingus (LGW, LHR), BA (LHR), easyJet (BFS to LTN, LGW, STN)

28x

14x

None

21x

None

None
The only one of Flybe's new LondonCity routes where there is no airline competition is its planned Exeter service, but it will face some competition from rail. This will require fast check-in times if it is to compete with existing rail services, according to Federation of Small Businesses Torridge Branch chairman Terry Schofield (North Devon Journal, 23-Apr-2014): "I can only see it being a major benefit, if it is £70 return then it all depends how fast you can board. If you have to wait two hours to board, then it will take longer, overall, than the train and that will not work. It will be a benefit if it does what it says on the tin."
First Great Western obliquely welcomed Flybe's announcement of an Exeter-London City service from 27-Oct-2014 (The Independent, 23-Apr-2014). A First Great Western spokesperson said: "This is good news for the South West, providing those travelling with greater choices. However, with the time taken to check-in at London City and the distance Exeter airport is to Exeter city centre, rail remains a strong, viable alternative."
Starting prices from LCY look attractive
Flybe's website shows return fares to Exeter starting at GBP70 and rising from there. This starting fare is similar to the cheapest return rail fare, although the rail service has the advantage of a much greater level of frequencies and greater convenience for those starting or ending their journeys in the centre or west of London. Rail is however less likely to be a significant competitor on the other routes from London City.
Prices currently on Flybe's website for the first week of operation are generally higher for the London City-departing leg than for the sector from the regional destination into London. Aside from the Exeter service, the cheapest round-trip fare for a hand baggage only seat ('Just Fly') is in the region of GBP90 to GBP100. This rises to around GBP130 to GBP150 for the next fares class ('Get More'), which is changeable and allows a 20kg check-in bag and reserved seating, and to around GBP480 to GBP500 for unlimited flexibility, extra bags, seat reservation, lounge access and onboard snacks ('All In').
Flybe previously operated eight routes from London Gatwick, before selling its slots to easyJet in a deal announced in 2013. easyJet assumed the slots in Apr-2014. Flybe has effectively resurrected its Belfast City and Inverness services as routes from London City, but discontinued five others (Isle of Man, Jersey, Guernsey, Newcastle, Bergerac).
See related report: EasyJet works the Gatwick slot machine as Flybe cashes out
Flybe's only remaining Gatwick route is to Newquay in Cornwall, in the far South West of England. This is a Public Service Obligation route and, presumably, the subsidy on the route, together with Flybe's position as Newquay's largest carrier, justify the airline's continuing the service. Indeed, it is seeking to win a renewal of its PSO grant on the route.
Flybe's CCO Paul Simmons said: "We are completely committed to the people of Cornwall because we are the biggest operator at Newquay Airport and will continue to be so. But we just need to make sure we go through the process and win that PSO and then carry on for another four years." (PirateFM.co.uk, 24-Apr-2014).
In early Apr-2014, Flybe also recently announced six new routes from London's smallest airport, at Southend in Essex, to commence in Jun-2014 and Jul-2014. These routes will be operated by Stobart Air (formerly Aer Arann) using ATR72 aircraft under a ten year franchise agreement.
The destinations originally announced from London Southend (SEN) were Antwerp, Caen, Cologne/Bonn, Groningen, Munster/Osnabruck and Rennes. Flybe said that it expected to operate 102 weekly services when fully operational, carrying 200,000 passengers in year one, rising to 700,000 in year three. Based on 200,000 annual passengers and 102 weekly frequencies, this suggests a target load factor of 52%.
Since the early Apr-2014 announcement, Flybe cancelled the planned Cologne/Bonn route from Southend and announced a planned Maastricht service. Its franchisee, Stobart Air, said the cancellation of the Cologne/Bonn route was for "commercial reasons". Germanwings and easyJet operate from London to the German destination and Ryanair plans to start a service from Stansted in Oct-2014, so perhaps Flybe judged that the competitive environment was too fierce.
Flybe had previously announced the May-2014 launch of a seasonal three times weekly service to Newquay from Southend, to add to its London Gatwick service. EasyJet ceased operating from London Southend to Newquay last summer, according to OAG.
SEN routes have little competition
Unlike the London City routes, the Southend routes are almost all monopolies, both on the basis of the airport pair and the city pair. Only on the Maastricht route is there any competition: from Ryanair out of London Stansted.
Flybe destinations from London Southend launching summer 2014
| Destination from SEN | Weekly frequency | Competitors on airport pair | Competitors on city pair |
| --- | --- | --- | --- |
| | 8, rising to 14 | None | None |
| | 4 | None | None |
| | 6 | None | None |
| Muenster/Osnabruck | 7 | None | None* |
| | 14 | None | None |
| | 3 | None | None |
| | 6 | None | Ryanair (STN) |
Lower pricing at SEN in first two fare classes
In spite of the lack of competition at Southend, Flybe is pricing its fares from the airport at lower levels in its first two fare classes than at London City. This presumably reflects the greater business demand and perceived convenience of the location of London City. However, Flybe's highest fare class for routes from Southend is currently priced above the equivalent at City.
Prices on Flybe's website for the international routes from Southend when they launch in Jul-2014 currently show return fares starting in the region of GBP60-70 in the lowest fare class, GBP110-130 in the middle fare class and GBP700-740 for the 'All-in' category. The Newquay route is priced lower, with return fares starting from GBP53, GBP101 and GBP200 respectively.
Fares in the first two classes at both LCY and SEN start below Flybe's average revenue per passenger
In the year to Mar-2013, Flybe UK generated average revenue per passenger of GBP80, on a one-way basis, or GBP160 on a return basis. Its costs were a little higher than this. The current prices available at LCY and SEN are below this level in the first two fare classes.
Although the new routes are on average shorter than Flybe's overall network average, it looks as if it will need to sell a significant proportion of tickets in its 'All-in' fare class, especially as its target load factors on the new London routes, in the low to mid 50s, are below the roughly 63% of the network as a whole in FY2013.
It also seems likely that Flybe will look to raise its 'Just Fly' and 'Get More' fares, particularly from Southend, once the routes become established. The lack of competition at Southend may make raising prices there easier than at London City.
We must further assume that Stobart Air's cost base is lower than that of Flybe, even after factoring in Southend's airport charges. The length of the franchise agreement - ten years - suggests that Flybe is confident that this is a cost effective solution. Flybe itself operates contract flying for Finnair and is seeking additional opportunities in this area. It should be well positioned to think through such an agreement from the other side of the table.
LCY and SEN are among London's more expensive airports
In addition apparently to pricing these new routes below its average network unit cost, it also seems that Flybe is moving into airports with a higher average cost structure than that of London Gatwick, which it recently vacated on the basis that costs were too high there.
Looking at the published tariffs for aircraft landing/departure fees applicable to Flybe and the passenger supplements and security, Gatwick appears to be more expensive per passenger than Southend at summer peak times. However, in summer off-peak and in the winter, Gatwick is significantly cheaper. London City is more expensive than both of the other two, based on published tariffs.
Airport charge tariffs are complex and the overall cost to an airline can be significantly influenced by the use (or not) of additional services such as baggage check-in and other handling activities, aircraft parking, de-icing, environmental charges and utilities. This caveat means that calculating the relative cost to Flybe of each London airport is not a totally opaque process.
Nevertheless, we can look at the question of the relative cost to airlines of London's airports from another angle.
A simple calculation of airport revenues per passenger at the six airports serving the UK capital suggests that both London City and London Southend may indeed be more expensive than London Gatwick. Both generated more revenue per passenger than Gatwick in 2012 and only Heathrow achieved a higher level.
Revenue per passenger (GBP) for London's Heathrow, Gatwick, Stansted, Luton, City and Southend airports 2012*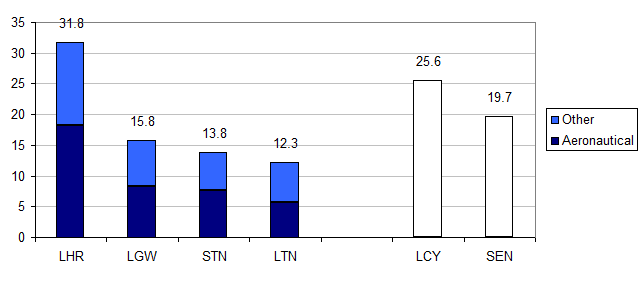 Unlike the other four airports, Southend and City do not disclose a revenue breakdown between aeronautical charges and commercial revenues, but it seems highly unlikely that their commercial revenues per passenger are the reason for having total revenue per passenger figures superior to those of Gatwick, Stansted and Luton.
Rather, it looks likely that they are more expensive in terms of landing fees and passenger charges, in particular LCY. While London City should also allow a higher yield, the competitive nature of Flybe routes may cap this. Flybe and LCY have signed a five year deal, the terms of which have not been disclosed. Flybe's ambitious passenger target on its LCY routes suggests that it has received pricing incentives, but it is likely that it will need to grow its yields from its starting fares.
The return to London may bring Flybe both brand and network benefits. Making it profitable will be the challenge
Following the Gatwick withdrawal, Flybe's moves into London City and London Southend should be helpful in raising its profile and broadening its passenger base by maintaining and growing its presence in the capital. It may derive some strategic network benefit from this, especially as it comes when Flybe is rebranding with a new livery. Nevertheless, in the long run, all parts of the network need to be profitable in order to be sustainable.
CEO Saad Hammad insists that the decision to launch routes from London City followed "a rigorous profitability analysis utilising our strict route assessment tool". Coming at a time of cost reduction at Flybe, it was certainly a courageous decision to enter higher cost airports as this puts a lot of emphasis on the need to generate strong yields. What is not clear are the assumptions that Flybe has made about price evolution on its routes and the related issue of competitor response.
See related report: Flybe: back in the black, but cost transformation is still needed
Either way, Flybe cannot afford to lose the renewed focus on cost cutting that Mr Hammad has brought to the business. All eyes will be on the company's FY2014 results announcement on 11-Jun-2014 for the next measure of progress with the restructuring programme.