fastjet reports USD42 million net loss for 1H FY2013 as the Africa LCC hits protectionist barriers
Analysis
fastjet has reported a USD42 million net loss for the six months to 30-Jun-2013, but its directors remain upbeat about the fledgling African LCC's prospects, with its Tanzanian domestic operations exceeding expectations and making a profit on an underlying route basis. But the directors acknowledge in the unaudited accounts that the carrier will need to raise further funds in the future "which represents a material uncertainty over going concern".
fastjet's ambition to establish Africa's first pan-African low-cost carrier is continuing to encounter strong headwinds. On its own admission, the Tanzanian market is too small to sustain the company and international expansion is critical to its longer term survival.
But the first international route from Dar es Salaam to Johannesburg has, perhaps predictably, run foul of South Africa's bureaucrats forcing the eleventh hour postponement of the route launch by about two weeks to the middle of Oct-2013. fastjet will compete against South African Airways (SAA) as the only other operator on the route and has promised to reduce fares by 60%. fastjet is taking online bookings for flights departing from 18-Oct-2013.
fastjet has halved its Tanzanian operating losses during 1HFY2013
fastjet's 1HFY2013 underlying EBIT loss of USD24.9 million included USD13.3 million of trading in the Tanzanian operation which was launched in Nov-2012. The result includes start-up costs associated with launching the Tanzanian domestic network.
Average load factors have risen from 66% to 78% during the half year with monthly ticket revenue more than doubling over the period and monthly losses reducing by 56% from USD9.1 million in Q1 to USD4.2 million in Q2. Revenue per passenger in Jun-2013 of USD81 was almost double the USD46 achieved in Jan-2013.
Acting chairman and CEO Ed Winter said: "It is expected that these trends will continue through the third and fourth quarters. As our planned network expansion progresses and scale covers fixed operating costs, we fully expect fastjet Tanzania to become profitable".
fastjet points to 38% of passengers in the first half of 2013 being first time flyers as proof that the LCC model works in Tanzania and has been effective in stimulating the market. A total of 34,000 seats were sold at the base fare of USD20 while more than 300 seats were sold for USD200.
Customers also appeared to be beginning to trust fastjet's schedule reliability – on time performance exceeds 90% – with the number of advance bookings to secure cheaper seats increasing significantly. This has allowed fastjet to improve its yield management. The unreliability of air services before fastjet commenced operations meant most passengers bought tickets on the day of travel.
Ancillary revenue is also steadily improving, predominantly from baggage and flight change fees, from USD2.75 per passenger in Jan-2013 to USD5.79 per passenger in Jun-2013. Additional services, including in-flight retail, allocated seating, hotel and travel insurance services will be introduced over the next eight months to increase ancillary revenue in both absolute terms and as a percentage of total revenue.
fastjet has benefited from the misfortunes of Tanzania's largest carrier Precision Air which reported a USD18.9 million loss for the financial year to 31-Mar-2013 and has applied for a USD32 million bailout from the Tanzanian Government and other investors to meet bank and aircraft loan payments.
See related report: Precision Air reports a USD18.9 million loss for FY2013 due to overly ambitious growth
fastjet consolidated income statement
| | | |
| --- | --- | --- |
| | 6 months ended 30-Jun-2013 | 6 months ended 30-Jun-2012 |
| | (USD million),'000 | (USD million),'000 |
| Revenue | 25,457 | 347 |
| Operating charges | (64,921) | (2,430) |
| Operating loss | (39,464) | (2,083) |
| Finance charges | (2,456) | (23) |
| Tax | 0 | 0 |
| Loss for the period | -41,920 | -2,106 |
fastjet raises another USD2 million as its share price continues to slide
fastjet's shares, listed on the London Stock Exchange, have steadily lost value since early 2013 as the carrier has failed to deliver on its early promises and concerns about its long term viability mount.
Shareholders approved a 10:1 share consolidation in Jun-2013 to ensure on-going access to the carrier's equity financing facility of up to GBP15 million (USD24 million) from Darwin Strategic.
The carrier on 07-Oct-2013 drew down a further GBP1.25 million (USD2 million) from the Darwin facility by way of issuing 20,833,333 shares at GBP0.01 (USD0.016) each at an issue price of GBP0.06 (USD0.097) per share.
While fastjet believes it has sufficient finance to continue operating as a going concern for the foreseeable future, the need to raise further funds "represents a material uncertainty over going concern".
fastjet's auditors KPMG raised concerns about the carrier's ability to continue as a going concern in the 18 months to 31-Dec-2012 accounts based on fastjet's USD56 million net loss for that period, the need for an improvement in trading, particularly through the launch of international services and the need to raise additional funding.
See related report: fastjet posts USD56 million loss but remains optimistic about African success
fastjet share graph: 12 months to 07-Oct-2013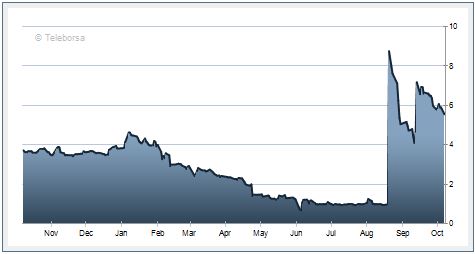 Fly540 businesses continue to underperform significantly
The Fly540 businesses in Ghana, Angola and Kenya acquired from African focused conglomerate Lonrho continue to be a drag on the company, reporting an EBITDA loss of USD6.2 million in 1HFY2013.
A further USD5.7 million of goodwill and tangible assets were written off the Fly540 businesses and USD8.8 million of investments written down during the reporting period.
fastjet's disputed 49.8% investment in Fly540 Kenya has also been written down by a further USD8.7 million. The carrier is continuing to work with Fly540 Kenya founder Don Smith and its creditors to maximise the value of the investment.
fastjet is negotiating to reduce its shareholding in Fly540 Angola
fastjet is negotiating with its partners in Fly540 Angola to reduce its shareholding in the troubled airline and reduce fastjet's exposure to losses while retaining the right to launch fastjet services in the country in the future.
Fly540 Angola has been beset with bureaucratic hurdles including the free movement of money due to Angola Central Bank controls, and lengthy delays clearing aircraft spares through Angolan customs which can result in aircraft being grounded for weeks, leading to extensive schedule disruptions in the 1HFY2013.
Fly540 Ghana operations struggle under intense competition and high costs
Intense domestic competition, particularly between Accra and Kumasi, combined with high government taxes and prohibitively high fuel costs have also weighed on fastjet's Fly540 operation in Ghana.
Ghana Airports Company reportedly recorded total domestic passenger traffic of 388,800 in 1H2013. Antrak Air reportedly transported 159,079 passengers, Starbow carried 129,669 passengers, Fly540 Ghana carried 66,695 and Africa World Airlines carried 29,067.
However, a near 500% increase in capacity on the Accra-Kumasi route between Oct-2012 and Feb-2013, driven by Antrak Air tripling its capacity in response to entry from Fly540 Ghana, Starbow and Africa World Airlines, has proved unsustainable. Antrak has more than halved its capacity on the route from about 3,000 one-way seats per week in May-2013 to about 1,300 seats in Oct-2013, making Starbow the largest carrier with nearly 2,000 one-way seats per week on the route.
Fly540 Ghana has rights to operate on five international routes from Accra to Abidjan, Cote d'Ivoire; Freetown, Sierra Leone; Lagos, Nigeria; Ouagadougou, Burkina Faso; and Monrovia, Liberia. While none are currently being operated by Fly540 Ghana, the Economic Community of West Africa (ECOWAS) region remains an attractive prospect to fastjet as a significant but immature aviation market once the Kumasi Airport runway is upgraded to accommodate its A319 aircraft.
Mr Winter said negotiations have been held during the first half of 2013 with a potential equity partner to reduce the capital requirements and risk ahead of launching the fastjet brand in Ghana.
Mbeya will be added as a fifth domestic destination in Tanzania from Dar es Salaam on 01-Nov-2013 after the redevelopment of Songwe Airport is completed allowing it to serve jet aircraft. The route will be operated three times weekly with A319s competing with Precision Air which operates a daily ATR72 service.
Controlled expansion over the next three quarters should result in the entire fleet of A319s being fully utilised by the first half of 2014, according to Mr Winter.
fastjet expects to add regional services to Zambia and Malawi after a delayed Johannesburg start
fastjet hopes to commence its first international services between Dar es Salaam-Johannesburg on 14-Oct-2013 after about a two week delay due to a last minute request for more information from South Africa's Department of Transport. The move was widely seen as a tactic by the South African Government to delay entry of a LCC competitor against national carrier SAA which holds a monopoly on the Dar es Salaam-Johannesburg route.
fastjet expects to add further international routes in the next few months, including destinations in Zambia and Malawi.
Precision suspended its 272 one-way seats per week Dar es Salaam-Lusaka, Zambia service in Jul-2013. There are currently also no direct services between Dar es Salaam and Malawi, according to Innovata.
South African regional services will be targeted after Tanzania is established and profitable
Once the Tanzanian operation is fully established and profitable, fastjet will turn its attention back to the South African market. fastjet considers that regional routes from South Africa lack competition and are under-served and overpriced owing to "the cosy relationship between South African Airways and the respective national carrier of each country", according to Mr Winter.
"It can cost the same amount to fly direct between two Southern African cities on a flight of three to six hours as it does to fly to Europe on a 10-12 hour flight," Mr Winter said.
fastjet has made two unsuccessful attempts to enter the South African domestic market. The first attempt to buy the assets of failed South African LCC 1time from liquidators was abandoned in Apr-2013 in favour of a proposed joint venture to launch a new carrier which was to operate double daily Johannesburg-Cape Town services from early Jul-2013.
Under an MoU announced in Apr-2013 Fastjet Holdings (formerly Blockbuster) would own 75% of the new entity, allowing fastjet to comply with the minimum South African ownership required to operate domestic services and access international traffic rights. fastjet would hold the remaining 25%.
See related report:
fastjet remains confident of its pan-African airline future, but international expansion is critical
Based on its success in Tanzania to date, fastjet remains confident in the potential of its long term strategy to establish a pan-African LCC, but it is also clear that the carrier is butting up against the protectionist policies of nations that it wants to serve either with international services or in the case of South Africa domestically.
The carrier must make rapid progress in broadening its network beyond Tanzania to build its critical mass, but the real opportunity remains in establishing services from South Africa which is the continent's largest and most mature market.