fastjet LCC seeks rapid South African market entry by foregoing JV control to Fastjet Holdings
Analysis
Having abandoned plans to take-over failed South African LCC 1time, aspiring pan-African carrier fastjet has entered into a complex and controversial deal to gain access to the important South African market where it plans to launch services in Jul-2013.
But the London-listed carrier, which already operates in Tanzania, is coming under increasing pressure from its opponents to lift the veil on the ownership and management structure of its South African partnership designed to satisfy domestic ownership requirements.
Under the structure fastjet has reportedly given up 75% ownership to South African investment company Blockbuster, which has been renamed Fastjet Holdings. The company is reportedly fronted by the eldest son of South African President Jacob Zuma, playboy businessman and lawyer Edward Zuma, along with his business partner Yusuf Kajee.
Opponents, both rival airlines and politicians, allege Fastjet Holdings is little more than a front for fastjet to gain access to South African air rights through a separate arrangement with charter carrier Federal Air, which will operate the fastjet services using its operating licence.
fastjet plans to launch with double daily peak time Johannesburg-Cape Town services
fastjet has announced plans to launch in early Jul-2013, initially with a double daily, seven days per week service on South Africa's busiest route between Johannesburg and Cape Town, using a 144-seat Boeing 737-300 at morning and afternoon peak times. Other routes will be added once this service has been established. The start date has been pushed back from 31-May-2013, apparently to allow time to improve its ticket distribution systems.
When it does enter, fastjet will do so as the smallest carrier, adding 4,032 one-way seats to the route, competing against market leader South African Airways and its LCC Mango as well as the British Airways franchise with Comair operating as LCC Kulula which collectively offer about 47,300 one-way seats per week. Since Velvet Sky and 1time left the highly competitive route in 2012 there has only been limited capacity added by the remaining carriers, allowing yields to move up.
Johannesburg to Cape Town (seats per week, one way): 19-Sep-2011 to 10-Nov-2013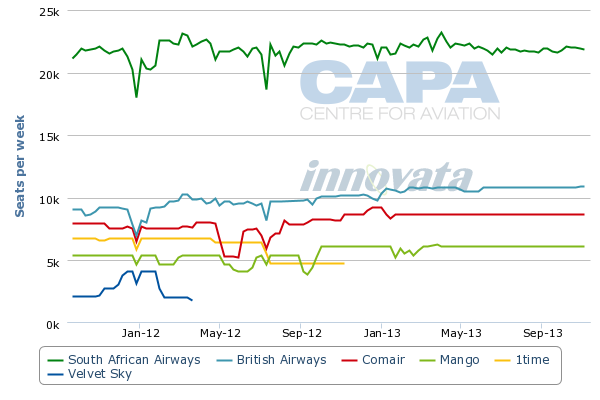 Johannesburg–Cape Town ranks as the 17th largest route in the world according to Innovata, offering more than 94,600 seats per week in both directions and well ahead of South Africa's other golden route Johannesburg – Durban with about 62,400 seats.
Top 20 Routes (ranked by seats, system traffic): 20-May-2013 to 26-May-2013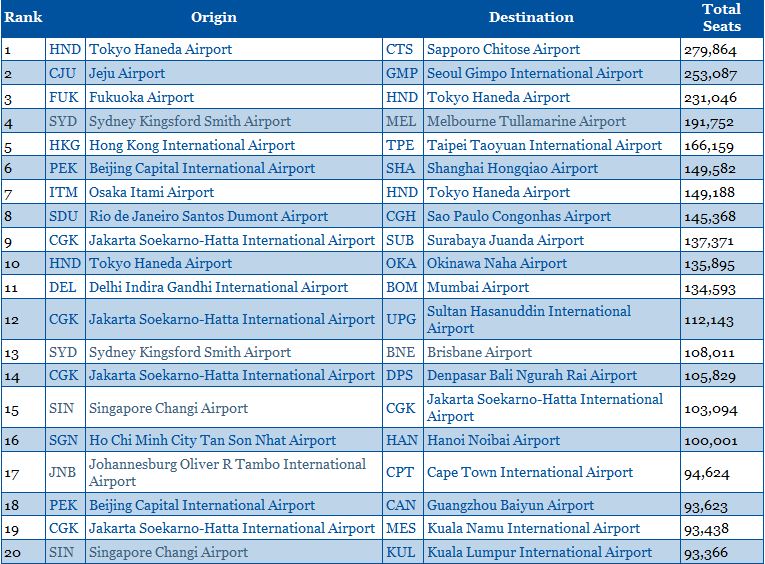 fastjet gives up control of South African entity to gain market access
fastjet announced on 23-Apr-2013 that it had signed a MoU with Blockbuster, which will own 75% of the new entity, allowing fastjet to comply with the minimum South African ownership required to operate domestic services and access international traffic rights. fastjet will hold the remaining 25%.
fastjet will, however, provide the funding for the operation including GBP2 million (USD3.1 million) raised through the issue of 160 million new shares to an unidentified institutional investor, and has appointed its managing director for Africa, Kyle Haywood as CEO of the new South African operations.
See related reports:
Federal Air to operate fastjet's daily operations with wet-leased 737-300
Fastjet Holdings has in turn entered into a commercial arrangement with local charter operator Federal Air, which specialises in flying tourists to game parks from its Johannesburg base.
Federal Air will reportedly use its operating licence to run the day-to-day operations of fastjet using the 737-300 which has been wet-leased from Starcargo for six months while fastjet gains regulatory approval to introduce its own A319 aircraft, in conjunction with the Federal Air relationship. fastjet CEO Ed Winter has stated that the South African operation could grow to 10 aircraft over time.
The arrangement appears to be a win-win for both parties. fastjet gains rapid access to the South African market by leveraging Federal Air's operating licence and bestowing the fastjet LCC model on the company.
Fastjet Holdings opaque ownership and operating structure raises concerns
The limited transparency around the ownership and operating structure of the venture has led to concerns about the roles of the individual entities involved and where the active and effective control lies.
If fastjet has active and effective control of the operation, as it appears to have despite its minority shareholding in the holding company, and also carries the commercial risk by providing the financing, then it would appear that the venture cannot use Federal Air's operating licence. To do so might in effect provide South African traffic rights to a foreign carrier that is not otherwise entitled to them.
Comair suggests fastjet's South African operation is actually a virtual airline with no assets or operations of its own. However, argues Comair, its role in leading the negotiation to lease the 737-300 indicates that it is "actively and effectively" in control of the venture.
Mr Zuma's involvement in Fastjet Holdings has also been widely criticised in the South African media, which has highlighted his lack of previous business acumen, among other things. Mr Zuma and Mr Kajee are also seen by opponents as providing Fastjet Holdings with the necessary Black Economic Empowerment (BEE) programme credentials to ease the ownership process through the regulatory authorities.
Lonrho-linked Paul de Robillard identified as Fastjet Holdings' main investor
Meanwhile, former director and CEO of Lonrho-owned South African produce and fish exporter Rollex, Paul de Robillard has been identified by Moneyweb as the un-named main investor in Fastjet Holdings.
Lonrho is the majority shareholder of fastjet and acquired full control of Rollex in 2010 when it bought the remaining 49% of the company held by the de Robillard family trust.
fastjet sees a strategic gap in South African market
fastjet CEO Ed Winter said there was a "strategic gap in the South African marketplace for a pan-continental, low cost airline." As South Africa's middle class grows, the demand for affordable air travel will increase and fastjet plans to tap into the growth.
The carrier has claimed domestic fares have risen between 20% and 30% since 1time withdrew from the market, with aircraft flying at near full capacity, especially on the Johannesburg to Cape Town and Durban routes – although travel agents reportedly put the increase at about 5% in the past year.
fastjet chairman David Lanigas said fastjet does "not seek to be a hostile competitor as we fully understand and appreciate the significance of the national carrier and existing airlines in the country, but we want to provide extra seat capacity".
fastjet could bring tough competition especially for SAA Group
Nevertheless, fastjet's entry will bring it into direct conflict with state-owned and deeply challenged South African Airways Group which could struggle to cope with any increase in competition as it seeks to implement a new restructuring plan.
Roger Foster, CEO of SAA's domestic regional franchisee SA Airlink has warned fastjet is entering a "bloodbath market" and will need deep pockets to be successful.
1time provisional liquidator rejects fastjet offer
fastjet's decision to strike a deal with Fastjet Holdings follows its failure to acquire the assets of defunct domestic LCC 1time which collapsed in Nov-2012 under the weight of high fuel prices, an ageing fleet and an oversupplied market.
1time provisional liquidators rejected fastjet's ZAR4.5 million (USD470,000) offer for the company. 1time owes ZAR450 million (USD4.7 million). fastjet said the value of 1time had diminished over the course of the lengthy negotiations and the company now preferred to invest in the Blockbuster/Federal Air venture, which would see an early entry into the important South African market.
1time's final liquidation was postponed twice, in Dec-2012 and again in Feb-2013 to allow time for negotiations with fastjet to be concluded. With all avenues to resurrect the airline now exhausted the provisional liquidator is expected to bring forward the final liquidation date originally set for Oct-2013.
SAA, its LCC subsidiary Mango and independently owned Comair had lodged objections to the takeover with the Air Services Licensing Council on the basis that fastjet would not meet the South African residents ownership requirements to operate domestically. fastjet unsuccessfully applied to the South African Minister of Transport for an exemption to the rule.
See related report: Fastjet secures Nairobi base, but expansion in East and South Africa may be on hold
Skywise still awaiting its operating licence to launch domestic South Africa services
Rival prospective start-up Skywise is still going through the process of obtaining its operating licence, having already been granted an air services licence in Mar-2013. It has taken Skywise management much longer than anticipated to navigate the regulatory process and will place the airline at a significant disadvantage to fastjet, if the LCC is given the go-ahead.
Skywise founders include ex-1time executives Rodney James and Glenn Orsmond, who originally planned to launch Skywise on the Johannesburg-Cape Town route in 1Q2013 with two 737-300s with initial investment coming from a Black Economic Empowerment (BEE) component, as well as investment from a Dubai-based aviation company looking to expand into Africa.
See related report: South African Airways and Comair could face new LCC competitor following demise of 1Time
fastjet gives up South African control for the bigger pan-African prize
fastjet's desire to beat Skywise's entry to the South African market and the continent's biggest economy, has forced it to give up voting control of the venture, while still providing the funding and carrying the commercial risk.
For fastjet the bigger prize will be the international access that the relationship with Fastjet Holdings and Federal Air will bring as the LCC pursues its goal of establishing a pan-African network.
The undoubtedly intense lobbying by SAA against the fastjet entity's ownership and operating structure is now being pitted against the influence that the Zuma name brings to the fastjet venture. This is an interesting contest with significant ramifications.
South Africa faces some big policy decisions in the next couple of years
Inevitably at some time South Africa's relatively restrictive ownership rules will need to be reviewed. The 25% limit on foreign airline ownership limit is now becoming anachronistic – even India has recently raised it to 49% – but the time to undertake that sort of review is probably not right now. fastjet's less than simple proposition does not provide the best framework in which to judge the merits of a change.
In the wider picture of Africa's aviation development there is a strong case to be made for a pan-continental operation, especially one which will offer a new model that is sustainable. But within South Africa there is already strenuous competition, albeit dominated by the ailing national flag carrier and its low-cost subsidiary.
As SAA puts forward its new attempt at a turnaround strategy, it is important that there be transparency in the regulatory processes, where all parties are aware of the ground rules, whether or not they are appropriate in the long run. In these circumstances fastjet should ensure complete compliance with due process, without political influence entering the field. It may well be able to do that; but so far there are apparently some gaps in information about the new proposal which need to be rectified.