FastJet takes to the air, promising a modern pan-African network
Analysis
Africa's newest airline, FastJet, launched services on 29-Nov-2012 with two daily flights on two domestic routes in Tanzania, Dar es Salaam to Kilimanjaro and Mwanza, using three leased A319s. The launch was delayed by a month and the low-cost carrier has started on different routes than announced in Oct-2012, when Dar es Salaam-Nairobi was favoured, and on the opposite side of the continent than originally envisaged in Jun-2012, when Accra in Ghana was seen as the optimum starting hub over Tanzania.
FastJet will gradually spread its wings west and south across sub-Sahara Africa, rebranding the pan-African Fly540 operations which it acquired from African conglomerate Lonrho in Jun-2012 and transitioning the operation from the full service to LCC model. The carrier is relying on an average fare of USD70 to USD80, historically low by intra-Africa standards, to stimulate demand and encourage Africans to swap road travel for air travel, as has been the experience in other emerging markets such as Southeast Asia and Latin America.
African aviation market opportunities abound
FastJet acquired loss-making Fly540 through the purchase of the aviation arm of African conglomerate Lonrho in Jun-2012. LCC guru and founder of easyJet Stelios Haji-Ioannou's easyGroup has a 5% stake in FastJet with the option of increasing it to 10% within two years and has licensed the FastJet brand for 10 years. easyGroup will receive 0.5% of revenue with a minimum guarantee of USD500,000 per year as well as consulting fees worth EUR600,000 over the term of the agreement.
See related article: Opportunities and challenges as Fly540, first pan-African airline, adopts Stelios' Fastjet brand
The African aviation market is considered "massively under-served" and presenting "massive opportunities" by the FastJet group, buoyed by projections that seven of the world's fastest economies will be in Africa and sub-Saharan Africa in particular, including Ethiopia, Mozambique, Tanzania, Congo, Ghana, Zambia and Nigeria. Fly540 has operations in Angola, Ghana, Kenya and Tanzania which use a mix of regional jets and turboprops.
The re-branding will coincide with the adoption of a LCC model and shedding Fly540's regional aircraft for Airbus A319s, smaller than the typical LCC use of A320s and Boeing 737s.
Fly540 exits domestic Tanzania market early
Despite the delay in FastJet's launch until the end of Nov-2012, Fly540 suddenly ceased all its Tanzania domestic operations on 12-Oct-2012, ending services from Dar es Salaam to Kilimanjaro, Mwanza and Zanzibar, "in preparation for the launch of FastJet", according to FastJet executive chairman David Lenigas.
Fly540, for now, continues to operate from Dar es Salaam to Mombasa and Nairobi. But as both these markets have been identified as future routes for FastJet with its A319 fleet they are likely to be dropped by Fly540 in 2013.
The decision to drop Fly540 domestic services in Oct-2012 temporarily removed 10,000 seats a month from the Tanzanian domestic market, opening the door to Tanzanian competitor Precision Air to boost its capacity while it briefly held the Kilimanjaro and Mwanza routes to itself. But Precision, which is partially owned by Kenya Airways, elected to only increase capacity to Mwanza and Zanzibar, according to Innovata data.
FastJet route network as at 29-Nov-2012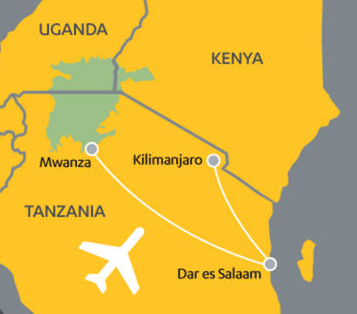 Dar es Salaam to Mwanza capacity by carrier (seats per week, one way): 19-Sep-2011 to 19-May-2012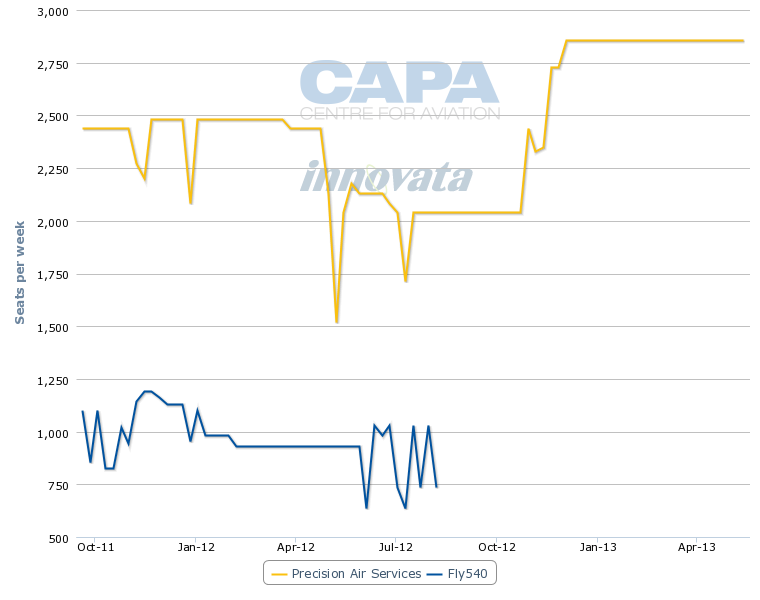 Dar es Salaam to Zanzibar capacity by carrier (seats per week, one way): 19-Sep-2011 to 19-May-2012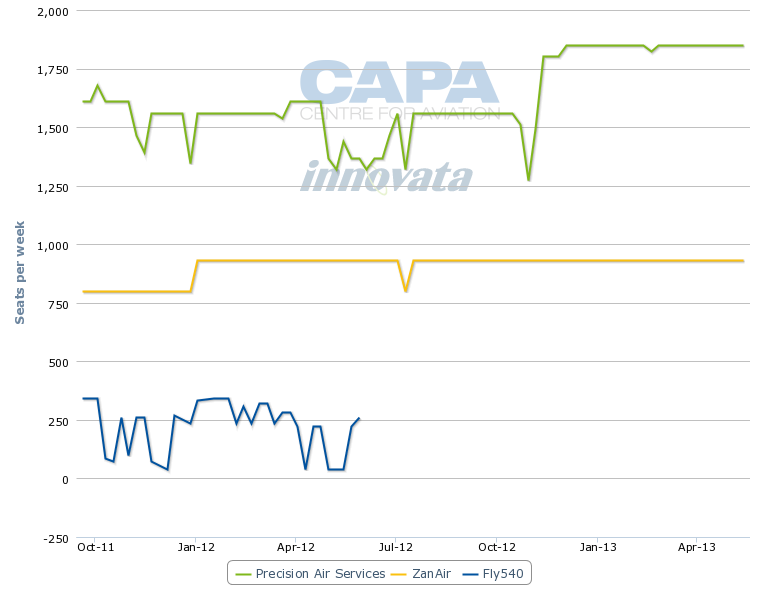 FastJet promises stiff competition
FastJet's entry will provide a more formidable opponent to Precision Air, substantially increasing capacity as it adds about 2,200 one-way weekly seats in the Dar es Salaam-Mwanza and Dar es Salaam-Kilimanjaro markets. This is slightly below the capacity currently provided by Precision Air, which offers slightly under 3,000 weekly one-way seats on each route, according to Innovata data.
Fastjet also plans to commence six times weekly services to Zanzibar in the near future although a launch date has not yet been set. It also plans to launch international services in the near future with a daily service to to Entebbe in Uganda, two daily flights to Mombasa in Kenya and up to four daily flights to Nairobi in Kenya. Nairobi, while dropped as a Fastjet launch destination will still be the carrier's next base, though timing is still to be announced.
FastJet will severely challenge Air Uganda's current monopoly on the Dar es Salaam-Entebbe route by more than quadrupling weekly capacity. Air Uganda currently operates only five weekly flight to Dar es Sallam using 50-seat Bombardier CRJ200s, resulting in just 250 one-way seats per week.
Dar es Salaam-Mombasa is currently served five times weekly by Precision Air using an ATR 42s, according to schedule data from Innovata. On the larger Dar es Salaam-Nairobi route, Fly540 will compete against market leader Kenya Airways as well as Kenya Airways affiliate Precision Air.
Kenya Airways is responding to the threat from FastJet and the potential expansion into the east African market from European LCCs by launching its own LCC subsidiary Jambo Jet, which is expected to start operations from Nairobi Jomo Kenyatta International Airport by the end of 2012. The new carrier plans to eventually operate six domestic and 16 international routes within Africa using a fleet of about 10 Boeing 737 aircraft. Kenya Airways CEO Titus Naikuni has reportedly warned that Jambo Jet would match FastJet fares on routes in east Africa.
See related article: New Kenya Airways LCC subsidiary Jambo Jet targets domestic and international routes
Expansion dependant on additional A319s
FastJet's expansion plans are dependent on the arrival of additional A319s over the course of 2013. FastJet has a target of deploying at least five A319s by Jun-2013, building to a fleet of up to 15 of the type by the end of 2013.
CEO Ed Winter expects the A319 to allow FastJet to expand rapidly with each aircraft potentially providing around 250,000 seats a year, allowing passenger numbers to double from current levels with six months. Operations in Tanzania are expected to support a fleet of five aircraft, while operations in Kenya could support a further 10. The airline has set a goal of eventually transporting 12 million passengers annually, which would require a fleet of 30 to 40 aircraft.
Mr Winter has indicated the airline would consider purchasing its own aircraft in three to five years and would be likely to consider Boeing 737 MAX and A320neo aircraft.
FastJet will target diplomats and business travellers
As part of the hybrid LCC model FastJet plans to attract customers from embassies and business travellers by emphasising reliability and offering an allocated seating service. The brand licence with easyGroup only permits FastJet to operate western-built aircraft less than 10-years old, which will help instill a safety image on a continent with a poor aviation safety record.
Sabena Technics has also been contracted to maintain the A319 fleet for a five year term while Swissport International is providing ground handling and related management services across the network.
Once FastJet is established in eastern Africa the group plans to shift focus and start rebranding and transitioning to jets the Fly540 operations in the west African countries of Ghana and Angola. Fly540 currently has turboprop bases at Luanda in Angola and Accra in Ghana. FastJet may also launch services in the South African market, filling the void left by the recent demise of South African LCC 1Time.
See related article: South African Airways and Comair could face new LCC competitor following demise of 1Time
FastJet announced on 13-Nov-2012 that it had raised another USD2.4 million to help fund the conversion of Fly540 hubs in west and southwest of Africa. Executive chairman David Lenigas said: "These additional funds will be deployed in assessing an earlier than expected opportunity open to FastJet to interact with the Southern African Market place and progressing with the opening of further operational hubs for the FastJet network across Africa".
FastJet strengthened its senior management ranks with the appointment of three new executives in Oct-2012, including Rob Bishton as operations director, Kyle Haywood as general manager of Africa and Harun Cordan as group chief pilot and head of flight operations.
Decisive action needed to stem Fly540 losses
The FastJet group reported a net loss of USD2.1 million for the six months to 30-Jun-2012 on revenue of USD347,000. Fly540 has racked up extensive losses since launching four years ago. Profitability for the brand continued to be below expectations in Jul-2012 and Aug-2012. Executive chairman David Lenigas said the board was taking "decisive action to improve operational performance at Fly540 whilst services continue under that brand".
Fly540 in Oct-2012 increased the number of passengers carried across its network by 27% to 51,015, but its load factor fell to just 56.4%. On a rolling 12-month basis the total number passengers rose by 61.5% to 638,654.
FastJet is banking that strong backing and management will result in the carrier making some early gains in a market crying out for more capacity and cheaper fares. But as Fastjet expands it will face stronger competition from established carriers and will have to navigate African governments' protection of their own national carriers and restrictive bilateral environment, which could hamper its growth.