South African Airways and Comair could face new LCC competitor following demise of 1Time
Analysis
South Africa has lost two airlines this year with the collapse of low-cost carrier 1time on 02-Nov-2012 and short lived LCC start-up Velvet Sky in Mar-2012. The demise of the smaller carriers has in effect returned the South African domestic market to a duopoly of South African Airways and Comair and their respective subsidiaries.
SAA dominates the market with its main brand supported by LCC subsidiary Mango and regional subsidiary SA Express. Comair operates a full-service British Airways franchise and competes in the LCC market with its Kulula brand. The two groups probably have until about the middle of 2013 to consolidate their positions in anticipation of an inevitable new entrant, likely to come from former 1time executives who appear to be planning to launch new LCC Skywise early in 2013.
South Africa's two dominant airline groups, state-owned South African Airways and Johannesburg Stock Exchange-listed Comair have a few short months to steel themselves for the arrival of a new competitor into the domestic market following the demise of LCC 1time, which was placed in liquidation on 02-Nov-2012.
1time launched in 2004 as one of South Africa's first LCCs. The carrier operated a fleet of 11 Boeing MD80 aircraft across a domestic network linking the country's main metropolitan areas of Johannesburg, Cape Town, Durban, Port Elizabeth, East London and George.
1time domestic route network as of Oct-2012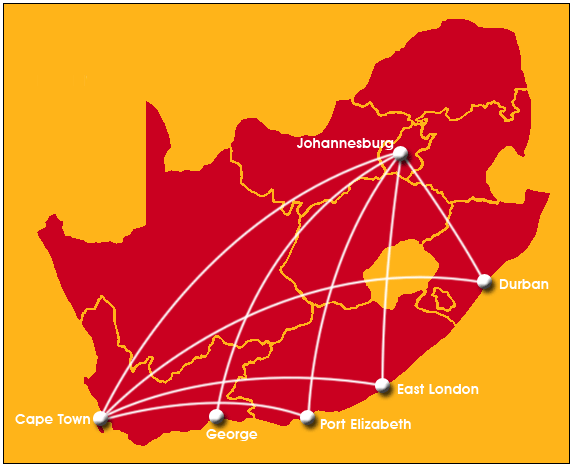 1time attributed a net loss of ZAR35.8 million (USD4.1 million) for the six months ended 30-Jun-2012 to route development, fuel costs, legacy debts, aircraft lease costs, excess capacity forcing lower ticket prices and low throughput at its Jetworx maintenance unit. The airline said an unnamed potential financier was no longer able to invest in the airline, forcing the shutdown. 1time had long-term debt of ZAR16 million (USD1.8 million) and total liabilities of ZAR536 million (USD61.2 million) as of Dec-2011.
Former 1time executives are reportedly planning to launch a new LCC, Skywise, in 1Q2013, initially operating on South Africa's biggest route Johannesburg-Cape Town using two 737-300 aircraft. Skywise founders include ex-1time executives Rodney James, Glenn Orsmond, Michael Kaminski and ex-Sun Air MD Johan Borstlap. The proposed carrier is reportedly still in the process of applying for an operator's certificate. Planning has apparently been underway for six months.
Mr James told South African Tourism Update on 16-Nov-2012 that initial investment for Skywise would come from a Black Economic Empowerment (BEE) component as well as investment from a Dubai-based aviation company looking to expand into Africa. Mr James said the affordable cost and fuel efficiency of the 737-300 would allow Skywise to compete and grow in the low yielding South African market.
South Africa domestic capacity by carrier (seats per week, one way): 19-Sep-2011 to 19-May-2012
Velvet Sky was a low-cost carrier based at Durban's King Shaka International Airport, South Africa. The airline, which was launched in March 2011, was privately owned and operated domestic service to the major cities of South Africa. The carrier suspended services in Mar-2012.
South Africa's domestic carriers ranked by capacity (seats per week): 26-Nov-2012 to 02-Dec-2012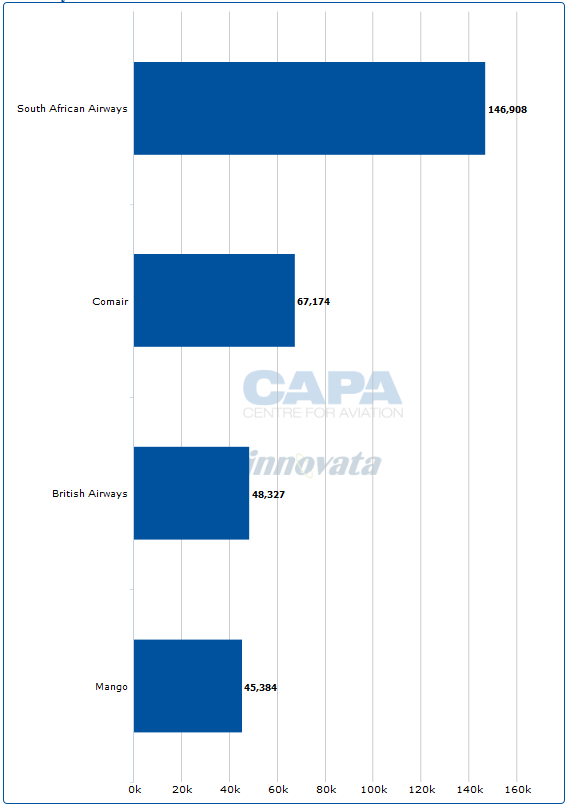 SAA's Mango is already moving to fill the void left by 1time's departure on the Port Elizabeth to Johannesburg and Cape Town routes, announcing plans to commence daily services between the cities from 05-Dec-2012 using 737-800 equipment.
Incumbents SAA and Comair are not resting on their laurels
Mango CEO Nico Bezuidenhout said: "There is a requirement for a low-cost carrier on the Johannesburg-Port Elizabeth and Cape Town-Port Elizabeth route and, with the recent exit of capacity, Mango has brought forward its plans by a few months in order to accommodate market demand."
The carrier plans to operate the routes with wet-leased aircraft until early 2013, when Mango plans to expand its own 737-800 fleet.
Johannesburg OR Tambo to Port Elizabeth capacity by carrier (seats per week, one way): 19-Sep-2011 to 19-May 2013
Cape Town to Port Elizabeth capacity by carrier (seats per week, one way): 19-Sep-2011 to 19-May 2013
SAA may also reposition its LCC Mango to operate a larger share of domestic routes following Mango's success in ramping capacity on the Cape Town-Durban route since the start of September from about 3900 seats per week to about 5600.
Cape Town to Durban capacity by carrier (seats per week, one way): 19-Sep-2011 to 19-May-2012
Comair, for its part, is reconsidering plans to phase out its older 737-300s and -400s, which are due to be replaced with 737-800s. The first of three new 737-800s arrived in Jul-2012 and joined the Kulula fleet. All three 737-800s are expected to be in service with the LCC operation by the end of this year. Another four of the type on order for Comair are slated for delivery in 2015 and 2016.
But Comair executive manager, route development, Bert van der Linden told CAPA that the older aircraft may be kept to provide flexibility to maintain capacity and market share in preparation of a new competitor which he believes will arrive by Jul-2013 at the latest. Mr van der Linden believes new pan-African LCC Fastjet could also be interested in taking advantage of the opportunities in South Africa.
Tanzania-based Fastjet, backed by easyJet founder Sir Stalios Haji-Ioannou and Rubicon Investments, will launch services on 29-Nov-2012 with twice daily Dar es Salaam-Kilimanjaro and twice daily Dar es Salaam-Mwanza services using A319 aircraft, according to the carrier's website. The airline also plans to commence services to Zanzibar, Entebbe, Nairobi, and Mombasa in the near future.
See related article: Opportunities and challenges as Fly540, first pan-African airline, adopts Stelios' FastJet brand
Comair posted a headline profit of ZAR18 million (USD2.03 million) profit for the 30-Jun-2012 year, down from ZAR77 million (USD8.6 million) for FY2011. Yields have improved and loads factors were relatively stable.
The carrier operates the British Airways brand from both of Johannesburg's OR Tambo International Airport and Lanseria Airport as well as at Cape Town, Durban and George, according to its schedules.
Comair's Kulula-branded LCC operation will pick up another former 1time route, commencing twice daily Johannesburg OR Tambo-East London service with 189-seat 737-800 equipment, effective 01-Mar-2013. Kulula marketing manager Nadine Damen said: "We have introduced this route to meet the demand for flights in and out of East London, and support the economic growth of the Eastern Cape region."
The LCC says it will also increase Johannesburg-George and Johannesburg-Durban frequencies.
Kulula domestic route network as of 27-Nov-2012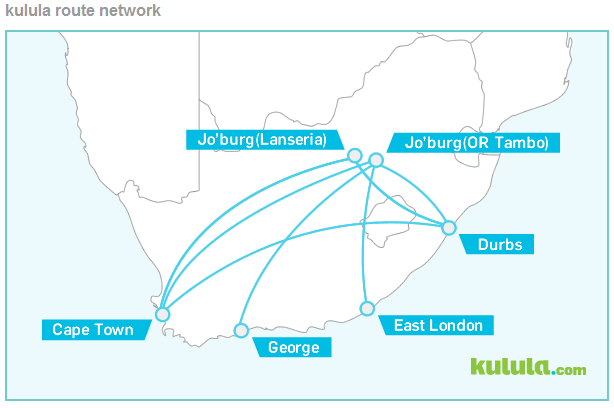 Comair's Kulula operation currently offers nearly twice as much capacity on the Johannesburg Lanseria-Cape Town route compared to rival Mango.
Johannesburg Lanseria to Cape Town capacity by carrier (seats per week, one way): 19 Sep-2011 to 19-May-2013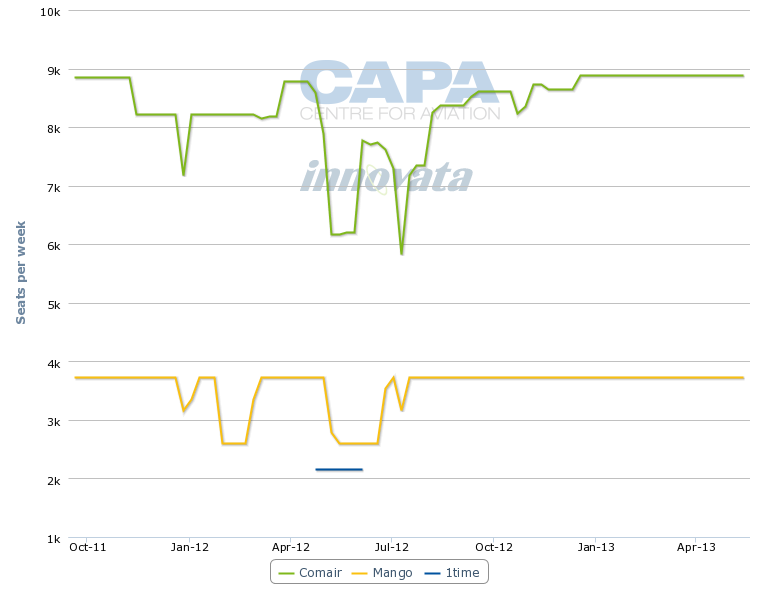 But the departure of 1time and Velvet Sky has seen little capacity response from SAA or Comair on the country's two largest routes, Johannesburg OR Tambo-Cape Town and Johannesburg OR Tambo-Durban routes as the carriers look to improve load factors and yields.
Johannesburg OR Tambo to Cape Town capacity by carrier (seats per week, one way): 19-Sep-2011 to 19-May-2013
Johannesburg OR Tambo to Durban capacity by carrier (seats per week, one way): 19-Sep-2011 to 19-May-2013
The bulk of South Africa's domestic traffic flows through Johannesburg OR Tambo, Cape Town International and Durban King Shaka International airports.
South Africa's airports ranked by domestic capacity (seats): 26-Nov-2012 to 02-Dec-2012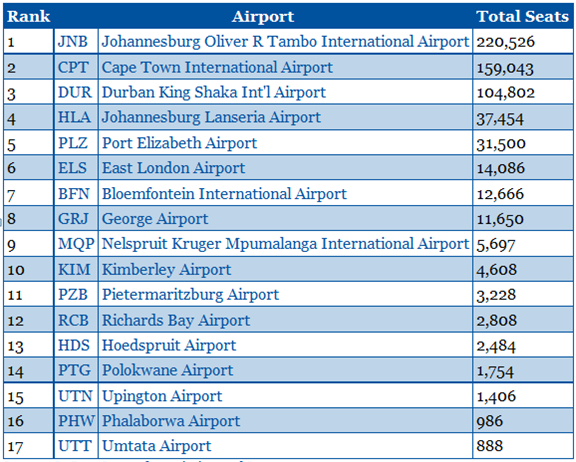 The decision by the South African Government to provide on-going financial support to deeply troubled SAA in the form of a ZAR6 billion (USD675 million) guarantee has riled competitor Comair which claims assistance is creating an unfair playing field in the domestic market, allowing SAA to fly unprofitably. SAA was granted the government guarantee on 02-Oct-2012 for a two year period from 01-Sep-2012.
SAA reported on 15-Oct-2012 a ZAR1.3 billion (USD146.2 million) operating loss on increased revenues of R23.8 billion (USD2.68 billion) for the year ended Mar-2012, up from ZAR22.6 billion (USD2.54 billion) a year earlier. The figures also showed a substantial increase in irregular expenditure to ZAR128 million (USD14.4 million). This was up by ZAR85 million (USD9.6 million) from the previous year. In the last 10 years, the airline has made cumulative losses of ZAR14.7 billion (USD1.65 billion).
The guarantee will enable SAA to borrow from the financial markets, allowing it to operate as a going concern and is subject to SAA's new board providing a turnaround strategy. The strategy would include details of financing for the airline's planned purchase of short and long-haul aircraft.
SAA CFO Wolf Meyer in Oct-2012 was reportedly considering converting an order for 20 A320s from purchase to lease agreement. The aircraft are scheduled for delivery from Jun-2013.
Comair CEO Erik Venter believes SAA and LCC subsidiary Mango's financial losses in the domestic market have been incurred to protect SAA's market share at the expense of competitors and taxpayers. "SAA's latest request for government funding for new planes is largely a result of SAA and Mango fighting their domestic competitors for market share at the expense of generating sufficient profits for sustainability," Mr Venter said on 29-Oct-2012.
He argued that the failure of nine of the 11 private airlines that have tried to compete with SAA since deregulation in 1991 of the domestic aviation market is clear indication of the impact of the ongoing financial support of SAA by the South African Government. The shutdown of 1time was inevitable due to the airline's less efficient fleet, but had it not been for the state-subsidised Mango, 1time would have made sufficient profits to fund its fleet upgrade and become long term sustainable, Mr Venter said.
South Africa's Minister of Public Enterprise Malusi Gigaba dismissed the allegation that Mango attributed to the collapse of 1time, saying Mango operated independently of SAA, had been "substantially cash-positive since inception", and did not benefit from any capital or guarantee to SAA.
SAA suffers at the hands of slow government decisions
SAA has suffered considerable upheaval in recent months with a series of mass resignations as it negotiated to secure additional government backing. SAA chairperson Cheryl Carolus and seven other board members resigned on 26-Sept-2012 and 27-Sept-2012 following a "breakdown in the relationship with the shareholder".
Ms Carolus and Mr Gigaba had earlier disagreed over whether SAA had a long-term strategic plan to justify the airline's requirement for another ZAR4-6 billion (USD450-675 million) of public funding requested in Feb-2012. Mr Gigaba appointed Vuyisile Kano as SAA's new chairman and replacement on 28-Sep-2012.
Ms Carolus on 08-Oct-2012 criticised the government, saying: "We, as a board, were made to look as if we were inefficient, while aspersions were also being cast about the financial statements for SA Express and SA Airlink, insinuating that there may be some cooking of the books." Ms Carolus also said the airline's strategic planning was restricted by slow Government processes.
Ms Carolus said: "We have all the additional government compliance requirements put in place by people who do not understand how businesses work, hampering our progress. We have had to put up with some slow decision-making on the part of our shareholder with regard to some major strategic changes, such as new routes, where competitors have moved faster and gained the upper hand."
On the same day, CEO Siza Mzimela resigned, after just 19 months into the job, along with general manager commercial Theunis Potgieter and general manager legal, risk and compliance Sandra Coetzee. Ms Mzimela said running the airline was "a very demanding and daunting task even under the best of times". She added, "there has not always been a uniform understanding and appreciation of this mandate from stakeholders...as if the operating environment was not daunting enough without this unnecessary discourse and misinformation."
Mr Kano, who has also assumed the role of acting CEO, is leading a task team to develop a turnaround strategy for SAA to be presented to Mr Gigaba by 15-Dec-2012. A new CEO is expected to be appointed by mid Jan-2013. The challenges confronting SAA's new CEO will be tremendous - the carrier has gone through several restructurings in recent years which failed to turn around the ailing flag carrier.
See related article: South African Airways ends CapeTown-London services for bigger growth in West Africa and beyond
Comair cautiously optimistic for year ahead
Comair CEO Erik Venter said at the 11-Sep-2012 result announcement that the carrier "was still somewhat cautious as to the state of the global and Southern African economies" and expected consumers to remain under pressure for the foreseeable future. But the carrier was in a good position to take advantage of growth opportunities as they arose.
"Against this backdrop we anticipate that our financial performance in the coming year will be an improvement in the results of the past challenging year," Mr Venter said.