Opportunities and challenges as Fly540, first pan-African airline, adopts Stelios' FastJet brand
Analysis
While Stelios Haji-Ioannou may help give Africa its first low-cost carrier franchise in the form of FastJet, growth should not be expected to occur at the same pace as Stelios' easyJet operation, even if FastJet targets an eventual goal of 12 million passengers annually, which could require upwards of 30 to 40 aircraft. Infrastructure and regulatory challenges in Africa are notable and the general lack of liberalisation across the continent means FastJet will be tied to the antiquated system of bilateral agreements that protect national interests, which remain high at the dawn of a revitalised era in African aviation, spawned by increasing GDP growth and investment.
It is not difficult to see the long-term potential, but in the short-term FastJet will start conservatively. FastJet is due to launch later this year by taking over the operations of Fly540, a pan-African full-service carrier with operations in Angola, Ghana, Kenya and Tanzania. The re-branding will coincide with the adoption of a LCC model and shedding Fly540's primarily regional aircraft for Embraer E-jets or Airbus A319s, smaller than the typical LCC use of A320s and Boeing 737s.
Stelios' involvement will also help Fly540 build a more robust operation, including a unified brand, important when targeting numerous local markets.
Stelios starts conservatively with mere 5% stake as new brand FastJet emerges
Rubicon, a cash shell company, intends to purchase the aviation arm of Lonrho, an African conglomerate, subject to shareholder approval on 29-Jun-2012. Lonrho owns Fly540, which was initially established in Kenya and now operates affiliates in Angola, Ghana and Tanzania. Lonrho will own 73.7% of Rubicon while Stelios, as he is commonly referred to as, will take a 5% stake with the option of increasing it to 10% within two years, a relatively minor amount in aviation, especially considering Stelios' potential large upside.
Stelios' easyGroup has licensed the FastJet brand for 10 years and in return will receive 0.5% of revenue with a minimum guarantee of USD500,000 per annum. In Lonrho Aviation's latest financial year, the 15 months to 31-Dec-2011 (the company switched to ending on 31-Dec from 30-Sept), it reported USD57 million in revenue. The 0.5% royalty metric would yield USD285,000 whereas the minimum USD500,000 per annum would see easyGroup receive USD625,000 for the 15 month period. easyGroup will also receive a monthly EUR50,000 consulting fee for the ten years branding agreement, equivalent to EUR600,000 per annum.
easyGroup will lend advice to the carrier and former easyJet COO as well as Go director/COO Ed Winter will become FastJet's CEO. Much has been made of the FastJet brand. It first appeared in late 2011 on a website that proclaimed, "Fastjet.com. By Stelios. Coming soon!"
There were hints of goading as Stelios had been in conflict with easyJet, which he partially owns, and the potential Fastjet.com start-up was seen as antagonising easyJet. Under the branding agreement between easyJet and Stelios, Stelios is prohibited from starting a carrier competing with easyJet.
As Stelios shed light on FastJet, the carrier moved away from an easyJet competitor to an operation in Africa. FastJet intends to only operate within sub-Saharan Africa, placing it squarely away from easyJet, although the public may continue to be intrigued by easyJet's disenchanted founder establishing a new airline, even if overlap is zero.
The FastJet brand has evolved from a red logo with minimalist type to a logo closer to easyJet's, even taking on orange (although orange is also the colour of Fly540's logo). A livery mock-up indicates the logo will be plasted across the fuselage like easyJet's and will also have engines and wing elements painted in orange, also like on easyJet aircraft.
Artist's impression of preliminary FastJet livery: Jun-2012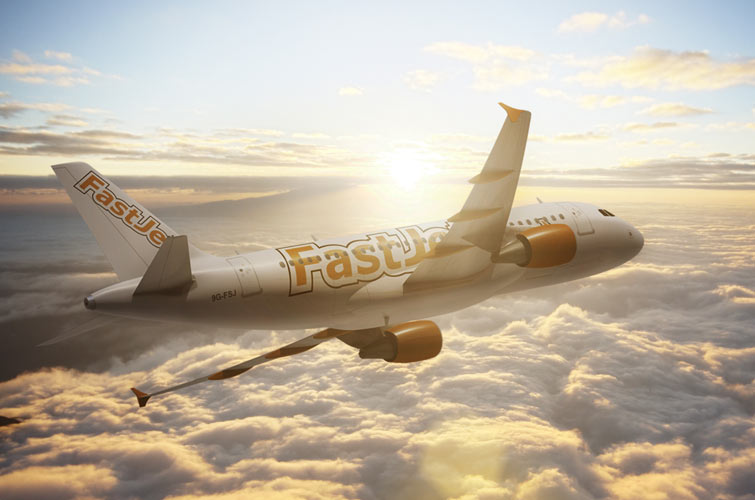 It remains to be seen if the logo will grow closer to easyJet – with the main difference effectively being "Fast" instead of "easy". Aside from sharing easyJet's "jet" suffix, FastJet has no market recognition. It also has no resemblance with any of Lonrho's subsidiaries, which include hotels, whereas easyGroup includes bus services, hotels, internet cafes and more all branded with the "easy" prefix.
It is intended that FastJet will replace the Fly540 brand. The Fly540 brand has gained some traction in its original market of Kenya, where it launched services with fares of KES5,540 (USD65), but it does not easily render in other markets.
Fly540 fleet size to be increased as FastJet brand takes over
FastJet intends to replace Fly540's fleet, which primarily includes turboprorp aircraft, with leased 100-150 seat aircraft such as the A319, 737-700 or E190. In one local report Mr Winter made reference only to the A319 and E190.
The brand license agreement with easyGroup only permits FastJet to operate western-built aircraft less than 10 years of age. While some LCCs have opted not to operate aircraft over seven years of age due to costly maintenance that, in their calculation, exceeds value after seven years, also a factor for not operating older aircraft is safety, never to be under-estimated in Africa, especially in light of the Jun-2012 Dana Air crash in Nigeria.
Rubicon's projection of 12 million passengers a year is a significant increase from the 525,375 passengers carried in the 15 months to Dec-2011, or approximately 35,025 a month for 420,300 a year, although Rubicon says Apr-2012 passenger numbers were 53,126 with a potential annual figure of 637,512. The 12 million passenger target could see Rubicon require a significant fleet expansion of 30 to 40 150-seat aircraft depending on operating statistics. With Mr Winter's expectation that FastJet's average fare will be USD70 to USD80, historically low for intra-Africa services of any duration, FastJet could see in excess of USD1 billion of revenue, including ancillaries, by the time it reaches its 12 million passenger target.
Mr Winter has called Africa "the last frontier for aviation" and expects the low fares will stimulate Africans to swap road travel for air travel, as has occurred throughout Southeast Asia and Latin America. Working in FastJet's favour are an absence of trains that reach any notable fast speed as well as roads that are typically narrow and unpaved, increasing average journey times.
Fly540 Kenya and Fly540 Tanzania collectively operate six aircraft of various mixture while Fly540 Angola operates three ATR 72s and Fly540 Ghana operates one ATR 72. Rubicon states a second aircraft for Fly540 Ghana will enter service by end of the Jun-2012. Rubicon has not stated what will happen with its existing fleet; some ATRs are on lease through 2018. Of the group's 10 aircraft, two are owned off-balance sheet, two are on finance lease and six are on operating lease.
The A320 and 737 family aircraft are workhorses of most LCCs, although thinner routes in Africa could be more suitable to the E190, a type that has seen some traction amongst hybrid LCCs like JetBlue and Virgin Australia. Brazilian LCC Azul is also a large E190/E195 operator. Air Nigeria and Kenya Airways are notable African operators of the E190.
LCC model will help improve Fly540/FastJet's economics
Fly540 has so far been a loss-making operation with negative operating margins in excess of 20%. The 12 months to 30-Sep-2009 saw a 24% negative margin, increasing to 35% for the 12 months to 30-Sep-2010 and then slightly decreasing to 31% for the 15 months to 31-Dec-2011.
Rubicon attributed USD12.6 million, or 62%, of the 2011 loss to the establishment of new franchises in Angola and Ghana as well as introduction of new aircraft. Rubicon indicates there was a USD1.9 million loss from Fly540 Uganda, which was discontinued in Dec-2011. The company lost on average USD33.31 per passenger in 2011, a decrease from the USD49.32 lost per passenger in the 12 months to 30-Sep-2010. Rubicon states it lost USD6.3 million in 1Q2012 but did not disclose associated revenues. Fly540's average revenue per passenger in the 15 months to Dec-2011 was USD108.50, indicating FastJet needs to locate an average saving of USD71.81 to offer an average fare of USD70-80 and reach break-even – a prospect that will have to be medium- or long-term.
Lonrho Aviation (Fly540) financial summary: 2009-2011

The LCC model should see CASK fall as more cost efficient aircraft are introduced and the airline adopts a leaner operation, including higher aircraft utilisation rates. Rubicon says travel agents account for approximately half of ticket sales in East Africa. Its reservations are hosted on Videcom and distributed via Amadeus and Galileo, Africa's primary GDS platforms. Website sales have been increasing and Rubicon expects to drive the figure higher with the advent of mobile payment solutions, particularly in East Africa and Ghana. The carrier conducts marketing through radio, billboard and newspaper advertisements.
Current CASK, utilisation rates and load factors were not disclosed. Staff costs in 2011 accounted for 23% of total costs, with an average salary (including benefits) of USD32,821 per employee. The majority of employees and revenue are in East Africa, where Fly540 has its largest operation.
Lonrho Aviation (Fly540) revenue by region: 2010-2011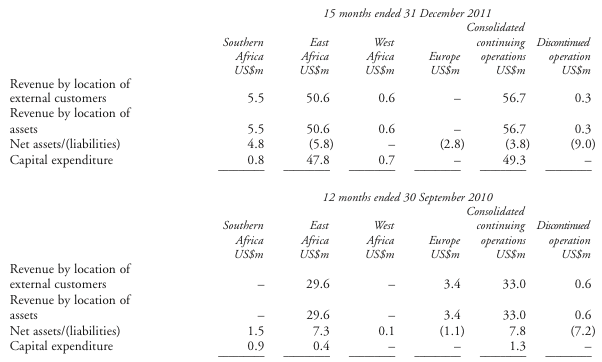 Kenyan operation is largest, but growth pegged on West Africa
Fly540 franchises are strongest in East Africa, where Fly540 Kenya and Fly540 Tanzania are present. Rubicon states that the operations in Angola, Ghana and Kenya are the most significant but that Ghana is the best initial base for the new LCC FastJet before being expanded across the continent.
Ghana last year had the world's second highest GDP growth rate at 13.5%. Ghana is also the home market of new LCC Starbow Airlines, which now operates domestic services but is planning to expand into the international market and, like Fly540/Fastjet, establish a pan-African LCC operation.
See related article: Nigeria and Ghana driving West African development
Rubicon aims to have three initial main bases: East Africa in Kenya, West Africa in Ghana and South West in Angola. It intends to serve business and leisure passengers in sub-Saharan Africa but has not stated if it will operate only a single class or also have a premium cabin. It does appear to be exploring a hybrid model with intentions to provide regional feed for intercontinental carriers, which if systems can be aligned is potentially lucrative. Rubicon states it may sell food and beverages, priority boarding and priority seating.
Fly540 Kenya commenced operations in Nov-2006 on Nairobi to Mombasa. It expanded its network in Jan-2007 with a Nairobi-Kisumu route. Following this were routes to Malindi, Lamu, Kitale, Lodwar and Eldoret in Kenya. Regional African flights included Entebbe, Dar Es Salaam, Zanzibar and Juba. The Tanzanian division in Dar Es Salaam serves only domestic points: Arusha, Mtwara, Mwanza and Zanzibar. Rubicon says it aims to start regional international services subject to approval and aircraft availability.
Jan-2011 saw the launch of operations in Angola, after a lengthy delay, from Cabinda to Soyo and Luanda. Finally, Nov-2011 saw the launch of Fly540 Ghana with services between Accra, Tamale, Kumasi and Takoradi.
Lonrho Aviation (Fly540) operating statistics
| | Established | Aircraft as of 12-Jun-2012 | Destinations as of May-2012 | Passengers in Apr-2012 | Expected Lonrho Ownership | Other Notable Ownership |
| --- | --- | --- | --- | --- | --- | --- |
| Kenya & Tanzania | Nov-2006 | 6 | 15 | 33,751 | Kenya 99%, Tanzania 90% | Tanzania: 10% from local management |
| Angola | Jan-2011 | 3 | 5 | 10,751 | 60% | 40% from Angolan industrial conglomerate and local investor |
| Ghana | Nov-2011 | 1 | 4 | 8,624 | 92.5% | 7.5% from local management |
Poised for growth, but implementation remains the question
Rubicon views African aviation under-served, especially when measuring trips compared to GDP. Rubicon is buoyed by projections that seven of the world's 10 fastest economies will be Africa and sub-Saharan Africa in particular: Ethiopia, Mozambique, Tanzania, Congo, Ghana, Zambia and Nigeria. It projects consumer spending to increase at least 4%.
The challenge is capitalising on this growth. The Yamoussoukro Declaration, set to liberalise Africa's skies, has yet to be implemented. Countries remains protective of air rights and their need for a national carrier, even if loss-making. A single brand, including one with interests from outside the continent, with intention to dominate the continent will not be passed over lightly.
Infrastructure and safety remain a challenge. Stelios' affiliation with easyJet has not been smooth, although the greatest effect has largely been in public discourse.
On the upside, LCCs are most prolific in South Africa, where the market has largely welcomed them; competition is generally low and there is room for greatly increased efficiency in operations. Margins could rival or exceed full-service carriers. FastJet's willingness to eventually feed intercontinental carriers could give it a substantial virtual network.
While many are quick to point to the failures of numerous African airlines, those have generally been caused by carriers with over-ambitious plans to open intercontinental routes that quickly become loss-making or carriers with high operating costs and low reliability, which FastJet's forthcoming young fleet will go some lengths to address. Fly540's losses have been significant, but also on the back of large expansion and many inefficiencies. The amount of investment in FastJet from Rubicon and easyGroup is high for an African carrier, and Stelios lends credibility.
Yet fully realising FastJet's potential benefits will take time. FastJet may appear to be an easyJet clone, but without government liberalisation in Africa, its growth will bear little resemblance.