CityJet ends its plan to buy Stobart Air & enter Southend, but retains its growth aims.
Analysis
In early Dec-2016 the Irish regional airline CityJet ended talks with Stobart Group about the possible acquisition of the airline Stobart Air. This deal could have accelerated CityJet's growth in the area of regional airline contract flying, where Stobart Air is positioned with contracts for Aer Lingus and Flybe. Nevertheless, while this is a setback to CityJet's ambitions, the airline continues to pursue an aggressive growth strategy.
CityJet had also preliminarily agreed to launch new routes at Stobart Group's London Southend Airport, but will not now do so. Instead, Stobart Group has taken control of Stobart Air by acquiring shares from minority investors, and will use its in-house airline to grow the Southend network. This should help the airport in reaching its own growth targets, as set by the Stobart Group.
CityJet may seek an alternative acquisition in order to fulfil its goal of becoming the largest regional wet lease provider in Europe. It will almost certainly convert all or some of the 16 options it holds over Sukhoi Superjets, in addition to its firm order for 15 (three have already been delivered). CityJet has undergone significant change since leaving the Air France-KLM group in 2014, and its losses are narrowing.
On 5-Dec-2016 CityJet and Stobart Group said that they would no longer proceed with talks aimed at selling Stobart Air to CityJet. As a result, CityJet also decided not to proceed with plans to operate service from London Southend Airport, which is owned by Stobart Group.
It seems that CityJet grew frustrated with the duration of the talks. The airline's Executive Chairman and CEO, Pat Byrne, said: "In my experience, most significant corporate transactions have a certain life and, if completion is not reached within that window, the dynamics shift and people tend to move on".
After several months of negotiations CityJet gave Stobart a deadline for completion. Once the deadline lapsed, the Irish regional airline withdrew from the process.
A setback to CityJet's growth target
The end of CityJet's hopes to buy Stobart Air, which is a significant provider of contract flying to third party airlines, represented a setback to Mr Byrne's ambitions for the Irish regional airline. However, his determination to grow the airline, whose main operation is at London City Airport while having headquarters in Dublin, remains undiminished.
"Naturally, we are very disappointed as we have been highly motivated to try to finalise this deal. We saw Stobart Air as a really good fit for our growing business."
Nevertheless, Mr Byrne reiterated CityJet's "aggressive growth strategy in Europe", even if it did not now include the acquisition of Stobart Air.
All the same, the loss of the Stobart Air deal will at least delay Mr Byrne's stated aim for CityJet to become one of Europe's largest wet-lease airlines. He has said, "We think that within two years we will be the largest regional wet provider in Europe, and we will probably be the number two regional sized airline in Europe, just behind Flybe". (thejournal.ie/thetimes.co.uk, 26-Nov-2016)
Mr Byrne estimated CityJet will handle one million passengers, and four or five million for other airlines. This implied target of a total of five or six million passengers within two years compares with 8.2 million passengers carried by Flybe in the financial year ended Mar-2016.
Data on passenger numbers for other leading European regional airlines are inconsistent and/or not readily available, particularly for those that operate wet-lease contracts on behalf of other airlines. However, the CAPA Fleet Database allows a comparison by fleet size as at 12-Dec-2016.
The chart below shows the leading Western European operators of regional aircraft (regional jets and turboprops) according to the total number of such aircraft in their fleet. By this measure, with 27 regional aircraft CityJet is currently the number 10 regional airline in Western Europe.
Apart from Flybe, whose 79 aircraft make it the biggest Western European regional aircraft operator, most of the leading European regional airlines are subsidiaries of larger full service airlines.
Leading operators of regional aircraft in Western Europe by number of aircraft*, as at 12-Dec-2016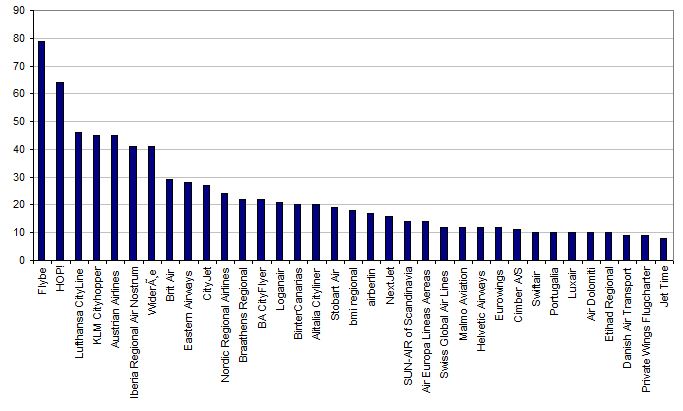 …but number four among independent regional airlines
Focusing on the independent regional airlines (i.e. excluding those owned by other airline groups), CityJet is ranked number four by number of regional aircraft as at 12-Dec-2016, with 27.
It is only just behind the UK's Eastern Airways, which has a fleet of 28, but is still some way behind second-placed Widerøe of Norway, which has 41 regional aircraft.
Leading independent operators of regional aircraft in Western Europe by number of aircraft*, as at 12-Dec-2016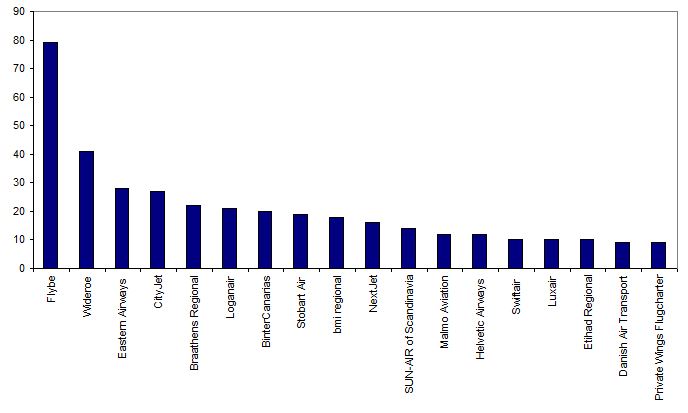 CityJet may now need to seek an alternative acquisition
The abandoned acquisition of Stobart Air, ranked eighth among independent regional airlines in Western Europe, would have catapulted CityJet straight into its targeted position of second in the list.
It would also have been its second acquisition. CityJet bought the Finnish former SAS subsidiary Blue1 in Oct-2015 and continues to operate its eight new Bombardier CRJ900 aircraft under wet lease for SAS on routes in the Nordic region.
The breakdown of talks with Stobart means that CityJet will either have to reach its goal through organic growth, or by seeking an alternative acquisition (or acquisitions).
Earlier in 2016 CityJet was also linked with the possible acquisition of SAS' Danish regional subsidiary Cimber Air. Cimber Air exclusively provides SAS with ACMI capacity on regional routes through its fleet of 11 Bombardier CRJ900s. The addition of this fleet would take CityJet's total to 38, not far behind Widerøe's 41.
CityJet is likely to exercise its Superjet options
According to the CAPA Fleet Database CityJet has 16 aircraft on order as at 12-Dec-2016, comprising four CRJ900s and 12 Sukhoi Superjets – all to be delivered by 2018. These 16 new deliveries would grow CityJet's fleet to 41 aircraft, equalling Widerøe in second place behind Flybe in the list of leading Western European operators of regional aircraft.
However CityJet plans to retire its 16 ageing BAE146 fleet, so any organic growth in its fleet size based on current firm orders is likely to be short-lived. Mr Byrne has expressed a target to grow the fleet to 40 or 50 aircraft within four to five years, consistent with being number two behind Flybe.
This suggests that CityJet is likely to exercise the options that it holds over a further 16 Superjets.
CityJet is placing its first three Superjet SSJ100s, already delivered, in the charter and wet-lease markets. It does not expect to operate the Superjet from its London City base before 2018.
Currently half of its operating fleet is on wet-lease services for other airlines – up from 30% in 2015. This will continue to be an area of growth for CityJet.
For its part, the UK logistics company Stobart Group has been acquiring all of the shares it did not already own in Stobart Air (the majority of shares in the airline were held by financial institutions, the largest of which was Invesco Asset Management Limited).
As owner of Southend Airport Stobart would have benefited from CityJet's plan to open new routes from the facility. Instead, it will use Stobart Air to operate 18 new flights from Southend under the airline's franchise contract on behalf of Flybe.
Currently Stobart Air operates under Flybe's brand and code from Southend to Caen, Groeningen and Rennes. The new routes will start in summer 2017.
Stobart Air's bigger operation is a network of regional routes from Dublin, Cork and Shannon operated on behalf of Aer Lingus under the 'Aer Lingus Regional' brand. Following Stobart Group's assumption of majority control of Stobart Air it will be better able to coordinate the activities of its airline and airport, and to pursue the further development of its Aer Lingus Regional franchise.
Stobart Group has also been acquiring all of the interests it did not already own in the airline in its aircraft-leasing business – Propius Holdings Ltd.
New routes will help Southend Airport towards its 2018 2.5 million pax target
The breakdown of talks between CityJet and Stobart Group in early Dec-2016 came only six weeks after the airline had announced an outline agreement to base aircraft at London Southend from summer 2017.
It seems that the 18 routes that would have been launched by CityJet, expected to handle 600,000 passengers annually from Apr-2017, are those that will now be operated by Stobart Air for Flybe. However, details of these routes have not yet been announced.
The airline intends to increase Southend's passenger numbers to 2.5 million p/a by 2018, in conjunction with other airlines.
Stobart Group has ambitions to develop Southend Airport to become London's sixth hub airport. It aims to increase annual passenger numbers above 2.5 million by 2018. This represents a significant increase from 0.9 million passengers in the financial year to Feb-2016, when the figure fell by 17% year-on-year.
Seat capacity at Southend has fallen in 2016
According to data from OAG, annual scheduled seat numbers at London Southend will be 1.0 million in calendar 2016 – a drop of 1.9% from 2015's total of 1.1 million, which was 24.7% below the 1.4 million figure for 2014.
The fall from 2014 to 2015 mainly reflected capacity reduction at the airport by easyJet, which dominates with 85% of seats, compared with Flybe's 15% (week of 12-Dec-2016, source: OAG). Flybe's entry into the airport in mid-2014 only partially offset easyJet's capacity cut in 2015.
Stobart Air, which operates on behalf of Flybe from Southend under contract, also operated on behalf of Aer Lingus Regional from the airport until the end of summer 2014.
London Southend Airport annual seat capacity: 2012 to 2017*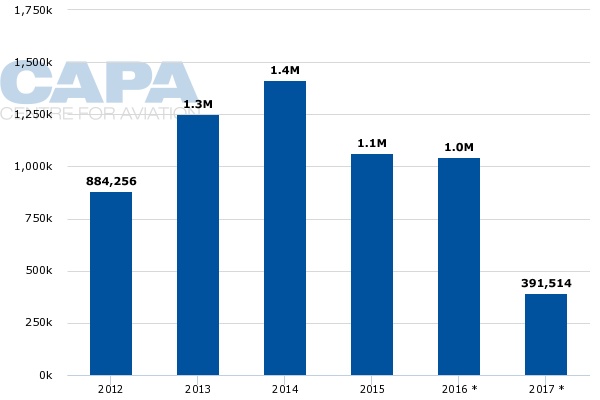 Southend in talks with a number of airlines, while easyJet adds two routes in 2016
In Jul-2016, Southend's management team said that it was talking with a number of low cost carriers and full service operators, "who want to take advantage of the airport's access to London capacity at peak times".
More recently, easyJet commercial manager Neil Slaven has said that Southend's leading airline was confident about growth there: "We expect above average growth at Southend with the new routes to Paris and Gran Canaria", adding that the airline expects approximately 10% growth in air traffic once the services launch.
EasyJet launched a Paris CDG service in Mar-2016 and a seasonal twice weekly London Southend-Gran Canaria Las Palmas in Nov-2016. The airline is the sole operator on both airport pairs, according to OAG (although London-Paris has many competitor airlines as a city pair). EasyJet withdrew from Southend-Berlin Schönefeld in Feb-2016.
London Southend Airport seat capacity by airline: week of 12-Dec-2016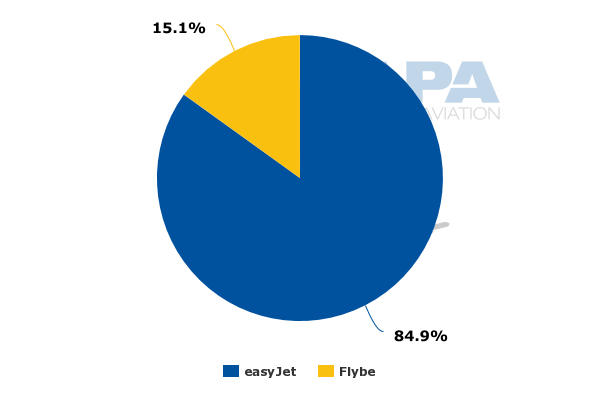 CityJet's losses are narrowing
CityJet has been loss-making since at least 2011, although its losses have narrowed in recent years.
See related reports:
On 25-Nov-2016 CityJet announced that it had reduced its 2015 operating loss by 66% to EUR10 million, from EUR31 million in 2014. It said that the 2015 loss was an improvement of 38% over the previous year, implying an operating loss of EUR49 million in 2013.
Revenue fell by 8% from EUR179.8 million in 2014 to EUR165.1 million in 2015 as the airline continued to "streamline its business", in what it called a "transitional year". However, CityJet said that it was currently witnessing 2016 revenues 30% higher than 2015. The airline expects to narrow its loss once more in 2016 and to generate a profit in 2017.
The statement from CityJet added that the streamlining included significant changes to its network and commercial strategy and "a major business process reorganisation programme to make the airline fit for purpose as an independent airline".
CityJet will face challenges to growth in 2017…
Although still loss-making, CityJet remains resolute about growing the business and Mr Byrne is confident that it is moving in the right direction, regardless of the decision not to pursue the Stobart acquisition.
"Clearly this is a growing business, with more growth to come", he said; "The 2015 results show that the trajectory we are on is delivering results".
There will be challenges to CityJet's growth in 2017, particularly with respect to like-for-like revenue growth.
…from weak GBP…
Mr Byrne told the CAPA-ACTE Global Summit, on 28-Oct-2016, that the fall in Sterling was affecting short haul leisure travel, particularly out of the UK.
"The British people tend to take more than one holiday a year, so is that down to two, one or zero", he said, adding that the decline in Sterling had "certainly hit us". CityJet's London City base generates revenue in GBP but reports in EUR; the base is affected when converting and has suffered a slip in yield.
…and industrial relations issues
Industrial relations issues will also need to be resolved satisfactorily. A dispute with pilots working for CityJet has nearly led to industrial action over 13 separate days, commencing on 24-Nov-2016 and leading up to Christmas. This followed an 82% vote to escalate limited industrial action which began in Sep-2016.
On 23-Nov-2016 the union Unite announced that the strike action would be deferred. A Unite official, Willie Quigley, said: "While Unite awaits the Labour Court hearing on the pay dispute, we hope for meaningful engagement with CityJet on the other outstanding matters".
The dispute also involves issues such as pilot representation and compensation for pilots who are being moved to CityJet's Amsterdam base. The airline has also been in dispute with cabin crew in 4Q2016.
Regional airline contract operations – an attractive market segment, but complexity is growing
Given the extent and pace of change at CityJet since its sale by Air France-KLM to Intro Aviation in 2014, and its subsequent sale to investors led by Chairman Pat Byrne in 2016, it is perhaps not surprising that the airline has suffered from industrial relations problems.
In addition to refocusing its core London City network and cutting its capacity it has started to re-equip its fleet with new Superjet aircraft, acquired Blue1 and assumed contract flying for SAS, and entered the short-term wet-lease market for other airlines.
As previously noted by CAPA, CityJet has identified an attractive market segment in third-party regional airline contract operations. The challenge will be to generate sustainable profitability, while successfully managing the growing complexity of its business.
See related report: CityJet: regional airline consolidator is re-energised & refocussed after second change of ownership