CityJet: regional airline consolidator is re-energised & refocussed after second change of ownership
Analysis
It is just over six months since CityJet chairman, Pat Byrne, and a group of private investors bought the airline from previous owner Intro Aviation. Meanwhile, CityJet has received its first two Sukhoi Superjets this summer. With 13 more scheduled for delivery by 2018 they will be replacements for its ageing BAE146 fleet at London City Airport, but the Superjet first needs steep approach certification. This will be important in restoring profitability to CityJet's refocused core network at London City.
In addition, CityJet has a growing presence in contract flying for other airlines. It inherited an Air France wet-lease operation at Paris CDG from its days under Air France-KLM ownership and acquired an SAS regional operator a year ago. Recent reports of possible consolidation involving CityJet in the European regional contract flying space demonstrate that it now has a higher profile and greater credibility than at any time for many years.
Although unconfirmed, these reports link CityJet with another SAS regional operator, Cimber, and with Stobart Air, which operates wet-lease capacity for Aer Lingus and Flybe. Even if they do not come to fruition, reports of such transactions are a sign of CityJet's increased status and revitalisation after years of near invisibility as part of Air France-KLM.
CityJet was acquired by Chairman Pat Byrne and private investors in Mar-2016
CityJet, together with its subsidiary VLM, was sold by Air France-KLM to Intro Aviation, a German specialist airline investor, in May-2014. Intro Aviation sold the airline to its founder and current chairman, Pat Byrne, and a group of private investors in Mar-2016. (The deal did not include VLM, which was sold by Intro to its management in Nov-2014, but filed for bankruptcy in Jun-2016.)
Mr Byrne had founded CityJet in the early 1990s and rejoined as executive chairman in Feb-2015.
During its years as part of Air France-KLM CityJet operated in Air France livery on routes from London City Airport. These were operated under the AF code until Nov-2013, when CityJet began to use its own WX code and to seek some operational independence.
Its 850 staff are mainly located at its Dublin headquarters, but CityJet also has bases in Amsterdam, Helsinki, London, Paris and Stockholm.
Losses and capacity cuts were followed by steep growth in 2015
According to data provided to CAPA by Intro in 2014, CityJet was loss-making in 2011-2013 – its final years as part of the Air France-KLM group. Since then no financial results have been published, but media reports indicate that it had not yet returned to profit in 2014 or 2015. It is understood that CityJet expects to return to profit in 2017, if not in 2016
CityJet underwent a period of capacity reduction in 2011 to 2013, both in scheduled and in charter capacity.
See related reports:
Data from OAG indicate that scheduled capacity continued to fall in 2014, the year in which Air France-KLM sold CityJet, but grew by 31% in 2015, its first year of independence.
After strong growth in 2015 scheduled seat capacity is set to fall by almost 3% in 2016, according to OAG data, with the winter season taking the brunt of the cuts. However, this does not include charter operations or traffic carried under wet lease on behalf of Air France and SAS.
CityJet's core route network is seven destinations from LCY
CityJet's network under its own WX codes consists of seven routes from London City (week of 17-Oct-2016, source: OAG). In order of its weekly seat capacity, these are to Amsterdam, Dublin, Paris Orly, Rotterdam The Hague, Antwerp, Florence and Nantes. CityJet continues to deploy its ageing fleet of BAE146 aircraft on these routes.
CityJet routes from London City ranked by seats: week of 17-Oct-2016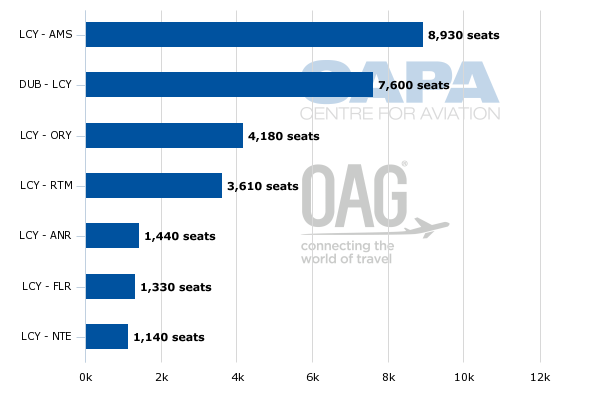 See related report: London City Airport: the changing competitive landscape at the UK capital's most expensive airport
In Dec-2013 CityJet's network for Air France from LCY consisted of 15 destinations. Since then it has withdrawn from Dundee, Münster, Paderborn, Nuremberg, Dresden, Luxembourg, Deauville and Brive Dordogne. The route rationalisation since then mainly took place while the airline was still under Air France-KLM's ownership.
Among the seven routes operated by CityJet from London City, it has direct airport to airport competition on four. It is the sole operator to Paris Orly, Antwerp and Nantes, but competes with British Airways and Flybe to Amsterdam and with BA to Dublin, Florence and Rotterdam The Hague.
CityJet still has a close relationship with Air France
Since leaving Air France-KLM's ownership CityJet has maintained close ties with the group. Under a codeshare agreement with Air France it still carries the AF code on all its routes from London City. It also carries KLM's code to Amsterdam and Rotterdam The Hague.
In addition to flights operated under its own brand, CityJet still operates four routes under wet-lease arrangements on behalf of Air France, from Paris CDG. These are to Dublin, Hannover, Newcastle, Stuttgart and Turin.
SAS is also a wet-lease customer after selling Blue1 to CityJet
CityJet bought the Finnish former SAS subsidiary Blue1 in Oct-2015 and continues to operate its eight Bombardier CRJ900 aircraft for SAS, under wet lease, on routes in the Nordic region. The agreement included an option to increase the number of aircraft operated for SAS to 14 in 2017. There were a reported 18 operators that tendered for this business with SAS.
In the winter of 2015/2016 CityJet focused on retraining Blue1 crew and did not operate any flights while this was taking place. According to press reports, this cost CityJet around EUR5 million (Independent, 17-Dec-2015). OAG data indicate that CityJet is now operating 28 routes for SAS in the week of 17-Oct-2016.
Routes operated by CityJet under contract for SAS: week of 17-Oct-2016
Reports of possible CityJet takeover of SAS' Cimber
It seems that SAS may be looking to use CityJet for more of its regional operations. According to some reports (e.g. check-in.dk, 20-Sep-2016), SAS is considering the sale of its Danish subsidiary Cimber Air to CityJet. Cimber Air exclusively provides SAS with ACMI capacity on regional routes through its fleet of 11 Bombardier CRJ900s.
Although these reports have not been confirmed, it is not difficult to see how such a transaction might be considered feasible. The Cimber operation would appear to fit well with CityJet's existing operations for SAS, both in terms of the fleet and the customer. Moreover, depending on the exact nature of any contract, it would give SAS further cost flexibility in ensuring its regional capacity needs.
CityJet aims to develop third party flying further
In addition to its regular wet-lease contracts for Air France and SAS, CityJet has also grown its charter services for corporate clients, sports teams and the entertainment industry. It also provides temporary capacity to other airlines on a short-term basis.
For example, for two weeks this summer, in Aug-2016, it supplied aircraft and crew to Finnair on routes to Warsaw, Billund and Geneva. Finnair's regional subsidiary Norra usually operates these routes, but had a cockpit crew shortage. CityJet deployed its first Sukhoi Superjet for this contract, giving it an opportunity to utilise the aircraft.
The development of CityJet's wet-lease operations on behalf of third-party airlines is an important plank of executive chairman Pat Byrne's strategy for the airline. Speaking at the CAPA Airlines In Transition Summit in Mar-2016, Mr Byrne said that CityJet aims to be "the wet lease operator of choice for larger airlines in Europe".
Superjet for CityJet: Europe's first Sukhoi Superjet customer; to replace BAE146 fleet
When Intro Aviation bought CityJet in 2014, it identified that a decision about fleet modernisation was one of the most important priorities for the airline. That summer CityJet had a fleet of 19 BAE146 aircraft, with an average age of more than 15 years.
After also considering both the Embraer EMB190 and the Bombardier CS100, CityJet announced an order for 15 Sukhoi Superjets in Oct-2015. It originally also negotiated options on a further 10 aircraft, since increased to 16.
SuperJet International, a joint venture between Russia's Sukhoi Holding and Italy's Leonardo-Finmeccanica, will also provide technical support to CityJet under a 12-year agreement.
The first European customer for the aircraft, CityJet took delivery of its first two Superjets in summer 2016. Most of the airlines operating the Superjet are in the former Soviet Union, with Mexico's Interjet being the only other Western airline to operate the type to date.
CityJet's first Superjet operation, in Jun-2016, was from Cork to La Rochelle (a route that it operated only from Jun-2016 to Aug-2016). In CityJet's configuration the Sukhoi Superjet has 98 seats, laid out five abreast, with a 32-inch pitch and a more spacious cabin than the BAE146.
The order keeps CityJet firmly in the 100-seat regional jet segment of the market, but offers advantages in fuel burn, emissions, noise reduction and passenger appeal.
Pat Byrne, Executive Chairman of CityJet, said: "The delivery of our first Superjet SSJ100 is a significant milestone for CityJet as we begin our fleet renewal programme.
This is a fantastic aircraft and we look forward to introducing our customers to its high levels of comfort and efficiency in the coming years".
Superjet will go into wet-lease operations pending LCY certification
When CityJet announced the Superjet order in Oct-2015 it said that it would place it on its London City network in 2017. This will require approval for operation at the airport, which needs certification for steep approach landing. This capability is part of the agreement between Sukhoi and CityJet, but requires some technical modifications to the aircraft.
It is understood that Sukhoi is working to achieve this by Dec-2017, after which it will retrofit aircraft already delivered. At the time of the first delivery to CityJet Mr Byrne reportedly said that he did not expect to operate the Superjet from LCY before late 2018.
For now, CityJet plans to wet lease and charter most of its Superjet regional jets to other airlines. It displayed the aircraft at the Farnborough air show in Jul-2016 as part of a campaign to build its profile.
Mr Byrne has said that leasing the Superjet to major European airlines would "establish the aircraft's credibility in Europe" (Reuters, 02-Jun-2016). It is thought to be considering deploying the aircraft in its Air France wet-lease contract.
Plans to grow fleet to 40 or 50 aircraft
According to the CAPA Fleet Database, CityJet now operates a total of 26 regional jets. This comprises 16 BAE146s (three less than when Intro bought the airline in 2014), eight Bombardier CRJ900s and two new Sukhoi RRJ-95Bs (also known as 'Superjets').
The BAE146 fleet now has an average age of 17.7 years, but CityJet's newer aircraft have brought the average age of the whole fleet operated by CityJet down to 11.1 years.
CityJet has a further four CRJ900s on order, with one more to be delivered in 2016 and three in 2017. One of its 13 outstanding Sukhoi orders is still to be delivered in 2016, with six due in 2017 and five in 2018.
Mr Byrne has reportedly said that CityJet plans to grow its fleet to 40 or 50 aircraft within four to five years (Reuters, 2-Jun-2016). The current firm Superjet orders will eventually be for the replacement of the BAE146 fleet, once certification for LCY operation has been achieved.
The last BAE jet is likely to exit the fleet by 2019, so this target implies that CityJet is likely to exercise its options over a further 16 Superjets.
Although CityJet now operates three different aircraft types, this will rationalise down to two when the BAE146 fleet has been retired. Moreover, the two fleets will be aimed at serving different networks. The CRJ aircraft will be for wet lease to SAS, while the Sukhoi fleet will be for CityJet's core network at LCY and, perhaps, for wet leases on behalf of other airlines.
CityJet Fleet at 18-Oct-2016
| Aircraft | In service | Inactive | On order |
| --- | --- | --- | --- |
| Bombardier CRJ900LRNG | 8 | 0 | 4 |
| BAE146-RJ85 | 16 | 1 | 0 |
| Sukhoi RRJ-95B | 2 | 0 | 13 |
| Total | 26 | 1 | 17 |
In addition to the reports that CityJet may be considering acquiring Cimber (see above), there have also been reports of a possible merger between CityJet and Stobart Air (The Sunday Times, 16-Oct-2016), after several months of talks.
Formerly Air Arran, Stobart Air's main operation is a network of regional routes from Dublin and other Irish airports under the 'Aer Lingus Regional' brand on behalf of Aer Lingus, which is reported to have expressed its approval for the mooted merger.
Stobart Air also operates routes for Flybe under contract, from Isle of Man and London Southend.
It is part-owned by Stobart Group, a UK logistics company, and by financial investors. Stobart Air has no scheduled routes under its own code, according to OAG.
Routes operated by Stobart Air for Aer Lingus and Flybe: week of 17-Oct-2016
The Stobart Air fleet consists of 19 ATR turboprops, of which two are ATR42s, with 42 seats, and 17 are ATR72s, most of which have 72 seats. The average age of the Stobart fleet is 7.5 years. The two ATR42s are more than 26 years old, but 13 of the ATR72s are less than three and a half years old. Stobart Air owns 12 of its aircraft and leases seven.
If the reported merger comes to fruition, this will add a further aircraft type to CityJet's operations - this time, a turboprop - increasing the complexity of the business. Nevertheless, each sub-fleet should have sufficient numbers to drive economies of scale.
Moreover, in CityJet's pursuing its strategy to develop its third-party contract flying, the addition of ATR turboprops to the fleet would increase its range of possible customers. It would help that Stobart Air's ATR activities already have a solid base in the form of its Aer Lingus relationship, as well as its Flybe contract.
CityJet's strategic transformation recognised by ERA
CityJet's strategic transformation has been recognised by the trade body the European Regions Airline Association (ERA), which named it Airline of the Year (Silver) 2016 on 13-Oct-2016.
The award citation focused on CityJet's successful "rebuilding as an independent airline, including the significant growth in its traffic and transformation of its business model". ERA also mentioned CityJet's SAS wet-lease contract and the start of its fleet renewal programme.
CityJet is re-energised, but has now to establish sustainable profitability
Since leaving the Air France-KLM group in 2014, and particularly since its renewed association with Mr Byrne, CityJet has enjoyed a new lease on life. It had become almost anonymous, but has now been re-energised.
Its core London City operations, previously an Air France franchise, are now operated as an independent airline, but continue to benefit from the embrace of an Air France codeshare.
London City is an expensive airport, but is also a high-yield niche that attracts strong demand from business passengers and remains a key attraction for CityJet. Its fleet modernisation should be beneficial to margins in this operation, although the Superjet is still relatively untested.
However, although its LCY operation looks to have been revitalised (and also given a brighter future by the approval of the airport's expansion plan), it is in its new wet-lease activities that CityJet has shown greater ambition and vision.
Europe's regional airline market remains fragmented, while at the same time legacy airlines are seeking more efficient production platforms for their regional feed. This suggests that there are opportunities for airlines that can build an efficient and reliable third-party contract operation. It is still early days, but CityJet is clearly moving into this space.