CityJet's new owner Intro Aviation to acquire new fleet, rebrand, move HO to Dublin: Peter Oncken
Analysis
A couple of months after acquiring regional airline CityJet from Air France-KLM, new owner Intro Aviation faces a crucial decision about replacing CityJet's fleet of ageing BAE regional jets. This is likely to provide the key to turning around the heavily loss-making airline, whose main base is at London City. In spite of this being a high yield market from which to operate, and in spite of capacity cuts, the final years under Air France-KLM ownership were characterised by weakening unit revenues.
Decisions about rebuilding the network in a manner better suited to CityJet's market, and better able to bolster unit revenues, will depend to a great extent on its final choice of aircraft.
Moreover, the fleet choice should also have a considerable bearing on unit costs in the future. With three manufacturers in the running (Bombardier, Embraer and Sukhoi), the airline may shortly be able to provide a clearer view of how its negotiations are progressing.
CAPA recently spoke to Intro Aviation managing director, Peter Oncken, now also chairman of CityJet, about the challenges and opportunities facing the airline.
See related report: CityJet's disposal by Air France-KLM is under way, but what will happen after the Intro?
Losses narrowed in 2013, but remained heavy
In 2013, CityJet and its subsidiary VLM posted an operating loss of EUR17 million. This was 56% narrower than the EUR39 million loss in 2012, but the operating margin of -8.4% was significantly worse that the -2.7% reported for the year before that, 2011. Revenues fell 32% to EUR203 million in 2013 (source: CityJet/Intro Aviation), as the carrier scaled back its operations in an effort to reduce losses.
The mini-group was acquired in May-2014 from Air France-KLM by Intro Aviation, a German specialist airline investor with a track record of buying loss-making airlines to turn them around. These results, therefore, relate to the period under Air France-KLM ownership.
Moreover, although CAPA has not seen recent balance sheet data, Mr Oncken says that CityJet is now well capitalised and has the financial support of the Intro Group. "We are ready to back [it] as we believe in the further development of this airline", he says.
CityJet group* consolidated revenues and operating income (EUR'000): 2011 to 2013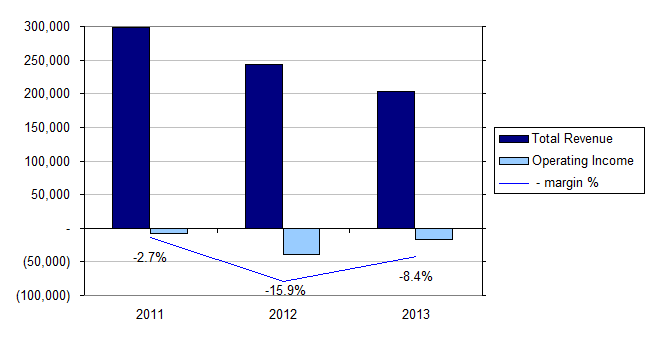 CityJet: the new opportunity as a stand-alone, free agent
Mr Oncken notes that, until recently, CityJet had no identity of its own and existed purely as an ACMI operator for its previous owner Air France, who dictated its development. "As such, CityJet was not really an interesting airline," he says.
Today, CityJet "has a very interesting positioning". He describes the airline as a "stand-alone regional airline, totally independent from larger network carriers, independent from capital markets, independent from external influences as long as they are not commercially driven".
A key attraction is its position at London City Airport, which is CityJet's largest base, although it also operates as an independent Irish regional airline from Dublin, where its head office is located. Mr Oncken believes that CityJet has an "exclusive positioning", describing it as a "jewel".
He concedes that competition on city pairs such as London to Dublin have strong and growing competition. In addition to existing services from other London airports operated by Aer Lingus, Ryanair and British Airways, direct competition on London City to Dublin will increase this coming winter with new services from British Airways and Flybe.
CityJet's track record of losses
As illustrated above, CityJet (including VLM) has been heavily loss-making in recent years. Mr Oncken and Intro have previous experience that allows him to explain these losses: "We have seen the same situation when we took over DBA from British Airways. When you are a regional airline of a large European network carrier and you operate in a market that is not their home turf, they are not really focused on what you should do… If you don't understand these markets, if you don't sell in these markets and if you have a network which is not suitable for the needs of the market, you run into losses".
This is a situation that Mr Oncken recognises. Air France bought CityJet to fight BA on its home turf, just as BA did with DBA against Lufthansa. However, Air France finally admitted that it did not understand the needs of the market in which CityJet operates.
CityJet has "…more than a good chance" of becoming profitable
Through addressing the market's needs, Mr Oncken believes that CityJet now has "more than a good chance" of becoming profitable. This will revolve around building a suitable network and understanding demand and competition in the market. Intro's target is for its new investment to return to operating breakeven in 2015 and to be profitable in 2016. Key to this is rebuilding the focus within CityJet on its own profitability after a period when this focus was sometimes lost as part of a bigger group.
Before achieving the 2015 and 2016 targets, Mr Oncken sees 2014 as a year of reorganisation and consolidationand Intro expects CityJet to be loss making this year. When Intro acquired CityJet in May-2014, it had only just reassumed its own flight code and started to operate independently from Air France. The initial priorities are to integrate the code and the airline back into the GDS platforms and to build its links with the on-line travel agencies, the travel management companies and the "whole commercial infrastructure", including the establishment of a sales organisation.
In addition, CityJet's London office is being closed, with the transfer of all head office and support functions to Dublin, and the separation of VLM and CityJet is imminent. A further near term task is to re-brand the airline by Sep-2014, so that "the whole Air France legacy history is going to leave CityJet".
Air France relationship and future partnerships
However, Intro is not cutting all links with CityJet's former owner. The airline continues to operate seven of its aircraft on routes from Paris CDG for Air France under an ACMI contract. In addition, it has a codeshare agreement with Air France on CityJet's routes from London City, Dublin, Cardiff, Paris Orly and Amsterdam (the latter also includes KLM's code). Mr Oncken describes Air France remaining as a "good and important customer", adding that the relationship with the French airline gives CityJet room to position itself in its own markets.
CityJet had mixed fortunes during the period under Air France ownership, sustaining losses due in part to a lack of attention from its parent, but perhaps also benefiting from its financial and network support. Small regional airlines in Europe operate in a highly competitive market and, although it is now independent, CityJet will not operate entirely alone.
The ongoing relationship with Air France illustrates this and Mr Oncken sees the addition of more partnerships as an essential part of CityJet's strategy. "As a regional airline, you are more or less obliged to partner with other airlines," he says, "because, on a point to point basis, it is always quite challenging to take advantage of the capacity you have".
This is evident in CityJet's historic load factors, which leave considerable scope for improvement. "You can do it yourself, by clever yield management, by clever schedule management…., but you can do it best by partnering with other airlines, feeding their hubs," says Mr Oncken.
The airline is currently negotiating with a "handful" of potential partners and expects to have agreements in this area in the coming weeks. This seems likely to focus on the hubs to which CityJet operates currently.
CityJet development of seat capacity and load factor: 2011 to 2013
Network development includes withdrawal from Germany routes, until it has new aircraft
Intro inherited CityJet's network from its previous owner, although it did have some input in the months immediately prior to completion of the acquisition. For example, Intro suggested the reduction in routes to Germany (according to OAG, CityJet's weekly seat capacity from London City to Germany will fall from 2,265 seats in Aug-2013 to 475 in Aug-2014). Only the Dresden route remains and that will be withdrawn at the end of the summer 2014 season.
Further decisions about CityJet's network development from 2015 will flow from its fleet renewal decision. However, Mr Oncken is clear that, over the medium to longer term, the airline will resume a growth path at London City and will increase its presence in Central Europe.
CityJet "stepped out [of Central Europe] in the course of the takeover due to profitability reasons… We decided to keep out of these markets as long as we don't have an aircraft which is more suitable for longer range routes out of London City and also out of Dublin".
CityJet route map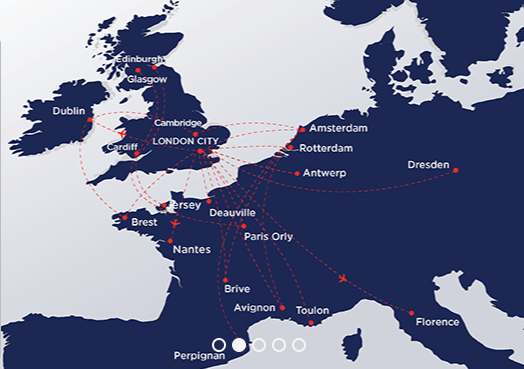 London City Airport (LCY) is an attractive base for its central location and its high yielding business travellers. In addition, its physical restrictions limit the aircraft types that can operate from its runway and this has served to keep low-cost carriers out of the airport. LCCs do compete with CityJet on some routes on a city pair basis, but its LCY hub provides something of a shield.
See related report: London City Airport talks aviation: 'In the city, there's a thousand things I want to say to you'.
CityJet's capacity cuts have led to a reduction in its share of slots at LCY from 39% in summer 2013 to 27% in summer 2014 (source: Airport Coordination Limited).
Flybe's recent entry into LCY is a reminder that the airport is not a closed fortress. However, Flybe's current plans will see it compete with CityJet only on the Dublin route. Moreover, CityJet has a lower unit cost and a larger network from LCY than Flybe, according to data from CityJet and our analysis.
See related report: Flybe swaps Gatwick for Southend & London City. Higher charges will necessitate improved yields
There is some peak hour capacity constraint at LCY, which helps to limit new entrants and to support yields, but there is spare capacity through the rest of the day. Moreover, the airport has plans to grow its capacity.
London City Airport share of air transport movements by airline at start of summer season: 2009 to 2014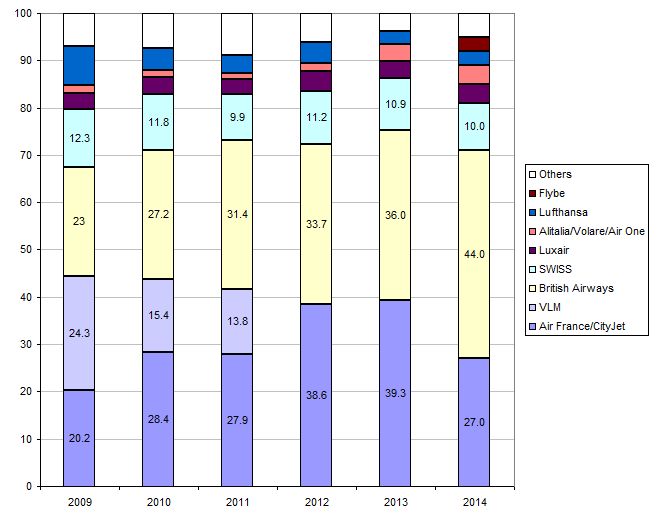 VLM will be separated from CityJet
Intro's acquisition of CityJet included Belgian airline VLM, which had been acquired by Air France-KLM in Dec-2007 and integrated into CityJet from 2009. VLM no longer operates under its own code or brand, but deploys its fleet of 12 Fokker 50 aircraft under wet lease and charter arrangements for other carriers, including CityJet.
Intro has taken a decision to separate the two airlines, which will operate as "sister companies under the same mother", according to Mr Oncken. "They will work with each other, but also be independent". VLM will market its own capacity and CityJet will take advantage of it as a supplier when needed and on an arms' length basis.
New fleet needed: the first major strategic decision for CityJet under Intro
CityJet currently operates 19 BAE 146-RJ85 regional jets, down from 21 aircraft at the end of Dec-2013. According to the CAPA Fleet Database, the average age of these aircraft is 15.5 years. One of the key strategic decisions that needs to be taken shortly is the replacement of this fleet with more modern aircraft. The airline will continue to operate in the 100 seat segment and it is currently considering the Embraer EMB190, the Sukhoi Superjet 100 and the Bombardier CS100.
CityJet (including VLM): average fleet age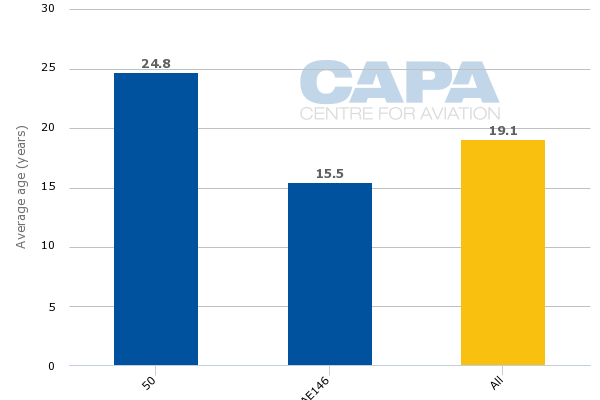 In the "best case scenario", Mr Oncken would like to see the new aircraft starting to arrive in time for the summer 2015 schedule so that consequent network development can take place. "The CSeries is not even flying yet, so it is a question of whether they can supply aircraft according to our needs, especially financial needs", says Mr Oncken. He hints that this may be the least likely option, but "they are not off the table yet".
Regarding the Superjet, "they make us confident that they are able to deliver" and the aircraft has been operating successfully in other markets, but Mr Oncken adds: "We need some level of confidence that reliability, especially in support, maintenance and operationally, is going to be met". In addition, the Superjet is not yet licensed to operate from LCY.
Whether intentionally or not, Mr Oncken gives the impression that the EMB190 may be the front runner. "And then there's the Embraer," he says, "They have proven that they can operate in and out of London City".
Nevertheless, this looks to be genuinely a three-way race, which could all boil down to price: "I do have my expectations that, financially, operating whichever aircraft on regional services in Central Europe, you should not exceed a certain capital cost… I want to hear what [the manufacturers] are able to do in order to accommodate our expectations".
Although London City is a high yield market for a regional airline, Mr Oncken is right to ensure that the fleet decision contributes to a lower cost base. New aircraft will mean higher ownership-related costs, but this should be more than offset by lower operating costs. The forthcoming Farnborough Air Show may see an announcement from CityJet about progress with its fleet competition, although it is unlikely that a final decision will be possible in the timescale.
CityJet (including VLM): fleet development: Dec-2011 to Dec-2013
| | Dec-2011 | Dec-2012 | Dec-2013 |
| --- | --- | --- | --- |
| AVRO 85 | 22 | 21 | 21 |
| F 50 | 15 | 13 | 12 |
| Total | 37 | 34 | 33 |
VLM's 25 year-old F50 fleet looks set to remain in place for the time being. Intro is reviewing the long term positioning of the smaller of its two newly acquired airlines and, for now, its fully depreciated, debt-free fleet serve its needs. A decision on the VLM fleet may be taken in the next 12 months.
Intro has no exit strategy
Mr Oncken insists that Intro never has an exit strategy at the outset of any investment. After a period of evaluation, Intro decided that CityJet provided a good opportunity and that it could become profitable in its markets. London City offers growth and the Dublin market is also attractive, especially given the chance to feed into the growing onward market across the Atlantic.
It is not possible to predict how the European aviation market will develop over the coming years and so likely buyers cannot be identified up front. Intro has held investments over different time periods: 10 years (NFD), three years (DBA), two years (LTU), three years (to date: InterSky, no exit planned yet).
Unit revenues have fallen further than unit costs since 2011
In spite of capacity reductions over the final two years under Air France ownership, CityJet suffered falling load factors and unit revenues in each of 2012 and 2013.
From 2011 to 2013, its scheduled seat capacity fell by 42%. At the consolidated level (including VLM), this was partly offset by increases in wet lease and charter capacity, so that total seat capacity fell at the lower (but still significant) rate of 16%. Nevertheless, scheduled load factor across CityJet's network lost 5 ppts from 2011 to 2013, although load factor of the LCY network gained 1ppt over this period.
Unfortunately, the capacity cuts were exceeded by the fall in revenue. Scheduled revenue fell by 49% and total revenue by 32% from 2011 to 2013, while operating costs fell by 28%. The operating loss widened from 2011 to 2012 because the drop in RASK was not matched by the fall in CASK. In 2013, the operating loss narrowed because a 16% fall in RASK was exceeded by a 21% cut in CASK.
CityJet group* index of revenue per ASK (RASK) and cost per ASK (CASK) 2011 to 2013 (all indexed to 100 in 2011)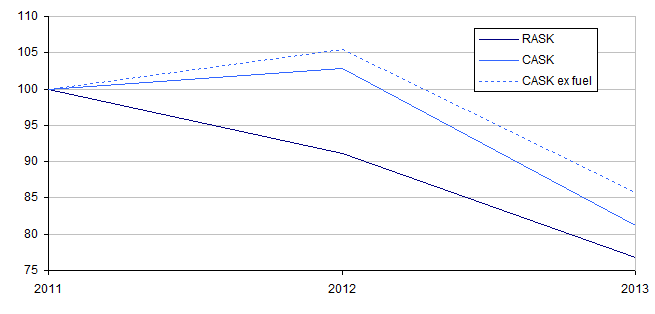 This weak unit revenue trend, at an airport that is considered to be high yield, is troubling, especially given the capacity cuts. Although the relative trend of RASK versus CASK started to move in the right direction in 2013, it will be a considerable achievement to restore breakeven and then to convert that into sustained profitability.
A more efficient aircraft will be a big step forward if it can enable a double digit percentage reduction in aircraft unit operating costs. In addition, a better adapted route network, well chosen partnerships with other airlines and a sales organisation of its own should provide some support to unit revenues.
Finally, if Intro can effect a renewed focus on costs and the bottom line, CityJet may just be in with a chance.
At least it has been given the opportunity to make a fresh start.