CAPA Americas Summit: Argentina's infrastructure faces hurdles in handling a wave of new entrants
Analysis
Since the election of a new president in late 2015, Argentina has been cited as a rising star of Latin American aviation as the protectionist policies of the former regime began to loosen. A more aviation friendly government and Argentina's untapped demand have drawn at least three startup airlines hoping to gain a foothold in a potentially burgeoning market.

The possible launch of three new airlines in Argentina will drastically change competitive dynamics for the country's flag carrier Aerolineas Argentinas, which was shielded by government protection for many years and continues to bleed cash. Now that the landscape is changing, warnings for Aerolineas Argentinas to adapt to new realities are growing louder.

Although Argentina air travel growth prospects seemed to have turned a corner, challenges remain for airlines hoping to capitalise on a more liberalised market. One pressing issue the Argentina's government faces is ensuring proper infrastructure is in place to support the new crop of airlines hoping to establish operations in the country.
Conditions in Argentina ripen for new entrants under a new administration
There is a new aviation environment in Argentina. Speaking at the recent CAPA Americas Summit in Orlando, Florida, IATA regional vice president, the Americas, Peter Cerda said that Argentina's government now has an open mind about aviation after being closed off for 14 years. Previously, Mr Macri's government has outlined plans to double Argentina's domestic traffic in four years (using 2016 as a baseline).
Panel Session: The Brazil Effect: How Are Airlines And Travel Changing? (CAPA Americas Summit Apr-2017)
Argentina has one of the lowest figures for trips per capita compared with other countries in Latin America, noted ALTA executive director Eduardo Iglesias. LATAM Airlines Group has estimated Argentina's trips per capita are 0.50.
Trips per capita in Latin American countries compared with the US and UK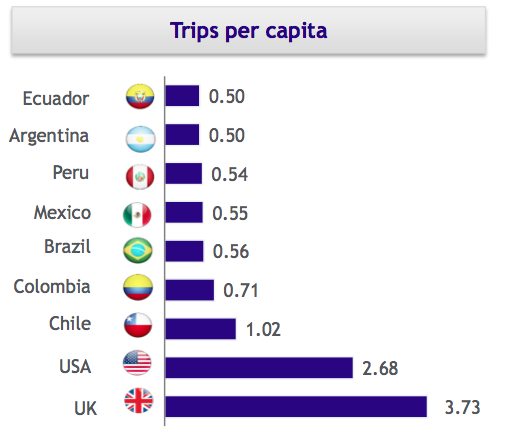 Mr Iglesias explained that Argentina's aviation market presents a similar business case to that of Mexico in terms of passengers accustomed to travelling by bus. He stated that some travellers in Argentina are used to spending up to 24h on buses to reach their destinations. Any entity adopting a model similar to that of the Mexican low cost airline Volaris, which targets passengers switching from buses, "has a big opportunity", said Mr Iglesias.

Argentina's population of 46 million is lower than Mexico's 126 million, but given Argentina's trips per capita, solid stimulation opportunities exist now that Mr Macri has adopted a more liberalised position towards air travel.
Population of Argentina (Persons): 2011 to 2021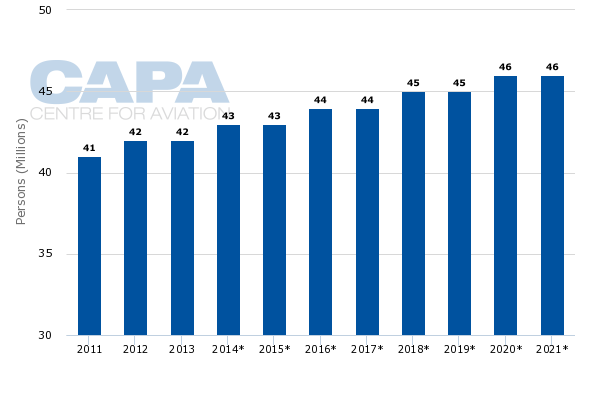 Three potential new airlines look to capitalise on new opportunities in Argentina
At least three new entrants have stepped forward in the Argentinian market during the past year.
Synergy Group purchased the small Argentinian operator MacAir Jet and placed an order for 12 ATR 72-500 turboprops for operation on regional routes from Buenos Aires Aeroparque and Córdoba. The airline is branded as Avianca Argentina, but has no commercial ties to Avianca Holdings. Synergy is a majority shareholder in Avianca, and has used the brand to build up its Avianca Brazil subsidiary, which is also a separate entity from Avianca Holdings.

FlyBondi is a proposed low cost startup in Argentina, and has approval to operate service on more than 70 routes in the country.

One of the more high profile moves in the Argentinian market has been Norwegian's effort to establish a domestic airline in the country. During the CAPA Americas Summit Norwegian VP of Sales Lars Sande explained that the company's CEO had travelled to Argentina six months ago to meet with the government, which is looking to grow the airline industry in the country.

Mr Sande remarked that Norwegian has "a lot of aircraft coming in", and he sees an opportunity to place some of those jets in the Argentinian market.
Norwegian Air Update: Norwegian VP of Sales Lars Sande

CAPA's fleet database shows the Norwegian Group has 251 aircraft on order, including 108 Boeing 737 MAX 8 narrowbodies with technical capabilities to support both domestic operations in Argentina and intra regional services.
Norwegian Group fleet summary as of 23-Apr-2017
Aerolineas Argentinas draws more scrutiny as potential competitors line up
With so much interest in Argentina's potential as a breeding ground for the low cost business model, questions are mounting about Aerolineas Argentina's ability to withstand new competition. The airline is losing approximately USD1 million per day and recently, according to news outlet Reuters, posted approximately USD7 million in losses from a one day employee strike in Apr-2016.

Aerolineas Argentinas has bled cash for years, and has previously outlined a goal to become solvent in 2018. The government has stated its intention to cut subsidies to the airline.

See related report: Argentina: Aerolineas Argentinas faces a tough turnaround with government's new liberal mindset

Mr Iglesias of ALTA has concluded that the new level of competition and investment pouring into Argentina will force Aerolineas Argentinas to "engage in a different game". But the government cannot completely cut ties with Aerolineas overnight, even if top government officials are pushing for the airline to become commercially viable.

Even though its finances remain shaky, Aerolineas Argentinas is growing its domestic network. Forward looking data from CAPA and OAG show its domestic seats are scheduled to grow 14% year-on-year in early Aug-2017, and during the past year the airline has bolstered frequencies in several markets, introducing flights to smaller markets including La Rioja to Catamarca and El Calafate to Bariloche.
Aerolineas Argentinas domestic seats per week: 2015 to early Oct-2017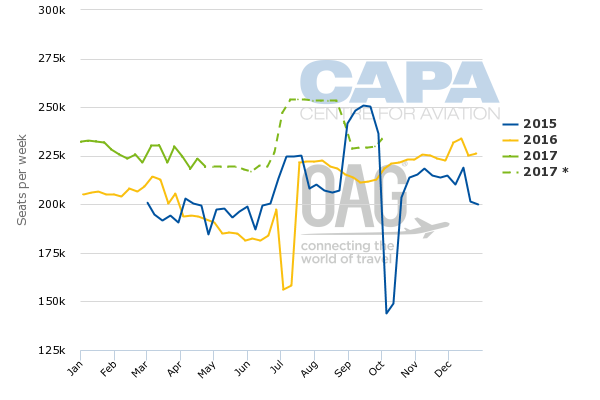 Argentina faces infrastructure challenges to keep up with new demand
Despite Argentina's new allure for potential startup airlines, challenges to establishing a foothold in the market remain.
Mr Cerda of IATA said that the two largest impediments for startup airlines in Argentina are airport infrastructure and air traffic management. The country's government faces the daunting task of putting infrastructure in place as quickly as possible to meet the demands of airlines wishing to operate in Argentina.

Mr Cerda remarked that a lot of new entrants are looking to secondary airports in Argentina, and the challenge is incorporating those new airports into the system "without collapsing the system".

Using Argentina's fifth largest domestic airport measured by arrivals, Neuquen, as an example – only the country's two largest domestic airlines, Aerolineas and LATAM Airlines Argentina, serve the airport.
Argentina top 10 domestic arrivals by city (number of seats): 24-Apr-2017 to 30-Apr-2017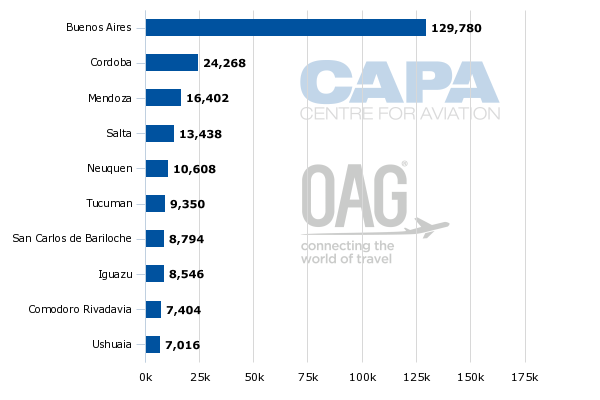 But data from CAPA and OAG show Neuquen's seat capacity is expected to grow nearly 16% during the next six months. Neuquen will no doubt be a target market for startup airlines aiming to launch operations in Argentina, and it needs the ability to support the influx of passengers those airlines could create.

Another issue facing startup airlines in Argentina is that domestic fares are still regulated by the government, with price floors still in place; however, airport and other fixed costs remain high, which does not create favourable conditions for startup airlines. The Viva Group was reportedly examining Argentina for its next low cost franchise, before settling on Peru.
Infrastructure could be a test of Argentina's new liberalised resolve
The attraction of new airlines to Argentina is not surprising, given that the country is one of few larger markets in Latin American without a low cost airline option. Aside from Brazil, there are now low cost airlines planning debuts in Peru (Viva Air Peru) and Chile (JETSmart backed by Indigo Partner). The Mexican ultra low cost airline Volaris expanded to Costa Rica with a new subsidiary that launched services in late 2016.

Argentina's government has set ambitious passenger targets, and seems welcoming of new airlines aiming to do business in the country. The real test for the government's resolve in adopting a more liberalised attitude will occur when necessary decisions about investment in infrastructure need to be made.