Argentina: Aerolineas Argentinas faces a tough turnaround with government's new liberal mindset
Analysis
A new liberalised mindset emerging in Argentina has drawn the attention of Latin American airline groups looking to capitalise on new opportunities in the country's historically closed-off domestic aviation market. Avianca's major shareholder Synergy Group is aiming to launch a new domestic airline in Argentina, and the Viva Group is also eying establishing a new airline in the country after abandoning plans to launch its third low cost carrier in Costa Rica.

At the same time, Argentina's state-owned flag carrier Aerolineas Argentinas is attempting to transition to a more commercially minded airline after years of bleeding cash and being propped by the former Argentinian government. The airline is aiming to become solvent by 2018, but formidable challenges lie ahead for Aerolineas in reaching that goal, evidenced by the airline's pilots recently resorting to a familiar tactic – staging a strike.

Argentina's pledge for a more liberalised aviation market is a welcome change, but obstacles loom large for the country's largest airline and prospective start-ups as the government still regulates domestic fares, and infrastructure costs remain high. Still, a move toward liberalisation in one of Latin America's most closed-off markets could be one of the most important developments in the region's aviation industry in the medium to long term.
Aerolineas Argentinas faces an uphill climb to achieving financial stability
After Argentina's current president Mauricio Macri was elected in late 2015, his new government made several overtures toward liberalisation, and stated its objective to double domestic air traffic over the next four years, after growing 60% from 2011 to 2015.

See related report: Argentina Aviation Part 2: Aerolineas Argentinas is pressured as competition intensifies

Aerolineas remains a government-controlled entity, but a new president is attempting to transform the airline into a viable commercial enterprise. The company has not released a balance sheet update since 2013, when it lost USD247 million on USD2 billion of revenue.

Argentina's government has outlined plans to cut subsidies to the airline; in fact, Aerolineas president Isela Costantini has been quoted in the press with the statement that in assuming leadership at the airline she has inherited a fleet of unpaid aircraft and high levels of debt.

Aerolineas has 53 aircraft in its operating fleet and 21 on order.
Aerolineas Argentinas fleet summary, as of 18-Sep-2016
CAPA's Fleet Database indicates that Aerolineas has 10 Boeing 737-800s scheduled for delivery in 2017, followed by five additional deliveries in 2018.
Aerolineas Argentinas projected delivery dates for aircraft purchased from OEMs and leased from lessors, as of 18-Sep-2016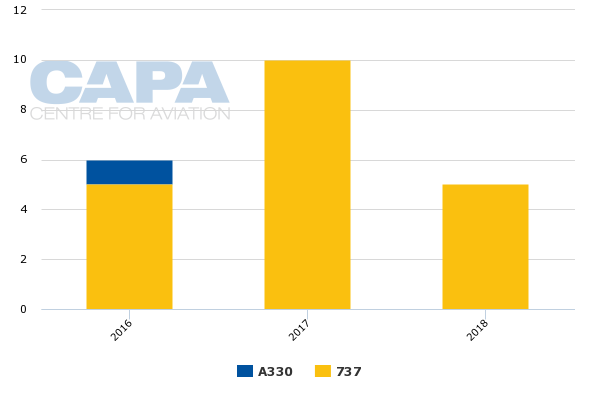 According to local news outlets, Aerolineas could post a USD1 billion loss for 2016. Ms Costantini has a stated goal of making the airline solvent by 2018; achieving that target entails slashing costs, cutting staff, and finding viable aircraft financing.

Aerolineas recently took delivery of the first of two A330-200s from the aircraft lessor Aircastle, and Ms Costantini has highlighted the "unprecedented conditions" reached on the aircraft. With the onset of A350 widebodies leasing rates for the A330s are obviously favourable, but given Aerolineas credit profile – the airline's suppliers and lessors are assuming considerable risks.

Aerolineas did secure a 10.5 year, USD280 million loan from GE Capital Aviation Services in Aug-2016, secured by four A330-200s with GE engines and three 737-800s. During 2015 Aerolineas has USD110 million in debt to Boeing, which swelled to USD200 million in 2016.

As the former GM executive Ms Costantini works to reconcile Aerolineas' tangled and complex web of finances, labour unrest has once again surfaced at the airline. In mid-Sep-2016 pilots staged a strike, triggering the cancellation of dozens of flights. The airline's pilots resorted to striking after failing to reach an agreement with Aerolineas' management on wages.
Aerolineas faces a wildcat strike as it works to bolster its leading domestic position
The timing of any strike action for an airline is ill-fated, but Aerolineas is in the process of expanding domestically and the cancellations due to the strike do not engender a lot of confidence among passengers in a country where long haul luxury bus travel remains popular.

Aerolineas has undertaken domestic expansion at the same time as the country's new government has outlined plans to double domestic traffic during the next four years. As previously reported by CAPA, Aerolineas' weekly domestic seats in Nov-2016 will grow 15% year-on-year, coinciding with the summer season of the Southern Hemisphere that begins in Oct-2016. Starting in Oct-2016 Aerolineas is adding frequencies to several markets, and introducing flights from La Rioja to Catamarca and El Calafate to Bariloche.

Data from CAPA and OAG show that Aerolineas' domestic seats are projected to rise in early 2016, growing 11% year-on-year for the first week of Jan-2017.
Aerolineas Argentinas weekly domestic seats: 2014 through early 2017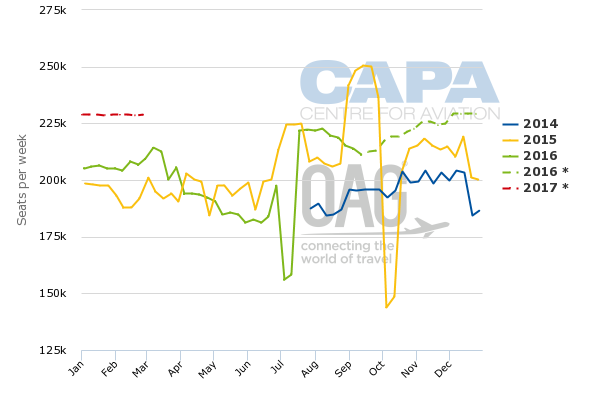 At that time Aerolineas' domestic seat share is forecast at 74%, with Argentina's second largest airline LAN Argentina representing a 24% share.
Argentina domestic capacity by airline (% of seats): 2-Jan-2017 to 8-Jan-2017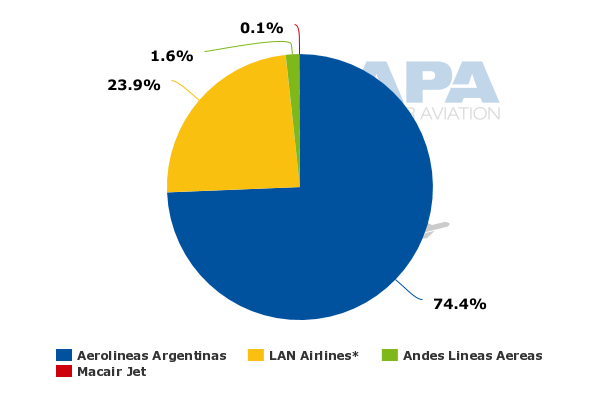 The small charter and business jet operator MacAir Jet will represent a fraction of Argentina's domestic seats in early Jan-2017, but changes are under way at the operator after it was acquired by Avianca Holdings' major shareholder Synergy.

Synergy plans to transform MacAir Jet into a scheduled turboprop operator with a base at Cordoba, Aerolineas' second largest domestic base measured by seat deployment. However, Aerolineas' deploys more than four times more seats from its largest domestic base at Buenos Aires Aeroparque. Aerolineas has expanded from Cordoba ahead of the establishment of Synergy's new airline at the airport, growing from nine point-to-point domestic routes from the airport in Jun-2016 to 13 in Sep-2016.
Aerolineas Argentinas top 10 domestic hubs/bases/stations by seats: 19-Sep-2016 to 25-Sep-2016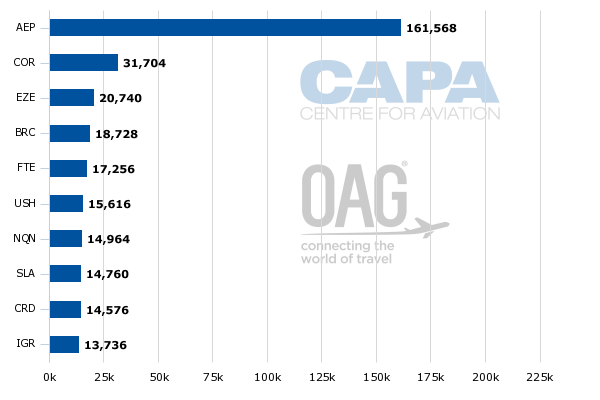 Aerolineas is clearly attempting to strengthen its network breadth in Argentina's domestic market ahead of the establishment of new competitors, with Synergy being the greatest near-term threat. At one point Synergy aimed to launch the new airline by YE2016, but it is not clear if the company will meet that targeted start date.

The Viva Group has also expressed an interest in establishing its third LCC in Latin America in Argentina and has met with Argentinian government officials about doing so, but Viva has yet to outline any definitive plans for entering the Argentinian market.

LATAM Argentina is also likely to resume expansion in Argentina after being hamstrung from expanding by the previous government, in order to protect Aerolineas. But conditions also need to be favourable for LATAM Argentina's expansion. Domestic fares are low, on average, and regulated by the government, while airport and other fixed costs are high. Those dynamics, along with Argentina's weak economy, which is forecast to contract by 1% in 2016, create some challenges in operating profitably in Argentina's domestic market.

Yet the chance to inject true low cost competition in one of the few remaining markets without a true low cost airline is an opportunity not to be overlooked – if a prospective airline can achieve a cost profile that allows for the stimulation of traffic through lower fares. There should be more options for Argentinians than just a dominant flag carrier, one that is undertaking a painful transformation to a more legitimate and accountable commercial entity.
After years of constraint, Argentina is now one of Latin America's most interesting markets
The move toward a more liberalised aviation business within and to and from Argentina is a welcome sign for one of the few remaining countries without a true low cost airline, and for Latin America overall. Despite the current economic weakness stubbornly hanging over the region opportunities remain to stimulate some of Latin America's domestic markets with the low cost model, if governments recognise the value of increased competition. Argentina appears to be taking positive steps in that direction.

A real test for Argentina's government is adhering to its pledge of lowering the subsidies that Aerolineas Argentinas receives, in order for the airline to transition to a competitive entity that operates with a new level of fiscal responsibility. Each changing dynamic will take some time to reach fruition, resulting in Argentina emerging as one of Latin America' most interesting markets during the next few years.