Brazil's Azul relies on an arsenal of resources to counter weak domestic demand
Analysis
Brazil's third largest domestic airline Azul has been forced to curb its once rapid growth as the country's economy will endure its second consecutive year of contraction during 2016. Similarly to all Brazilian airlines, Azul has been plagued by soft domestic demand and a sharp currency decline that creates challenges for expenses denominated in the USD – such as fuel and aircraft costs.

Although it will take some time for Brazil's economy to recover fully from its current recession, some encouraging trends are beginning to take effect. Recently the BRL has gained some ground against the USD, which is a welcome sign for Brazilian airlines.

Azul has used many tools to adapt to Brazil's current economic slump, including a new relationship with the European airline TAP and equity infusions from foreign investors. It has also show a willingness to lower fares in some markets, particularly to the US, to ensure that it retains a strong market presence once Brazil embarks on a steady path to economic recovery.
Azul joins other Brazilian airlines in reducing capacity as domestic demand wanes
Before the economic downturn in Brazil, and the ripple effects on South America, Azul was one of the fastest-growing airlines in Brazil, reflected in its 44% domestic ASK growth for 1H2014. The country's economy started weakening in late 2014, evident in flat GDP growth for the year. Brazil's economy contracted 3% in 2015 and is expected to shrink by 1% in 2016.

For the first half of 2016 Azul's domestic capacity fell 4% year-on-year and its traffic declined 6%, according to data from Brazil's ANAC. The number of domestic passengers transported by Azul during that period fell from 10 million to 9.4 million.

Data from CAPA and OAG show that Azul's system-wide seats are markedly down in 2016 compared with 2014, driven by its domestic capacity pull-down.
Azul system-wide seats per week: mid-2014 through early 2017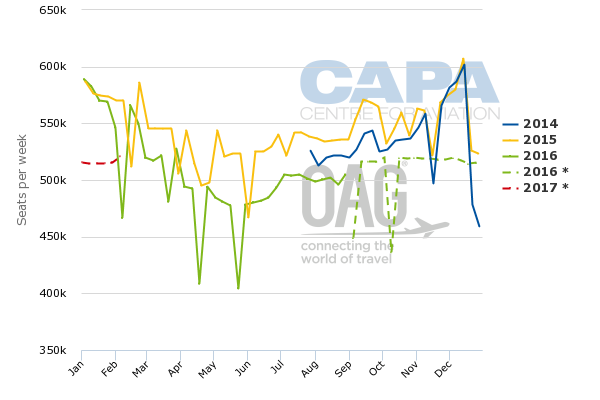 Although Azul has branched out into several international markets during the last couple of years, only 2% of its seats are deployed on international routes and 17% of its ASKs are dedicated to routes outside Brazil.
Azul international vs domestic capacity (% of seats): 29-Aug-2016 to 4-Sep-2016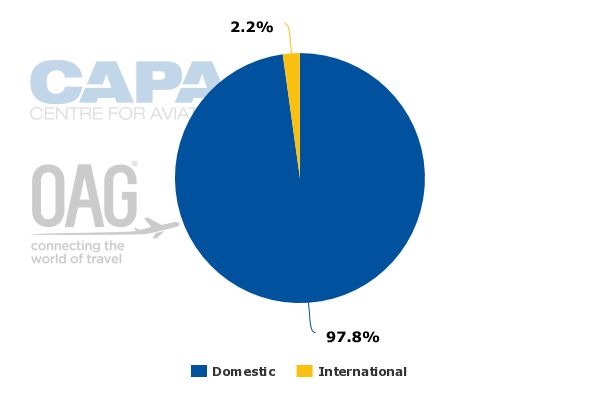 Azul international vs domestic capacity (% of ASKs): 29-Aug-2016 to 4-Sep-2016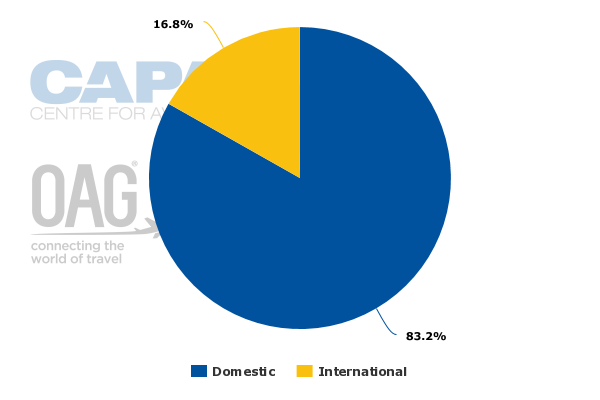 The contraction of Azul's domestic ASKs and seats underscores continued weakening demand in Latin America's largest air travel market. Traffic in Brazil's domestic market during 1H2016 decreased 7% year-on-year and capacity dropped 6%. Domestic passenger levels fell 8% to 44 million.
Of the four largest Brazilian domestic airlines, only Avianca Brazil grew ASKs in 1H2016 by 14%. The country's two biggest carriers, Gol and LATAM Airlines Brazil, reduced capacity by 6% and 11%, respectively. Avianca Brazil's traffic grew by 14% in that time period, but the airline is no doubt trading yields for traffic growth in order to advance its position in the domestic market. Its market share increased from 9% to 11% year-on-year in 1H2016, while Azul's remained flat at 17%. LATAM Airlines Brazil's share decreased from 37% to 35%, and Gol's was flat at 36%.
Azul uses new TAP partnership to shrink its fleet and add its first service to Europe
The majority of Latin America's airline groups – Avianca Holdings, LATAM Airlines Group, Copa and Gol – have all adjusted their fleet commitments to adapt to the region's economic weakness. Azul has also worked to right-size its fleet to Brazil's economic reality, albeit with a different method from using aircraft deferrals.

Azul has transferred 17 aircraft to TAP Air Portugal, and according to the news outlet Bloomberg it has returned three aircraft to lessors.
Azul fleet summary as of 1-Sep-2016
See related report: Latin American airline work to attract investors. Ownership laws a hinderance in tough economics

Azul's founder and Chairman David Neeleman is a member of the consortium that purchased TAP Air Portugal in 2015.
Since that time Azul and TAP have strengthened their ties, including the forging of a codeshare agreement that leverages Azul's strong position in the domestic market and TAP's stature as the largest airline operating between Europe and Brazil.
Brazil to Europe (seats per week, one way): 31-Aug-2015 and 29-Aug-2016
| Airline | Week of 31-Aug-2015 seats | Week of 31-Aug-2015 percentage share | Week of 29-Aug-2016 seats | Week of 29-Aug-2016 percentage share |
| --- | --- | --- | --- | --- |
| Air China | 532 seats | 0.72% | 538 seats (1.13%) | 0.76% |
| Air Europa Lineas Aereas | 2,990 seats | 4.07% | 2,785 seats (-6.86%) | 3.92% |
| Air France | 8,586 seats | 11.68% | 8,359 seats (-2.64%) | 11.78% |
| Alitalia | 3,675 seats | 5% | 3,285 seats (-10.61%) | 4.63% |
| Azul | N/A | N/A | 1,355 seats | 1.91% |
| British Airways | 4,728 seats | 6.43% | 3,542 seats (-25.08%) | 4.99% |
| Condor Flugdienst | 747 seats | 1.02% | 1,245 seats (66.67%) | 1.75% |
| Iberia | 6,083 seats | 8.27% | 4,135 seats (-32.02%) | 5.83% |
| KLM Royal Dutch Airlines | 4,669 seats | 6.35% | 4,329 seats (-7.28%) | 6.1% |
| LAN Airlines | N/A | N/A | 1,918 seats | 2.7% |
| Lufthansa | 7,210 seats | 9.8% | 6,932 seats (-3.86%) | 9.77% |
| Meridiana | 272 seats | 0.37% | 291 seats (6.99%) | 0.41% |
| SWISS | 1,533 seats | 2.08% | 1,775 seats (15.79%) | 2.5% |
| Singapore Airlines | 834 seats | 1.13% | 819 seats (-1.8%) | 1.15% |
| TAM Airlines | 11,274 seats | 15.33% | 11,480 seats (1.83%) | 16.17% |
| TAP Portugal | 18,047 seats | 24.54% | 15,790 seats (-12.51%) | 22.25% |
| Turkish Airlines | 2,359 seats | 3.21% | 2,401 seats (1.78%) | 3.38% |
| Total | 73,539 seats | 100% | 70,979 seats (-3.48%) | 100% |
In conjunction with its deepening relationship with TAP, Azul introduced service to Lisbon from Campinas Viracopos in May-2016 – its first trans-Atlantic flight and the first low cost airline service between South America and Europe. The Campinas-Lisbon service had been previously operated by TAP, so Azul has some knowledge of demand patterns and opportunities for feed on both ends of the pairing.

In 2016 Azul has also added flights from Porto Alegre to Montevideo, Uruguay, which marks its second market in South America after its 2015 introduction of service from Belem to Cayenne, French Guiana, on a route operated by Surinam Airways. Azul is uncontested on service to Montevideo from Porto Alegre. Schedules in CAPA and OAG show that Gol dropped the route in early 2016.
Gol presently serves Montevideo from Recife, Rio de Janeiro Galeão and São Paulo Guarulhos. LATAM Airlines Brazil also serves Montevideo from Rio Galeão and Guarulhos.
Azul takes the long view on US service, lowering fares to hold seat factor
Azul is rounding out its international expansion in 2016 with new service from Recife to Orlando in Dec-2016. Azul already serves Orlando from Campinas. The airline's other US market is Fort Lauderdale, which is also served from Azul's largest base and headquarters of Campinas.
The airline briefly served Belo Horizonte-Orlando, but ended that service in early 2016. At the time when Azul unveiled the new service from Belo Horizonte the company noted that many passengers in Belo Horizonte were connecting through Campinas for flights to Orlando, but demand inside, and to and from, Brazil has continued to soften since Azul's launch of the route in late 2015.

See related report: Azul and Delta intensify competition in the Florida-Brazil market to solidify their long term goals

During 2Q2015 Azul cited pricing pressure from US airlines in its US markets, and because Brazil's economy has weakened, so too have fares. Recently Azul Chairman David Neeleman told the news outlet The Miami Herald that Azul had adjusted to weaker demand by lowering fares. The logic is that Brazilians are fond of South Florida, and Azul wants them to continue travelling to Florida despite the weakened BRL. Azul's load factors to South Florida have remained strong, said Mr Neeleman, who has said that keeping Azul's aircraft full on its routes to Florida was an investment.
Azul readies for A320neo deliveries as Brazil's domestic market continues to contract
Azul is scheduled to take delivery of the first of 63 Airbus A320neo family aircraft that it has on order late in 2016. CAPA's fleet database shows the airline will accept six of the jets by year-end. In his interview with the Miami Herald Mr Neeleman cited the aircraft's efficiency as a way for Azul to grow markets by offering lower prices.
Azul projected delivery dates for aircraft purchased from OEMs and leased from lessors as of 1-Sep-2016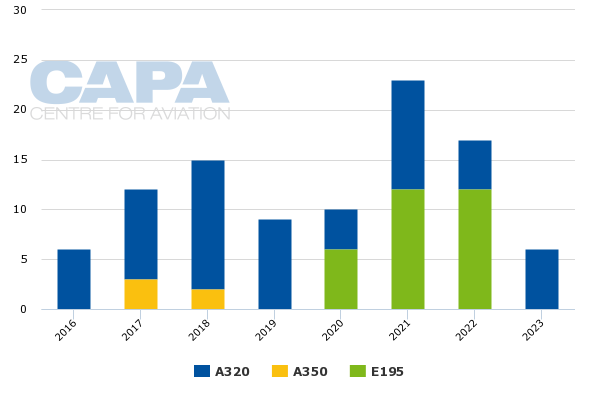 In 2014, prior to Brazil's economic downturn beginning in full force, Azul stated that it planned to use the new narrowbodies on domestic long haul routes with high demand, targeted at leisure travellers, including the Northeast of Brazil. At the time CAPA concluded:


It remains to be seen if the domestic market will support that level of growth during the next couple of years. Gol and TAM have slashed their capacity during the last couple of years to ensure a rational supply-demand balance. And even as Azul has continued its rapid growth during that time, some of its expansion has been into smaller markets with limited air service.

See related report: Brazil airline Azul caps off an ambitious 2014 with another stab at accessing the public markets

Conditions in Brazil's domestic market have worsened considerably since 2014 and some of the routes under consideration by Azul for the new narrowbodies may now be unviable. The Airbus jets have the range for several destinations within South America and – based on Mr Neeleman's comments – Azul remains bullish on stimulatory opportunities with the aircraft in the region, despite Brazil's recession.

There are some signs of slow improvement in Brazil's economy, including a slowing of the BRL's depreciation against the USD, which helps airlines with aircraft and fuel expenses denominated in the US currency. The BRL depreciated 14% against the USD year-on-year in 2Q2016, which is a significant improvement from the nearly 37% depreciation that the BRL suffered against the USD in 2015. Mr Neeleman stated to the Miami Herald that for every one cent improvement in the exchange rate Azul's annual EBIT improves by USD10 million.

Azul build up an arsenal of resources as Brazil's economy remains weak
Azul has benefitted from equity infusions of USD100 million by United Airlines and USD450 million from the HNA Group. The investments were key as credit markets are essentially closed off to Brazilian companies. Those equity injections, along with having the benefit of shared resources with TAP, allow Azul some flexibility not enjoyed by its rival Gol, which has endured a complex debt restructure in order to stave off a formal restructuring. LATAM Airlines Brazil has also benefitted from being part of the larger LATAM Airlines Group, which recently received a pledge from Qatar for an investment of USD163 million.

Azul continues to face the uncertainties ushered in by weak demand in the Brazilian domestic market and for now the specifics of how the airline intends to use its Airbus narrowbodies remain unclear. But Azul clearly has worked to build a strong base of resources on which to draw as Brazil's economy remains weak.