Brazil airport privatisation: "Steak with bone" as the economy slowly recovers
Analysis
A further round of concessions to privatise the operation of airports in Brazil is in the process of being announced. It comes just as the concessionaire of one of the first auctioned airports returns it to the government.
The optimism with which the first concession round was greeted has given way to concerns that the asking price for these 25- and 30-year deals is too high in the light of Brazil's still uncertain economy, aggravated by continuing political unrest.
This report looks at the reasons behind the concessionaire's decision to surrender its licence, at the (negative) economic state of Brazil, and at the slightly more positive tourism outlook and aircraft order books.
It concludes that the forthcoming fourth tranche of concessions – the precise nature of which is yet to be decided in what is a very fluid situation – could be successful, but only if a more realistic appreciation of the state of the economy is taken into account.
The issue of Brazil's airport privatisation, Brazil's market conditions and the outlook for Latin America's aviation are among topics for discussion at CAPA's Latin America Aviation Summit, to be held in Cartagena on 11/12-Sep-2017
For further information on attending or sponsoring please contact: info@centreforaviation.com
Brazil's fourth privatisation round has "steak with bone"
Just as Brazil announced the fourth tranche privatisation by concession of further (middle ranking) airports with potentially a block concession of seven 'underperforming' ones attached (or 'steak with bone' as it is referred to there), an earlier concession will be returned to the government to be re-offered as the concessionaire struggles to balance the debt it has accrued by way of airport improvements, with the concession fee it must pay.
The concessionaire in question is Aeroportos Brasil Viracopos (ABV), which took on the concession of Campinas Viracopos Airport in 2012 when that was one of three facilities privatised in the first nationwide tranche.
Viracopos Airport serves the southeast Brazilian city of Campinas, which is located 100km north of São Paulo – Latin America's second biggest city. The airport is one of three major facilities serving the wider São Paulo region, together with Guarulhos, which is also privatised, and Congonhas, which will be privatised in a forthcoming auction. The Azul airline hub (see later) at Campinas means it is the fifth busiest in the country in terms of movements.
It has been operated under a 30-year concession by the ABV consortium, comprising TPI - Triunfo Participações e Investimentos SA (Brazil), UTC Participações SA (Brazil) and Egis Airport Operation (France). The state-owned operator Infraero maintained a minority stake of 49%.
Neither Triunfo nor UTC had experience in the airport sector when they took on the concession.
Triunfo is a holding company primarily engaged in the operation of highways (toll roads) in a way not dissimilar to that of Abertis in Spain (which has now exited the airport sector) and Vinci in France. The Company divides its business into four main segments: Highway Concessions, Ports Administration, Coastal Shipping and Energy.
Since the Campinas Viracopos concession was granted it showed interest both in the Rio de Janeiro Galeão International Airport and Belo Horizonte Tancredo Neves International Airport concessions in late 2013, but was unsuccessful.
UTC Engenharia S.A. is the engineering and industrial services subsidiary of the Brazilian group UTC Participações. The firm has been involved in the development of projects in areas that include industrial maintenance, oil and gas, petrochemical, power generation, steel, paper, metallurgy, and construction. It tried to offload its share in the airport in 2015, including making an offer to Triunfo, whose president described the airport as "important in our strategy".
The same cannot be said of the French company Egis, which has interests in nine airports in Europe and Africa, although it will have none in Latin America after exiting this concession.
Table - Brazil's concession schedule to date
| | | | |
| --- | --- | --- | --- |
| Year | Tranche | Airport | Concessionaire/consortium |
| 2011 | 1 | Natal, São Gonçalo do Amirante | Inframérica - Engevix/Corporación America |
| 2012 | 1 | São Paulo Guarulhos | Invepar/OAS/ACSA (GRU Airport) |
| 2012 | 1 | | |
| 2012 | 1 | Brasília | Inframérica - Engevix/Corporación America |
| 2013 | 2 | Rio de Janeiro Galeão | Oderbrecht/CAI |
| 2013 | 2 | | Aerobrasil |
| 2017 | 3 | | |
| 2017 | 3 | | |
| 2017 | 3 | Salvador | |
| 2017 | 3 | | |
The combined bids in the first two tranches amounted to USD15.2 billion, and more than USD9 billion has been invested in the relevant airports to date. There has been more investment in the last five years than in the previous 16.
In the majority of cases the auction price was many times greater than the reserve price. For example, Belo Horizonte was traded at 35.7 times EBITDA, while in the case of Rio de Janeiro Galeão it was a whopping multiple of 178.7.
Complaints about overvaluations and overpayments have become commonplace. In some cases, it had a peculiar effect on the share price of the participating companies. For example, in the case of Viracopos-Campinas, Triunfo's share price plummeted by 5% after ABV won the concession, while stocks of the unsuccessful bidders Ecorodovias and CCR Rodovias rose 5.5% and 1.7% respectively.
Moreover, emergency CapEx was required in some cases (for example Belo Horizonte) while state operator Infraero has been found not always to have done its job properly. (Infraero's holding is down to 47%, and it will be phased out as a shareholding entity in the future).
There are few better examples of how the market views unjustified investments, although in fairness, Brazil's economy has faltered to a far greater degree than could have been envisaged when the first stage of the airport privatisation plan was unveiled back in 2010.
Brazil: economically the slowest growing country in Latin America
Indeed, it has performed so badly that the US business magazine Forbes recently described Brazil as being economically the worst of the large countries south of the Rio Grande, if one discounts the failed state of Venezuela.
According to the World Bank Group's Flagship Report, Global Economic Prospects – A Fragile Recovery (Jun-2017), no country in Latin America will grow more slowly than Brazil in 2017, 2018 and 2019 (0.3%, 1.8%, and 2.1%). Only tiny, or 'basket case' economies do worse over the next three years.
In real GDP terms, Mexico and the small Central American states are projected to grow by 2.1% in 2017, then 2.4% in 2018 and 2.7% in 2019.
Mexico is the growth driver for the region. Even with President Trump's projected border wall and anti-NAFTA rhetoric, Mexico is expected to grow by 1.8%, 2.2% and 2.5% respectively in those periods. (Mexico is getting a brand new, USD 11 billion airport for its capital city, funded largely by the state. The efforts at Brazil's partially privatised airports are mainly to play catch-up).
Brazil's rival, Argentina, will grow at 2.7%, then 3.2% over the next two years.
Within South America the average growth will be 0.3% (thanks to Brazil), then rise to 1.9% next year and 2.3% in 2019. In every year, compared to every country investors can invest in through exchange traded funds, Brazil underperforms.
TABLE (truncated - Real GDP (percent change from previous year)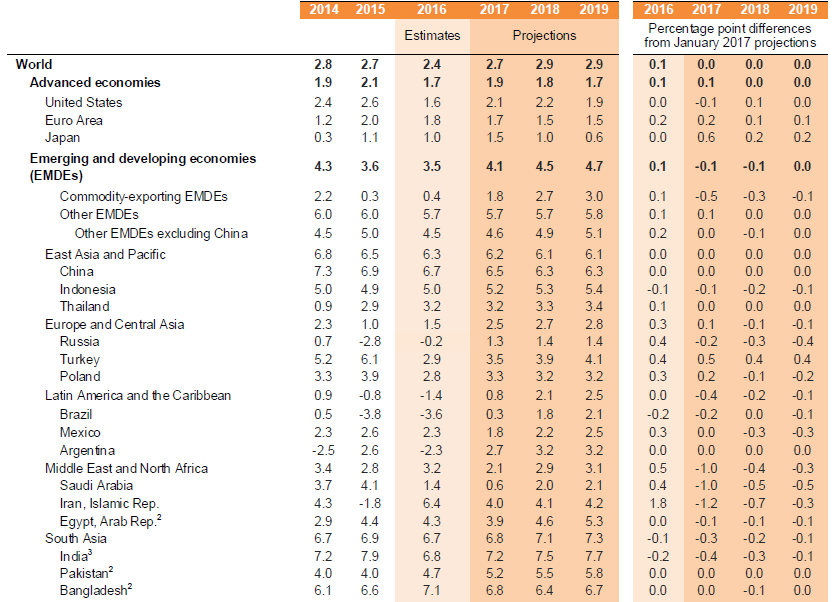 So, the economy of Brazil is not sound and recovery will be slow, which is one critical factor influencing the outcome of this concession agreement and the value of others to come.
Others include capacity growth, tourism and fleet investment.
Seat capacity has been shrinking
Brazil's credentials for investors include the facts that it has by far the largest population on the continent, is the third biggest domestic air travel market in the world, and has had the largest traffic growth there in over a decade. But the recent economic crisis has led to significant capacity reductions.
The stalling of seat capacity can be seen in this chart, which tracks it from 2012 to 2017.
Brazil annual system seat capacity: 2012-2017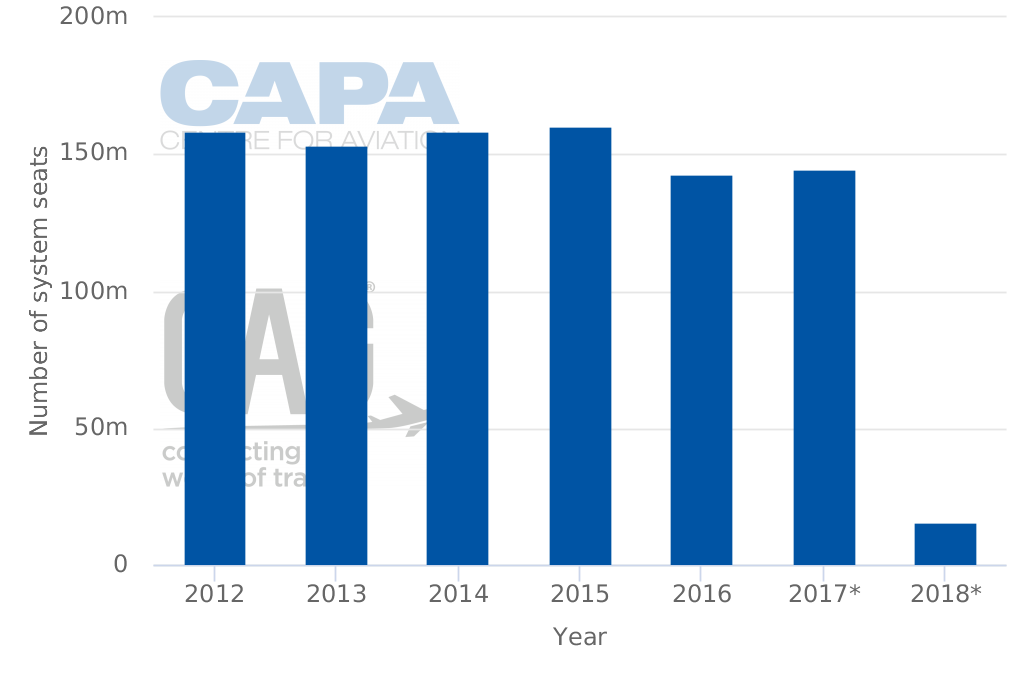 The reduction of seats between 2015 and 2016 amounted to over 17 million, or -10.7%. At least there has been stability in 2017.
Tourism decreased in 2015, but is holding up
Turning to tourism, which accounts for around 3.5% of GDP in Brazil, visitor numbers increased between 2013 and 2014 but decreased the following year by 2%.
While it is not recorded in the chart below, it is known that the number of foreign tourists increased by 4.8% to 6.6 million in 2016 but that year was heavily skewed by the two weeks of the Olympic Games. One positive message to emerge is that 95% of foreign tourist surveyed in 2016 said they would return to the country.
Another beneficial factor is the stronger USD>BRL exchange rate, though visa issues do not help to encourage tourists from some rich countries.
Brazil leads in the number of foreign visitors in South America, followed closely by Argentina.
Brazil annual tourism, visitor arrivals: 2012-2015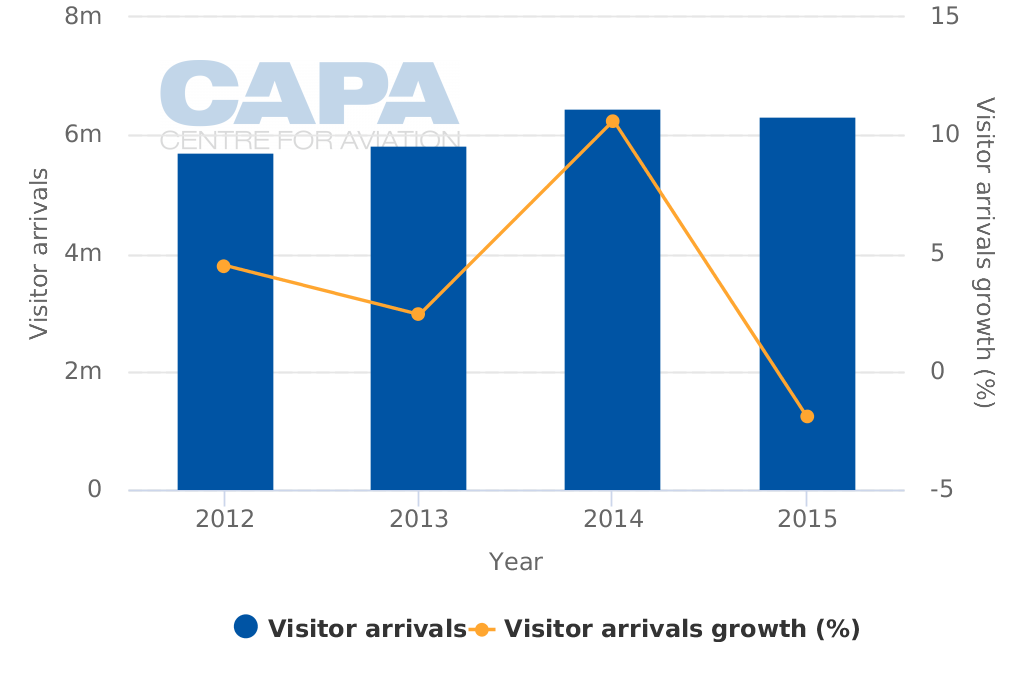 Where Brazil gets its visitors from is intriguing. As the chart below demonstrates, one third of foreign visitors come from Argentina, and many of those make the journey by road.
Brazil is heavily exposed to the excessive influence of other Latin American countries such as Chile, Paraguay and Uruguay in its tourist breakdown, at the expense of big spending Americans (9%) or citizens of European countries such as France, Germany, Italy, Portugal and Spain (collectively 16.7%).
Visitor arrivals by market for 2015 (most recent year available)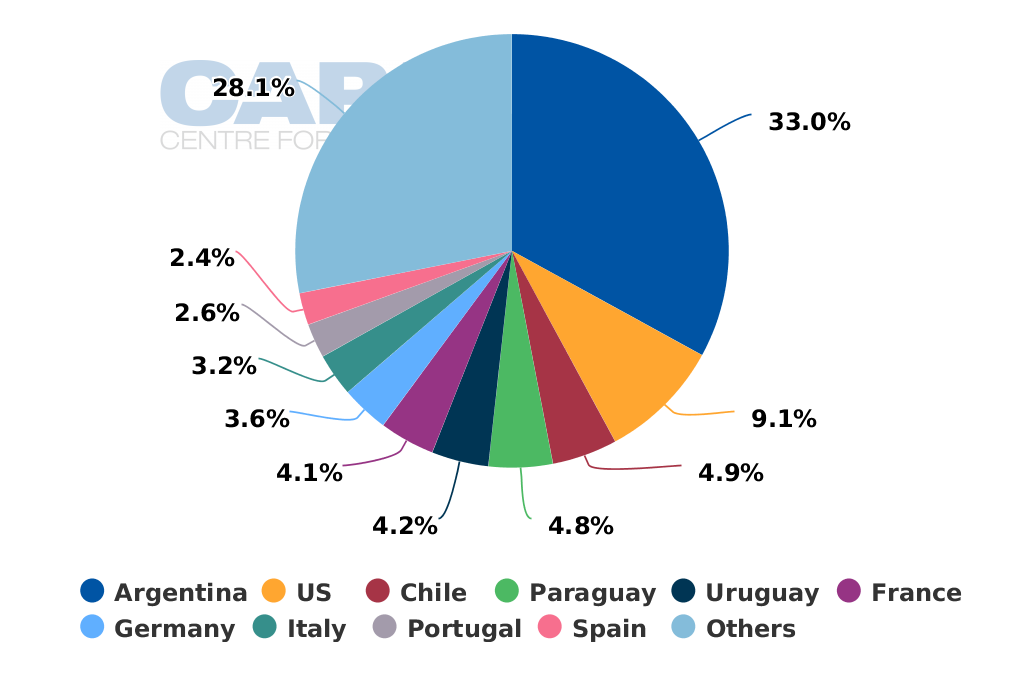 And in any case, few of those passengers would arrive internationally at Campinas Viracopos Airport, which is dominated by the low cost airline Azul, with less than 5% there being full service carrier seats, only 0.3% of seats on foreign airlines, and only 6% international seats. Azul's total percentage of the seat capacity at Campinas Viracopos in w/c 14-Aug-2017 is 94.8%.
At least Azul is growing. The third largest airline in Brazil is one of only two Brazilian airlines that will receive more than 50 new aircraft in orders that are placed and confirmed (93).
Brazilian airlines with more than 50 upcoming deliveries – aircraft on order as at 14-Aug-2017, for delivery by 2027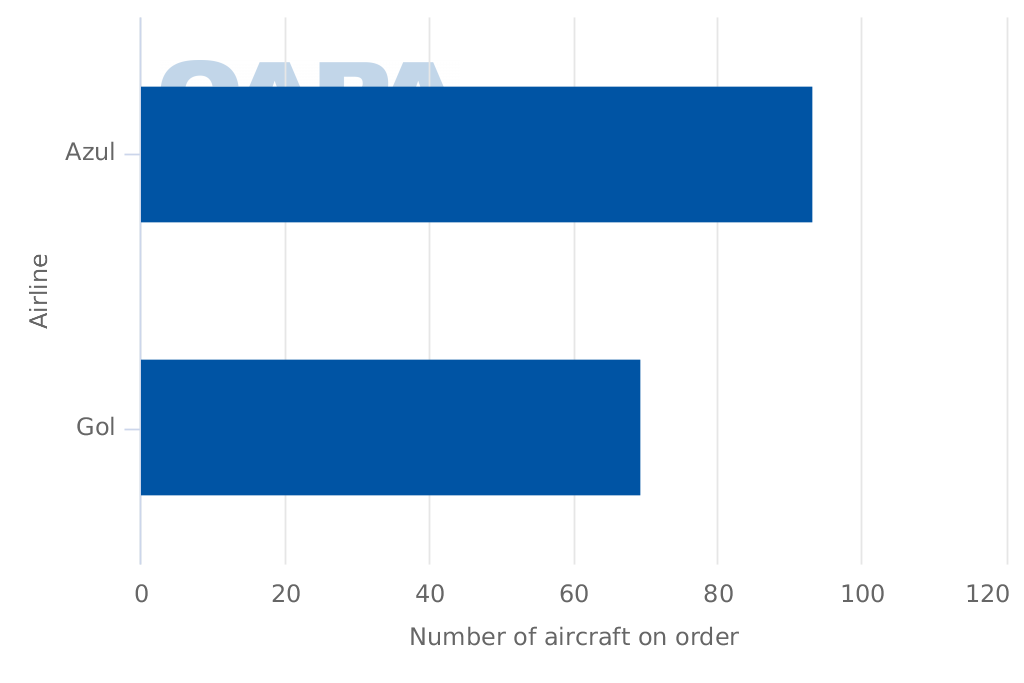 The other is Gol, with 69, which is the third largest airline by capacity at Campinas Viracopos, but at just 2%.
The Brazilian fleet in total will increase by the 293 aircraft that are on order presently, not allowing for retirements in the existing fleet. That is a ratio of 57% of the existing fleet size.
In comparison, the ratios for Mexico and Argentina respectively are 45% and 20%, so from those figures alone there appears to be greater optimism as to future aircraft requirements.
Brazilian fleet – aircraft – as at 14-Aug-2017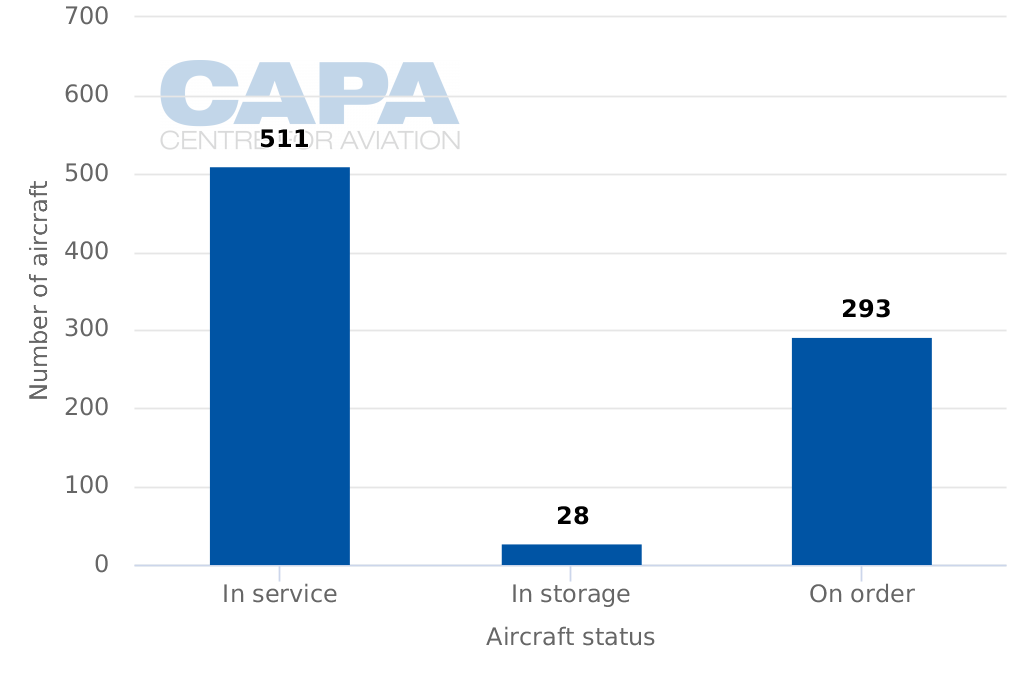 Deliveries are spread fairly evenly over the forthcoming years as well.
Brazil: projected delivery dates for aircraft on order as at 14-Aug-2017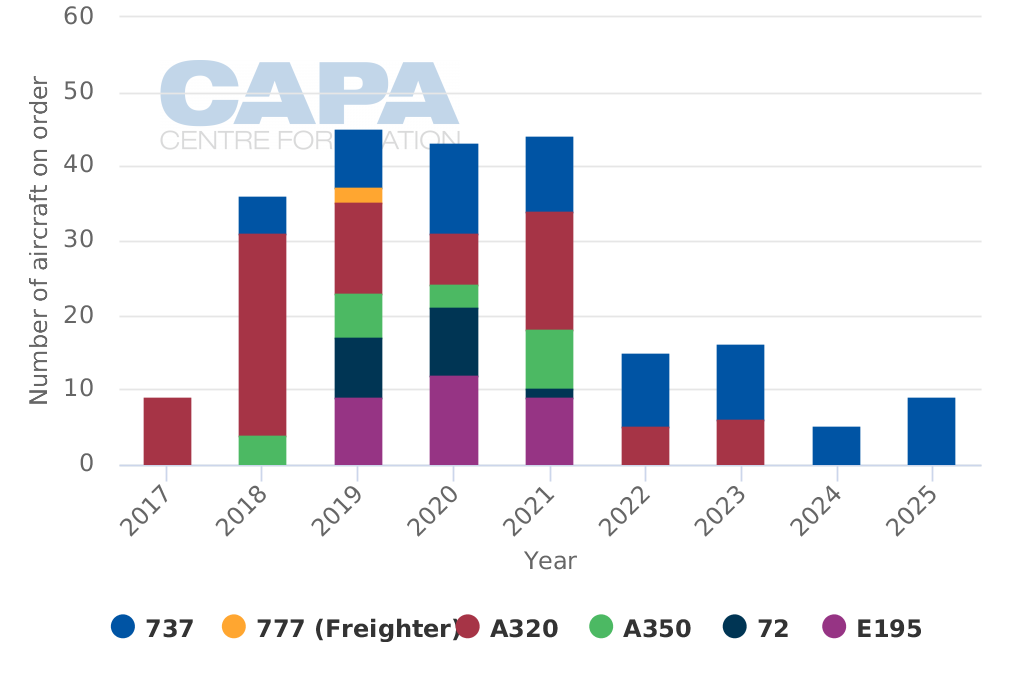 Failure of the concession was based on incorrect forecasting, but there are other factors
Before considering the outcome of future concessions it needs to be understood why the Campinas Viracopos concession has failed, which is what returning the concession for re-auction means.
As mentioned earlier, ABV was struggling to balance the debt it had accrued by way of airport improvements with the concession fee it must pay.
Under the terms of the 2012 concession contract, the winning offer would be paid in annual instalments. In addition to this payment, the companies also committed to paying a percentage of annual revenues from the concession.
Recently the civil aviation agency, ANAC, has been receiving late payments from ABV. In Jul-2017 ANAC had executed an insurance surety bond for Viracopos Airport for non-payment of concession rights from 2016 in the amount of USD55.76 million, without interest and a fine.
Aeroportos Brasil Viracopos CEO Gustavo Müssnich stated at the time that the airport was not defaulting on its debts as it has BRL268 million (USD85.7 million) in reserves, adding that the airport makes enough revenue to support operations. However, it is difficult to pay the concession fee in addition to the debt accumulated for the airport improvements. ABV has invested over BRL3 billion (USD959.5 million) in the new terminal there.
Prior to the concession, studies forecast that the airport would handle 18 million passengers per annum in 2016, while the actual figure achieved was 9.3 million. Anticipated cargo handling also failed to meet forecast – the airport handling 166,000 tonnes, whereas the forecast amount was 409,000 tonnes.
This could be attributed to a poor standard of forecasting and, after all, long term forecasting in the aviation business is difficult. But as the chart below shows, passenger demand at the time the forecast was made was very high. Between 2009-10 and 2010-11 passenger traffic grew by 50% in each year, and between 2008 and 2009 it had been at a rate of 210%.
Passenger numbers rose from one million in 2008 to 7.5 million in 2011. Under those circumstances, a forecast of 18 million in 2016 was not unreasonable, but continuous growth at that level is rarely sustainable over a period of eight years.
Campinas Viracopos Airport annual traffic: passenger numbers, 2008-2017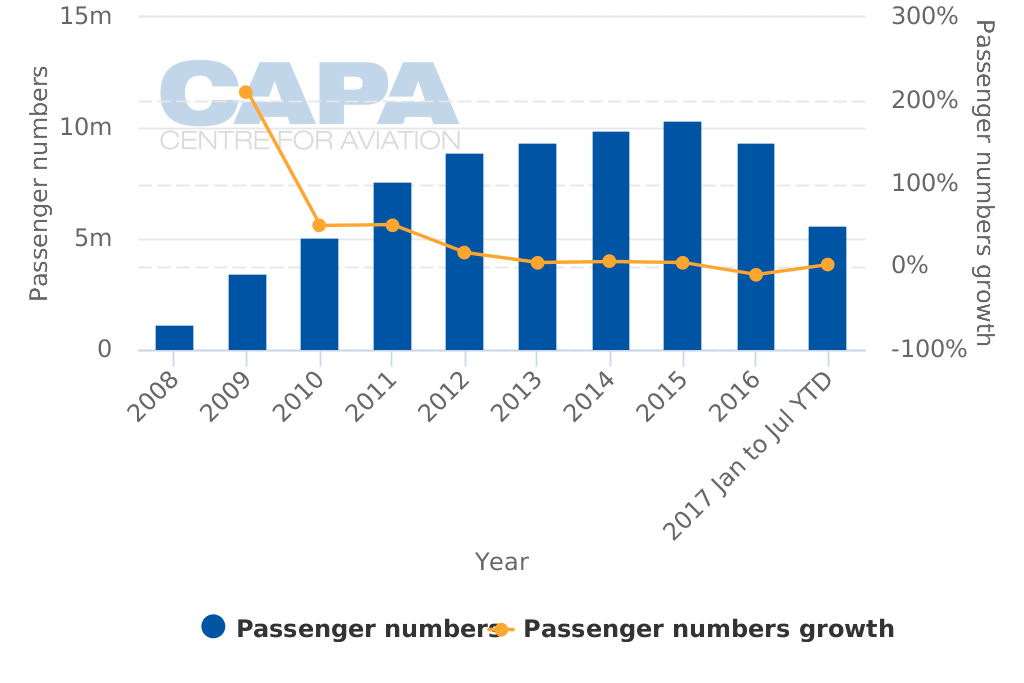 So, the recession has played a major part, but there are other issues influencing the decision by ABV.
For example, Triunfo and UTC are both going through difficult times, with Triunfo planning to sell a variety of its assets to focus on its core business as a highway operator (in that decision there are shades of Spain's Abertis, an operator which once had extensive assets in Latin America).
In Jun-2017 Triunfo and a pool of 20 banks agreed on terms to restructure BRL2.1 billion (USD672.6 million) of debt, giving the firm a lifeline to finalise projects and downsize gradually.
At the same time, UTC requested bankruptcy protection because it faced a decline in contracts due to scrutiny from the so-called 'Lava Jato' ('Car Wash') probe – what has been described as the biggest corruption scandal in Brazil's history, involving the laundering of the financial proceeds of crime.
Campinas Viracopos not the only example where a repayment schedule is in question
While ABV will at least continue to operate the airport until a new tender is complete, allowing some leeway, there are questions about the existing concessions on other airports, new ones yet to be determined, and the future of the state operator Infraero – which once had a virtual monopoly on Brazil's airports but has slowly but surely been reduced to a bit-part player.
One of the fundamental questions arising out of the Campinas Viracopos default is just what foreign operators will make of Brazil in the future. The loser there is Egis, the French company whose job is to manage the airport in the absence of any such expertise from the investors. What degree of trust will there be in the future?
It is not only at Campinas Viracopos that the concessionaire has questioned the schedule for the payment of fees.
Early in Aug-2017, for example, GRU Airport (the concessionaire at São Paulo Guarulhos Airport, Brazil's largest) stated that it was seeking a renegotiation of the payment flow of the concession fee. Those payments should total BRL1 billion by the end of 2017.
So far, only BRL115 million has been disbursed. And there have been many concerns expressed about a "catastrophic" financial situation at Rio de Janeiro's Galeão airport.
Some uncertainty surrounds the next concession round
Further, there seems a degree of confusion over what the strategy is for the next concession round. While this report was being prepared, the original plan to invite bids for those concessions was changed.
Initially, the government planned the concession of three blocks of airports. Each block would include one profitable airport along with smaller non-profitable ones.
Recife Guararapes International Airport, for example, would be bundled in a block for a minimum of BRL2.2 billion (USD703.3 million) with Maceió, São Luís, João Pessoa, Teresina, Aracaju, Juazeiro do Norte, Imperatriz, Paulo Afonso, Parnaíba, and Campina Grande airports.
Cuiaba Airport would be bundled for a minimum of BRL200 million (USD64 million) with Rondonópolis, Sinop, Alta Floresta, and Barra do Garças airports.
A third block would group Rio de Janeiro Santos Dumont Airport with Jacarepaguaá, Macaé, Vitoria, Uberlandia, Uberaba, Belo Horizonte Pampulha and Carlos Prates airports. A decision was outstanding as to whether these would be concessions or another form of – perhaps outright – privatisation, in which there was a change of ownership.
Then, just a week later, the government announced that it would tender the administration of São Paulo's Congonhas Airport, with a minimum price of BRL4 billion (USD1.2 billion), while leaving Rio de Janeiro's Santos Dumont Airport under the control of Infraero. The decision not to transfer the administration of Santos Dumont Airport apparently arose out of concerns about leaving Infraero without any profitable assets.
Infraero's future status has been determined (or has it?)
And yet the status of Infraero had already been determined over several years.
In June and July 2017 the government again considered what it had long thought of doing – namely 'terminating', or at least downsizing, Infraero and privatising its stake in approximately 56 airports by the end of 2018. It could be privatised in groups by geographical location with six areas.
The concessions would be by block, wherein the winners of bids for stronger airports would also be responsible for developing commercial aviation in smaller airports (similar to the concession scheme for the forthcoming tranche). Infraero tower personnel would be transferred to the Brazilian Air Force. Another possibility was an IPO.
And yet, at the same time Brazil's Transport Minister Maurício Quintella was denying that the government was considering privatising Infraero, admitting only to the possibility of allowing private investors in the company. Previously, the same ministry has spoken of studying the sale of Infraero's participation on other concessional airports.
With such vague intentions in place, the only reason for postponing the concession on Santos Dumont must be to retain a degree of financial gravitas about Infraero as it is readied for a privatisation that will take place. And yet how can it be privatised while it remains the 'operator of last resort', standing by – as it is – to take control of Campinas Viracopos Airport if necessary?
(Infraero, incidentally, is still active as a lessor of assets (it never attained a previously set government goal of becoming an investor in foreign airports) and has announced plans to open 11 cargo terminals for concession, starting with the one at Manaus Eduardo Gomes International Airport).
All this does suggest there is some turmoil within the government and its agencies as the plans for Brazil's airports unravel, under the pressure from a sick economy and from lingering concerns about corruption both in government and in the private sector.
Very close consideration must be given to the forthcoming concession rounds
Under these circumstances, the terms of the forthcoming concession round need to be carefully considered.
Brazil did go some way to doing that with the previous concession round, which was completed earlier in 2017 (Porto Alegre, Salvador, Florianopolis and Fortaleza airports).
For example, there were numerous changes for that round, including the opportunity for concessionaires to vary aeronautical charges during the day to an average set by ANAC, the regulator.
Concession fees on that occasion were to be paid at a rate of 25% upfront, then 75% thereafter with a five year period of grace. This move seems to have been in direct response to the difficulties that existing concessionaires were having with meeting their payment schedule.
There was certainly a more concessionaire-friendly approach during the last round, but it needs to be made friendlier still. Considering the ABV concession withdrawal decision hanging over the forthcoming round like the Sword of Damocles, and inevitably putting off both investors and operators, especially when the status of the airports under offer is much lower than that of airports such as the main São Paulo, Rio de Janeiro, Brasília and Belo Horizonte airports. Will the government be able to secure the returns it desires this time around? And will the investors be able to?
The last thing the government needs is for one of the concessionaires from the previous round to find itself in the same sort of difficulty as ABV.
While there is no sign of that happening yet, and while President Temer has claimed that the four airport auction deal validated his strategy of jump-starting growth via private investments, and that it showed the country had "won back credibility", the BRL3.72 billion (USD1.2 billion) raised was at a premium of 23% over the licence fee. This was still very high for a country with the economic concerns that Brazil continues to have, even allowing for small upfront payments and periods of grace.
The economic and political situation advocates against privatisations right now
In summary, this latest airport concession round is coming at a bad time – while the worst recession in living memory lingers on, compounded by deep seated political distrust at many levels right up to the top that has dragged in at least one investor from the airport sector.
While there are some positive signs – for example, tourism holding up and strong aircraft order books – investors and operators alike, irrespective of their domicile, are attracted primarily by strong traffic and freight growth – as indeed Triunfo, UTP and Egis were when they bid to manage Viracopos Campinas Airport. There is no such growth to latch onto at the present time.
Secondly, they are attracted by stability - and there is little of that in evidence at present. Accordingly, these the pricing of these future concessions must take into account a more realistic assessment of the economic and political environment.