Avianca joins airline rivals, revising margins downwards, as economic conditions worsen
Analysis
Latin American airline group Avianca is attempting to mitigate tough conditions in the region, particularly a sharp devaluation of the currency in its largest market Colombia. Steps the company is taking to counteract weakness in Colombia and throughout Latin America include a domestic capacity reduction within Colombia and fleet adjustments that include both deferral of aircraft deliveries and grounding of its subfleet of Embraer 190 aircraft.

Similar to most airlines operating in Latin America, Avianca is attempting to match its supply with demand and shore up yields, even if that means sacrificing some market share, as is the case in another one of its large markets Peru.

The worsening conditions in Latin America have forced Avianca to join most of its rivals operating in the region to issue a downward revision of its EBIT margin for 2015, a discouraging sign for a company that embarked on 2015 in a seemingly better position than its rivals.
Currency devaluation creates challenges for Avianca's yield traction
Colombia is Avianca Holdings' largest domestic market. Avianca, the largest airline in the group, has 63% of it domestic seats deployed onto Colombian routes. The country's projected 3% GDP growth is one of the stronger performances in Latin America.
Both Brazil and Argentina have forecasts of negative GDP growth in 2015, Chile's growth is projected at 2.7% and Peru's GDP forecast is 3% growth.
Avianca international vs domestic capacity (% of seats): 14-Sep-2015 to 20-Sep-2015
But Colombia's currency has undergone a significant devaluation over the last few months, with Avianca estimating that the COP depreciated by 53% against the USD year-on-year as of mid-Aug-2015.

The fluctuation has created challenges for Avianca, which recently estimated that two thirds of its revenues are denominated in the USD. Its yields fell by 18.7% year-on-year in 2Q2015. The company recently explained that the depreciation of the COP accelerated in its core markets in 2015 before it could capture the full effect of lower fuel prices, and as a result it had to adjust its fares to incentivise demand.

Avianca has not been able to benefit fully from lower fuel prices; its hedge book has created some headwinds for the company in 1H2015, but it has worked narrow the gap between its strike price and spot oil prices, which should allow the airline to benefit from price reductions.
Avianca seems willing to sacrifice some market share to improve yields
Avianca recently stated that it plans to cut Colombian domestic capacity by 4% during 2H2015, although its overall growth of 5% to 7% for the full year remains unchanged. The company has stated that most of the 2015 growth is the full realisation of new flights introduced between Bogota and London Heathrow in mid-2014 along with added frequencies between Bogota and Barcelona. During Jul-2015 Avianca increased its frequency to London Heathrow to daily from five times weekly.
During the first seven months of 2015 Avianca's seats on offer in the domestic market grew by roughly 17%, data from Colombia's DGAC show. Some of the increase was driven by redeploying capacity from Venezuela to reduce exposure to the country's crumbling economy and the government's decision to freeze monies owed to airlines. LAN Colombia's seats grew by 7%, VivaColombia's by 22%, Satena logged 14% growth and Antioquia posted growth of 26%. Overall, seat numbers in the Colombian market grew by 14% during the first seven months of 2015.
Avianca concluded that its plans to reduce capacity in Colombia's domestic market could affect market share in the short term as it works to shore up yields. Data from Colombia's DGAC show that for the first seven months of 2015 Colombia's domestic passengers grew by 11% to 13 million. Avianca still held a commanding 58% share of passengers carried, LAN Colombia posted a 17% share, VivaColomba an 11% share and Easy Fly and Antioquia each held a 4% share.
Avianca executives recently admitted that its market share in Peru had already slipped, with the elimination of two domestic markets, and that it was essentially tied with Peruvian Airlines for second place market share in the country. During 1H2015 Avianca and Peruvian each held a 13% market share, with LAN retaining a 62% share.
See related report: Peru's aviation market remains on a sound footing despite ovearll weakness in Latin America
It appears Avianca is deploying some capacity cuts in Colombia's domestic market to international markets by adding increased frequency to the Dominican Republic in Sep-2015 and introducing new service from San Andres to San Jose, Costa Rica.
Avianca's rivals in Colombia also appear to be contemplating slower growth as currency pressure lingers in the country.
LATAM also recently stated that they were examining the effects of the COP devaluation on 2H2015 capacity growth in Colombia. VivaColombia is also reportedly planning to slow growth due to currency depreciation pressuring its costs.
Avianca makes fleet adjustments to support capacity reductions and cut capex
Avianca is also making fleet adjustments to combat some of the weakness in its large markets. The airline has grounded four of 12 Embraer 190 jets, and plans to phase out the remaining eight aircraft over the next six to 18 months. It is seeking to either sublease or sell the aircraft, and believes by shedding those aircraft from operations it can enjoy some cost benefits.
Data from CAPA and OAG for the week of 14-Sep-2015 to 20-Sep-2015 show that the Embraer 190 only represents approximately 960 of Avianca's system wide seats.
Avianca Holdings S.A. Capacity system capacity by aircraft type (number of seats): 14-Sep-2015 to 20-Sep-2015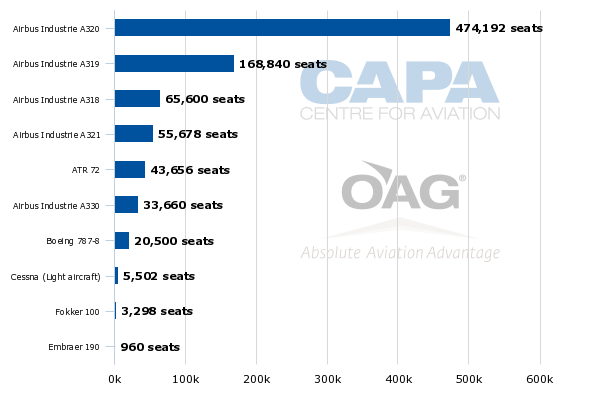 During 2Q2015 Avianca began operating its Boeing 787s on flights to Europe, specifically from Bogota, Cali and Medellin to Madrid. The new widebodies are replacing Airbus A330s, and Avianca believes operating the more efficient 787s should improve its cost performance. During 2Q2015 Avianca's unit cost fell from USD7.65 cents year-on-year to USD7.27 cents, which helped to offset the 7% drop in revenues to USD1 billion.
The company has also postponed delivery of five of eleven aircraft previously scheduled for delivery in 2016, which coupled with the grounding of the Embraer jets should allow Avianca to reduce its CapEx commitments by 50%, the company stated, as it works to align its capacity with demand. Avianca's overall fleet will fall by one aircraft year-on-year in 2015.
Tough conditions force Avianca to revise its projected 2015 EBIT margin
Similar to other Latin American airlines including Copa and LATAM, Avianca has revised its performance in certain financial metrics downward for 2015. The company's EBIT margin is now projected at 5.5% to 7.5% compared with an original forecast of 8% to 10%.
See related reports:
LATAM Airlines Group has to undergo a delicate balance of short term pain for strategic gain
Copa Airlines tries to combat regional Latin American weakness as its margins sink
Avianca and its Latin American rivals will continue to face tough conditions well into 2016
Avianca had taken a different course from it American rivals as economic conditions in its two largest markets of Colombia and Peru were more promising than the weaker economies of Brazil, Venezuela and Argentina.
But the company is now taking similar actions to its competition – capacity reductions, aircraft delivery deferrals and margin revisions – as it faces the challenges created by downward currency pressure in its largest home market.
Avianca and its rivals are making the right decisions in light of the continuing challenging conditions in Latin America, but investors in all those airlines will continue to be concerned until the companies are able send signals that conditions are beginning to improve, which appears an unlikely scenario for 2H2015 and the beginning of 2016.