Copa Airlines tries to combat regional Latin American weakness as its margins sink
Analysis
Weak economies in Latin America continue to drag down the results for Panama's Copa Airlines, reflected in a 10.4ppt drop in its 2Q2015 operating margin to 9.1%. The airline's results were worse than expected, driven by a particularly challenging Jun-2015.

Central American poster airlines Copa has been battling difficult dynamics in Venezuela and Brazil for roughly a year, and during 2Q2015 some challenges emerged in its Colombian markets. The airline is taking steps to adjust its network to lessen its exposure to those regions, but they still comprise a sizeable portion of Copa's operations.

Copa does foresee some slight sequential improvement in its yield performance from 2Q2015 to 3Q2015, but third quarter yields are still expected to decline in the double digits.
The company has issued a second downward revision to its unit revenue and operating margin guidance for CY2015, and it seems some of the obstacles Copa has faced throughout the last year are lingering into 2016.
The slide in Copa's operating margin was driven by a 20% decline in top line revenues in 2Q2015 to USD538.4 million. The second quarter is typically a weaker time period for Copa, but unit revenue and yields were much weaker than normal, with unit revenue falling 24.4% and yields 20.4%. The degradation is driven by weak economies in Brazil and Venezuela, and to a lesser degree Colombia.

Copa recently calculated that passengers originating in those three regions represented approximately 40% of its O&D revenues during 2Q2015, down from 50% the year prior. Breaking down the decline by region, Copa estimated that Venezuela represented roughly 20% of its revenue weakness, Brazil accounted for 20% to 25% and Colombia represented 20%.
Copa opts to shrink capacity to Brazil as the BRL remains weak against the USD
After 1Q2015 Copa executives stated they expected 2Q2015 to be a low point for Brazil after conditions started deteriorating in Mar-2015. At that time the airline stated plans to trim capacity on its Brazilian routes by 4% in 2H2015. The weakness is driven by Brazil's soft economy and currency devaluation. The BRL is down roughly 24% against the USD so far in 2015.

See related report: Copa Airlines suffers from a falloff in Brazilian demand, forcing a capacity reduction in 2H2015
At the end of 1Q2015 Copa estimated that Brazil represented about 20% of its ASMs during the quarter. During 2Q2015 Brazil represented roughly 19% of Copa's ASMs, and company CEO Pedro Heilbron recently estimated that number should fall to 16% during 3Q2015. He highlighted that Copa reduced capacity in the Brazilian market by 18% by Jun-2015 compared with Jul-2015.

Data from CAPA and OAG for the week of 17-Aug-2015 to 23-Aug-2015 show that Brazil is Copa's fourth largest international market measured by seat deployment. Its one-way seats on offer to Brazil as of 11-Aug-2015 had fallen from roughly 11,658 to 10,630.
Copa Airlines international capacity by country, number of seats: 17-Aug-2015 to 23-Aug-2015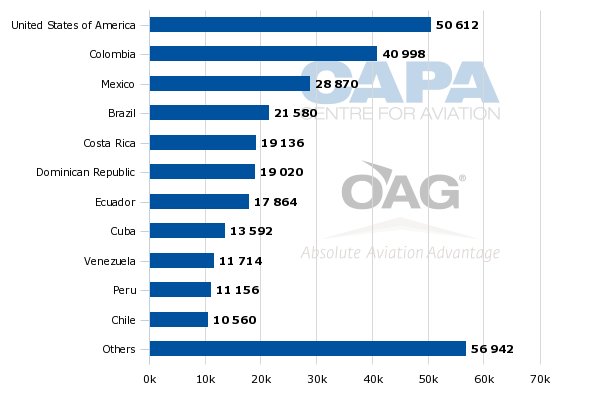 Venezuela continues to be a complex and challenging market for Copa
Copa has been suffering from various challenges in Venezuela for roughly a year. At the end of 2Q2015 the company still had USD452 million frozen by Venezuela as the country's economy remains in shambles. During 2H2014 Copa cut its seat capacity to Venezuela by roughly half, but has reinstated some of that service.
Data from CAPA and OAG for the week of 11-Aug-2015 show that Copa's approximate one-way seats between Panama and Venezuela have increased from 3,052 to 5,492 year-on-year. Copa offers service from Panama City Tocumen to Caracas and Valencia. The company's one-way seats from Colombia to Venezuela have fallen to 808 from 868. Copa Colombia operates service between Bogota and Caracas.

Copa previously explained that it was selling all of its tickets to Venezuela in USD, which was negatively affecting yields since selling in the VEF at certain exchange rates are more favourable. (Venezuela has a complex, three tier currency system.)

The selling of fares in USD and a particularly weak Jun-2015 resulted in both load factor and yield deterioration in 2Q2015. Copa has previously concluded that there is a strong Venezuelan community in Panama, so some level of service is necessary. Data from CAPA and OAG for the week of 17-Aug-2015 to 23-Aug-2015 show that Copa represents approximately 11% of Venezuela's international seats.
Venezuela international capacity by airline (% of seats): 17-Aug-2015 to 23-Aug-2015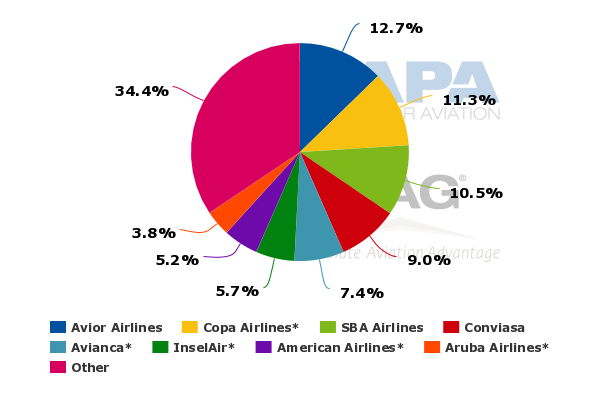 Mr Heilbron stated that loads in Venezuela are recovering in 3Q; however, not at the same levels Copa posted at the beginning of 2015, but better than 2Q2015. Although yields are down, he stated that they are at levels for the Venezuela flights to be profitable. The profitability in Venezuela is "kind of normal", said Mr Heilbron, but "not above average".
Colombia is less of a threat than Brazil or Venezuela, but still poses challenges for Copa
Colombia appears to be creating the least pressure of the three regions cited by Copa that were driving its unit revenue and yield weakness. Mr Heilbron said that load factors remain at similar levels to last year, but yields were down significantly due to a 35% devaluation of the COP against the USD.
But even as Colombia's economic growth is projected to drop from 5% in 2014 to 3% in 2015, the country is less affected than Venezuela or Brazil, said Mr Heilbron. Brazil's economy is forecasted to contract just over 1% in 2015 and Venezuela's forecasted contraction is 7%.

Data from CAPA and OAG show for the week of 17-Aug-2015 to 23-Aug-2015 Copa represents 3.7% of Colombia's system wide ASMs.
Colombia capacity by airline (% of ASMs): 17-Aug-2015 to 23-Aug-2015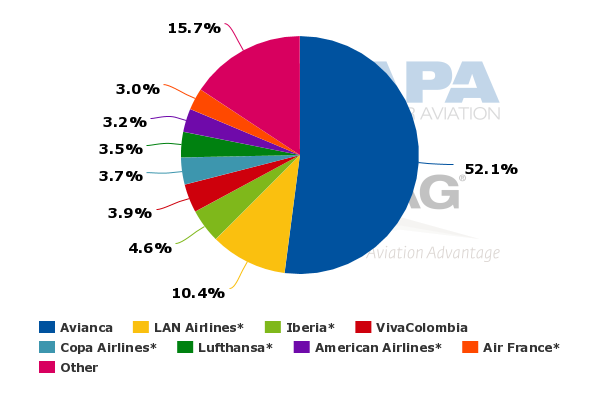 Copa works to shift capacity from weak routes into less volatile markets in 2H2015
Given the weakness in South America, Copa is obviously making some network adjustments to combat those challenging markets. Between Aug-2015 and Nov-2015 it is cutting frequencies from Panama City to the Brazilian markets of Belo Horizonte, Brasilia, Porto Alegre, Sao Paulo Guarulhos and Campinas Viracopos. Mr Heilbron also cited reduction of frequency to Rio de Janeiro. The demand environment in Brazil also resulted in Copa reducing frequency on its route from Panama City to Las Vegas due to diminished demand on connecting traffic from Brazil.

Copa is targeting less volatile markets with new route additions, recently launching service from Panama City to New Orleans and Puebla and Villahermosa in Mexico. Its other destinations in Mexico include Mexico City Juarez, Cancun, Guadalajara and Monterrey.

During 4Q2015 Copa is adding service from Panama City to San Francisco and Belize, which Mr Heilbron explained were made possible by capacity cuts made in other markets. Service to San Francisco is scheduled for daily and Belize will feature two weekly flights.
Lingering weak conditions drive Copa to issue a second downward revision on guidance
Copa does not anticipate much change in unit revenue and yield deterioration in 3Q2015. The company believes the decrease in 3Q will be less than 2Q2015, "even on an overall basis you are still seeing a reduction on double digit terms" said Copa chief financial officer Jose Montero.

The airline has further revised its unit revenue, margin and capacity guidance for 2015. It now anticipates an operating margin of 11% to 13% versus original projections of 16% to 18%. Its capacity forecast has fallen from 7% growth to 5% growth. Copa expects to end 2015 with 100 aircraft comprised of Boeing 737-700/800 narrowbodies and Embraer 190s.

It will obviously take some time for economies in Venezuela and Brazil to rebound. Mr Heilbron advised it was too early to offer guidance for 2016, but concluded that "more than anything what we need is stable currencies and stable economies"; but given the outlook for Venezuela and Brazil (negative 4% forecasted economic growth for Venezuela in 2016 and Brazil's current forecast is just 1% growth), a yield recovery for Copa could occur beyond 2016.
Copa Airlines capacity, margin and unit revenue guidance: end 1Q2015
Copa Airlines capacity, margin and unit revenue guidance: end 2Q2015

Copa is making the right moves to combat challenges, but the markets may still be spooked
Copa's business model is built on capitalising on Panama's geographical advantage to funnel passengers through Panama city Tocumen to Central and South America. Its strategy has been a success, reflected in Copa's solid financial results during the last several years. The airline posted margins above 17% between 2005 and 2014.

It is not surprising Copa is enduring fallout from weak economic conditions in Latin America, but the airline is making the right moves by redeploying underperforming capacity to more promising markets. It also has fleet flexibility to notch its growth down in 2016 if conditions remain status quo. The company has already stated that its fleet count will remain flat year-on-year in 2016.

A potential partnership with - or at least feed from - Emirates' new service from Feb-2016 would give a boost to passenger levels, but investors do not look much beyond the short term.
See also: Emirates' USA growth anchored around JetBlue and Alaska Air hubs. Panama City for LatAm Growth
Even if Copa is making all the right moves to diversify its network and keep growth at reasonable levels, unfortunately its attractiveness to the market may dim until Latin American embarks on a steady path to stability.