Avianca benefits in Colombia from restructuring at new LAN subsidiary Aires
Avianca has been the main beneficiary of the restructuring at Colombian-low cost carrier Aires, growing its share of the domestic market and improving its profitability since LAN acquired Aires late last year. Avianca also has benefitted from capacity reductions by the other two main players in Colombia's domestic market, Copa Colombia and Satena.
As part of its earnings report for 2Q2011, Avianca-TACA indicated it now has a 55% share of the Colombian domestic market, up from 53% in 2Q2010. Based on traffic data from Colombia's CAA, Avianca has grown its market share over the last year primarily at the expense of Aires as well as its regional partner Satena.
Aires and Satena report declines in domestic traffic
Based on the latest available data available from Colombia's CAA (see background information), Aires saw its domestic traffic drop by 5% through the first five months of 2011 to 1.2 million passengers. Copa Colombia recorded a 1% drop in domestic traffic over the same period to 900,000 passengers while Satena's traffic declined by 23% to 300,000 passengers.
Based on these figures Aires captured an 18% share of Colombia's domestic market in the Jan-2011 to May-2011 period, compared to 20% in the same period last year. Copa has maintained a 14% share while Satena has seen its share drop from 7% to 5%. Small regional carrier Easyfly has grown its share of the Colombian domestic market from 2% to 3% while even smaller turboprop operator Antioquia has maintained its 1% share of the market.
After recording some of the world's fastest growth rates in 2009 and 2010, Colombia's domestic market overall has posted only modest growth this year. Total traffic in the Jan-2011 to May-2011 period was up only 4% to 6.5 million passengers. With the exception of Easyfly and Antioquia, Avianca was the only carrier to grow its domestic traffic – recording a 12% increase to 3.8 million passengers.
Domestic capacity shrinks, resulting in higher load factors and return to profitability
Total domestic capacity in Colombia has actually decreased this year by 2%. While Avianca has increased domestic capacity by 6% through the first five months of 2011, Aires has slashed capacity by 17%, Copa by 7% and Satena by 12%.
The capacity reductions at Aires have been introduced by LAN as part of an overall restructuring that began after LAN took over management of the carrier at the end of last year. Copa Colombia has been steadily reducing domestic capacity the last two years as part a plan to increase its focus on more profitable international flying, in particular to the Panama City hub of its larger Panamanian sister carrier.
Satena has been reducing capacity as part of its own restructuring and recapitalization, which could lead to a partial privatisation of the air force-owned carrier. The Colombian government is now looking to sell a 49% stake in Satena to a strategic investor.
The overall reduction in capacity in the Colombian domestic market has resulted in a much needed improvement in average load factor from 71% to 76%. Colombia's domestic market experienced low load factors, over-capacity and irrational fare wars for most of 2009 and 2010. The unfavourable market conditions were brought about primarily by Aires' adoption of the LCC model in early 2009, which brought Colombia its first taste of low fares.
Aires restructuring nears completion; rebranding to LAN Colombia and start of transition from B737s to A320s planned for 4Q2011
Aires is now in the latter stages of a restructuring effort which is aimed at adjusting the carrier's business model, implementing more rational fares and improving profitability. The restructuring effort, which began at the beginning of this year, is expected to be completed in 4Q2011, at which point Aires will be re-branded LAN Colombia.
LAN also plans to begin transitioning in 4Q2011 Aires' narrowbody fleet to A320s using the group's large order-book for the type. Aires now operates nine B737-700s, which are used on domestic trunk routes, but LAN CFO Alejandro de la Fuente told analysts during the group's 2Q2011 earnings conference call that Aires will take its first A320 in 4Q2011.
Mr de la Fuente expects Aires to be operating five A320s by the end of next year and transition to an all-A320 narrowbody fleet by the end of 2012, although the exact timing hinges on LAN's ability to negotiate early B737 returns with lessors. As the LAN group currently only operates A320 family aircraft, the switch at Aires will result in new synergies and help lower unit costs.
Possible closure of Aires regional operation could lead to more Avianca market share gains
Aires also now operates 16 Dash-8 turboprops, which are used on thinner domestic routes. Mr de la Fuente said LAN has not yet decided whether LAN Colombia will retain this fleet and its regional network. LAN currently does not have any turboprops in its group fleet and is not generally interested in serving thin regional markets.
If LAN decides to phase out the turboprops in Colombia, Avianca would again be the main beneficiary. Avianca currently serves regional routes with a fleet of 10 F-50 turboprops.
According to Colombian CAA data, so far this year 59% of Aires' capacity has been allocated to trunk routes while the remaining 41% has been allocated to regional routes. Focusing only on the trunk routes and A320s could result in LAN Colombia only capturing about 10% of the total domestic market. This share could increase as LAN Colombia expands its narrowbody fleet but more likely the carrier will use additional aircraft to expand its share of the more profitable international market. As a result, LAN may end up following the strategy now used by Copa Colombia, which continues to compete against Avianca and Aires on most trunk routes but has only been expanding in the international market.
Satena, EasyFly and Antioquia could also benefit if LAN decides to exit Colombia's regional market. EasyFly operates J41 turboprops while Antioquia operates smaller J31s, with both carriers focusing on niche point-to-point routes and following independent regional carrier models.
Avianca codeshares with Satena, which operates a fleet of ATR-42 and Do-328 turboprops along with ERJ145 and E170 regional jets. Satena uses its turboprop fleet primarily on routes in the remote Amazon region, where there is no competition and service is provided as a public service. But its jets are used in larger markets which are also served by private carriers.
Fleet breakdown for aircraft in service in Colombia as of 05-Sep-2011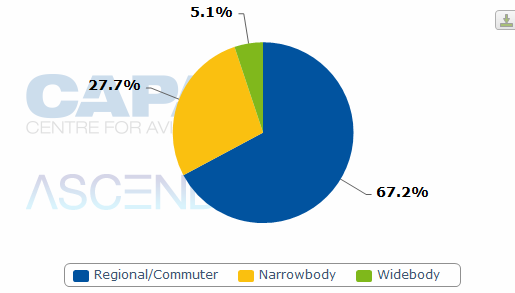 Aires' B737-700 operation had followed a pure low-cost model while the carrier's original turboprop business continues to follow a regional carrier model. Aires began competing on domestic trunk routes in Feb-2009, after taking delivery of its first batch of B737-700s, and in Nov-2009 used the type to launch services to the US. The resulting competition on domestic trunk routes, which was previously dominated by full-service operators Avianca and Copa Colombia, led to significantly lower fares and losses for all carriers. Aires was particularly unprofitable and was almost out of business when LAN purchased the carrier in 4Q2010.
Aires expected to incur small loss in 2H2011 and be profitable in 2012
Under LAN, Aires has so far continued to bleed money, incurring losses of USD22 million in the Dec-2010 to Jun-2011 period. But as the fruits of the restructuring effort are now starting to be realised, the losses are moderating and LAN expects the carrier will only incur losses of USD2 million to USD3 million in 2H2011.
Originally LAN expected Aires would not be break even until the end of this year but LAN executives say there are now indications the turnaround will be completed quicker than expected. Aires is expected to be profitable in 2012.
Aires has significantly improved its load factor after LAN initiated a major adjustment of the carrier's schedule and network at the beginning of this year. According to Colombian CAA data, the carrier's average domestic load factor was 68% through the first five months of this year, compared to only 60% during the same period last year.
The higher loads came as Aires significantly cut capacity on trunk routes. For example, Aires' load factor in Colombia's largest domestic route, Bogota-Medellin, improved from only 49% in the Jan-2010 to May-2010 period to 64% in the Jan-2011 to May-2011 period as capacity on the route was slashed by 24%. In Colombia's second largest route, Bogota-Cali, Aires' load factor has improved from 52% to 62% as capacity has decreased by 17%.
Avianca-TACA profitability increases as domestic competition in Colombia eases
Avianca also has seen its load factor improve on these two and other trunk routes despite an increase in capacity. In addition, profitability of Avianca's domestic operation has improved as the rise in fares and load factors has more than offset the increase on fuel prices.
Avianca-TACA does not report profit figures for only its Avianca unit, but the group turned a net profit of COP46.5 billion (USD26 million) in 1H2011, compared to a net loss of COP119.6 billion (USD67 million) in 1H2010. The turnaround was driven in part by improvements in the Colombian domestic market. Better market conditions in Colombia also helped drive a 19% increase in group revenues to COP3.187 trillion (USD2.17 billion).
Avianca-TACA financial highlights for 1H2010 vs 1H2011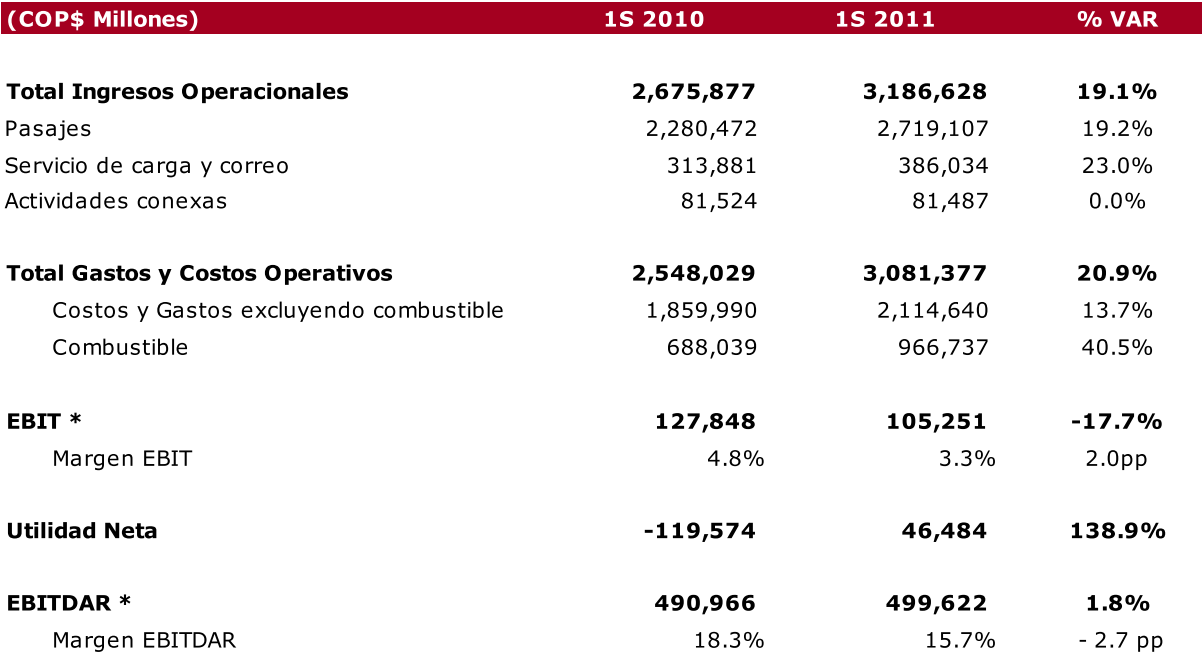 The Colombian domestic market is critical to Avianca-TACA's success as it accounts for 48% of the group's total passengers. The group says it is now focusing on further growing its core markets, in particular markets where it already has a leadership position.
The group says in 2Q2011 it increased capacity by 17% on international routes that connect its various home markets, which include Colombia, Ecuador, Peru and the Central American countries of Costa Rica and El Salvador. Domestic capacity in these home markets also collectively increased by 10% in 2Q2011 compared to 1Q2010.
Avianca-TACA market share in domestic markets, 1Q2010 vs 2Q2011

While Avianca is the largest carrier in Colombia, well ahead of new LAN subsidiary Aires, it does not enjoy such a status in any other South American market. TACA Peru is much smaller than LAN Peru in the Peruvian domestic and international markets. LAN Ecuador is also now larger than Avianca-TACA subsidiary AeroGal in Ecuador's domestic and internatioanl markets, according to Innovata capacity data. LAN also has domestic operations in two markets where it doesn't compete with Avianca-TACA – Argentina and Chile.
Avianca and Copa Colombia increase their international traffic
Avianca-TACA, including the Avianca unit, also has seen its international traffic and load factor increase so far this year. Based on Colombian CAA data, Avianca's international traffic through the first five months of this year increased by 7% to 1.2 million passengers despite a 2% decline in capacity. As a result, the carrier's international load factor improved 7ppt from 74% to 81%.
Rival Copa Colombia has been expanded internationally much faster, recording 64% passenger growth in the Jan-2011 to May-2011 period to 300,000 passengers while its load factor has improved from 69% to 71%. Some of this growth, however, has come as a result of flights between Colombia and Panama being transferred over from sister carrier Copa Airlines. Panama-based Copa Airlines saw its traffic to and from Colombia drop 26% during the same period to just over 100,000 passengers.
Most of Copa Colombia's international capacity is now allocated to routes connecting several Colombian cities with Panama. But Copa Colombia also operates a small point-to-point international network from Bogota.
Copa Colombia, formerly known as Aerorepublica, has generally been unprofitable since the carrier was acquired by Copa Holdings in 2005. But the group, which earlier this year stopped reporting profit figures for the Colombian unit, has said profitability in Colombia has improved significantly over the last year as a result of improved conditions in the domestic market, which have resulted in improved yields, and its decision to focus more on the international market.
Satena also recently stated its profitability has improved significantly over the last year. The carrier reportedly turned a profit of COP12 billion (USD7 million) profit in 1H2011, compared to a loss of COP1 billion (USD0.6 million) in 1H2010.
Copa Holdings CEO Pedro Heilbron told analysts during the group's 2Q2011 earnings call that its Colombian unit has no plans to add back domestic capacity and is satisfied with its current position. "We have our niche and we are staying there," Mr Heilbron explained. "We have reduced domestic capacity and strengthened our Colombia to Panama hub service. We have moved away somewhat from the competition in the domestic market that Avianca and LAN are producing. We're not forecasting a negative impact on our yields or generally in our Colombia revenues. We think we've made the necessary moves to avoid that."
Aires international operation shrinks to only four weekly flights
Overall international passenger traffic in Colombia has grown by 13% through the first five months of this year as the growth at Avianca and Copa has offset reductions at Aires.
Aires currently only operates one international route, Bogota-Fort Lauderdale, with four weekly B737-700 frequencies. The carrier in January dropped its two other international destinations, New York and Panama City. At the same time it also drastically cut its operation in Fort Lauderdale, where it had multiple daily frequencies from Bogota as well as direct services from three other Colombian cities.
Only 1% of Aires' capacity now is allocated to the international market but LAN plans to restore some of Aires' international network as well as resume domestic growth after the restructuring at Aires is completed later this year. Mr de la Fuente says LAN also sees opportunity to potentially develop long-haul routes from Colombia. This would result in significantly increased competition against Avianca, which is currently the only Colombian long-haul carrier.
As Aires restructures under LAN, LCC penetration rates in Colombia shrink
The capacity reductions at Aires have also significantly reduced Colombia's LCC penetration rates in both the international and domestic markets. Based on capacity figures from OAG, LCCs so far this year have only accounted for 3.6% of all seats in the Colombian international market, down from 6.3% in 2010 and 5.3% in 2009.
LCC capacity share (%) of total seats in Colombia's international market: 2001-2011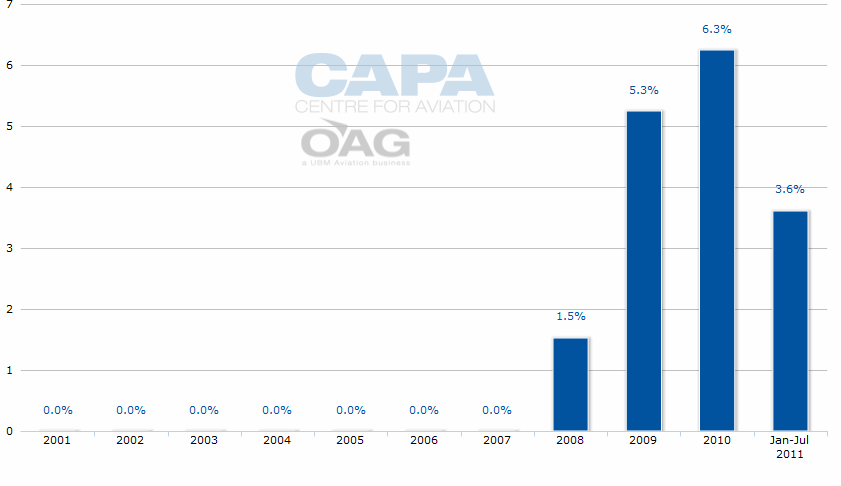 Currently Colombia is only served by two foreign LCCs, Spirit Airlines and JetBlue Airways, as Brazil's Gol recently dropped its Sao Paulo-Bogota service. Spirit connects its Fort Lauderdale hub with four Colombian cities – Armenia, Bogota, Cartagena and Medellin. It currently offers 4,494 seats per week to and from Colombia, according to Innovata data, making it the third largest US carrier in Colombia after American and Continental.
JetBlue operates a daily A320 flight on the New York-Orlando-Bogota route, which it launched in early 2009 and currently provides 2,100 low-cost seats per week in the Colombian market. According to Colombian CAA data, Spirit flew 105,000 passengers to and from Colombia over the first five months of this year with an average load factor of 79% while JetBlue flew 33,000 passengers to and from Colombia over the same period with an average load factor of 85%.
LCC pioneer Spirit has no plans for now to further expand in Colombia
Spirit in many respects was a low fare pioneer in the Colombian market, as its service came before JetBlue and Aires' adoption of the LCC model. Spirit even persuaded Armenia, a small airport which did not have any international services, to upgrade its airport to support flights from the US.
Although Aires at one point operated about three flights per day at Spirit's base of Fort Lauderdale, Spirit never considered Aires a direct competitor. Spirit CEO Ben Baldanza tells CAPA that the carrier has not benefitted from Aires' significant reduction in capacity to Fort Lauderdale. He says for now Spirit has no plans to add capacity to Colombia and sees Aires' reduction less as an opportunity and more as an important correction in a market that became oversaturated.
"We never really considered Aires much of a competitor. Basically there have been increases in capacity to Colombia from a number of different players. It was an extremely restrictive market that in a couple of years as a result of (bilateral changes) a lot of capacity flooded into the market. Now it's kind of working itself out," Mr Baldanza says. "The market is getting back to normal. You see that every time a constrained market becomes unconstrained."
The recent signing of an open skies agreement between the US-Colombia could potentially enable Spirit and other carriers to launch service to new Colombian markets and add capacity in existing markets. But as restrictions been the two countries have already been significantly relaxed over the last few years as a result of expanded bilateral agreements, the implementation of open skies may not lead to any immediate response from Spirit or other carriers.
"As Colombia becomes more open skies we'll continue to evaluate Colombia the way we evaluate everything we do," Mr Baldanza explains. "It will really come down to the economics of flying to more cities in Colombia or more frequencies to Colombia versus the next thing the airplane can do. It's old school thinking to say the market opens up so I have to go there now ... We are very happy with our service to Colombia and Colombia has proven to be a good growth market for us, especially because fares were very high and competitors generally had much higher costs than we have."
Launch of new Colombian LCC will fill the void left at the bottom end of the market
While Spirit's relatively large presence in Colombia will ensure the country continues to have at least some LCC service in the international market, in the domestic market Colombia's LCC penetration rate will revert back to zero - where it was before 2009 – at the end of this year as Aires is rebranded LAN Colombia. But the domestic penetration rate should start to crawl back up starting next year after the launch of VIvaColombia, a new low-cost carrier backed partially by investment firm Irelandia Aviation – a key shareholder in Ryanair and Mexican LCC VivaAerobus.
VivaColombia is now preparing to launch services in 1H2012 and is expected to quickly become a major player on domestic trunk routes. The carrier plans to launch with three A320 or B737 aircraft and have a fleet of at least five aircraft by the end of 2012. Avianca, Copa and LAN are hoping VivaColombia's entrance will not return the market to the irrational competition and over-capacity seen for much of 2009 and 2010.
It is too early to say how the new LCC competition will impact profitability of Colombia's three main carriers. But it is almost certain the Colombian domestic market will resume major growth, with the 30% traffic growth figure recorded in 2010 potentially repeated.
As it will be better funded than Aires and be led by a management team with more industry experience, VivaColombia is viewed widely as a long-term player. VivaColombia is also confident it will have much more success with the LCC model than Aires, which had its roots as a full-service regional carrier, because VivaColombia will start with a clean sheet and focus on a purer version of the model.
Exchange rate used: 1USD = COP1786
Background information
Domestic traffic and operating figures in Colombia by carrier (seats, passengers boarded and load factor) for May-2011 vs May-2010 and Jan to May-2011 vs Jan to May-2010

International traffic and operating figures in Colombia by carrier (seats, passengers boarded and load factor) for May-2011 vs May-2010 and Jan to May-2011 vs Jan to May-2010