Copa reports record 2Q profit, upgrades forecast on strong intra-Latin America demand
Analysis
Copa has reported record second quarter earnings as strong demand in Latin America fuelled increases in yield and load factor that were sufficient to offset rising oil prices. The Panama-based airline group remains bullish on its prospects for the rest of 2011 and beyond as economic conditions in its markets remain favourable. As a result, Copa expects to continue posting industry-leading operating margins of about 20% even as capacity grows at a clip exceeding 20%.
Copa Holdings, which has airline subsidiaries in Panama and neighbouring Colombia, turned a net profit of USD41 million in 2Q2011, a 41% increase over 2Q2010. Excluding special items, Copa's profits improved by 53% to USD57 million.
Revenues jumped 41% in 2Q2011 to USD429 million, driven by a 28% increase in traffic and 11% improvement in yield. But costs only increased by 36% to USD353 million. As a result the group's operating profit increased by 73% to USD75million.
Copa posted an impressive operating margin of 17.6%, compared with 14.4% in 2Q2010. Copa had an even higher operating margin in 1Q2011, when it was 24.1%, but the second quarter is typically Copa's weakest quarter.
Copa Holdings financial highlights, 2Q2011 vs 2Q2010 and 1Q2011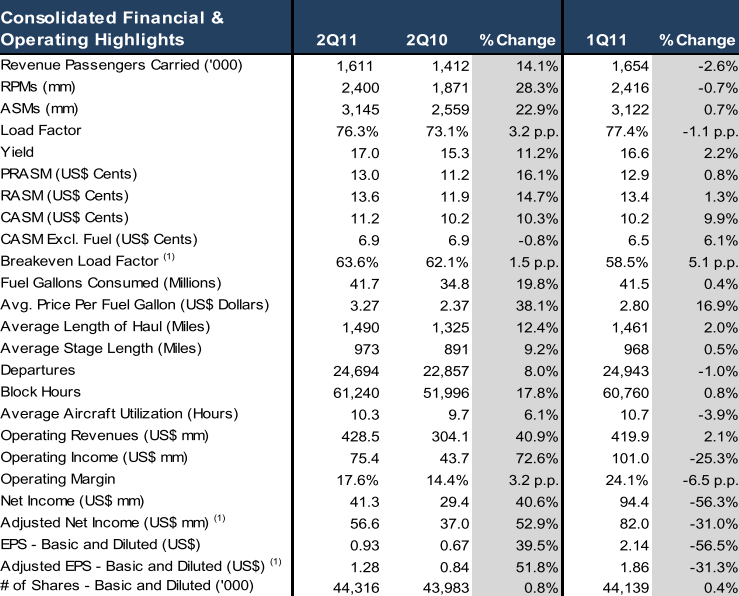 Copa Holdings CEO Pedro Heilbron told analysts that "a very healthy revenue environment" allowed Copa to post its largest ever second quarter profit. He says the strong financial performance in the first half as well as the continued strength of business travel in Latin America has prompted Copa to upgrade its outlook for the full year.
"We think the economic environment is very favourable," Mr Heilbron said, pointing to the expectations for GDP growth this year of 5% in Latin America and 8% to 9% in Panama. "The outlook for the region and Panama in particular continues to be very positive."
Copa expects full year operating margin of 19%-21% despite high oil prices and 21% higher capacity
Copa now expects to end 2011 with an operating margin of 19% to 21%, compared with previous guidance predicting a full year operating margin of 18% to 20%. The new outlook is roughly in line with its performance in 2009 and 2010, when it posted operating margins of 20.7% and 20.5% respectively. Even during the global economic downturn in 2008, Copa's operating margin remained a very healthy 17.4%.
Copa's revised outlook for 2011

Despite the upgrade, the outlook remains relatively conservative as Copa is only forecasting to end 2011 with a load factor of 75%. The group's load factor was 76.3% in 2Q2011, a 3.2ppt improvement over 2Q2011, and its 1Q2011 load factor was 77.4%. Typically Copa has higher load factors in the second half. The company sees continued strong demand in 2H2011 but for now is being conservative with its load factor prediction for 2H2011 because the pace of the capacity increases will pick up in 2H2011.
Copa CFO Victor Vial said capacity will grow in 3Q2011 by 10% compared with 2Q2011 levels and by another 5% in 4Q2011 compared with 3Q2011 levels. For the full year, Copa is projecting a capacity increase of 21% beyond 2010 levels.
Copa to launch three new destinations in Dec-2011, extending network to 57 cities
The additional capacity for 3Q2011 is being driven mainly by a range of new flights which were added in mid-Jun-2011, when four new destinations (Brasilia, Porto Alegre, Nassau and Toronto) were launched as well as additional frequencies to several destinations. More capacity in several other markets is being phased in during 2H2011 and in Dec-2011 Copa will add three more destinations – Asuncion in Paraguay, Cutuca in Colombia and Chicago O'Hare. The expansion will give Copa a network of 57 cities in 28 countries, according to Mr Heilbron is "by far the most complete and convenient network for intra Latin America travel".
Copa's network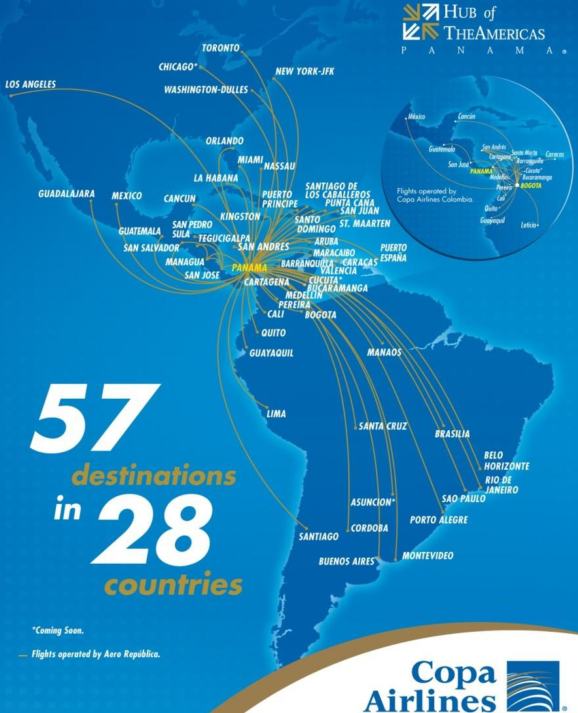 Copa operates an all-narrowbody fleet and exploits its advantageous geographic position in the middle of the Americas, where virtually every city in North and South America is within the range of a B737NG. While it is the sixth largest airline group in Latin America, Copa is the largest carrier when it comes to international traffic within Latin America and the Caribbean, a sector that has been growing rapidly in recent years. While Copa also connects Latin America with several destination in North America, currently only 12% to 13% of its sales are generated in the US and Canada.
Copa expects to continue to cash in on rapid growth in intra-Latin America travel
Copa is confident of continued rapid growth in intra-Latin America travel as the region's economies and middle class expand rapidly. Business travel within the region is also growing as trade between countries in Latin America and the Caribbean, where traditionally more trade and business ties were with the US and Europe, grows.
As Copa's hub at Panama City Tocumen Airport offers by the far the largest number of connections within the region, the carrier is particularly well positioned to benefit from this growth. In fact Copa faces limited or no competition on many of its city pairs, which allows it to more easily pass on higher fuel prices as well as benefit from any increases in demand.
The potential for new competition in many of its city pairs is also limited because so many of these markets are still very small but put together create a powerful combination. Copa says 73% of its passengers now fly on city pairs which account on average for 20 or fewer daily passengers.
Percentage of Copa passengers (per day each way) by size of city pair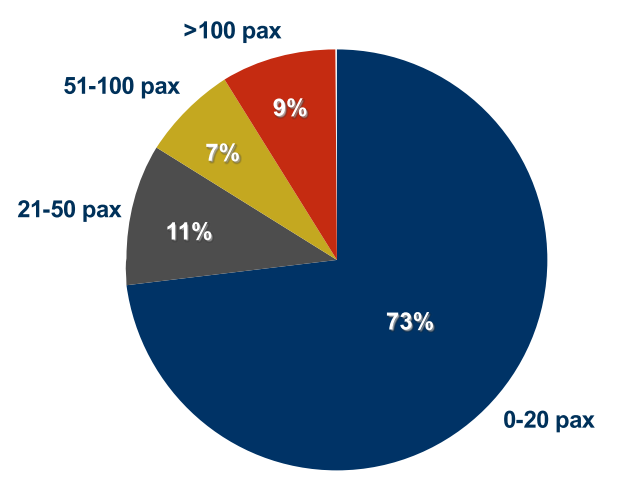 Copa improved the connections available across its network in June, when it opened a fifth and sixth bank of flights at Panama City. Mr Heilbron said the transition to six banks "marks a major milestone in our operation and will give us a significant advantage over our competitors by providing our passengers with more and better flight options; by permitting significant schedule improvements to major destinations in North America and South America; and by allowing us to better utilise the Tocumen airport infrastructure, personnel and equipment by spreading our operations throughout the day."
The prospect of more competition for Copa in its intra-Latin America niche is also unlikely because of the congestion at competing hubs in the region. While Copa has plenty of space to grow at Tocumen there is a lack of gates and infrastructure at Bogota, El Salvador, Lima and San Jose in Costa Rica. All four of these cities are hubs for rival airline group Avianca-TACA while LAN also now has hubs in Bogota and Lima.
Panama City will have 34 gates when 12 additional gates open in 4Q2011 as part of an expansion project that also includes new taxiways which Copa expects will expedite arrivals and departures. Lima has 19 international gates, El Salvador has 17 international gates and Bogota has just nine international gates although Bogota is now working on a badly needed expansion which will add in 2014 five dedicated international gates and seven swing gates which can be used for domestic or international flights.
Leading hubs for intra-Latin American traffic by international gates and international destinations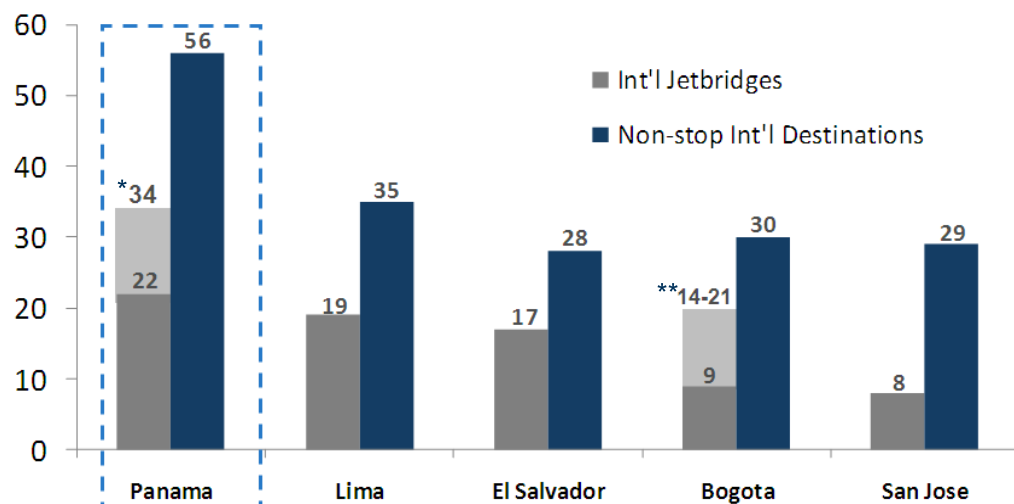 Leading hubs for intra-Latin American traffic by airline group and total destinations (domestic and international)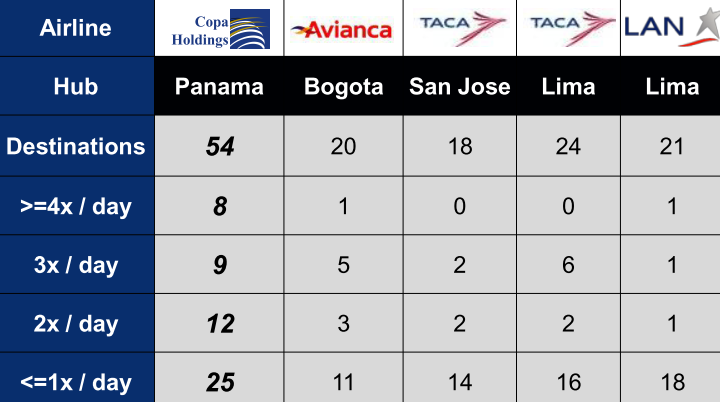 Mr Heilbron says Bogota El Dorado is particularly "very restricted" and "there's no room to grow there during peak periods". Copa Colombia is also based at El Dorado. But Mr Heilborn says Copa has been decreasing its Bogota-based domestic Colombian operation and focussing instead on increased capacity on flights from other Colombian cities to its Panama City hub.
These flights allow international passengers coming from Colombian cities other than Bogota, several of which are experiencing rapid economic growth, to bypass congested El Dorado. Cucuta will be the ninth Colombian city linked to Copa's Panama City hub. Copa Colombia also has a small network of point-to-point international flights from Bogota but Mr Heilbron says this remains a small niche operation and "we don't see that changing in coming months".
Copa analyses 23 potential new destinations throughout Americas
As Copa expects to continue adding capacity at about a 20% p/a rate, it is now evaluating several new potential destinations throughout the region. Copa network development charts show 23 potential new markets beyond the seven being added this year. Five of these are in Mexico, five are in Brazil and three are in the US.
Copa's potential new destinations (including those being launched this year)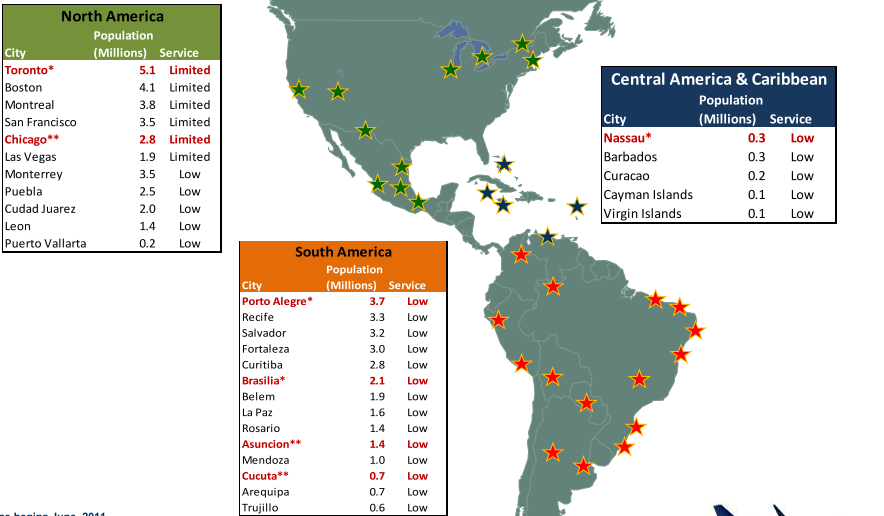 Brazil particularly represents a huge growth opportunity for Copa as it the largest and one of the fastest growing economies in Latin America. Economic expansion in Brazil has been spreading to the country's secondary cities, where there is increasing demand for international travel bypassing the congested hubs in Rio de Janeiro and Sao Paulo.
Copa has already been rapidly expanded into some of these secondary Brazilian cities. The recent addition of Brasilia and Porto Alegre gives the carrier six Brazilian destinations, joining Belo Horizonte, Manaus, Rio de Janeioro and Sao Paulo. Five years ago Copa only served one destination in Brazil – Sao Paulo.
Mr Heilborn expects Copa will continue adding about five destinations to the group's network annually. He said the seven destinations being added this year, which is an unusually high number even for rapidly growing Copa, represents catch-up growth as the group didn't open any new destination in 2009 or the first 11 months of 2010, when it focussed on consolidating its operation on existing routes.
Copa continues to rapidly expand B737NG fleet and has high hopes for the re-engined 737
Copa have the new aircraft commitments in place that are needed to continue to pursue rapid network growth. According to Ascend data, Copa currently has 51 additional B737-800s on order.
Copa ended 2Q2011 with a group fleet of 40 B737NGs and 26 E-190s. It will take seven more B737-800s in 2H2011, including one which was delivered in Jul-2011, giving it a year-end fleet of 73 aircraft.
Copa's fleet plan, 2009 to 2013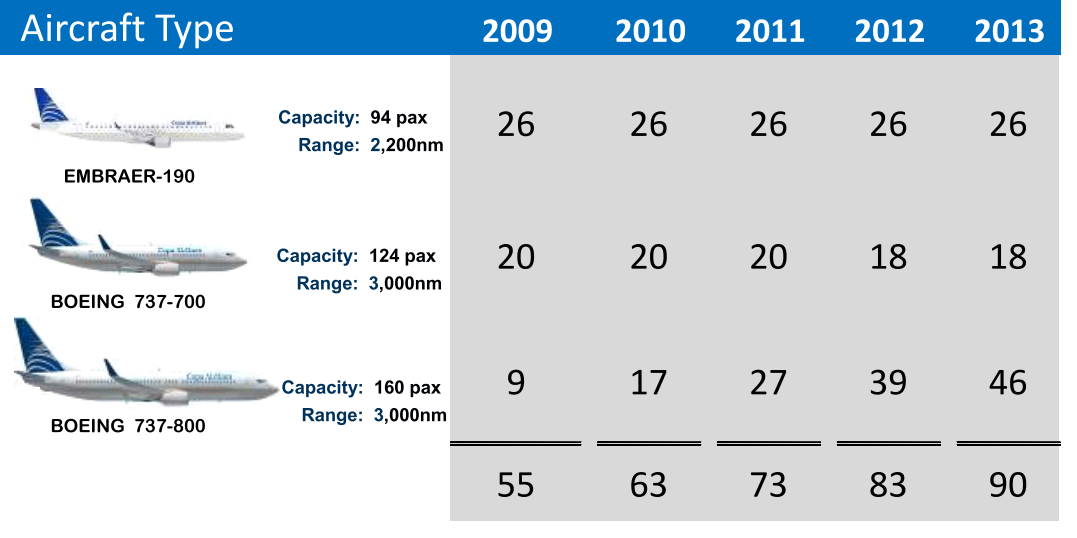 Mr Heilbron revealed during the 2Q2011 analyst call that Copa also is planning to soon start evaluating the re-engined B737, which Boeing plans to formally launch in 3Q2011. Copa could potentially switch to the new type late this decade after all the current generation B737-800s it has on order are delivered.
"We need something starting in 2018 and beyond. We have lot of options in 2018. We have nothing ordered after 2018. So as of 2019 we need to order new aircraft," Mr Heilbron told analysts. "We are very interested in any new development. But we don't know enough right now about that new Boeing aircraft. We will be meeting with them in the coming weeks. We hope to gather enough information to be in a position to make a decision. I don't know if it will happen overnight. We still need to learn a lot more about this aircraft. We are an interested party."
The extra range generated by the new engines could also allow Copa to improve operation in some of its longer routes. Copa now has some of the longest B737 routes in the world, such as Panama City-Montevideo and Panama City-Buenos Aires. The new CFM Leap X engine, which is expected to provide about a 15% improvement in fuel burn and therefore range for the B737NG family, could allow Copa to remove payload restrictions on its longest routes, resulting in significantly lower unit costs in some key markets.
As Copa has a need for a relatively long-range re-engined B737, Mr Heilbron said the carrier could have "a significant role" in determining the design of the new aircraft. "We operate the 737NG to its maximum performance limit so we have particular needs that will be of interest to us and Boeing," he said.