AirAsia Japan Mk II to be Japan's fifth LCC since 2012. AirAsia enters better informed and prepared
Analysis
AirAsia will re-enter Japan in 2015 more experienced about partnership and Japan market needs. The first AirAsia Japan has been a good learning trajectory and the lessons learned from working with majority owner All Nippon Airways have translated to a new partnership profile that avoids a Japan airline JV. AirAsia Japan Mk II – the country's fifth LCC since 2012 – will have four local investors, with none holding a majority share – and who are more likely to be happy to go along with AirAsia's low cost philosophy.
One investor, web travel giant Rakuten, establishes the intriguing scenario of entrepreneurs at AirAsia Japan and Skymark trying to take on the ANA and JAL establishment in Asia's second-largest domestic market where fares are absurdly out of kilter with global practice. Hybrid and LCC penetration was approximately 19% in FY2013, but the new LCCs – with truly low cost bases – still had only a 13% share. There is room still for major change.
AirAsia Japan will re-enter probably to be based at Nagoya, which has no LCC competition (for now) and no curfew, unlike its former base of Tokyo Narita. AirAsia Japan will also be painfully aware of the importance of near-perfect punctuality in Japan and user-friendly website design, where it stumbled the first time around. It will follow a relatively modest time frame for establishment this time too, recognsing the quirky processes – formal and informal – that plague Japan's aviation administration. AirAsia and ANA (with Vanilla) are each reattempting an LCC. If allowed its head, the new AirAsia Japan holds considerable promise.
AirAsia Japan will launch in 2015 with Rakuten as headline investor
AirAsia Japan was formally announced on 02-Jul-2014 with a launch in mid-2015. Its initial capital is JPY7 billion (USD69 million), with CEO Yoshinori Odagiri, who was AirAsia Japan Mk I's second CEO. Mr Yoshinori replaced an executive from ANA with whom AirAsia did not see eye-to-eye.
AirAsia and its founder Tony Fernandes have learned from their mistake in AirAsia Japan Mk I, where they gave another airline a majority shareholding and a full service airline at that. Japan, like most other countries, makes domestic airlines subject to local majority ownership. AirAsia and Mr Fernandes have smartly constructed AirAsia Japan Mk II such that AirAsia Japan's majority local ownership (51%) will be split amongst five Japanese companies, ensuring AirAsia Group's minority 49% share is actually the single largest shareholding. Importantly too, each of the partners has the potential to bring something constructive and complementary to the table.
The investors are:
AirAsia Group: 49%
Octave Japan Infrastructure Fund: 19%

Rakuten: 18%

Noevir Holdings (conglomerate with an aircraft leasing business): 9%

Alpen (sports firm): 5%
See related report: AirAsia Japan collapses after AirAsia Group was too bearish while ANA lacked experience
Attracting considerable attention is Rakuten, run by Hiroshi Mikitani, Japan's fourth-richest man. Rakuten is one of Japan's largest travel websites, giving an echo to when HIS participated in the foundation of Skymark, whose executive team came from the IT sector. As the story had it, AirAsia's original planned partner in Japan had been Skymark, before ANA stepped in, so there is a history of contacts.
The relationships possibly set up a scenario where AirAsia Japan and Skymark, with their savvy internet heritage, challenge the ANA/JAL establishment. There are also opportunities for Rakuten to sell AirAsia Japan flights, or at the very least promote the airline actively. (It is unclear where Expedia stands, which has a JV with the AirAsia Group.)
Nagoya is the expected base for AirAsia Japan
AirAsia Japan has not announced its base but it is all but guaranteed to be Nagoya, where AirAsia Japan is incorporated. Additionally, AirAsia founder Tony Fernandes has in the past positively spoken about Nagoya, and AirAsia Japan Mk I briefly had a base at Nagoya before AirAsia withdrew its involvement.
See related report: Peach holds strong, AirAsia Japan drops CEO & Jetstar Japan reduces Kansai; Nagoya new battleground
There are some AirAsia X-AirAsia Japan synergies in Nagoya, but the focus is Japan
AirAsia has an advantage in that it will begin operations with a considerable possible upside in terms of market feed. Connections and feed are increasingly important at the AirAsia Group as it establishes JVs across the region, and there will be potential for some synergies between AirAsia Japan and long-haul sister AirAsia X in Nagoya.
AirAsia X in Jul-2014 flies from Kuala Lumpur to Nagoya four times a week, according to OAG schedules. Two of the flights arrive in Nagoya at 08:20, permitting a full day's worth of connections, while the other arrives in Nagoya at 16:20, offering more limited connections. On the Nagoya-Kuala Lumpur sector, two weekly departures from Nagoya at 09:35 offer limited, if any, connections while a 17:35 departure from Nagoya facilitates connections. This of course could change, as the market evolves and as AirAsia X grows.
AirAsia Japan-AirAsia X synergies could be present in other cities AirAsia Japan will serve. Tokyo is unlikely to be served from Nagoya given its close proximity but could be served from a subsequent AirAsia Japan base. Nonetheless, Tokyo is a large enough market on its own.
AirAsia X serves Nagoya, Osaka Kansai and Tokyo Haneda from Kuala Lumpur. Thai affiliate Thai AirAsia X serves Seoul Incheon from Bangkok (with Japan services to launch later in 2014) while future affiliates, including Indonesia AirAsia X, could also serve Japan. Their development in cities outside of Osaka and Tokyo will likely be slower.
Nonetheless, any AirAsia Japan-AirAsia X synergies will be welcome but not critical to either, at least in the foreseeable future. AirAsia Japan's focus will be on the Japanese market while AirAsia X will be more dependent on connections around Southeast Asia. Japan's tourism sector is still relatively under-developed, with many smaller destinations to be explored, meaning inbound passengers will stick to major Japanese cities, which AirAsia X serves. Japanese outbound passengers however have a wider selection of established destinations around Southeast Asia, many of which can currently only be reached with a connection.
The AirAsia Group has said its short-haul bases could be future bases for long-haul AirAsia X operations. However, such a prospect in Japan is likely distant at best as core markets from Japan can be more effectively served from other Southeast Asia-based AirAsia X operations.
Outlook:
(1) As AirAsia Japan becomes Japan's fifth LCC, consolidation is possible – but unlikely

The prospect of a fifth LCC in Japan since 2012 raises the question of excess capacity (albeit perhaps temporary) and consolidation. For now, Japan's LCCs are carving their respective niches. Peach has been left relatively undisturbed at Osaka Kansai; Jetstar Japan's second base there is not yet a full assault, and growth is capped in the short term.
See related report: Jetstar Japan launches critical Osaka Kansai base as Japan posts 8% domestic traffic growth
Tokyo Narita is home to three LCCs: Jetstar Japan, Vanilla Air and Spring Airlines Japan, which has delayed its launch from Jun-2014 to Aug-2014. Jetstar occupies a large position on trunk routes while Vanilla Air is smaller and pivoting towards international destinations.
Jetstar remains a domestic carrier but will grow internationally from northern winter 2014/2015, perhaps challenging Vanilla, although Vanilla Air seems to be adopting a complementary role of flying where it is beneficial for ANA. Spring Airlines' initial destinations are secondary and even tertiary points with long-term growth to be in the international market, especially China, where Spring's local operation holds a significant advantage.
See related report: Spring Airlines moves to establish Japanese base while ANA sees cannibalisation from new LCCs
ANA and JAL are moving away from the domestic market with their mainline brand, planning in the medium/long term to decrease domestic capacity while growing internationally. ANA – 25 years ago an exclusively domestic operator – expects for the first time in its history to soon have more international than domestic capacity.
See related reports:
Vanilla Air appears to be the least bold, and perhaps by association is most susceptible to being overwhelmed. But given Vanilla's ANA affiliation and the tendency that "airlines don't die in Japan", it is difficult to see Vanilla Air's role changing – unless, perhaps, Peach took over, one option when ANA mulled what to do after the AirAsia Group pulled out of the JV.
More at risk are Japan's existing smaller carriers.
Many, like Skymark and Starflyer, are protected by the fact that they hold precious Tokyo Haneda slots. But even previous LCC standout Skymark in FY2013 showed signs of trouble as it reported a loss, partially due to its inability to compete with LCCs at Tokyo Narita. The risk is not necessarily of these airlines going out of business but rather of losing relevance to LCCs which with a lower cost base have a higher potential for growth. Already Jetstar Japan is the fourth-largest carrier in the domestic market.
See related report: Skymark Airlines plans leap with A330s as domestic market in turmoil with first loss in five years
The relative size of Japan's domestic airlines: seat capacity, 30-Jun-2014 to 6-Jul-2014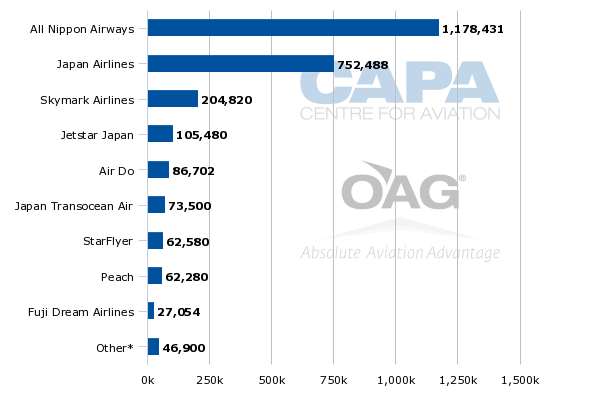 (2) There should be enormous upside for LCCs if Japan is to have a chance of achieving its tourism goals – but it will need a plan

If Southeast Asia is any indicator, five LCCs should be able to find a home in a market of 123 million people, with growing domestic and international tourism potential.
There is also now a reason to accelerate the process of LCC-supportive strategies: Japan aims to double 2013's 10 million visitors by 2020, a massively ambitious target, as yet unbacked by a plan. To achieve this figure, there will need to be significant growth from short-haul markets, which the LCCs can effectively serve. There is no doubt growth remains to be unlocked as air fares are high while visa liberalisation – especially with China – awaits.
It will however take time for this message to filter through to some highly inertial travel-related bureaucracies, such as the dozens of loss making regional airports and tourism authorities, used to marketing only to Japanese visitors. This is where the central government will need to be most active if it is to have a chance of success; and LCCs will be a big part of the story.

It is one thing to publicise an ambitious plan for tourism growth. Yet if the Abe government is serious about achieving the target it will need to start by facilitating access for the lowest hanging fruit. Taking substantial measures to facilitate LCC expansion is certainly the best place to start – and that will include matters like aligning Japan's often outdated aviation regulatory structure with the rest of the world.
For AirAsia Japan, these are matters for later.
Learning from its past experience is critical to ensuring its success, and here AirAsia was not completely free of blame. The objective for AirAsia Japan is now to excel in its own right, independent of a Japanese airline. Along with the new Spring Airlines locally based operation, it will differ from all the incumbent LCCs in that it is not linked.
That will help demonstrate AirAsia's capabilities as a Pan-Asian LCC that can work with a home base in any market – and one day, perhaps China.