All Nippon Airways to have more international than domestic capacity - but revenue still in Japan
Analysis
All Nippon Airways is planning an historical shift in its business as it prepares for its international network to surpass the size of its domestic network for the first time in its history. This is a remarkable event for an airline that just over 25 years ago was and exclusively domestic operator - while still being the world's largest airline by seat numbers.
Decreases in domestic flights coupled with growth in international, and especially long haul, services from Tokyo Haneda and later Narita airports, will help ANA in 2015 have more international than domestic ASKs, one part of its business plan through 2016 that also includes plans to respond to high-speed rail and LCC competition.
However, the domestic market will still be ANA's heartland, with the world's third-largest domestic market producing a higher proportion of revenue (but also costs) than international. ANA does enter territory familiar to Japan Airlines, which has had a larger international than domestic focus. But now JAL is decreasing its international exposure, which will allow ANA and JAL start to converge in balancing international and domestic networks. They will also approach Air China's international-domestic balance. With ANA having an overall larger position than JAL, it brings more risk to Japan's declining domestic performance and increased competition on long-haul, and specifically North American, services.
International-domestic capacity split 30-70 in 2005, but projected to be 50-50 in 2015
ANA is planning a fast diversification of its network towards international services. Between FY2003 (the 12 months to 31-Mar-2003) and FY2007, international capacity, measured in ASKs, accounted for about 29% of ANA's total. Over six years to 2013, international capacity gained a 10ppt share to 39%.
Now ANA plans that in just three years international will gain a further 11ppt (at least) share. ANA equates this to 45% growth between FY2013 and FY2016, which starts 01-Apr-2015.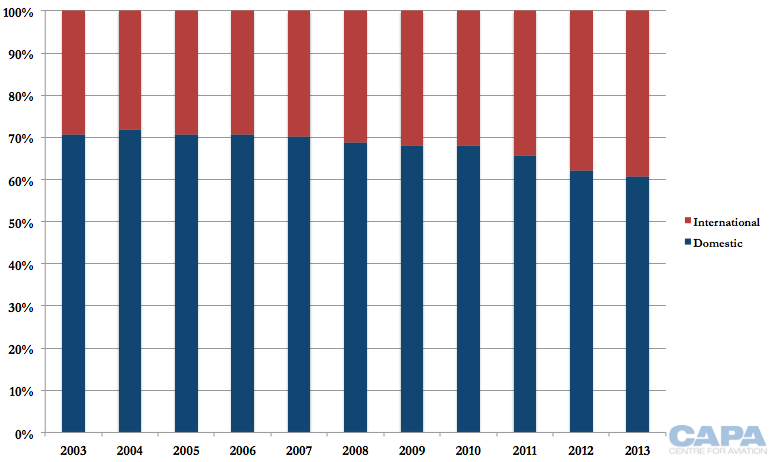 ANA projected domestic and international capacity (ASK billion): FY2013-F2016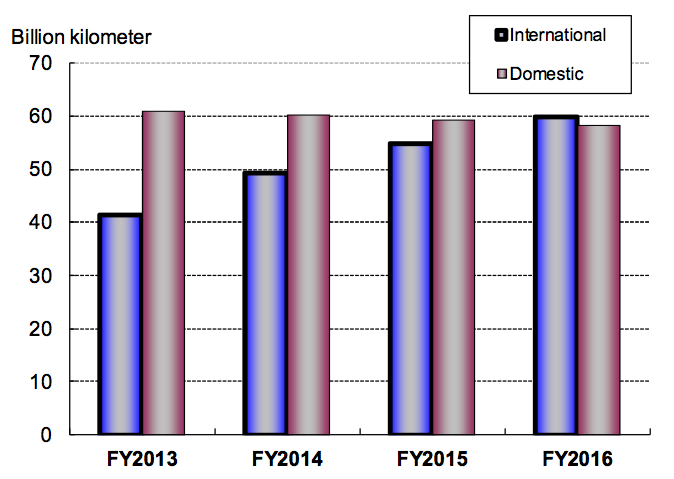 Where ANA was once Japan's main domestic carrier and JAL the international one, the two are converging to have balanced international and domestic networks. International ASKs accounted for over 65% of JAL's capacity a decade ago, but now are at 55%.
Air China, ANA and JAL proportion of international ASKs: 2003-2013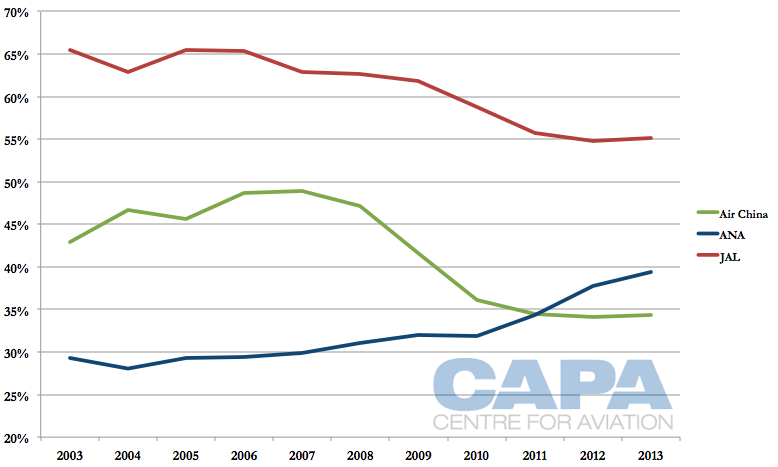 Air China offers a useful comparison, as China's largest international carrier and one which is growing quickly. Air China's Beijing hub is also a viable alternative to ANA and JAL's Tokyo hub.
China Eastern's Shanghai hub and China Southern's main Guangzhou hub are not such direct competitors.
Meanwhile, the small domestic market in Korea does not allow a useful comparison with Korea's long-haul carriers, Asiana and Korean Air.
Between 2003 and 2008 the carrier was building its international ("international" as Air China defines includes regional flights to Hong Kong, Macau and Taiwan) network to be almost at parity with its domestic network in terms of ASK capacity. Acquisitions late in the decade of primarily domestic carriers (namely Shenzhen Airlines), reduced the group's overall exposure to the international network; but only group, not individual statistics, are available for this period.
ANA's domestic revenue delivers a higher share relative to capacity
Domestic revenue has generally had about a 4-7ppt higher share than domestic capacity, and there is no indication this trend is changing.
ANA domestic share of ASK and revenue: FY2003-2013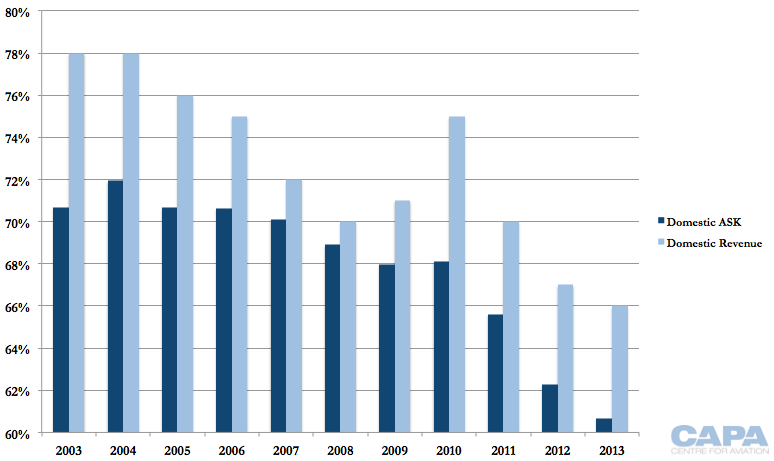 At JAL however, domestic revenue is losing its advantage. In the early and mid 2000s, JAL's domestic revenue had a 15ppt higher share than domestic capacity. In more recent years, this has fallen to closer to 10ppt.
This change is heavily impacted by JAL's deep restructuring. That reduced costs, which in turn reduced JAL's target yields in the domestic market. In the international market, JAL cut unprofitable flights, meaning the international network it was left with had proportionally higher revenues, following the elimination of unprofitable routes that weighed down revenue.
JAL domestic share of ASK and revenue: FY2003-2013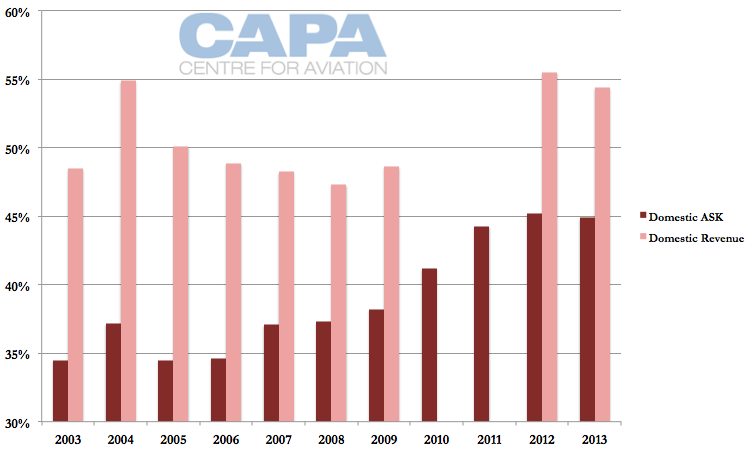 The share of domestic revenue has increased at Air China, but this is once again distorted by its acquisition of domestic carriers.
Air China, ANA and JAL proportion of domestic revenue: 2003-2013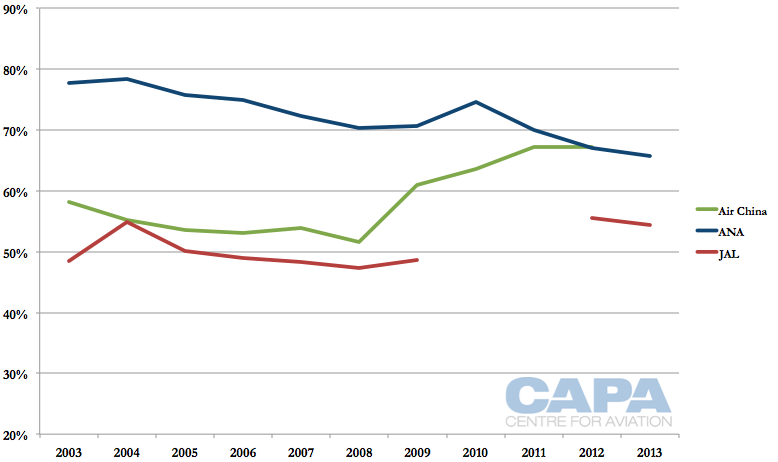 ANA's domestic yields are higher than international – but so too are its costs
So it is unsurprising ANA's domestic yields are higher than its international yields. But this does not allow for simple comparison of the domestic or international network's bottom-line contribution since costs are also higher in the domestic network than international owing to the efficient nature of long-haul operations compared to very short domestic sectors.
ANA does not separately disclose the costs or profits of its domestic and international businesses.
ANA domestic and international yield (JPY): 2003-2013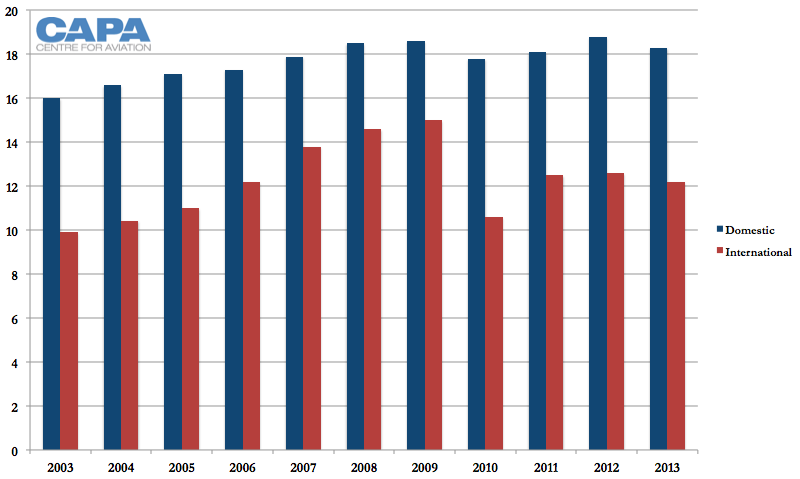 International yields are growing faster than domestic yields. From 2003 to 2013 international yields grew 23% while domestic yields grew 14%. Yields declined in 2010 following the Great East Japan earthquake and now ANA contends with greater competition as well as regional issues that suppress yield, such as in the key short-haul international markets of China and Korea.
After 2010, domestic yields held flat while international yields rebounded in 2011 but have been flat since and remain below pre-earthquake levels.
ANA year over year change in domestic and international yields: 2004-2013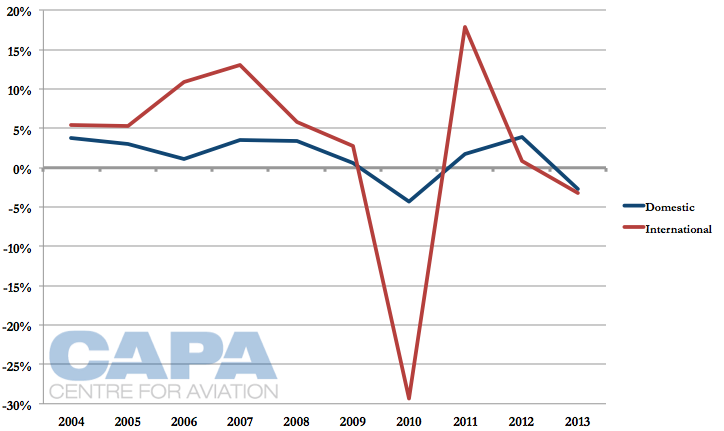 ANA plans more long-haul expansion, now focusing on Narita after Haneda filled
ANA's long-haul expansion has been anchored around growth from convenient downtown Tokyo airport Haneda. ANA added flights there when late night/early morning slots became available, and will do so again with daytime slots.
See related report: Tokyo Haneda slot allocations fail to generate new flights as Europeans replace Narita operations
ANA has added long-haul flights from Narita, such as a new service to San Jose and additional frequencies to New York JFK, but Haneda has captured ANA's mind. With Haneda's slots now allocated for the foreseeable future, ANA is turning its long-haul attention to Narita, which sees a slot increase in 2015.
ANA says it will once again look to open destinations not served by itself or JAL, with a particular focus on the Asia-North America market. ANA and Japan (as well as Korea, and to a lesser extent China) occupy the enviable position of being an efficient hub for this large traffic flow. With their large backorder of 787s, the two can offer non-stop Japan-North America service to cities that previously could not sustain a 747 or 777.
Haneda long-haul services are focused on traffic to/from Japan owing to the limited international network from ANA and partners, but Narita offers ANA an opportunity to grow sixth freedom traffic due to its more numerous international flights.
ANA expects to work with Star Alliance partners and its JV partners, which to North America includes United Airlines.
ANA is also part of a Japan-Europe JV with Lufthansa Group carriers. ANA says it will also consider bilateral relationships with other airlines. Garuda Indonesia may become a closer partner as Garuda seeks access to the North American market via its Tokyo services. While Garuda joins SkyTeam in Mar-2014, it has made no progress in partnering with fellow SkyTeam carrier Delta, which has a large – although decreasing – presence at Tokyo.
Star has a commanding 40% share of Tokyo Narita seat capacity, about 15ppt more than any other alliance.
Tokyo Narita Airport international seat capacity share by alliance: 17-Feb-2014 to 23-Feb-2014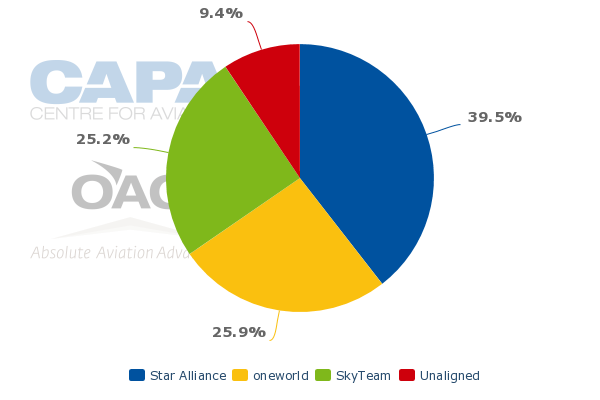 ANA is also targeting a greater balance of overseas point of sale to combat the yen's depreciation. ANA and JAL rely heavily on the Japanese market, and this in recent times has seen performance weaken owing to the yen's depreciation. A greater focus on the international market will be a challenge, especially in mindset. Overseas marketing is often an afterthought.
Responding to domestic concerns: high-speed rail, LCCs – and Skymark
ANA plans to adjust its domestic business to fortify itself against competition, which includes the shinkansen high-speed rail as well as low-cost carriers, including Skymark. ANA will finally look to boost low domestic load factors, which in turn can drive unit cost efficiencies. Skymark's strategy depends on high load factors, so load factor improvements at ANA may pressure Skymark.
ANA also intends to have greater fare flexibility, possibly in response to Skymark, which in recent times has promoted its more flexible fares. ANA will also use smaller aircraft – the retirement of its domestic 747s is imminent – as well as more efficient aircraft; ANA will take two 787-9s in 1H2014.
Load factor and fare flexibility are welcome initiatives, but implementation will show how concrete and effective these initiatives are.
On the LCC front, ANA has a minority interest in Osaka Kansai-based Peach Aviation, which seems to have performed the best of Japan's new LCCs. Peach continues to expand, including planning for international services from Okinawa Naha, from where Peach can serve Southeast Asian destinations.
ANA also wholly owns a new LCC, Tokyo Narita-based Vanilla Air, which ANA says will increase its fleet from six A320s to 10 by the end of FY2015. Vanilla will echo Peach in pursuing the international market, and ANA has reiterated the possibility of Vanilla services to Hong Kong and Micronesia. Vanilla was born out of the AirAsia Group's exit from AirAsia Japan, leaving ANA the sole shareholder. The cause of the divorce was complex, but the remaining implication for Vanilla Air is that it still has to prove itself capable of being a LCC.
ANA is one of the very few to plan expansion of cargo business
ANA's plan to add an unspecified number of freighter aircraft makes it one of the few airlines to plan cargo growth. Details are sparse, but ANA says it hopes to drive down costs by growing its network and improving utilisation, in addition to reducing handling costs.
ANA is planning cargo growth in particular at Okinawa, where it plans to increase the proportion of high value cargo. While this is a logical plan, focusing on higher-valued cargo seems to be the running theme of cargo airlines/divisions.
ANA has the advantage of demand from Asia for fresh Japanese produce, but further details are lacking. JAL used to have a dedicated freighter fleet but has withdrawn these aircraft from service.
International acquisitions are still on the cards
ANA has changed its structure into one of a holding company in order to facilitate investments, which ANA has reiterated it plans to conduct. ANA has so far invested in Myanmar's Asian Wings Airways. This investment, which is still waiting government approval, may lack large synergies, but the cost (and therefore risk) was low.
ANA says it will continue to consider "additional investments in other high-potential Asian airlines with good network synergies with ANA". Philippine Airlines spoke about a potential acquisition by ANA, but the network synergies were lacking.
Opportunities are overall limited as the more suitable carriers not being for sale, and due to the complexities caused by general foreign ownership restrictions.
ANA has also invested in the Pan Am International Flight Academy, with ANA's reckoning being that Asia, and Southeast Asia in particular, will need pilots, who in turn require expensive training. So the academy is an opportunity to keep revenue within the group and collect third-party revenue. ANA says it will open a new training centre in Bangkok.
An MRO investment is one of the next likely investments, with ANA's reckoning again being that more flying in Asia means more demand for services. In MRO, ANA may be following the model of the Lufthansa Group. ANA plans to expand its maintenance business in Okinawa in FY2015.
Outlook: international growth is to be matched with cost-cutting, and ambitious rising operating margins
ANA is planning more cost reductions as it seeks a more competitive cost base, globally and in comparison to JAL, whose bankruptcy restructuring allowed it to achieve what ANA believes is an unfair advantage. ANA in 2011 commenced a JPY100 billion cost reduction programme, and is now raising this to JPY136 billion by FY2016, at which point ANA expects to reduce its unit cost by JPY1.5.
ANA expects to achieve JPY86 billion in cost savings by the end of FY2014, with a further JPY50 billion in savings to be made between FY2015 and FY2016.
ANA cost reduction strategy: 2011-2014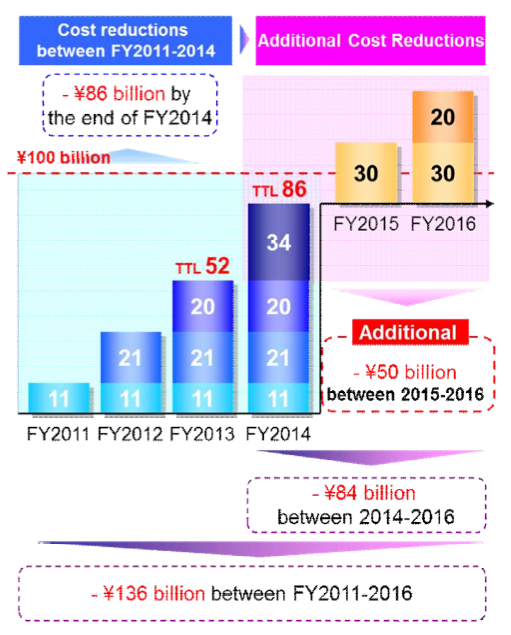 These reductions will help ANA achieve a 7% operating margin, which if realised will place it in the upper tier of airline performance.
ANA financial targets: 2013-2016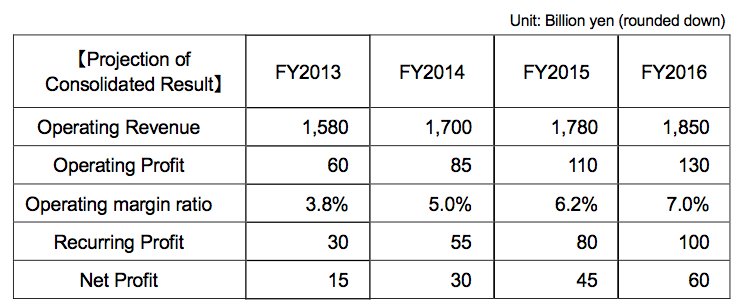 More gains can still be made, and the biggest challenge is not implementation but mindset, be it the approach to domestic load factors or international marketing.
ANA started emphasising the international market before the yen's depreciation, but now ANA must focus on overseas point of sale, as outbound travel becomes harder to sell. A greater reliance on sixth freedom traffic can also help grow ANA's footprint but brings a degree of volatility in an ever-competitive market, just as Korean and Chinese carriers, as well as Hong Kong and Taiwanese carriers, look to grow their position too.
The domestic market is stable with challenges being relatively insignificant, aside from Skymark. But there is a greater prospect of ANA and JAL's domestic position weakening rather than improving, and the domestic market will be less significant than it has been for ANA in the future.
Leaving the comfort zone can be painful at first - but necessary for the longer term. ANA's shift in domestic/international balance is timely.