Jetstar Japan launches critical Osaka Kansai base as Japan posts 8% domestic traffic growth
Analysis
Jetstar Japan has finally opened its second base at Osaka Kansai, becoming the first Japanese LCC to have a second base. First mooted in mid-2012 for an Oct-2012 launch, Jetstar Japan has had to delay the base primarily for falling on the bad side of Japan's regulator over not following its internal maintenance procedures. Jetstar Japan has been flying to and from Osaka Kansai but had been unable to establish a maintenance and engineering base that would allow for more flexible operations.
Jetstar Japan is growing Osaka Kansai capacity by 53% but only by adding services on its existing four routes. All four destinations – Fukuoka, Naha, Sapporo and Tokyo Narita – have service from Kansai-based Peach. Peach will have a larger presence in all of those markets except Tokyo Narita. Peach also serves other domestic destinations from Kansai and has an international network; Jetstar Japan is only domestic and is Japan's fourth-largest domestic carrier.
The Kansai base is critical to boosting Jetstar Japan's utilisation, which has significantly lagged its main LCC competitor Peach.
The Japanese market was never going to be easy for LCCs, but they are now showing results and producing growth. Domestic traffic in the year to 31-Mar-2014 was up 7.8%. Jetstar Japan and Peach jointly added as many domestic passengers as All Nippon Airways. LCCs and hybrids accounted for 18.7% of flown passengers for the period.
See related reports:
Jetstar Japan is so far not adding new routes to Kansai but rather increasing frequencies on its existing destinations: Fukuoka, Okinawa Naha, Sapporo and Tokyo Narita. One-way frequencies from Osaka Kansai will increase 53% from 57 weekly (about eight daily flights) to 87 (about 12 daily flights), according to OAG data.
Osaka Kansai-Fukuoka goes from a daily service in May-2014 to double daily in Jul-2014; Okinawa from daily to three daily; Sapporo from 11 weekly to 14 weekly; and Tokyo Narita from 32 weekly to 38 weekly. In the peak Aug-2014 travelling season, some services will see further increases before decreasing in Sep-2014.
After the increases, Jetstar Japan will be noticeably smaller than Peach in their overlapping markets. Peach will have at least twice the number of flights as Jetstar from Osaka Kansai to Fukuoka and Sapporo, and a third more to Okinawa. Jetstar Japan will retain a lead over Peach in the Osaka Kansai-Tokyo Narita market, with Jetstar Japan having 81% more flights than Peach. But overall in their overlapping markets, Jetstar Japan will have 87 one-way weekly frequencies to Peach's 112, a 29% advantage for Peach. Seat capacity grows in the same proportion, as both Jetstar Japan and Peach operate 180-seat A320s.
One-way weekly flights from Osaka Kansai to destinations Jetstar Japan and Peach Aviation overlap on: week commencing 28-Jul-2014
| | | |
| --- | --- | --- |
| Destination | | |
| | 14 | 28 |
| | 21 | 28 |
| Sapporo | 14 | 35 |
| | 38 | 21 |
| Total overlapping markets | 87 | 112 |
These overlapping markets, where Peach will have 112 weekly flights in Jul-2014, represent 57% of Peach's total domestic services from Osaka Kansai. Besides these four destinations, Peach also serves Ishigaki, Kagoshima, Matsumaya, Nagasaki and Sendai. Peach also has an extensive international network. Jetstar Japan remains an entirely domestic carrier.
Growth at Osaka Kansai is critical for Jetstar Japan to increase aircraft utilisation
Jetstar Japan arguably grew too quickly initially, taking 15 aircraft in 15 months; the result was a need to focus on capacity growth and not revenue growth. Strategically this may have been seen as sound, but it came with a cost. Jetstar Japan in Apr-2014 had 18 A320s compared to 12 at Peach, which launched four months earlier than Jetstar Japan.
Jetstar Japan fleet growth: Jul-2012 to Sep-2013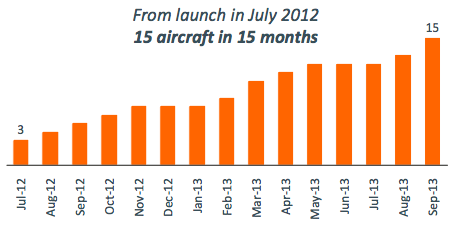 Approximately three of Jetstar Japan's aircraft were not in service as it waited for the repeatedly postponed Kansai base to open. The cost impact from under-utilisation is clear. In Apr-2014, Jetstar Japan averaged approximately 510,000 ASKs per aircraft whereas Peach averaged 920,000 ASKs; both operate 180-seat A320s, allowing for a similar comparison.
The figures are impacted by Peach operating from curfew-free Kansai, opening up the schedule, as well as having one over-night (Hong Kong-Osaka Kansai) service, but these are minor advantages compared to Jetstar Japan's disadvantage of under-utilising aircraft.
For the week of 23-Jun-2014, Jetstar Japan's average daily ASKs are significantly up, to 730,000, while Peach is down slightly to 880,000 (both will increase productivity in the peak summer, although pilot shortages are impacting Peach). It is clear Jetstar Japan is closing the productivity gap, even though it will be saddled with Narita's disadvantage and impacts from not having overnight international services to improve utilisation.
Jetstar Japan showing yield improvements, but not as much as Peach
Japanese domestic yields over the past eight quarters have shown flat to negative growth. The new LCCs – Peach, Jetstar Japan and Vanilla Air – have fare yields half those of All Nippon Airways and Japan Airlines, according to MLIT data.
However, these data are only available for fares and so exclude ancillary revenue, which boosts total trip yield at the LCCs.
Japanese domestic yields by fiscal quarter: 2012-2013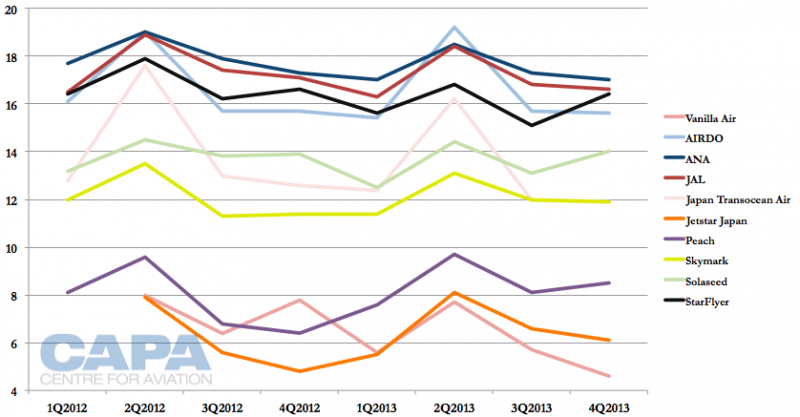 Looking at year-over-over quarterly performance, Jetstar Japan and Peach have reported improvements, except for 1Q for Peach. Jetstar 1Q2012 data is unavailable as the carrier launched in 2Q2012.
Vanilla Air's yields are deteriorating and have been the lowest in Japan for three consecutive quarters. Vanilla's yields in FY2013 (the year to 31-Mar-2014) are where Jetstar Japan was in FY2012, indicating the difficult existence it had when branded as AirAsia Japan, and showing the impact of re-starting operations with a limited network.
It is very unlikely strong ancillary revenue sales would enable Vanilla Air to have a strong total trip yield.
Jetstar Japan, Peach and Vanilla domestic yields by fiscal quarter: FY2012-2013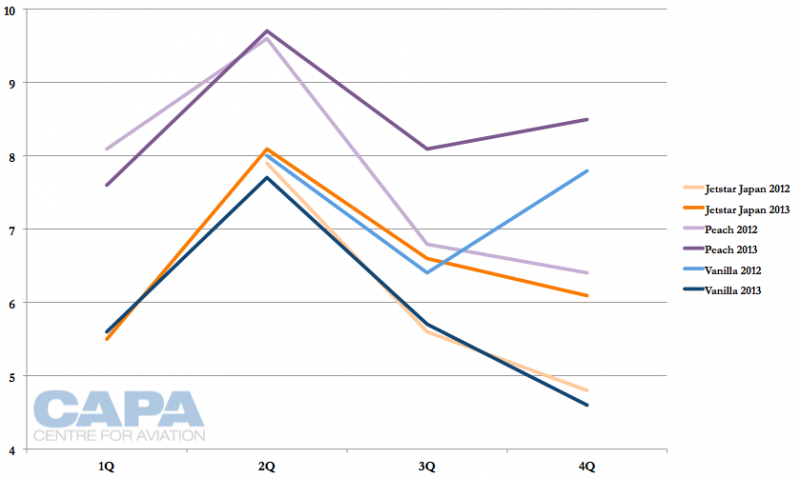 Looking at quarterly percentage improvements, Jetstar Japan has made the best year-on-year improvements, but is second to Peach, which is growing yields from a higher base.
Skymark in the second half of FY2013 achieved yield growth of around 5% while yields for all other carriers in most of FY2013 dropped between 0-5%, except for Vanilla Air, whose 3Q2013 yields declined by 11% and 4Q2013 yields by 41%.

Japanese domestic yields year-on-year comparison: FY2012-2013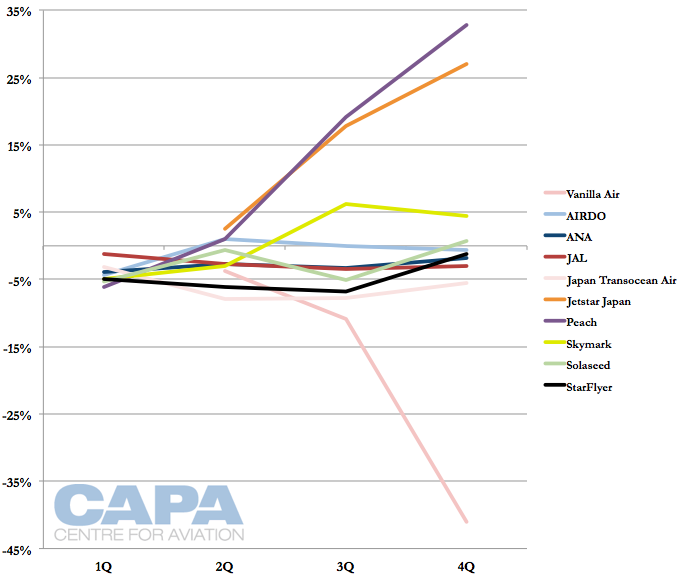 ANA and JAL ended FY2013 with the highest yields while Vanilla Air was the lowest, behind Jetstar Japan.
Japanese domestic yields: FY2013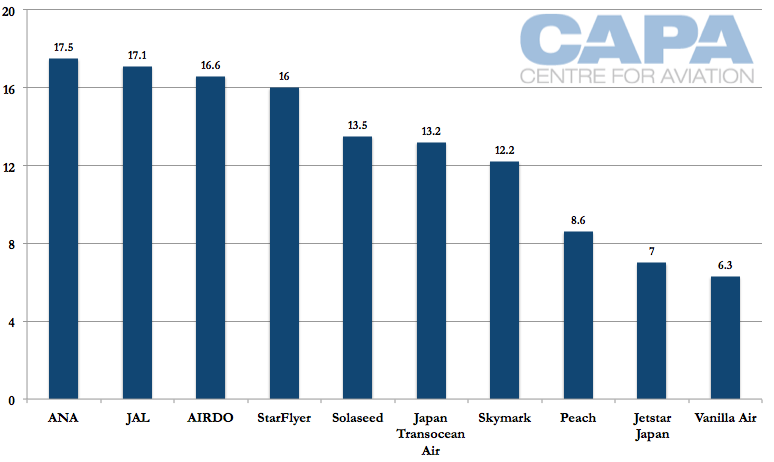 Japan's domestic market grew by 7.8% in FY2013
Japan's airlines carried approximately 90 million in FY2013, up 7.8% from FY2012's 83 million passengers. ANA retained a firm grasp on the domestic market with a 49% share while JAL Group (comprising JAL and Japan Transocean Air) had a 32% share. Skymark was third largest by some margin at 8%, although this is still a fraction of the size of ANA or JAL.
Jetstar Japan held a 3% share of the domestic market while Peach held 2% and Vanilla Air less than 1%.
Japan domestic market share based on passengers flown: FY2013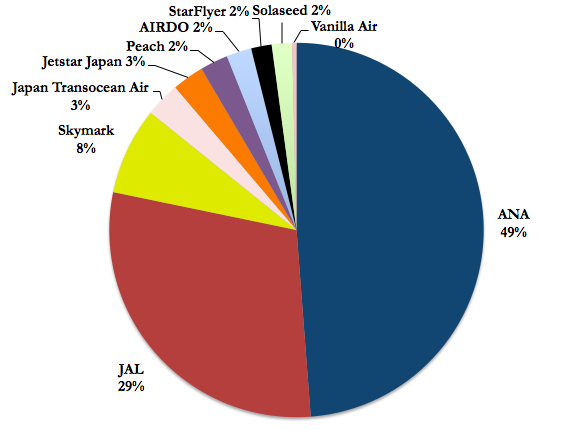 The market share of LCCs and hybrids rose to 18.7%, while the market share for only Skymark and the three new LCCs (Peach, Jetstar Japan and Vanilla Air) was 13.0%. The market share for just Peach, Jetstar Japan and Vanilla Air was 5.5%.
Of the approximately seven million additional domestic passengers carried in FY2013, 37% were flown by ANA, 22% by Jetstar Japan, 17% by JAL, 13% by Peach and the balance by StarFlyer, Solaseed, Japan Transocean Air and AIRDO. Vanilla Air and Skymark carried slightly fewer passengers in FY2013 than FY2012.
Jetstar Japan and Peach collectively grew domestic passenger figures by about two-thirds (2.2 million passengers) as ANA and JAL combined (3.5 million), further cementing the ability of LCCs to generate new traffic.
Additional passengers carried year-over-year: FY2013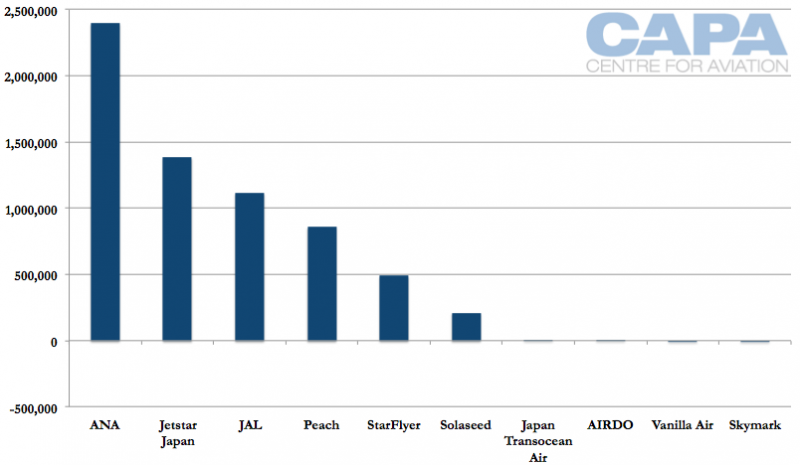 Outlook: Japan's LCC sustainability in sight, but growth to be slowed

It was probably an overstatement for Qantas Group CEO Alan Joyce to have said in Sep-2013 that Jetstar Japan was "going fantastically well", but the fundamentals for LCC growth remain in Japan and are being manifested as they drive passenger growth and now account for a quarter of domestic seat capacity. Jetstar Japan is the largest domestic LCC in the country.
With the Kansai base finally up and expanding, Jetstar Japan will have utilisation levels that bring sustainability into view. Effectively having three of 18 aircraft grounded precluded profits, and hence Jetstar Japan required a capital injection. But contrary to some commentary in Australia, Jetstar Japan is scarcely a folly, as evidenced by Peach Aviation reporting profits in only its second year of operation. Jetstar Japan will take longer as it is disadvantaged with its Narita base compared to Kansai, but the direction is right.
Pragmatism is on show at Jetstar Japan, with CEO Miyuki Suzuki telling Aviation Wire that "deliveries would be slowed down" and "spread through the next fiscal year." Jetstar Japan's fleet will remain at 18 and not reach the 24 figure projected for Jul-2014. International flights from Narita will finally be earmarked for winter 2014/2015 after initially being planned for 2013.
Jetstar Japan's development has not been easy, with the carrier under-estimating the impact of the Narita curfew, leading to low on-time performance and high cancellation rates that received considerable public attention, together with the Kansai base delay.
This is in contrast to AirAsia Japan, whose struggles at Narita and between shareholders ultimately led to the AirAsia Group withdrawing and ANA taking over the carrier and re-branding it as Vanilla Air. Vanilla is also some time from demonstrating success. But there are still many chapters to be written in Japan's LCC market, which is showing clear signs of an ability to grow. And in the case of Peach - and soon Jetstar - profits too.