Air Transat braces for more pressure from currency headwinds than the challenge from rouge
Analysis
Air Canada's low-cost subsidiary rouge for the moment does not seem to be creating huge pressure for Air Transat, which operates on many of the same routes as rouge, targeting the same segment of leisure passengers.

Air Transat appears to be making moves to keep the overall supply-demand equilibrium in check in the busy summer season trans-Atlantic markets by keeping its supply growth relatively flat year-on-year, while Air Canada capacity increases. Even with Air Transat keeping a tight lid on supply, the company does project an overall 10% rise in supply from Canada to Europe during the summer season. However, pricing seems to be holding steady in those markets, perhaps indicating that rouge and Air Transat for now can co-exist.

As it kept capacity in check on trans-Atlantic services, Air Transat opted to grow its supply by 9% year-on-year to sun destinations during the summer season period. But the company believes pricing in those markets is holding steady even though some of the routes are amply served by other Canadian airlines.
Air Transat rejigs its fleet in order to boost yields and cut costs
rouge is approaching its one year anniversary in Jul-2014. Unsurprisingly, during the past year Air Canada has touted rouge's positive contribution to the company. For the first time in May-2014 Air Canada reported rouge's load factors separately from mainline, and the lower cost carrier's loads for the month were a solid 85%.

By Dec-2014 rouge is projected to operate 25 Airbus A319s and eight Boeing 767-300ERs. Each type features a higher density configuration than the same aircraft models flown at Air Canada mainline. rouge's A319s feature 136 or 142 seats and its 767s are operated with 264 and 280 seats.

See related report: Air Canada's challenge is to compensate for revenue dilution triggered by unit cost reduction moves

Air Transat is undertaking a fleet revamp on sun routes that entails the operation of fewer widebodies in winter 2014/2015 in favour of more narrowbodies, which the carrier feels will both lower cost and improve yields. As of 30-Apr-2014 Air Transat's fleet comprised nine 250-seat Airbus A310s, 12 345-seat A330s and a single 189-seat Boeing 737-800s. In total Air Transat is adding three additional -800s during the summer of 2014.
Air Transat fleet projections: winter 2013 through summer 2015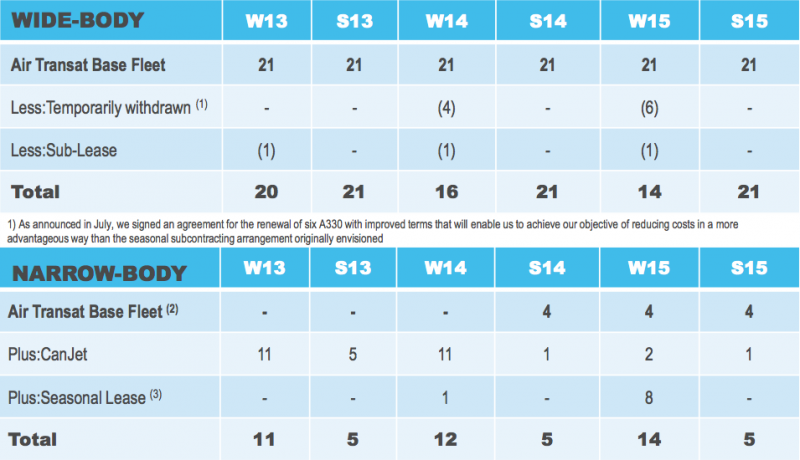 Air Transat sees trans-Atlantic pricing traction even as industry capacity grows
As Air Canada outlined rouge's network, largely mainline markets that would transition to the airline's new low-cost subsidiary, the obvious question was how the lower cost operator would pressure Air Transat and its parent company travel tour operator Transat.

It appears that Air Transat's trans-Atlantic capacity will be flat to down 1% versus estimates of a 2% increase in Dec-2013. At that time Transat executives remarked that the company had not seen aggressive pricing actions from rouge in the trans-Atlantic market for summer season, but it was too early to tell if that trend would remain intact.

See related report: Canada's airlines part 4: Air Transat regains financial footing as long-haul competition intensifies
Transat projects a 10% increase in capacity from Canada to Europe in summer 2014, with Air Canada's supply growing 17%. As of 12-Jun-2014 Transat estimated that 65% of its inventory in those markets was sold at prices 4.3% higher than the year prior. Its load factors had fallen by roughly 2% year-on-year and costs increased 4% as the company battled the effects of the CAD against the USD. The company estimates that 30% of its consolidated expenses during the summer time period are denominated in the USD, and 55% of its costs on a flight to Europe are denominated in foreign currencies, either the USD, EUR or GBP.
Capacity growth in Air Transat's trans-Atlantic markets: summer 2013 vs summer 2014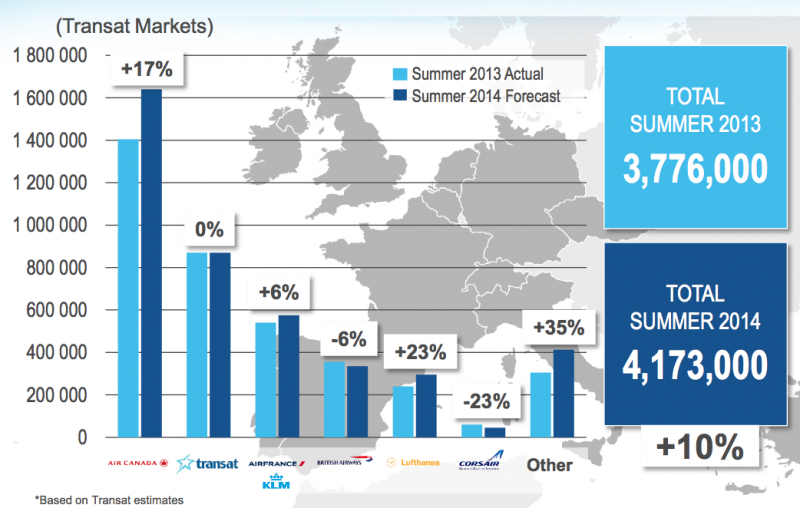 Currency challenges pressured Transat's 2Q2014 results as the weaker CAD against the USD increased the company's operating expenses during the quarter by CAD22 million (USD21 million) and CAD36 million (USD34 million) for the first six months of 2014. Transat's overall loss for 2Q2014 was CAD7.6 million (USD7 million) and CAD31 million (USD29 million) for the six months ending Apr-2014.
Air Transat is not attempting to avoid rouge in many trans-Atlantic markets
Schedules in CAPA and OAG show that Air Transat is not necessarily shying away from competition with rouge. The two airlines are competing on all of rouge's trans-Atlantic routes from Toronto and Montreal with the exception of Toronto-Edinburgh. For the week of 29-Jun-2014 to 5-Jul-2014, Air Transat has a higher share (measured by seats deployed) in four of those markets – Toronto-Manchester, Toronto-Lisbon, Montreal-Barcelona and Montreal-Athens. Transat estimates that roughly 62% of its seat sales for the summer season originate in Canada and the remaining 38% are European point-of-sale.
Capacity share (% of seats) on rouge's routes from Toronto to Europe: 29-Jul-2014 to 5-Jul-2014
Capacity share (% of seats) on rouge's routes from Toronto to Europe: 29-Jul-2014 to 5-Jul-2014
Given the commentary provided by Transat, it seems as if rouge is not attempting to insert junk fares into the trans-Atlantic market place, which seems logical given that Air Canada needs to ensure rouge delivers on its revenue projections in addition to the estimated 21% unit cost reduction on rouge's A319s and the 29% decrease on the rouge 767s compared with Air Canada mainline jets of the same type.
Air Transat makes a push into sun destinations for summer 2014
At the same time Air Transat is keeping capacity essentially flat in its trans-Atlantic markets during the summer season, the airline is increasing its capacity in sun destinations by 9% in the summer season. At the end of Apr-2014 Transat noted that selling prices in those markets were up year-on-year even as loads were trending down.

Based on schedules in CAPA and OAG for the week of 29-Jun-2014 to 1-Jul-2014, Air Transat is competing with rouge on several routes to the Caribbean from Toronto and Montreal. There are also several routes where it seems Air Transat did not have a presence a year ago (based on schedules in CAPA and OAG) including Toronto-Cayo Coco, Holguin and Varadero and Puerto Plata and Montreal Cayo Coco and Port-Au-Prince.
The schedules show that Air Transat competes with rouge on all six of the low-cost carrier's Caribbean routes from Montreal and about seven from Toronto.
Capacity share (% of seats) on rouge's routes from Toronto to the Caribbean: 29-Jul-2014 to 5-Jul-2014
Capacity share (% of seats) on rouge's routes from Montreal to the Caribbean: 29-Jul-2014 to 5-Jul-2014
Air Transat's pricing traction is encouraging as rouge seems to adopt "rational" fares
Transat's commentary about pricing traction in both the trans-Atlantic and sun markets in summer 2014 is encouraging, as it seems that rouge is not presently creating overwhelming pressure for Air Transat.

The company is also adding some service where it faces no competition. This incudes the recent launch of flights from Toronto to Prague, which can provide a little relief to some of the capacity additions introduced by both mainline Air Canada and rouge.
Air Canada is now operating its higher-density 458-seat Boeing 777s from Montreal to Paris, Air Transat's top international destination measured by seats deployed.
Air Transat top 10 international routes measured by seats: 29-Jun-2014 to 5-Jul-2014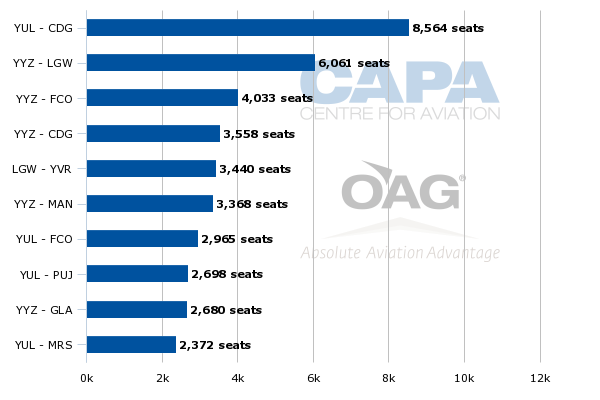 Currency woes stand to dampen what should be Transat's strongest season in 2014
Transat's more persistent challenges seem however to be related to currency fluctuations rather than a huge threat from rouge. During 2H2014 the company states it expects to record satisfying results, albeit not as favourable as in the year-ago period.

As the glimpse of Transat's performance during the summer high season indicates, the still-favourable pricing traction it is enjoying is being outstripped by rising costs stemming from the CAD depreciation, even with surcharges introduced on its vacation packages to sun destinations.

Transat's fortunes seemed to be turning at the start of its FY2014; but the losses for the first half are not very encouraging. With the continued stubborn depreciation of the CAD, Transat faces a diminished financial performance in what should be its strongest season of the year.