Canada's airlines Part 4: Air Transat regains financial footing as long-haul competition intensifies
Analysis
Air Transat parent Transat ended 2013 on a high note, posting profits after two years of losses. Its return to profitability is partially driven by new concessionary agreements reached with Air Transat employees, fleet changes and other cost cutting schemes that should contribute to cumulative savings of CAD75 million (USD68 million) by 2015.

The favourable financial performance places Transat on solid ground for an unpredictable scenario in the busy trans-Atlantic market during summer 2014, when Air Canada's low-cost carrier rouge reaches full force, and introduces a fair amount of capacity between Canada and Europe. For the moment Air Transat appears to be taking a wait-and-see approach with respect to how the trans-Atlantic market unfolds, and is not publicly displaying any trepidation over the increased competition.
Transat broadens cost cutting targets as profitability improves
After resolving financial issues triggered by its investments in asset backed commercial paper, adjusting capacity and winning concessions from its airline labour force, tour operator Transat returned to profitability during FY2013, recording net income of CAD58 million (USD53 million). It is a reversal from two consecutive years of annual losses for FY2011 and FY2012 of CAD15 million and CAD17 million, respectively.
Transat financial results: FY2011 to FY2013

At the same time its fortunes are improving, Transat has also broadened the cost cutting targets it set in 2011 when it embarked on a cost cutting programme. The company now believes it can achieve cost savings of CAD75 million (USD68 million) in 2015 compared with a previous goal of CAD50 million (USD46 million). After winning concessions from employees at Air Transat, parent Transat decided to in-source narrowbody aircraft for operation to sun destinations, which had been oustourced to another carrier since 2003. Transat has also renewed Air Transat's leases for widebody aircraft under favourable terms, and expects savings from the fleet changes to flow through its operations in 2015.

The company's revenues did drop CAD66 million (USD60 million) in FY2013 to CAD3.6 billion (USD3.3 billion) as it cut supply. Even though Transat experienced pricing traction for its travel products during 2013, overall traveller volumes fell, pressuring the company's revenues.
Transat records mixed Americas results in FY2013
Transat's performance during FY2013 in its Americas' markets was mixed with an operating loss of CAD24 million (USD22 million) in the winter season and operating profits of CAD88 million during the summer.

The company's revenues in the Americas fell CAD93 million (USD85 million) year-on-year in FY2013 largely from capacity reductions in its travel packaging products to sun destinations and trans-Atlantic markets. After transferring some sales from Europe to the Americas, Transat grew its Americas revenues for summer 2013 by 12%. Higher selling prices of its travel products also helped lift its Americas revenues in the summer period.
Transat Americas financial performance: FY2011 to FY2013

Europe's performance mimics the Americas in FY2013
Transat's performance on its offerings to Europe during FY2013 mirrored its results in the Americas. Losses of CAD16 million (USD14.5 million) in the winter period followed by profits of CAD24 million (USD22 million) in the summer.

The company attributed the negative performance in winter to a decision cut its travel package offerings year-on-year, which resulted in traveller volumes falling approximately 14%.

Despite a 13% reduction in Transat's European revenues for the 2013 summer season, it still recorded an operating profit in those markets, driven by higher selling prices, which helped to alleviate negative effects of a nearly 40% fall in passenger volumes. Some of the drop in customer numbers is also a result of Transat transferring some sales from Europe to America as demand mainly from France to Tunisia and Egypt remained weak due to continuing unrest in those countries.
Transat Europe financial performance: FY2011 to FY2013

In both the Americas and Europe, Transat narrowed its losses during the winter 2013 season. Its commentary with respect to favourable pricing traction in those regions during winter 2013/2014 is encouraging, given the company is seeing improved pricing year-on-year.

During a recent discussion with analysts, Transat executives declined to declare that the company would turn a profit in the lower-margin sun markets during winter 2013/2014. Its capacity is up 3% year-on-year, and as of mid-Dec-2013 41% of its capacity was sold at prices 5% higher than the year prior, which led company management to conclude that its results in sun markets during winter 2013/2014 will improve compared with 2012/2013.

Transat estimates an overall 5% rise in industry seat capacity to sun destinations from Canada for the 2013-2015 winter season. Even though it is seeing favourable pricing on its products, perhaps the added capacity from other airlines is pressuring Transat's overall results in those markets, as Air Transat's low factors in mid-Dec-2013 on the sun routes for winter 2013-2014 were down 2% year-on-year. Transat also has some currency exposure to the falling CAD against the USD as the company estimates roughly 35% of its operating expenses are denominated in USD during the winter season.
Estimated global capacity (by carrier) by carrier from Canada to sun destinations: Winter 2013/2014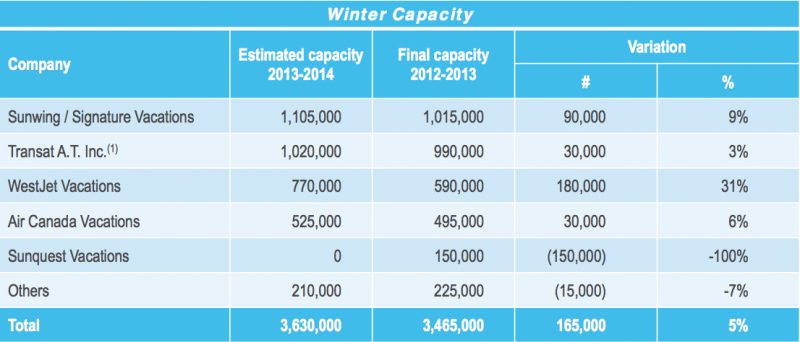 Transat estimates a double-digit increase in trans-Atlantic capacity in summer 2014
Transat expects overall industry seat capacity to increase by roughly 9% in the trans-Atlantic market for summer 2014, which includes a combined 16% increase from Air Canada and its new regional low-cost subsidiary Air Canada rouge.
Estimated global capacity (by carrier) by carrier from Canada to trans-Atlantic markets: Winter 2014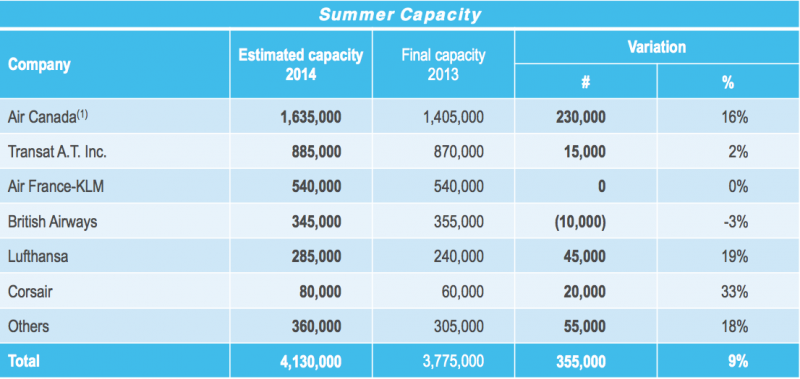 Recently Transat stated that it was too early to discuss trends in the trans-Atlantic market for the summer 2014 period. Its own capacity supplied by Air Transat will rise 2% year-on-year and as of mid-Dec-2013, 9% of its available inventory had been sold at higher prices than the year prior.

Providing some colour on rouge, Transat management remarked that Air Canada's three weekly flights between Montreal and Nice could put some pressure on Air France, which offers hourly flights to Nice from its hub at Charles de Gaulle. Perhaps rouge could tempt Air France's connecting passengers with a direct flight.

Transat executives did acknowledge that "for sure Ireland would be difficult this year" with rouge's new year flights from Toronto to Dublin, Air Transat's and Aer Lingus' flights on the route and "WestJet's little planes flying from St John's".

The competition from Canada to Europe is likely to intensify during the next few years as Transat estimates that 75% of Canadian travellers say they are very or extremely interested in visiting or revisiting Europe. Air Transat, rouge and smaller tour operators will all be targeting the cost-conscious travellers, with potential widebody service by WestJet emerging as a possibility in the not too distant future. Dublin could be just the beginning of a growing number of crowded markets from Canada to northern Europe.

Near the beginning of the winter 2014 season, Transat executives remarked that the company had not yet seen any aggressive pricing actions from rouge in trans-Atlantic markets for the 2014 season, but at that point it was too early to conclude the trend would continue.

See related reports:
Transat has little time to relish profits as competition potentially multiplies
Transat's fortunes are taking a turn at what could be the onset of many changes in the Canadian long-haul aviation business as Air Canada expects rouge to operate 12 767-300 widebodies by Dec-2015, an increase from a fleet of eight at YE2013. Given rouge's plans to operate service to Dublin, Barcelona, Nice, Edinburgh, Lisbon and Manchester, Air Transat is likely to encounter rouge in a growing number of markets.
Parent Transat is one of the world's largest integrated tourism companies, so Air Transat has a distinct marketing advantage over other airlines. But those airlines – and their growing tourism groups – are intruding increasingly into Transat's comfort zones. In the medium term WestJet may opt to graduate up to larger jets in order to capture its share of trans-Atlantic revenue.
So, just as it celebrates a return to profitability, Air Transat now needs to consider charting a course to weather the next round of cut-throat competition entering its markets.