Air Canada's challenge is to compensate for revenue dilution triggered by unit cost reduction moves
Analysis
Air Canada during the past year has undertaken a raft of cost-cutting initiatives to reach it goal of a unit cost reduction of 15% in the mid-term. The most high profile projects are the launch of its low-cost subsidiary rouge, which is approaching its first anniversary in operation, and the introduction of higher density Boeing 777 widebodies on select high volume long-haul routes.

Next on the airline's agenda is expanding seats on its existing 777s through the addition of a new premium economy section. Air Canada believes adding seats on those aircraft ensures product commonality and should ultimately generate unit cost savings, which is an unwavering focus for the airline.

Air Canada's cost performance during the past couple of years is commendable. But as it works feverishly to slash its unit costs, will its plans to bolster density on its aircraft dilute unit revenues over the long term?
rouge records solid load factors as it draws some regulatory scrutiny
During the year that Air Canada rouge has been operating, the airline has repeatedly touted the cost benefits from the operation of higher density Airbus A319s and Boeing 767s operated within a lower cost structure.

By Dec-2014 Air Canada plans to have transitioned 25 A319s to rouge and eight Boeing 767-300s to its low-cost subsidiary. rouge's A319s are configured with either 136 or 142 seats compared with mainline A319s that feature 120 seats. rouge's 767s are operated with 264 and 280 seats versus lower density 211 and 191-seat 767s flown at the mainline.
Air Canada fleet projections: Dec-2013 to Dec-2016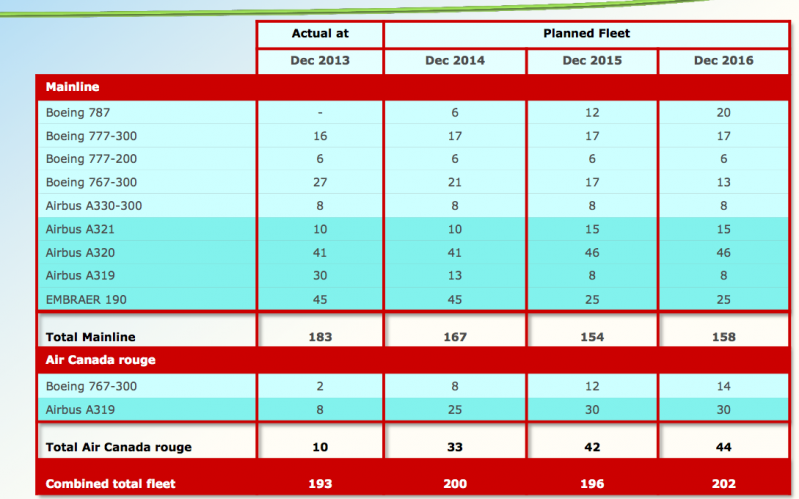 Previously Air Canada has estimated a 21% cut in unit costs on the rouge A319s compared to the mainline and a 29% reduction for the 767s operated by rouge. rouge has taken over several lower-yielding leisure markets from Air Canada mainline and the airline expects to operate 58 routes by winter 2014 from Canada to the Caribbean, US and Europe. Long-haul service from Toronto to Honolulu is set to start in Nov-2014, with the conversion of Vancouver to Honolulu and Maui pegged for late 2014.

During May-2014 Air Canada estimated rouge recorded a load factor of nearly 85%, which is a decent result for the carrier. It is not clear, however, when bookings for May were made by passengers. There have been some passenger complaints of purchasing Air Canada mainline flights that were converted to rouge without customer notification. The Vancouver Sun recently reported that Canada's Transportation Agency is investigating nine complaints from passengers that booked Air Canada flights but were then switched to rouge; if substantiated, these would appear in any event to be limited in number. But it does emphasise the complexities involved in brand differentiation and potential pollution of the parent brand.
Air Canada aims to leverage cost savings by adding seats to all of its 777s
Despite some passenger rumblings, it does appear rouge is making a positive contribution to Air Canada's traffic performance. On a consolidated basis Air Canada's traffic in Latin America and the Caribbean grew 7.8% for the five months ending May-2014, on ASM growth of 2.8%. Many of the routes Air Canada has converted from mainline to rouge are in those regions.

Overall, Air Canada's traffic for the first five months of 2014 increased 5.6% on 5.4% capacity growth. The expansion in ASKs seems large in comparison with Air Canada's US legacy counterparts, but a large portion of the growth is driven by the operation of higher density aircraft. All five of Air Canada's 458-seat 777-300ERs have joined the airline's fleet operating from Montreal to Paris, Vancouver and Hong Kong, and from London Heathrow to Toronto and Vancouver. Flights from Montreal to Heathrow began in Jun-2014.
Air Canada capacity, traffic and load factor performance: May-2014 vs May-2013 and 5M2014 vs 5M2013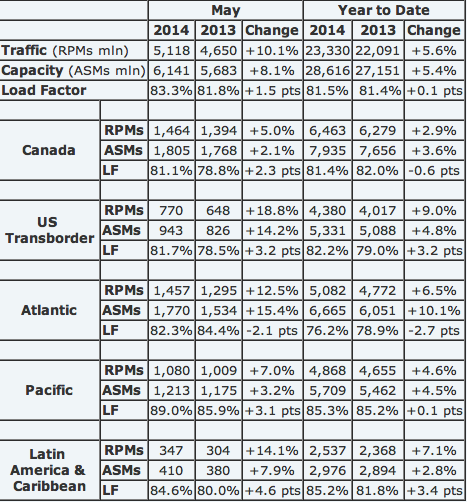 Premium economy and higher density become core features in Air Canada's new configurations
The five special mission 777-300ERs and Air Canada's 787s, the first of which joined the airline's fleet in May-2014, all feature a premium economy section. The airline recently declared plans to reconfigure its existing 777-300ER and -200LR widebodies with a premium economy, which will increase the seat density of those aircraft, while ensuring product continuity across its newer widebody fleet.

The airline estimates it will spend CAD300 million (USD276 million) to add 51 seats to existing -300ERs, which presently feature 307 in economy and 42 business class seats. Air Canada is adding 31 seats to the 200LRs, which feature 228 seats in economy and 42 business class seats. Presumably, Air Canada will shrink seat pitch in economy class on those aircraft to create and support the new premium economy section.

Air Canada CEO Calin Rovinescu has highlighted the compelling business case for increasing the density of the airline's 777s as early returns for the 458-seat widebodies looked promising.

The crux of the business argument for adding seats to the 777s is no doubt driven by the unit cost savings of operating higher density aircraft. Beefing up aircraft configurations is a trend among many North American carriers. American is adding seats to its 737s and 777s and Delta is also opting to increase density on some of its narrowbody aircraft with the goal of reducing unit costs.

Air Canada's operation of higher density A319s and 767s at rouge and 777s at the mainline are key drivers in the airline's cost reduction targets, which it aims to cut from CAD17.5 cents for CY2012 to roughly CAD15 cents.
Air Canada's unit cost reduction targets for the medium term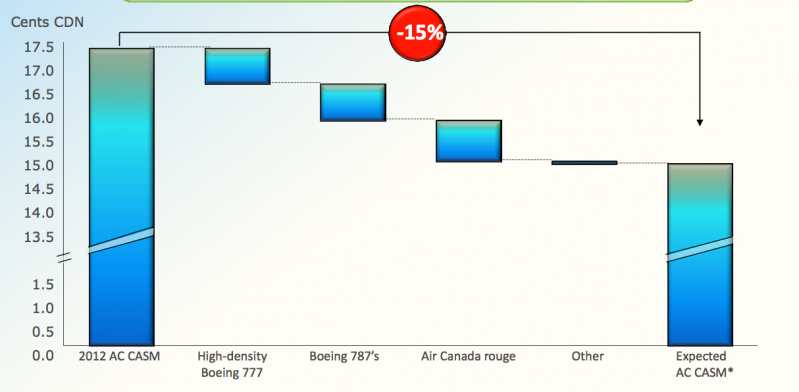 Air Canada's unit revenues and yield remain flat as costs decline
With all of Air Canada's emphasis on unit cost reduction, it seems less attention has been placed on the potential unit revenue dilution of operating higher density aircraft. The airline's traffic performance through May-2014 is certainly solid, but there is no indication of pricing traction as Air Canada opts not to supply revenue guidance in its quarterly earnings discussions or traffic updates.
But there are some trends that show the added seats are keeping unit revenues essentially flat, which may not be a concern for Air Canada as it works to beat back unit costs and close the gap with its domestic rival WestJet. However, the yield premium which Air Canada maintains over WestJet has always been touted as a major differentiator from the lower cost airline.

For CY2012 Air Canada's yields and unit revenues increased 1.8% and 3.2% respectively, and unit costs excluding fuel grew 1%. During CY2013 the carrier's yields increased 0.5% and unit revenues notched up 0.6% while unit costs excluding fuel fell 1.5%.

In 1Q2014 the airline recorded essentially flat yields, a 0.5% decrease in unit revenues and a 2.5% decline in unit costs excluding fuel. Air Canada's 1Q2014 results show that the airline is enjoying the desired effect of the higher density aircraft on unit costs, but unit revenues and yields are essentially staying flat. Some of the lack of unit revenue traction in 1Q2014 can be attributed to pressure in Air Canada's Pacific markets from increased industry capacity and increasing supply within the Canadian domestic market, which dragged the airline's yields down in that region by 3.5% year-on-year. But the flattish growth in yield and RASM is likely due in part to operation of higher density aircraft, which does usually correspond with lower unit revenues.

See related report: Air Canada eyes healthy demand in the summer season after racking up losses in 1Q2014
Air Canada seeks the ultimate prize – decreasing costs and increasing revenue
For the moment the market appears to be absorbing Air Canada's capacity increases as its traffic has grown solidly so far in 2014. It seems the airline is producing that capacity at a lower cost as rouge is now firmly established and the higher density 777s should be producing improved results in the long-haul leisure markets where they are being deployed.

But the question of how Air Canada's increased capacity will affect yields for CY2014 remains unanswered. At this point the hope is likely for at least continued flat growth as the airline continues to face pressure in its domestic and Pacific entities.

Air Canada's main task at hand during the past couple of years has been solidifying its cost reduction strategy, and early signs show the efforts are bearing some fruit. Over the long term the airline is looking at ways to boost revenue through product segmentation and improved product offerings such as the expansion of premium economy.

And obviously the optimal scenario over the long term is continued lowered cost and actual unit revenue growth. That is a difficult equation for Air Canada to master; but for the time being it is at least getting control of its costs, no easy feat in the airline business and seemingly especially so in the North American marketplace.