Air France-KLM: long haul low cost airline could be part of new CEO's vision as French Blue enters
Analysis
Air France-KLM chairman and CEO, Jean-Marc Janaillac, who took charge in Jul-2016, has talked about the possibility of launching long haul low cost operations (Bloomberg/luchtvaartnieuws.nl, 20-Sep-2016).
If Air France-KLM were to enter this segment it would be the second of Europe's big three legacy airline groups to do so, after the Lufthansa Group. Ironically, there is no long haul low cost competition to Lufthansa in Germany. By contrast, IAG faces more such competitors in the UK than either of its two major rival groups in their largest home market, but currently has no plan for such an operator.
Air France-KLM management told analysts on a conference call in May-2016 that it was sceptical about the sustainability of year-round profits for long haul low cost. However, new competition has prompted Mr Janaillac to look more closely at this market segment. Since Jul-2016 Norwegian has commenced trans-Atlantic long haul operations from Paris CDG. In addition, since Sep-2016, the new-start long haul LCC French Blue now flies on routes to the Caribbean. Mr Janaillac is expected to report on his strategic vision for Air France-KLM in early Nov-2016. Labour relations will be crucial to the group's development – not least in the area of long haul low cost.
There are currently five long haul low cost routes to/from France
According to data from OAG and CAPA, there are currently (week of 17-Oct-2016) only five long haul destinations served by Air France from Paris CDG that have a low cost airline competitor (either from Paris CDG or from Paris Orly). Three are in the Caribbean and two are in the US.
The five long haul routes from Paris on which Air France has low cost competition are Punta Cana, Port-au-Prince, Santo Domingo (Dominican Republic), New York and Los Angeles. The low cost competitor on the first three of these is French Blue, operating from Orly, while Norwegian competes from CDG on the two US routes.
Air France serves Santo Domingo from Paris CDG. For most of the year this involves an outbound stop in Punta Cana and a direct return flight. It operates nonstop to Santo Domingo from December to February.
Norwegian also operates from CDG to Fort Lauderdale-Hollywood Airport, which is only 30 miles or 50 km from Miami International, which is Air France's only destination in Florida.
Air France destinations from Paris CDG also served from Paris by LCC competitors
UK has 16 long haul low cost routes; Germany only has those operated by Eurowings
To give some comparison between the situation in France and in other large European countries, OAG data for the week of 17-Oct-2016 show 16 long haul routes to/from the UK that are operated by a low cost airline (all are to/from North America). The only long haul low cost routes to/from Germany at present are those operated by Lufthansa's Eurowings.
There are 11 long haul low cost routes to/from the Netherlands, operated by TUI Airlines Netherlands. However, most of these routes have been served by TUI for several years. Moreover, KLM is a lower unit cost operator than its sister airline Air France, and the Air France-KLM group's priority for low cost long haul would be the French market.
New-start LCC French Blue has a long haul leisure focus, with three Caribbean destinations
Norwegian has been growing its long haul network for some time and is therefore something of a known quantity. Moreover, it has entered long haul routes that have a strong business demand and so, would probably not be a priority for Air France to consider a low cost response against.
By contrast, French Blue is a new-start and is focusing on leisure destinations. According to the CAPA Fleet Database, French Blue currently operates one new Airbus A330-300E, leased from its parent Groupe Dubreuil. It has a 378-seat configuration for the aircraft, with 28 premium economy and 350 economy seats.
French Blue currently has one A350-900 on order with delivery due in 2018, by when it also plans to add a second A330-300 and a second A350-900.
According to OAG data for the week of 17-Oct-2016, French Blue operates direct from Paris Orly to Punta Cana in the Dominican Republic and Port-au-Prince in Haiti. Both routes were launched in Sep-2016. The Port-au-Prince service continues to Santo Domingo in the Dominican Republic, from where the return flight is direct to Orly.
According to Groupe Dubreuil, French Blue handled 358 passengers on its inaugural service to Punta Cana on 10-Sep-2016. French Blue president Marc Rochet has highlighted the airline's 15%-20% cheaper fares to Punta Cana versus its competitors (Le Point Economy, 14-Sep-2016).
French Blue planned to increase its Paris Orly-Punta Cana frequency from weekly to four times weekly due to strong demand (arecoa.com, 12-Sep-2016), although OAG data indicate that its frequency is currently three times weekly. The carrier estimates that traffic on the sector stands at 230,000 passengers annually.
French Blue routes by seats: week of 17-Oct-2016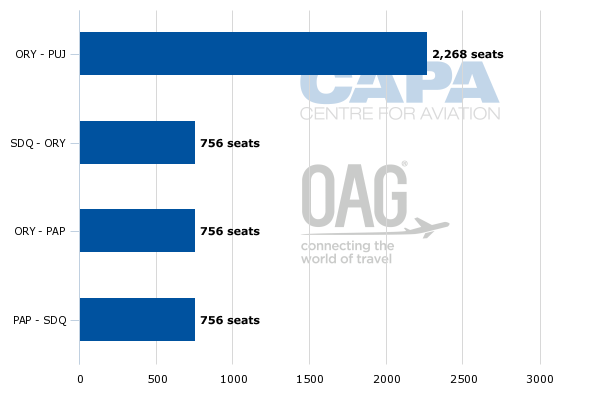 French Blue plans to launch an eight times weekly Paris Orly service to La Réunion in the Indian Ocean. French Blue will launch its first A350 equipment on this route.
This route is currently also operated from Orly by Corsair and Air France, and from Paris CDG by Air Austral. Dubreuil Group chairman Jean-Paul Dubreuil reportedly said the company wants to practice "an aggressive pricing policy" (Ouest France/lefigaro.fr, 05-Oct-2016). 'Smart' fares are priced from EUR299, and Premium fares at EUR649.
French Blue's owner Groupe Dubreuil also owns Air Caraïbes, which is based in the French overseas territory of Guadeloupe, with a main base at Pointe-à-Pitre. It operates regional routes within the Caribbean and a number of long haul routes to Paris Orly.
Air Caraïbes is not classified as an LCC in CAPA's databases, but it has a leisure focus and, according to the CAPA Fleet Database, its long haul network is served by A330 aircraft (one A330-200 and four A330-300s), with A350s on order (three A350-1000s and three A350-900s). It also has three ATR72s for its regional routes.
Alongside French Blue, Air Caraïbes operates three times weekly from Paris Orly to Punta Cana and also operates the triangular route Paris Orly-Port-au-Prince-Santo Domingo-Paris Orly. Air Caraïbes also flies from Paris Orly to Pointe-à-Pitre, Fort-de-France, Saint Maarten, Cayenne-Félix Eboué, Havana, Port-au-Prince, Punta Cana, Salvador, San Salvador and Santiago de Cuba.
Air France operates to all but three of Air Caraïbes' Orly destinations from CDG (Air France does not serve Salvador, San Salvador and Santiago de Cuba). Air Caraïbes codeshares with TUI Group's French airline subsidiary Corsair, carrying its SS code from Paris Orly to Pointe-à-Pitre, Fort-de-France, Saint Maarten and Cayenne-Félix Eboué.
Air Caraïbes' website says that it has entered codeshare agreements with French Blue, as well as with Corsair and Cubana de Aviación. Some media reports have quoted French Blue saying that 80% of its Paris-Punta Cana seats are filled by codeshare with Air Caraibes ticket sales.
XL Airways may be open to helping Air France with low cost long haul
Air France-KLM Group CEO Jean-Marc Janaillac has said that the group is considering a range of options in the low cost, long haul segment.
The president of Paris CDG-based XL Airways, Laurent Magnin, has attempted to influence Air France-KLM's thinking. The airline operates three Airbus A330s and one Boeing 737-800 to mainly leisure destinations in Europe, Africa, Latin America and the US.
It operates from Paris to two of the destinations where there is long haul low cost competition for Air France – namely Punta Cana and New York.
Mr Magnin has reportedly said that XL Airways would be open to investment from Air France. This could allow it to operate as a low cost long haul niche carrier, potentially acting as Air France's competitive response to start-up French Blue.
Mr Magnin said, "I have no debate to open the capital to Air France and to do things with Air France… In my opinion, Air France is an indispensable tool in France" (AFP, 15-Oct-2016).
More than three quarters (76%) of XL Airways' seat capacity is on long haul leisure routes. Its remaining capacity is on four European routes, where the overlap with Air France-KLM's LCC Transavia is limited only to Paris-Heraklion (operated by XL from CDG and Transavia from Orly).
XL Airways France: international seats by region, week of 17-Oct-2016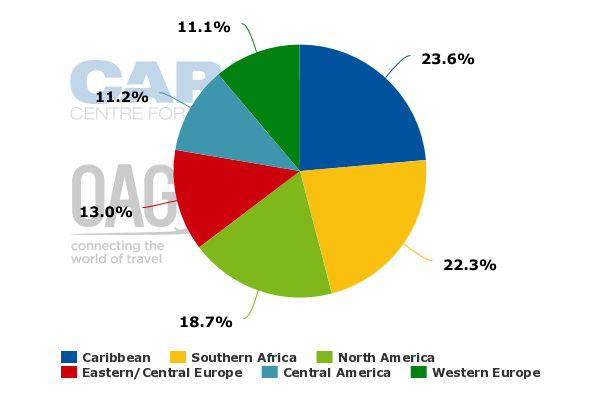 Corsair also considering long haul low cost operator from France
It seems that Air France-KLM is not the only airline to be considering establishing a long haul low cost operator from France. Corsair CEO Pascal De Izaguirre has said that his airline is to conduct a feasibility study on the potential launch of such an operation (PNC Contact, 22-Sep-2016). He said, "For its duration, Corsair will not be able to withstand competitors with such advantage in terms of costs".
Referring to French Blue's plans to launch Paris-La Réunion services, Mr Izaguirre warned of "huge overcapacity on this route" and a sharp decline in prices, "since it's obvious that we would align our prices with those of French Blue".
Part of the TUI Group, Corsair is already cooperating with French Blue's sister airline Air Caraïbes through a codeshare agreement. If it also sets up a low cost operation this will increase the intensity of competition felt by Air France on some of its long haul leisure routes.
CEO Janaillac's vision for Air France-KLM expected early Nov-2016
Air France KLM's Mr Janaillac, who is only a few months into his tenure as CEO, is set to announce details of his initiative to revitalise the group's restructuring programme in early Nov-2016.
Within weeks of his arrival on 4-Jul-2016 he told analysts on the group's 2Q2016 results webcast that his first task was a strategic review. This would involving working with all stakeholders and it would take a few months to "create a vision", although he did not envisage a fundamental change of strategy. He would be seeking "synergies between growth and productivity".
See related report: Air France-KLM: margin grows, but performance and profit below IAG & Lufthansa airline groups.
Called 'Trust Together', the new approach will focus on building relationships within the group, with a 10-year horizon. This will include relationships between staff and management, between the group and its investors and between the operating units within the group. The 'Trust Together' plan is expected by, or before, Air France-KLM's 3Q2016 results on 3-Nov-2016.
It is expected that the initiative will bring greater clarity to the relative position and role of each of the group's airline brands, including the possible development of Transavia activity for long haul.
Transavia's growth remains constrained by an agreement with Air France pilots. Mr Janaillac's focus on industrial relations will be very important to the development of long haul low cost operations by the Air France-KLM group.
Lufthansa is only European legacy group to have long haul low cost
Among Europe's big three legacy airline groups, the only one that has developed a long haul low cost operation is the Lufthansa Group. Its Eurowings low cost brand has a number of long haul routes to destinations in North America, Latin America and Asia Pacific.
As noted above, however, Lufthansa has no low cost competitors on long haul routes to/from Germany. It does not need them in order to understand that its mainline long haul operation is not sufficiently cost-effective versus many of its competitors, and that it needs alternative production platforms.
See related report: Eurowings develops innovative partnership approach, but CASK reduction may not go far enough
IAG does not have long haul low cost, in spite of greater competition
By contrast, the UK has 16 long haul low cost routes, all operated by competitors to IAG – for whom the UK is the largest home market for any of its group airlines. The long haul low cost operators to/from the UK are Norwegian and WestJet (plus short-term seasonal routes for limited periods operated by Jet2.com).
In spite of this long haul low cost competition, IAG currently has no plans for a long haul LCC operation. Willie Walsh, IAG CEO, has referred to Aer Lingus as IAG's 'low cost long haul' platform, although this is stretching the definition. It is certainly a cost-efficient long haul operation by comparison with Europe's larger legacy airlines, but not low cost in an absolute sense.
Nevertheless, IAG has a unit advantage over Lufthansa Group and Air France-KLM. This is partly based on IAG's earlier success with implementing improved labour productivity, aided by the creation of Iberia Express and Vueling. These two are not long haul operators, but IAG has achieved much cultural change through the lever of having alternative platforms.
See related report: Air France-KLM, IAG, Lufthansa LCC strategies: denial, submission, retreat, now counter-attack
If Air France-KLM announces concrete plans for long haul low cost, this should be welcomed
The Air France-KLM group suffers from poor labour productivity, particularly at Air France. Prior to Mr Janaillac's arrival in Jul-2016 management was imposing long haul capacity cuts at the French flag carrier, dangling the carrot of restored growth only if pilots agreed to its proposed productivity improvements.
Certain productivity measures were imposed, but Mr Janaillac agreed to suspend them until 1-Nov-2016 in return for pilots' agreeing to drop the threat of strike.
See related report: Europe's aviation strike spike could signal a cyclical peak - with downturn to follow
If Mr Janaillac does announce concrete plans for a long haul low cost operation for Air France-KLM, it will be a positive signal on three counts.
Firstly, it will demonstrate progress in labour relations, as it will need pilot agreement to launch a long haul low cost business. Secondly, it will provide the group with the potential to compete more effectively on long haul point-to-point leisure routes. Thirdly, it will give Air France-KLM management further leverage in future labour negotiations to have different growth options for its long haul production.
Long haul low cost would only be part of Mr Janaillac's vision, but achieving it would promise much about the Air France-KLM group's ability to create a future of trusting together.