VivaAerobus starts 2016 with positive momentum. Profitable growth is the key to its future
Analysis
Mexican low cost airline VivaAerobus ended 2015 on a positive note, reversing its losses from the year prior and charting solid EBIDTAR margins. The airline is in the final stretch of a fleet revamp; this entails shedding Boeing 737 Classics operated since its 2006 launch and transitioning to a much younger fleet of Airbus narrowbodies.

Among the new crop of Mexican low cost airlines that formed in the mid-2000s (VivaAerobus, Interjet and Volaris), VivaAerobus remains the smallest measured by market share. Aeromexico, Interjet, Volaris and VivaAerobus are Mexico's dominant airlines, but VivaAerobus' 12% in 2015 share was a distant fourth. That could change as VivaAerobus expands its fleet with larger-gauge aircraft, taking steps to broaden the expanse of its network.

VivaAerobus suspended a number of short-lived transborder routes in 2015, and it appears to be focused on rounding out its domestic network in 2016, before resuming international expansion in 2017. During the next few years VivaAerobus could elevate its position in the Mexican market if there is enough demand to sustain the growth plans of the country's largest airlines.
A stronger Mexican economy helps lift VivaAerobus to profitability in 2015
Mexico's more favourable economic conditions compared with other parts of Central and Latin America were one factor for VivaAerobus' favourable financial performance in 2015. The airline reversed a loss of MXP136 million (USD7.6 million) in 2014 with a profit of MXP452 million (USD25 million) in 2015. Its EBIDTAR margin for 2015 was a solid 35%.
In addition to GDP growth of 2.5% in Mexico, lower fuel costs and improved productivity driven by fleet efficiency also helped VivaAerobus to deliver an improved financial performance.

VivaAerobus transported 4.5 million passengers in 2015, an increase of 13.7%, the airline's largest year-on-year growth since 2012.
VivaAerobus annual passenger numbers: 2009 to 2015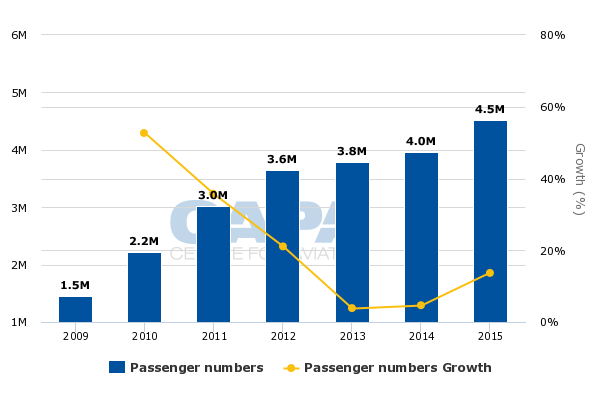 The airline is in the middle of a fleet renewal programme, replacing smaller 148-seat Boeing 737-700 Classics with larger-gauge 186-seat Airbus A320s. CAPA's fleet database shows that as of 9-Apr-2016 VivaAerobus operated a total of 16 current generation A320s. The company expects to transition to an all-Airbus fleet by YE2016.
VivaAerobus fleet summary as of 9-Apr-2016
During 2015 VivaAerobus grew its capacity by 15.9%, which is lower than the 18.8% increase posted by Volaris and the 11.5% rise recorded by Aeromexico. VivaAerobus' 2015 traffic grew 17.6% year-on-year, which helped to increase load factors by 1.1ppt to 80.8%.

See related report: Aeromexico and Volaris hold a positive view for 2016 as Mexico's economy holds up better than most
VivaAerobus order book dictates steady growth through 2022
During the last two years, broadly, Volaris and Interjet have toggled for the position as Mexico's second largest airline in domestic market share. In 2015 each airline held a 25% share after Grupo Aeromexico's share of 34%. VivaAerobus' 2015 domestic market share was 12%, which was the same share as it recorded in 2013 and 2014.

Volaris and Interjet have built up their fleets more rapidly than VivaAerobus. Volaris' fleet of 59 aircraft and Interjet's operating fleet of 63 jets are each more than double VivaAerobus' fleet of 23 aircraft. But VivaAerobus has an order for 40 A320neos and two current technology A320s left for delivery. It is scheduled to take delivery of those aircraft between 2016 and 2022; factoring out the seven existing 737-300s, VivaAerobus is projected to operate 58 Airbus narrowbodies by YE2022.
Interjet has 49 aircraft on order and Volaris has 35 Airbus single-aisle jets on order. Aeromexico has 69 aircraft in its order book, some of which are replacement jets.
VivaAerobus projected delivery dates for aircraft purchased from OEMs and leased from lessors: as of 9-Apr-2016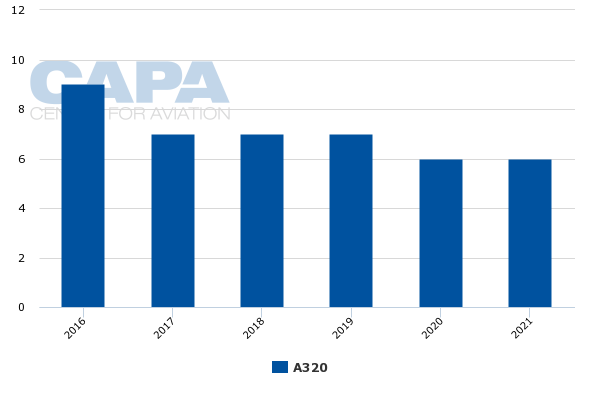 VivaAerobus' capacity growth could continue in the double digits during the next couple of years as it takes delivery of jets with a larger seat capacity. The order books of the four largest Mexican airlines do stimulate the question whether there is enough demand to sustain their growth plans.

Those four airlines believe that much untapped potential remains for air travel within the country. Aeromexico has calculated that Mexican flights per capita for the country's middle and upper class population (by income) is 0.6, compared with 1.4 for Europe and 2.4 for the US. Volaris has estimated that during 2014 approximately 2.8 billion Mexican passengers travelled by bus, 77 million of which were over executive and luxury passenger segments. The company has been engaged in a campaign to lure customers from bus travel as part of its strategy to grow its passenger base.

Every so often speculation arises over possible consolidation between Mexico's airlines. Such speculation touches on airline outcomes that are probably not viable in the short term, but over the course of the next decade the composition of the country's aviation industry could change, and dynamics could dictate that four airlines is not the optimal number for the domestic market.
VivaAerobus encounters familiar competitors in its latest domestic push
VivaAerobus' strategy turned somewhat indistinct after the airline ended a slew of short-lived US transborder services in 2015. At present it only serves Houston from Monterrey, four times per week.

See related report: VivaAerobus pulls back on US routes as the Viva Group takes aim at Costa Rica

Volaris' global top 10 hubs/bases/stations by seats: 11-Apr-2016 to 17-Apr-2016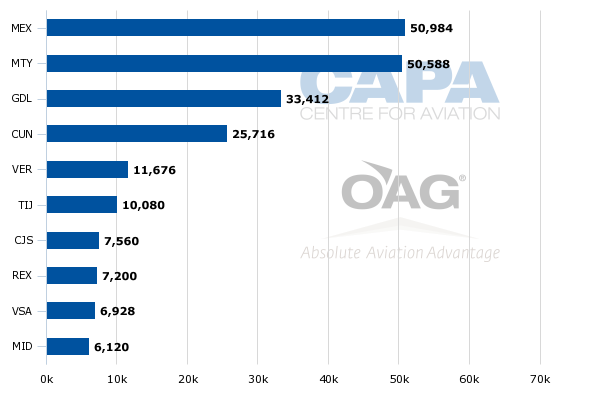 Management at VivaAerobus has indicated that the focus in 2016 is to grow domestically, citing Monterrey, Mexico City, Cancún and Tijuana specifically. Mexico City is the airline's largest base measured by seat deployment.
Monterrey is VivaAerobus' headquarters and largest base measured by origin of routes.
VivaAerobus top 10 routes by origin: 11-Apr-2016 to 17-Apr-2016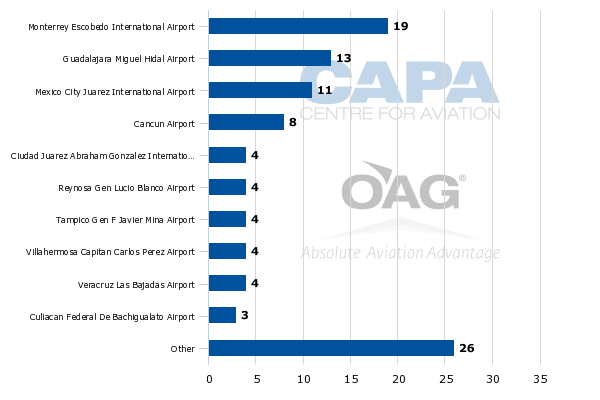 Routes that VivaAerobus is launching in 2015 and 2016 include Mexico City Juarez-Villahermosa and Tuxtla Gutierrez, two markets the airline had previously served in 2012. VivaAerobus is also adding flights from Mexico City to Chihuahua and Tijuana. From Guadalajara it is adding service to Tijuana, Culiacán, Chihuahua and Puerto Vallarta.

Forward schedules from CAPA and OAG show that in late Jul-2016 that it is only in one market that VivaAerobus has a commanding seat share – Guadalajara to Chihuahua, where it will hold a 38% share. There is a minimum of two competitors on all the routes that hold much higher seat share concentrations.
Airline seat share of some of VivaAerobus' 2015-2015 domestic route additions, as of late-Jul-2016
Ample offerings already exist on the new service introduced by VivaAerobus. But Mexico's domestic market is far from achieving a steady state of maturity. Potentially VivaAerobus holds the view that it can stimulate enough traffic to cover its capacity; however, its competitors have larger scale, allowing them to match VivaAerobus' fares more easily.
On two of those routes, Tijuana to Mexico City and Guadalajara, VivaAerobus becomes the fourth airline. Time will tell whether those markets can sustain four operators.
VivaAerobus and Volaris have no plans to pursue partnerships, for now
Executives from VivaAerobus have told local news outlets that the company could restart international expansion in 2017. At that point, a new bilateral between the US and Mexico should be in effect: it will loosen restrictions on the number of airlines allowed to operate between the two countries.

The Viva Group is also examining other countries for establishing a third low cost airline, after shelving plans to create a new LCC in Costa Rica. Volaris, however, is in the middle of creating a low cost arm in Costa Rica. With a newer fleet of Airbus narrwobodies, markets in Central America or the Caribbean could be of interest to VivaAerobus, and allow it some needed network diversity to make it less dependent on Mexico's domestic market.

See related report: Viva and Volaris try to shake up the LCC market in Latin America while Sky switches its model

There has been no coordination between VivaAerobus and its sister airline VivaColombia, and there seem to be logical opportunities for coordination in order to offer a broader network. It's possible that those airlines are focused on the pure LCC point-to-point network strategy, rather than working to achieve network synergies. There could obviously be some benefit in negotiating with suppliers since the combined scale of the two airlines, plus a potential third member of the Viva Group, could create opportunities for most cost-efficient contracts.

Mexico's 'purer' LCCs VivaAerobus and Volaris have shied away from partnerships. Volaris had a short=lived tie-up with Southwest that ended in 2013, and VivaAerobus has not openly pursued partnerships. Mexico's more hybrid low cost airline, Interjet, partners with oneworld airlines American, Iberia, LATAM Airlines Group and British Airways. Mexico's largest full service airline, Aeromexico, is a member of SkyTeam and aims to create an immunised transborder joint venture with fellow alliance partner Delta Air Lines.
VivaAerobus needs to demonstrate that it can execute future growth profitably
Mexico's growth potential makes it one of the more dynamic markets in global aviation. The country's current aviation structure is made up of one large full service airline (Aeromexico), two pure low cost airlines (VivaAerobus and Volaris), and a more hybrid operator (Interjet).

VivaAerobus does not yet have the scale of its larger ultra-low cost rival Volaris and the hybrid low cost competitor Interjet – domestically or internationally.
During the next two years VivaAerobus seems poised to grow in stature. The key is ensuring that growth is profitable. VivaAerobus started 2016 on an improved financial footing. Now it is time to sustain that performance and expand its opportunities.