Aeromexico and Volaris hold a positive view for 2016 as Mexico's economy holds up better than most
Analysis
Mexico's two publicly traded airlines Aeromexico and Volaris have reasonably positive outlooks for 2016 after the country's economy remained stable in 2015, compared with some of the more volatile regions in Latin America. Currency pressure remains a challenge for all of Mexico's airlines, as the MXP fell 20.7% against the USD during 4Q2015. But lower fuel costs helped Aeromexico and Volaris grow their top line profits for the full year 2015.

Although much will depend on how the overall global economic environment fares, Mexico's GDP is forecast to grow 2.8% in 2016, which should bode well for the country's airlines. Both Aeromexico and Volaris stress that their planned capacity growth for 2016 is reasonable in the circumstances. Volaris is aiming to expand at levels similar to 2015, while Aeromexico plans a reduction in its capacity growth as it matures several new international markets introduced in 2015.

Aeromexico believes that the lower capacity growth should help the airline improve its yields, which fell year-on-year in 2015. Its rival Volaris shored up its yields in 2015, and, for now, has concluded that the overall Mexican domestic and US transborder environment remains stable.
Mexico's publicly traded airlines benefit from improving economic conditions in the country
Both Aeromexico and Volaris grew net income in 2015. Volaris more than doubled its profits year-on-year from USD45.5 million to USD155.4 million.
Volaris financial performance: 2013 to 2015
| Volaris metric | FY2013 | FY2014 | FY2015 |
| --- | --- | --- | --- |
| Operating revenue | 1,019M | 1,055.2M | 1,146.3M |
| Operating costs | 994.2M | 1,039.9M | 988M |
| Operating profit (loss) | 24.9M | 15.3M | 158.3M |
| Net profit (loss) | 20.8M | 45.5M | 155.4M |
Mexico's largest airline, Aeromexico, increased is profits year-on-year in 2015 from USD58.9 million to USD72.9 million.
Grupo Aeromexico financial performance: 2013 to 2015
| G. A. metric | FY2013 | FY2014 | FY2015 |
| --- | --- | --- | --- |
| Revenue | 3,123.2M | 3,226.7M | 2,960.1M |
| Total operating costs | 2,934.8M | 3,093.5M | 2,769.1M |
| Operating profit (loss) | 188.3M | 133.1M | 191.1M |
| Net profit (loss) | 84.6M | 58.9M | 72.9M |
After tough conditions prevailed in the Mexican domestic market in 2014, the environment started to improve in 2H2015. The country's GDP increased 2.5% in 2015 and the number of passengers travelling on Mexico's domestic routes grew from 32.8 million to 37.1 million, year-on-year.

Although Mexico's economic prospects look stable, recently Aeromexico executives observed that the economic growth was uneven across different business segments. Services and commerce grew by 8.9% and 3.9% respectively in 2015, while growth in the mining and construction sectors shrank.

Aeromexico's yield and passenger unit revenues fell in 2015, whereas Volaris posted growth in each metric. In 2014 Aeromexico opted to trade in yields to sustain load factors, in order to keep its leading market share in Mexico. Grupo Aeromexico has maintained its leading domestic market share of 34% in 2015. Volaris and Interjet each had a 25% share and Mexico's fourth largest airline VivAerobus posted a 12% market share.
Aeromexico and Volaris PRASM and yield performance: 4Q2015 and FY2015
| | | | | |
| --- | --- | --- | --- | --- |
| Airline | 4Q2015 PRASM | 4Q2015 Yield | FY2015 PRASM | FY2015 Yield |
| Aeromexico | 4.3% decline | 4.9% decline | 2.5% decline | 2.4% decline |
| Volaris | Flat | 0.2% increase | 5.2% increase | 5.1% increase |
During 2015 Aeromexico, in discussing falling yields, highlighted significantly higher competitive capacity. During 2015 Volaris revised its capacity growth upwards to 15% to 18%, from original projections of 10% to 12% growth. Its total capacity growth in 2015 reached 18.9%. The airline stated that the upward revisions were driven by strong demand. Most of the growth was directed at the Pacific corridor and northern Mexico.

See related report: Aeromexico and Volaris cite positive signs in Mexico despite growing currency pressures

Both Volaris and Aeromexico directed the bulk of their capacity growth to international markets in 2015, with Volaris directing 32.5% of its ASM growth on routes outside Mexico. Aeromexico's system capacity grew by 11.5% in 2015, with 14.5% dedicated to international routes.
Aeromexico monitors international leisure markets, experiences some weakness in Houston
Aeromexico's capacity growth is slowing to 6% to 8% as it works to mature seven new routes it has launched in 2016 – five international and two domestic. The airline's new international routes from its Mexico City hub in 2015 included services to Toronto, Vancouver, Boston, Medellín, and Panama City. In 2016 it is adding flights to Santo Domingo and Amsterdam.

Company executives have concluded that slowing capacity growth in 2016 should place Aeromexico favourably to improve its yields. Airline management stated that Aeromexico is monitoring the effects of the devaluation of the MXP on international leisure routes. The CEO, Andres Conesa, observed that point of sale outside Mexico is more sustainable on those routes, given the contrasting difficulty of passing through the effects of exchange rate movements on domestic sales. Although international yields are lower, Mr Conesa said that volume was holding steady in those markets.

Mexico City-Houston Intercontinental is Aeromexico's eighth largest international route measured by seat deployment. The economy of the Houston metro area is highly dependent on the energy sector, which has been depressed due to falling oil prices. Mr Conesa conceded that Houston is weaker due to the effects of depressed oil prices and additional capacity introduced in the market during the last year.
Interjet launched flights from Mexico City to Intercontinental in May-2015, and data from CAPA and OAG show that one-way seats on the route have grown 12.5% year-on-year for the week of Feb-22. United is the major airline on the route, holding 59% market share for the week of 22-Feb-2016. Aeromexico also operates services from Monterrey to Houston Intercontinental, joining Interjet, United and VivaAerobus on the route.
Aeromexico top 10 international routes measured by seats: 22-Feb-2016 to 28-Feb-2016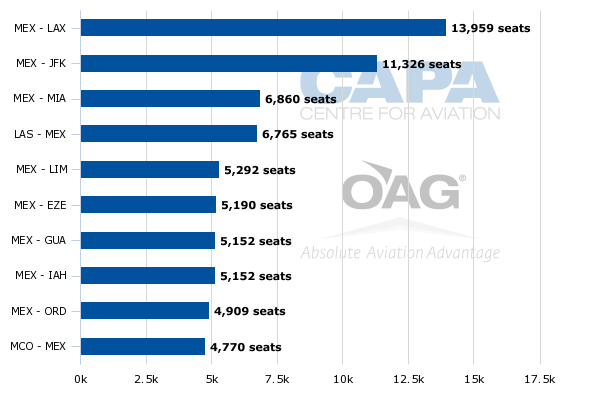 Volaris is comfortable with 2016 capacity growth since its VFR base creates a shield against market challenges
Volaris is planning capacity growth for 2016 at the same level as it posted in 2015, which was around 18%. The airline stated that it observed strong demand in 2015, both in international and in domestic markets. At present (22-Feb-2016 to 28-Feb-2016) 30% of Volaris' ASMs are deployed into international markets, compared with 66% for Aeromexico.

Executives at Volaris stated that many of its markets, especially US transborder routes, are demanding more capacity. The company serves 19 markets in the US from various points in Mexico. Volaris concludes that its US markets have performed well as a result of its large visiting friends and relatives (VFR) passenger segment, which is resilient in the current exchange rate environment.
In the domestic market, Volaris highlighted an ability to stimulate demand in Mexican beach markets since the exchange rate makes travel to the US more expensive for Mexican consumers. The beach market of Cancún is Volaris' fourth largest base measured by seat deployment for 22-Feb-2016 to 28-Feb-2016.
Volaris global top 10 hubs/bases/stations by seats: 22-Feb-2016 to 28-Feb-2016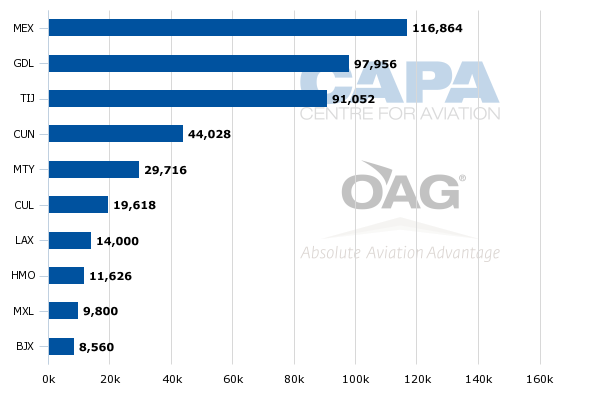 Volaris is the third largest airline at Cancún on a system-wide basis, with a 9% seat share, and it holds 36% share of the domestic seats deployed from the airport. Data from CAPA and the airport show that Cancún's domestic passengers grew 9.9% year-on-year to 6 million.

As 1Q2016 got under way, Volaris stated that demand was stable, and the company was not undergoing any major changes from a competitive perspective. Although Volaris expects flat capacity growth, its 18% expansion is nearly double Aeromexico's 6% to 8% growth for 2016. However, Volaris is working off a smaller base, operating a fleet of 58 Airbus aircraft as at 26-Feb-2016.
Volaris fleet summary as of 26-Feb-2016
Aeromexico's mainline fleet is composed of 63 aircraft, and its subsidiary Aeromexico Connect has a fleet of 60 aircraft.
Aeromexico mainline fleet summary as of 26-Feb-2016
Aeromexico Connect fleet summary as of 26-Feb-2016
Aeromexico and Volaris start 2016 on a solid footing. Continued success is too early to determine
Mexico's economic stability renders it one of the more solid performers in Latin America, where Brazil's dire economic situation is dragging down the performance of the entire region. Aeromexico and Volaris remain on solid footing, benefitting from the decrease in fuel prices while navigating challenges created by the devaluation of the MXP.

Each airline is likely to sustain its profitability in 2016 provided they adopt nuanced approaches to maximising opportunities in the Mexican market. Aeromexico aims to mature several new international routes, while Volaris expects to exploit opportunities to harness VFR demand in the US transborder market. Their respective strategies were reasonably successful in 2015, but it is too early to conclude that the same approach will create the same results in 2016.