VivaAerobus pulls back on US routes as the Viva Group takes aim at Costa Rica
Analysis
A promising transborder push by VivaAerobus has become short lived, leaving the Mexican low cost carrier with only one US route. With the recent suspension of Cancun-Houston, six US routes that VivaAerobus launched over the last year have now been axed.

On most of the routes VivaAerobus faced formidable competition from both large US global network airlines and Mexican rivals Aeromexico, Interjet and Volaris. VivaAerobus' international passenger numbers have grown at a steady clip in 2015, but its larger rivals Aeromexico and Volaris have also directed most capacity growth this year to international operations, particularly to the US.

VivaAerobus' decision to end transborder routes occurs as the Viva Group is reportedly aiming to launch a third affiliate in Costa Rica by the end of 2015. Presently there is no coordination between VivaAerobus and the second airline created by the group VivaColombia, so it remains to be seen if the new airline will have any effect on VivaAerobus' network strategy.
VivaAerobus' latest transborder push seems short lived after a solid pruning of routes
Among the four Mexican airlines serving US routes, VivaAerobus has been the most inconsistent. It first launched flights to Austin from Monterrey and Cancun in 2008, but pulled out a year later.
In a second foray into the transborder market in 2010 and 2011 VivaAerobus launched services from Monterrey to Chicago, Houston, Las Vegas, Miami and Orlando. All these routes were short lived except Monterrey-Houston, which the airline has been able to maintain since it was launched in 2010.
In a third attempt at transborder expansion, VivaAerobus launched in 2H2014 and 1H2015 services to Dallas from Guadalajara and Monterrey and to Houston from Cancun and Guadalajara. It also resumed during this timeframe flights from Monterrey to Las Vegas and San Antonio.

See related report: VivaAerobus plans a transborder push. Is this the start of a new phase for Mexico's quieter LCC?

But all the routes launched in 2H2014 and 1H2015 have now been terminated. The last of these routes, a twice weekly service from Cancun to Houston, was suspended on 12-Oct-2015. Data from OAG and the VivaAerobus website show Monterrey-Houston as the only remaining international route for VivaAerobus with four weekly flights.
VivaAerobus tried to narrow the gap in international market with Mexican rivals
The expansion to the US was an ultimately unsuccessful attempt by VivaAerobus to narrow the gap with its larger competitors. VivaAerobus is by far the smallest player in Mexico's international market, accounting for only 2% of all international passengers carried by Mexican carriers in the first eight months of 2015 according to Mexican DGAC data.
VivaAerobus carried about 127,000 international passengers during the first eight months of 2015, compared with approximately four million for Grupo Aeromexico, 1.3 million for Volaris and over 800,000 for Interjet. In total, Mexican airlines transported 6.6 million passengers during the first eight months of 2015.
VivaAerobus was the first of Mexico's new generation of LCCs to launch international services, beating both Interjet and Volaris. But VivaAerobus has repeatedly struggled to gain traction in the international market while its rivals have expanded rapidly.
VivaAerobus surpassed 20,000 monthly international passengers for the first time in Jun-2015 and Jul-2015. While this is a very small figure compared to its LCC rivals, it represented significant growth compared to prior years.
With all but one of its international routes now suspended, VivaAerobus will slip back to the paltry monthly international passenger numbers from most of 2013 and 2014. From Mar-2013 through Nov-2014, it carried only about 5,000 monthly international passengers.
VivaAerobus monthly international passenger numbers: Jan-2009 to Aug-2015
Volaris quickly followed VivaAerobus in launching two US transborder routes
VivaAerobus never had a dominant seat share on any of the transborder routes it launched within the last year. Data from CAPA and OAG for mid-Apr-2015 show that is had about a 28% share of seat capacity between Monterrey and San Antonio, a 45% share from Monterrey to Las Vegas and a 10% share from between Monterrey and Dallas.
Its share from Guadalajara to Dallas was about 18% and 14% from Guadalajara to Houston. Between Houston and Cancun its share was its share was 7%.
VivaAerobus faced a mix of competition on its transborder routes from its fellow Mexican rivals, large US network airlines and ULCC Spirit. On Monterrey-San Antonio and Monterrey-Las Vegas its competitors were Mexican airlines Aeromexico and Interjet. Its only competitor on the route between Monterrey and Dallas was American Airlines.

Shortly after VivaAerobus launched flights from Guadalajara to Dallas, its Mexican rival Volaris also entered the market. By Jul-2015 VivaAerobus and Volaris each held about a 17% seat share on the pairing with American accounting for the remaining 66%.

The same scenario played out on VivaAerobus' service between Guadalajara and Houston, where VivaAerobus initially broke United Airlines' monopoly status on the pairing. Shortly after Volaris launched service on the route. In Jul-2015 VivaAerobus and Volaris each had roughly a 13% seat share in the Guadalajara-Houston market while United accounted for the remaining 74%.

Although neither VivaAerobus nor Volaris made a huge capacity push into the transborder markets from Guadalajara, Volaris has the distinct advantage as Guadalajara's largest airline measured by seats with a nearly 39% share. VivaAerobus is a distant fourth with just a 10% share of total seat capacity at Guadalajara, according to CAPA and OAG data.
Guadalajara capacity share (% of seats) by carrier: 12-Oct-2015 to 18-Oct-2015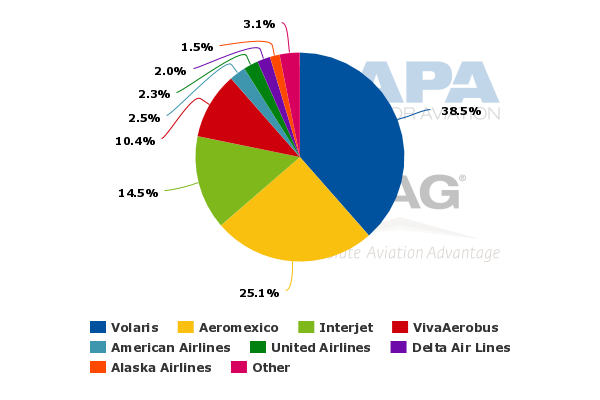 Source: CAPA - Centre for Aviation and OAG
Guadalajara is a relatively small base for VivaAerobus with significantly less capacity than Monterrey or Mexico City.
VivaAerobus global top 10 hubs/bases/stations by seats: 12-Oct-2015 to 18-Oct-2015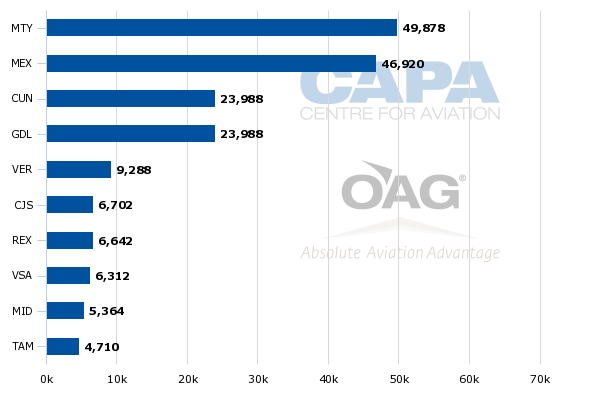 Source: CAPA - Centre for Aviation and OAG
VivaAerobus also faced tough competition from Interjet and Aeromexico on US routes
VivaAerobus is the second largest airline at its main base in Monterrey, behind only Aeromexico. Data from CAPA and OAG for the week of 12-Oct-2015 to 18-Oct-2015 show VivaAerobus has a 24% seat share at Monterrey compared with nearly 29% for Aeromexico (includes Aeromexico Connect). Interjet is a close third with about a 22% share.
Monterrey capacity share by carrier (% of seats): 12-Oct-2015 to 18-Oct-2015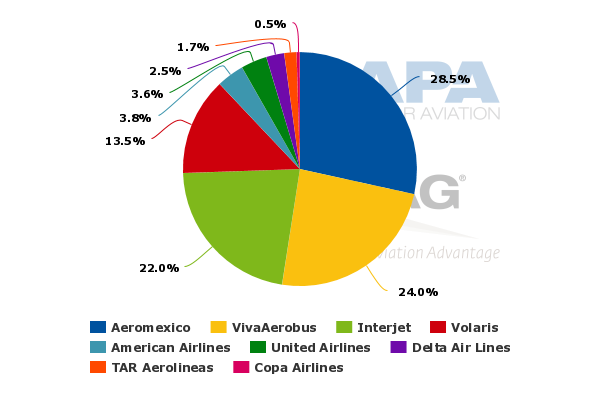 Source: CAPA - Centre for Aviation and OAG
In the case of Monterrey-San Antonio, perhaps the route became too crowded with three Mexican airlines. VivaAerobus had less than a 25% seat share and was the last to enter the market, putting it in a difficult position.
Monterrey-Las Vegas also had three Mexican carriers, with VivaAerobus the last to enter. By Jul-2015 VivaAerobus' seat share on the Monterrey-Las Vegas pairing had dropped to 36%,compared to a 46% share for rival Interjet and 18% for Aeromexico.
Spirit Airlines introduced service from Houston to Cancun after VivaAerobus inaugurated flights on the pairing. Houston-Cancun was previously only served by United.
Spirit has served Cancun from other points in its US network for several years, and perhaps with its brand awareness in the US and ULCC structure, its entry into the market slowed VivaAerobus' ability to mature the route in a timely manner. Cancun is primarily an inbound market, a sector VivaAerobus and other Mexican LCCs have generally struggled to compete in against US carriers.
Was there too much competition among Mexican airlines in the US transborder market?
The two largest Mexican airlines offering flights between the US and Mexico, Aeromexico and Volaris, are growing their international capacity at a much faster clip than domestic supply during 2015. Although Aeromexico serves long haul intercontinental destinations including London, Paris, Madrid, Shanghai and Tokyo, the bulk of its international seats, nearly 60%, are deployed to North America.
For the first nine months of 2015 Aeromexico's international capacity grew roughly 15% year-on-year compared with domestic expansion of roughly 6%. Its loads on international routes have been flat year-on-year at about around 81%, driven by international traffic growing in line with supply.

Volaris' international supply jumped 37% year-on-year for the 9M ending Sep-2015, with international traffic increasing 32%. Its international load factors fell 3.2ppt to 82%.
Data from the US DoT show that VivaAerobus' load factor on US routes for the first three months of 2015 was roughly 52%. This is clearly unsustainable and likely was a factor in the decision to pull back its US operation. But the low load factor is also likely an indication that most of its US routes had been launched since 4Q2014 and were still in the spool up period.
Competition in the Mexico-US market has become extremely intense, particularly between Mexican carriers. The market has shown signs of overcapacity over the last year and market conditions are not likely to improve as the two largest Mexican carriers show no signs of slowing growth. It could be a sensible strategy for VivaAerobus to pursue opportunities elsewhere.
As VivaAerobus pulls back transborder routes, the Viva Group targets Costa Rica
VivaAerobus' has only operated international services to the US since launching in 2006. After VivaColombia's launch in 2012, it seemed as if the two airlines would work together at some point, but a tie-up has yet to materialise.
VivaColombia's international destinations include Quito and Panama City Pacific International Airport. Neither VivaColombia nor VivaAerobus have entered the Mexico-Colombia market although rival Interjet launched Mexico City-Bogota in 2013.

In mid-2015 news outlet The Telegraph reported the Viva Group was planning to launch a third airline in Costa Rica by the end of 2015 with two Airbus A320s. Investors in the Viva Group include Mexican bus company IAMSA and Irelandia Aviation. Viva has had a team looking at potential new LCC opportunities in the Latin American market since launching VivaColombia over three years ago.
VivaAerobus in 2013 placed an order for 52 A320s which was intended to replace its original fleet of 19 Boeing 737-300s as well as support growth for both the Mexican LCC and sister carriers. The CAPA Fleet database shows that VivaAerobus currently operates 10 A320s along with 13 737-300s. The airline expects to complete its fleet transition to the A320 by early 2016.
VivaAerobus Fleet Summary as of 14-Oct-2015

The new Viva entity is dubbed VivaCam, and its president Joseph Mohan told The Telegraph that the airline would operate up to six A320s within three years. VivaCam has not yet identified a source for its aircraft but they will likely come from the VivaAerobus order.

Conditions in Mexico's domestic markets are slowly improving, but the country's two publicly traded airlines, Aeromexico and Volaris, have indicated that yields have some distance to climb before they rebound. VivaAerobus has almost certainly encountered the same yield weakness, likely resulting in low fares to sustain load factors.

Placing some of the group's A320s in Colombia and Cost Rica would be logical. Costa Rica has one of the more stable economies in the Americas. Its 2015 GDP growth is projected at 3.8% compared with 3% for Mexico.
There are also fewer competitors in the Costa Rican market with Copa and Avianca each accounting for roughly 23% of the country's international seats, according to CAPA and OAG data. Avianca closed in 2013 its Costa Rican hub that it inherited from its 2009 merger with Central American airline group TACA, which included Costa Rican subsidiary LACSA.
See related report: Copa emerges as Costa Rica's largest airline as Avianca downgrades San Jose hub to focus city
The reduction in capacity by Avianca leaves a potential opening for a new Costa Rican carrier, particularly an LCC. But it remains to be seen if the establishment of a third airline will foster new cooperation among Viva affiliates.
VivaAerobus' aspirations seem unclear after the pull down of international flights
VivaAerobus could be entering a critical period after shelving a planned IPO and retracting expansion in the US transborder market.
VivaAerobus could be taking a step back, and evaluating its network options, possibly looking at new international routes to Central and South America. But at this point its future aspirations seem somewhat unclear even as the Viva Group starts spreading its wings.