Star's predicament in Brazil creates a limbo in the global alliance shake-out in Latin America
Airline Leader
Accompanying the consolidation sweeping over Latin America during the last few years has been a significant shift in the dynamics of global alliance positioning in the region, driven by TAM's move to oneworld in May-2014 following a four-year stint in the Star Alliance and its 2012 merger with LAN to create the LATAM Airlines Group.
LATAM Airlines Group's decision to opt for oneworld was not a surprise given that legacy LAN was a founding member of the group. Keeping TAM in another alliance was not an option because in approving the LAN-TAM merger, which was completed in mid-2012, competition authorities required the group to select a single alliance.
But TAM's exit left a gaping hole for Star in Brazil, the largest market in Latin America. In late 2013, Star announced the approval of Avianca Brazil as a new member but it is far from certain the airline will enter Star in 2014 as originally planned.
With TAM's transition to oneworld, the balance of alliance capacity has shifted in Latin America. oneworld now accounts for a leading 26% share of capacity in the region, followed by Star with about a 15% share and SkyTeam with a 13% share. oneworld previously had about a 15% share of capacity in Latin America while Star, which gained about 11ppts when Avianca and Copa entered in 2012, had about 27%.
But there are pockets where Star retains strength, including a 27% share in Central America, which is dominated by Star members Copa and Avianca. Copa's main hub is in Panama while Avianca has a hub in El Salvador, a product of its merger with Grupo TACA that launched consolidation within Latin America in 2010.
SkyTeam remains the smallest alliance in Latin America based on capacity share. But it holds a dominant position in Mexico – a market with significant upside growth – through Aeromexico's membership. SkyTeam added Aerolineas Argentinas as its second Latin American member in 2012.
Latin America capacity share (% of seats) by alliance: Aug-2014
Note: includes Caribbean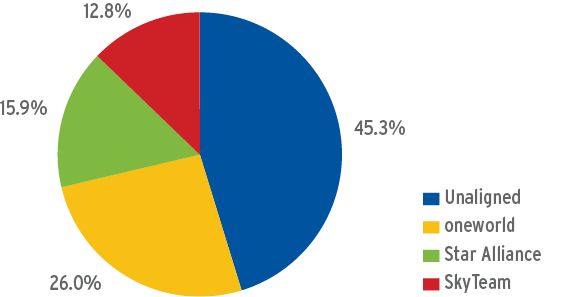 Two wildcards in the alliance shake-out in Latin America are Gol and Azul. Gol has been adding SkyTeam members to its partnership roster during the last couple of years, including Aerolineas Argentinas and Aeromexico, and SkyTeam anchor members Delta and Air France-KLM now hold equity stakes in the Brazilian LCC. But Gol remains steadfast that it will remain independent.
Star has held discussions with Azul, which earlier this year implemented an interline and frequent flyer agreement with Star founding member United. These talks have ruffled feathers at Avianca and led to uncertainty around Star's strategy in Brazil in the aftermath of TAM's jump to oneworld.
The Azul talks created sensitive dynamics for Star and Avianca Brazil. After finding out about the talks with Azul, Avianca Brazil requested exclusivity which would have precluded Azul or any other Brazilian carrier from also joining Star. The alliance refused to consider the request, believing Avianca Brazil alone is not large enough to give Star sufficient presence in Brazil.
Star sees a combination of Azul and Avianca Brazil as ideal, with Azul most likely entering under a new platform Star is developing for LCCs and hybrid carriers. Avianca Brazil is concerned that Azul would gain all the benefits of being a member without having to incur the full costs of membership. (Azul would also potentially dilute the value of Avianca Brazil's membership and investment in Star.)
Avianca Brazil has acquiesced to some extent by no longer insisting on exclusivity. But the carrier is now refusing to agree to a condition that Avianca relinquishes its rights to vote on any issue concerning the Brazilian market. Avianca sees such a condition as unfair and unprecedented. Until the impasse can be resolved, Avianca Brazil will not continue with the process of joining Star.
The discord puts Star in a delicate position. Star has been courting Azul, which has rapidly risen since its late 2008 launch to become Brazil's third largest domestic airline. The LCC created by JetBlue founder David Neeleman grew its market share during 1H2014 from 12% to 17% year-on-year. Azul now serves 100 domestic markets within Brazil and is planning to launch long-haul flights to the US in late 2014 with Airbus A330s.
Avianca Brazil is entirely a domestic carrier but its domestic footprint is much smaller than Azul's. Avianca Brazil has a network of 24 domestic destinations and accounted for only an 8% share of Brazil's domestic market in 1H2014. However, Avianca Brazil's largest base is Sao Paulo Guarulhos, which is Brazil's main international gateway and is served by more than 10 Star carriers. Azul's largest base is Campinas Viracopos, located roughly 100km north of Sao Paulo, but also has a large operation at Guarulhos. Azul has about an 11% share of domestic capacity at Guarulhos while Avianca Brazil has about a 10% share.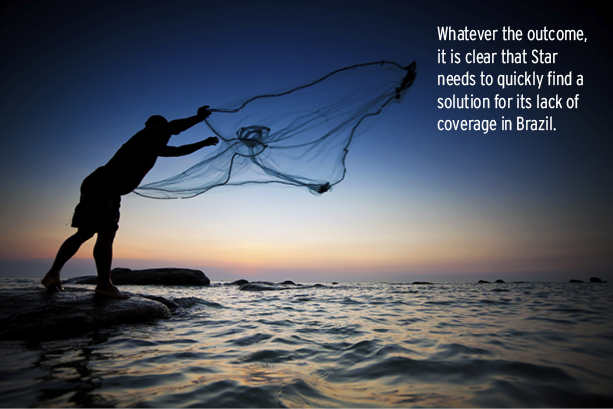 Avianca Brazil's sister airlines in Colombia, Peru and Central America have been members of Star since mid-2012, which makes the current situation particularly delicate as Avianca Holdings would benefit from having all Avianca-branded carriers in Star. Avianca Brazil is not part of Avianca Holdings but there is cross-ownership with Synergy owning all of Avianca Brazil and being the single largest shareholder of Avianca Holdings. Avianca Brazil, formerly known as Oceanair, was originally excluded from Star's acceptance of Avianca in late 2010 because of an objection from TAM.
Even if Star manages to add both Avianca Brazil and Azul to its membership roster, combined the two airlines would not mirror TAM's strength within Brazil. The duo accounted for a 25% share of the domestic market in 1H2014 compared with 38% for TAM. In addition, neither carrier provides any regional international connections, a market only served by TAM and Gol. Long-haul flights would not be much of an attraction to Star as several of its US and European members already serve Brazil, but previously TAM provided Star members with important links to secondary markets within South America's southern cone.
Whatever the outcome, it is clear that Star needs to quickly find a solution for its lack of coverage in Brazil. Even as Brazil's economy has weakened, it is far too large of a market to cede to oneworld.
Gol is getting closer to SkyTeam but at least for now remains unaligned. Brazil's second largest airline, Gol, recently added SkyTeam member Aeromexico as a codeshare partner, joining Delta, Aerolineas Argentinas and Air France-KLM in Gol's partnership portfolio. But Gol also works with several airlines from other alliances as well as non-aligned carriers.
Gol has so far benefited from its nonaligned stance as it has been able to work with carriers from the two alliances not represented in Brazil (initially oneworld and SkyTeam as TAM was in Star). But this strategy could become less effective if Avianca Brazil and Azul both join Star, leaving only SkyTeam without any Brazilian member.
SkyTeam and its anchor members have made it no secret of its ambitions to secure Gol. In 2011, Delta took a 3% stake in Gol, which gave it representation on the Gol board. In Feb-2014, Air France tabled its plans to invest in Gol through a 1.5% stake for USD52 million. Air France is also offering USD23 million in training and marketing services and USD25 million over two years if Gol reaches certain synergy targets.
Brazil capacity share (% of seats) by alliance: Aug-2014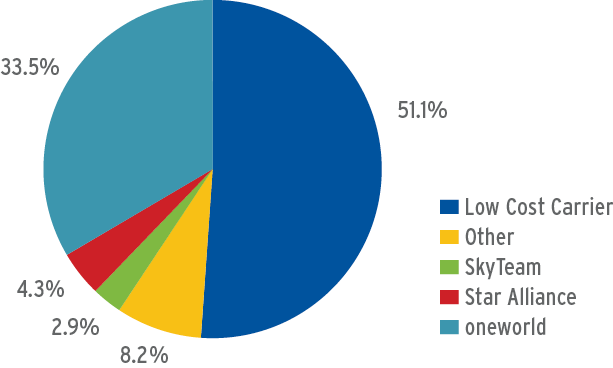 Despite its close ties with five SkyTeam members, Gol in Aug-2014 reiterated there is no consideration of joining an alliance in the medium to long term. Even as Delta and Air France exert some influence over Gol with their minority stakes, perhaps they are just as satisfied with the bilateral agreements they have with Brazil's largest airline.
Gol for now seems to be focusing on turning around its operation. It has recorded losses for the last three years even as it has raised unit revenues and cut back domestic capacity in response to soft demand from Brazil's weakening economy. Gol has been focusing expansion on its regional international network, which potentially further increases the attraction to SkyTeam members serving Sao Paulo.
Meanwhile, SkyTeam's original Latin American member, Aeromexico, has been expanding its international operation and improving connections within Latin America. Aeromexico's Mexico City hub still does not have the connectivity of Panama City, Bogota or Lima but the Aeromexico expansion significantly improves SkyTeam's position in the region.
Slightly more than 30% of Aeromexico's total traffic is now transit, compared to only about 15% two to three years ago. Aeromexico is planning to increase the number of banks at Mexico City to 12 by the end of 2014, which will improve connections and support the ongoing initiative to increase transit traffic.
LAN Colombia has given oneworld some traction in a market which had been dominated by Star.
Meanwhile oneworld improved its presence in Colombia in late 2013 as LAN Colombia joined the alliance. While Star still accounts for about a 70% share of seat capacity in Colombia, LAN Colombia's affiliate membership in oneworld is giving the alliance greater traction in the market.
LAN Colombia has about a 17% share of the Colombian domestic market, making it the second largest player after Avianca. LAN Colombia serves about 20 destinations throughout Colombia, which gives oneworld an extensive footprint throughout the country, and also has been expanding in the international market.
oneworld partner American Airlines is the third largest airline serving Colombia's international market, and introduced service from Dallas to Bogota in late 2013 joining existing service from Miami to Bogota. American also operates service from Miami to Medellin and Cali. LAN Colombia now operates between Bogota and Miami, giving oneworld a commanding presence on the largest international route pairing from Colombia. oneworld member Iberia, which serves Bogota from its hub in Madrid, is now also benefiting from domestic feed in Colombia.
Even as Star keeps its stronghold in Colombia, it is important for oneworld to leverage the connectivity and feed offered by LAN Colombia. Colombia is Latin America's third largest market, and Avianca has estimated that the middle class will represent 51% of the country's population by 2020.
oneworld also has a strong position in Peru, where it accounts for roughly half of total seat capacity. Peru is another fast growing domestic market within Latin America. In 2013, Peru recorded domestic passenger growth of nearly 15% to 8.3 million passengers. LATAM has stated that Peru is the only domestic market where it will grow capacity in 2014. It operates domestic services in seven markets, including Peru, Argentina, Brazil, Chile, Colombia, Ecuador and Paraguay.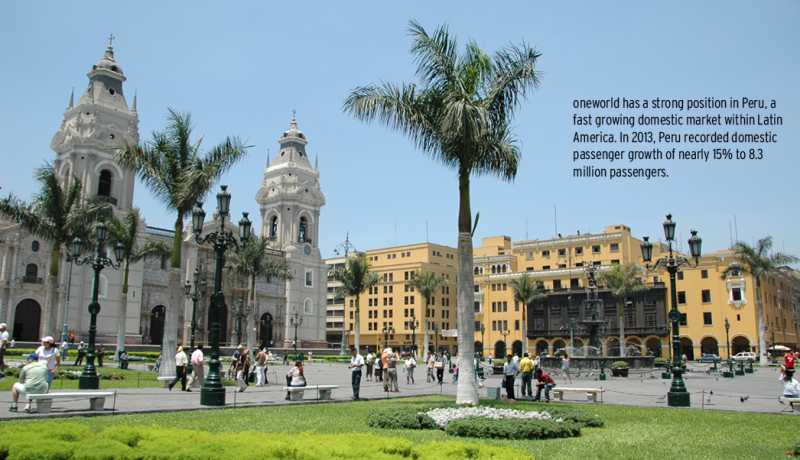 Avianca, which also has an affiliate in Peru, has estimated that the middle class will represent approximately 78% of Peru's population in 2020 compared with 61% in 2012 and 31% in 2010. Lima has also emerged as a key international hub within Latin America for both Avianca and LAN.
Over the last year, LATAM Airlines Group has aimed to leverage north-south traffic flows through Lima. Its oneworld partner American Airlines serves Lima from Dallas and Miami, providing key feed for LAN Peru for domestic and international connections. The US is Lima's largest international market measured by seat deployment, which allows LATAM and oneworld to leverage Lima's connecting capabilities to markets throughout South America.
oneworld is also the leading alliance in Chile and Ecuador. It accounts for about 70% of total capacity in Chile and 30% in Ecuador.
TAM's recent move to oneworld has solidified oneworld's strong position in the region while weakening the position of Star. If Star is unable to resolve the current challenges in Brazil oneworld will again benefit. The immediacy of resolving the situation in Brazil is not lost on Star. The alliance has to juggle sensitive and delicate negotiations in order to ensure it can remain competitive in Latin America's largest market.
SkyTeam for the moment appears content with using Gol to improve its presence in Brazil. A strong relationship with Gol should be sufficient for SkyTeam although obviously the ideal scenario for SkyTeam would be for Gol to become a member.