Ryanair transfer traffic & interlining; closing the gap with FSCs on product, but not on costs
Analysis
Recent reports suggest that Ryanair is on the verge of two further new developments in its strategic evolution, taking it ever-closer to the network airline business model. Firstly, the CEO Michael O'Leary has said that the airline plans to introduce trial passenger transfer services at London Stansted and Barcelona airports (Irish Independent, 14-Apr-2016). Secondly, Ryanair is reported to be close to agreement on feeding Norwegian's long haul routes from London Gatwick (Irish Independent, 20/4/16).
These developments follow several other changes to Ryanair's business model over the past couple of years - changes that have been well received in the market. Until now Ryanair has not engaged in intralining with itself or interlining with others.
It would not be the first European LCC to do either of these things, but it would be the only airline to combine them with an ultra-low cost base and leadership of the intra-European market by passenger numbers.
See related report: Ryanair SWOT: low costs remain the key strength, even as customer service enhancements take root
Ryanair passengers can self-connect currently
Currently, if Ryanair passengers want to travel between two Ryanair destinations with no direct link they must book two separate flights to make a self-connecting journey. At the connecting airport passengers must exit airside after the first flight and then re-enter it, via security, for the second flight.
If the journey is an international trip involving non-Schengen countries, this also means that passengers must go through passport control and customs a second time. Moreover, if they wish to take hold luggage with them, they must retrieve their bags at the stopover airport after the first flight and re-check them onto the second leg of their journey.
Under Ryanair's proposed trial, transfer passengers will be able to make a single booking for the entire journey and remain airside at the connecting airport. The airline will have responsibility to ensure that any checked baggage is transferred between the two flights.
Transfer ticketing would be another Ryanair customer service improvement
If the trial is successful and leads to a permanent, and possibly more widespread, adoption of transfer ticketing by the airline, this will mark another step in its journey to providing a more customer-focused service than in the past.
Now more than three years into Ryanair's 'Always Getting Better' programme it has made a number of changes that have increased its appeal to passengers, beyond its core attraction of having the lowest fares. These changes have included: a redesigned website; bundled fares aimed at business travellers; reduced penalty charges for reprinting boarding cards at the airport; lower fees for changing booking details; family fares; a more relaxed cabin bag policy and allocated seating.
Ryanair's changes have been positive for load factor and profits
Without Ryanair compromising its cost base, the success of these changes can be seen in the impressive load factor gains over the past two years. From FY2014 (year to Mar-2014) to FY2016 its load factor increased by 10ppts from 83% to 93%.
Ryanair load factor by month FY2013 to FY2016*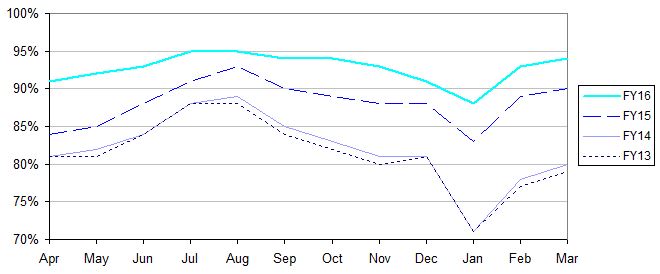 Moreover, after issuing two profit warnings in FY2014, Ryanair has enjoyed strong growth in earnings. Its FY2015 net profit of EUR867 million was 66% higher than in FY2014. The airline's guidance for its FY2016 net profit, which is due to be announced on 23-May-2016, is EUR1,225 million (before gains on its sale of Aer Lingus shares to IAG), a further year-on-year increase of 41%.
See related reports:
According to Mr O'Leary, a passenger transfer service "is not going to increase our load factors", which must now be approaching their upper limit. Nevertheless, if this feature can be incorporated without adding too much in terms of either complexity or cost, it will improve the customer experience for those taking advantage of it, and this should have a positive impact on customer loyalty.
Stansted is a strong location for the trial
London Stansted is Ryanair's largest base and makes a natural location in which to try out its transfer product. At this airport Ryanair is so dominant – with 84% of seats (week of 25-Apr-2016, source: OAG) – and has so many routes on offer (132), that it seems highly likely that there will be good demand for a transfer ticket service.
See related report: London Stansted: traffic growth is resurgent thanks to lower airport charges; Ryanair dominates
London Stansted Airport: airlines by share of seats week of 25-Apr-2016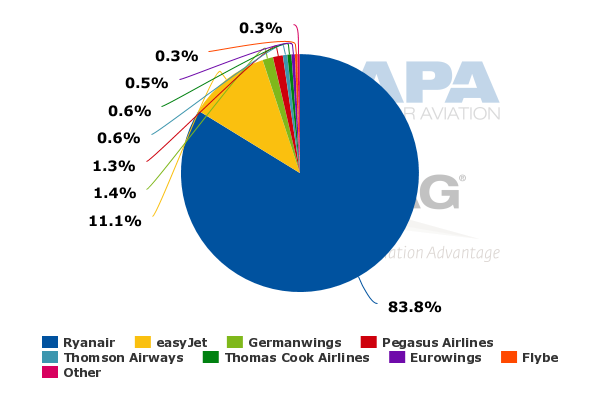 Ryanair is not quite so strong at Barcelona: it offers 41 routes and has 14% of seats, placing it second behind Vueling's 37%. Vueling's success with a transfer product is likely to have influenced Ryanair's plan to include Barcelona in its trial.
See related report: Barcelona El Prat: Europe's leading airport for LCCs a battleground in fight for business travellers
Ryanair has never offered a through ticket before, but the concept is not new among European LCCs. Vueling began offering transfer tickets at Barcelona, its biggest base, in 2009. By 4Q2012, transfer traffic was accounting for 11% of Vueling's Barcelona passengers, a proportion that had grown to approximately 16% in 2013. Relative to all Vueling passengers across the network, Barcelona transfer traffic was 11% in 2013.
Vueling has not provided data on the proportion of transfer traffic since its acquisition by IAG in 2013, but it was expected at that time to continue to grow. Vueling also offers a connecting ticket at its Rome Fiumicino base, established in 2014.
Bag transfer adds cost and complexity, but ultra-LCC Pegasus manages it at low cost
Vueling has often been described as more of a hybrid LCC, with a history of offering more customer service features than the pure LCC model (before the distinctions became more blurred). Its unit cost is certainly higher than that of Ryanair, one of Europe's three ultra-LCCs.
See related report: Vueling's new CEO only needs to stay ahead of rival LCCs on service quality. And keep cutting costs
It might be suggested, with some justification, that additional 'frills' are not compatible with a very low cost base and that Ryanair may risk losing its cost advantage by adding a transfer ticketing feature. However, this ignores its track record in adding product and service features under 'Always Getting Better' without adding to its unit cost.
It might then be argued that many of Ryanair's customer service improvements have been delivered through IT and other process-related changes, which do not require significant additions to labour. By contrast, the need to handle baggage between interconnecting flights requires additional labour (whether in-house or subcontracted) and that this must raise the cost base. This also adds some complexity.
Indeed, ensuring that bags transfer successfully between flights will be the biggest challenge for Ryanair. This is acknowledged by Mr O'Leary, who told the Irish Independent, "The only complexity is can we get the bag across to the other flights without losing loads of bags."
However, another of Europe's ultra-LCC, Turkey's Pegasus Airlines, offers a connecting service but at the same time has a very low unit cost. In 2015 Pegasus reported that 29% of its international passengers bought a connecting ticket (either between two international flights or between an international and a domestic flight).
See related report: Pegasus Airlines' waiting game. Take a margin hit now to keep market share, pending fuel price rises
Ryanair can use the trial to decide whether, and how, to proceed
Moreover, it is important to stress that (for now) Ryanair is only approaching this on a trial basis in order to establish its feasibility. Ryanair has not said whether it will charge for the service, and if so how much, but these are key considerations.
Ryanair has a history of introducing changes on a trial basis in order to assess their advantages and disadvantages, including their popularity with customers and their impact on core principles such as fast turnaround times and low costs.
It is unlikely to proceed with a change that adds cost or complexity, unless it can generate additional revenue from that change.
Agreement "in principle" to feed Norwegian long haul at Gatwick
Mr O'Leary has also said that Ryanair has reached an agreement "in principle" to feed LCC Norwegian's long haul routes from London Gatwick. Ryanair and Norwegian are reportedly working on aligning their booking systems to facilitate this (Irish Independent, 20/4/16).
In summer 2016 Norwegian is operating four long haul routes from Gatwick, namely to Boston, New York JFK, Orlando (summer only) and Oakland (to be launched in May-2016), in addition to 35 European routes. Ryanair has just six short/medium haul routes from Gatwick.
If it comes to fruition, this agreement with Norwegian is just a figurative dipping of Ryanair's toe in the water of interlining. However, it could provide a basis on which Ryanair could build its experience of interlining with long haul operators, whether Norwegian or full service airlines.
Ryanair expects to feed FSC long haul routes eventually...
Mr O'Leary has often said that he expects Ryanair to become a feeder for full service airlines' long haul services at some point, since the LCC can provide such services at a much lower cost.
Moreover, as LCCs continue to grow their share of short/medium haul point-to-point markets FSCs are slowly reducing their presence in short/medium haul and this is gradually undermining their ability to feed their long haul networks themselves.
Previously, Ryanair had reportedly also been in talks with a number of FSC long haul operators, such as British Airways, Aer Lingus, Virgin Atlantic and TAP Portugal, about providing feeder traffic.
Again, interlining between LCCs and FSCs is not new in Europe. For example, Vueling does it with fellow IAG airlines BA and Iberia, in addition to interlining with IAG's oneworld partner (and 12% shareholder, after recently increasing its stake from 10%) Qatar Airways.
However: Ryanair only acts on its own terms
Nevertheless, a significant deal between Ryanair and a major FSC, whereby Ryanair feeds its long haul network, may still be a little distant.
A sticking point with a number of these airlines in discussions with Ryanair had been the difficulty in agreeing responsibility for missed connections and for baggage transfer. Mr O'Leary was determined that Ryanair would not take responsibility in such circumstances, a good example of how he will only introduce changes to Ryanair's model if they are on Ryanair's terms.
Another important consideration is the way that revenue will be shared between the two airlines under an interline agreement. For full service airlines there is also the question of maintaining product quality and brand integrity if feeder services are provided by LCCs, particularly where premium passengers are concerned.
In addition, other factors also act to limit the immediate prospects of a significant level of Ryanair feed into FSC long haul networks. Two important points are the airport network and the schedule.
Although Ryanair has been increasing the proportion of primary airports in its network, it still does not serve a number of major European long haul hubs such as Heathrow, Frankfurt, Paris CDG and Munich (but it does operate to Amsterdam, Madrid and Rome Fiumicino). It is unlikely to add Heathrow, Frankfurt or Paris CDG to its network any time soon, for reasons of costs and (in the case of Heathrow) congestion.
Furthermore, where it does operate to airports with significant long haul routes, Ryanair's schedule is not designed around feeding those intercontinental services. Although Ryanair may start to make some minor adjustments to its schedule to facilitate the transfer of passengers between its own flights at Stansted and Barcelona, at this stage it seems unlikely to be about to make significant changes to accommodate another airline's passengers.
It is therefore not surprising that the first agreement of this nature for Ryanair now looks likely to be with another LCC, indeed the only LCC in Europe with a long haul network to feed.
On the other hand, it is not impossible to conceive of scenarios under which Ryanair might provide feeder traffic to legacy airlines in any airport and at any time, provided that those legacy airlines made it sufficiently remunerative for Ryanair. At least in principle, there is no reason why it would not consider providing wet lease or ACMI capacity to other airlines for the right fee.
A winning combination: low costs and network airline features
Ryanair's proposed experiment with intralining between its own flights at Stansted and Barcelona, and its possible interlining with Norwegian at Gatwick, both demonstrate its ability to evolve its business model. Mr O'Leary has also previously mulled over the idea of launching a long haul airline himself, although this remains an idea more than a plan.
See related report: O'Leary: Ryanair-style Atlantic long haul LCC. Average fares below EUR100? Stansted likely airport
Ryanair will remain a predominantly point-to-point airline for a long time to come. Mr O'Leary predicts that transfers to long haul airlines could account for 5% of its passengers by 2021 (Bloomberg, 19-Apr-2016).
Nevertheless, Ryanair is now starting to develop many of the features of a full service network airline, while still boasting Europe's lowest unit cost. This looks like a winning combination.