Vueling's new CEO only needs to stay ahead of rival LCCs on service quality. And keep cutting costs
Analysis
Earlier in Nov-2015, Vueling's parent company IAG announced that the Spanish LCC's Chairman and CEO Alex Cruz will replace Keith Williams as head of its largest airline subsidiary, British Airways, in Apr-2016. Vueling generates the highest return on invested capital among IAG's airlines, and was the first to beat IAG's medium-term targets (before these targets were increased).
Moreover, Mr Cruz has established Vueling towards the premium end of the spectrum of LCC business models; indeed, he is not a fan of the 'LCC' epithet. He has achieved this while ensuring that Vueling's unit cost is consistent with that of a European LCC.
However, Europe's largest airline by passenger numbers, ultra-LCC Ryanair, is starting to improve its own brand offering without giving up its cost advantage. What's more, Ryanair has strong and growing positions at Vueling's two largest bases, Barcelona and Rome Fiumicino. A replacement for Mr Cruz has not yet been announced, but the new CEO will need to ensure that Vueling competes, both on service quality and on unit cost.
This report is part of an occasional series in which CAPA analyses the financial performance of the leading operating airlines that are subsidiaries of Europe's Big Three legacy airline groups.
Recent reports on IAG companies include analysis of British Airways and Iberia. Our report on BA noted its improving profitability as part of IAG under Mr Williams, but suggested that it would benefit from a renewed focus on unit cost reduction. Mr Cruz may be just the man to provide that focus.
See related reports:
Vueling is IAG's most profitable airline
Vueling has consistently been IAG's most profitable operating airline. In the rolling 12 month period to the end of 3Q2015, Vueling's return on invested capital was 13.6%, compared with 11.4% for British Airways, 7.7% for the newly acquired Aer Lingus, and 7.5% for Iberia. Vueling was the only IAG airline to beat the 12% target for ROIC that the group had set for the period 2016 to 2020. It is also the closest to the group's new target of 15%.
In the nine months to Sep-2015, Vueling's operating profit increased by 24% to EUR173 million, outpacing its revenue growth of 15% (to EUR1,576 million). Vueling's operating margin increased by 0.8ppts to 11.0%, compared with a margin of 10.5% for IAG as a whole.
Vueling financial highlights: 9M2014 and 9M2015
| EUR million except where stated | 9M2014 | 9M2015 | Change |
| --- | --- | --- | --- |
| Revenue | 1,369 | 1,576 | 15.1% |
| EBIT | 140 | 173 | 23.6% |
| EBIT margin % | 10.2 | 11.0 | +0.8 |
| ASK (millions) | 20,897 | 23,979 | 14.7% |
| Load factor % | 80.6 | 81.4 | 0.7 |
| RASK (EUR cent) | 6.55 | 6.57 | 0.3% |
| CASK (EUR cent) | 5.88 | 5.85 | -0.5% |
Vueling to reach seventh successive year of operating profit in 2015
Vueling's 9M2015 performance suggests that in FY2015 it is on course to beat its FY2014 operating margin of 8.6%, and possibly its FY2013 margin of 9.7%, although it may not quite match its best ever margin of 11.9%, achieved in FY2009.
After recording operating losses in the years prior to its merger with Clickair in Jul-2009, Vueling will reach its seventh successive profitable year in 2015. From 2010, the first full year after the Clickair/Vueling merger, to 2014, the airline's revenue increased by 115% and its operating profit increased by 145%. The acquisition of Vueling by IAG in Apr-2013 coincided with a significant improvement in its profitability, as its FY2013 operating margin of 9.7% was 6.7ppts higher than its FY2012 margin of 3.0%.
See related report: Vueling: a Spanish success story coveted by IAG
Vueling revenues, net profit and operating profit (EUR million) 2006-2014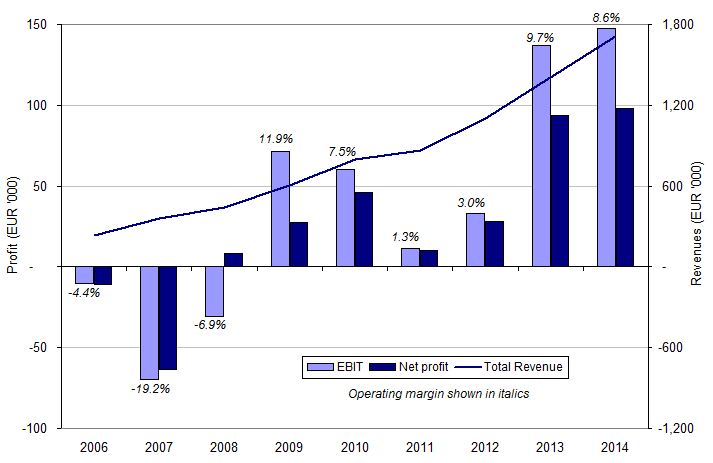 Strong double-digit capacity growth accompanied by increased load factor
From 2008 to 2014, Vueling grew its capacity in ASK terms at a compound average growth rate of 22% pa. In 2014, ASK growth was 24%, but in the first nine months of 2015, it was 'only' 15%. At its 3Q2015 results presentation, IAG said that Vueling's FY2015 ASK growth would be 14.3%. The main driver of growth in 2015 has been new routes at its biggest base, Barcelona, and at its base at Rome Fiumicino (established in 2014).
In spite of Vueling's rapid capacity growth over a number of years, it has successfully managed to increase the proportion of capacity sold. Between 2008 and 2014, load factor increased by 10.5ppts from 70.3% to 80.8%. %. In the first nine months of 2015, it gained a further 0.8ppts to 81.4%.
However, in spite of its load factor improvement, it remains below the levels achieved by leading LCCs such as Ryanair and easyJet, which are now recording load factors of more than 90%.
Vueling development capacity (ASK, million) and load factor (%): 2008-2014 and 9M2014 & 9M2015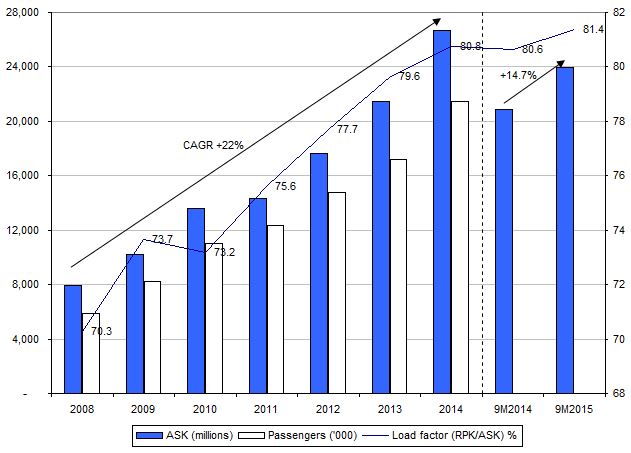 For Vueling, unit revenue increases are no longer assured…
Vueling's ex fuel unit cost has been fairly stable for a number of years. Its recovery from its last operating loss in 2008 to profit in 2009 was largely the result of a drop in unit cost, itself thanks to lower fuel prices, although it also enjoyed an increase in unit revenue in 2009.
In 2014, both ex fuel CASK and total CASK were very close to their 2008 levels, demonstrating that Vueling has at least been able to keep a lid on its costs. However, in 2014 its unit revenue, RASK, was 15% above its 2008 level. The RASK increase over this period was largely the result of the load factor increases noted above.
Among LCCs, Vueling has established something of a premium brand, offering additional product and service features that have helped to attract business travellers and to drive RASK growth. These features include connecting tickets, codeshares and a 'business cabin' featuring additional legroom and power outlets, onboard wi-fi and an empty middle seat. Vueling also offers membership of IAG's Avios loyalty scheme. Close to 40% of Vueling passengers are flying for business purposes, compared with 20% to 25% for easyJet and Ryanair.
Nevertheless, RASK fell by 2.0% in 2014 and was only just above flat (+0.3%) in the first nine months of 2015. CASK fell by only 0.8% in 2014 and even this was mainly due to lower fuel prices (ex fuel CASK was up by 0.3%). In the first nine months of 2015, CASK fell modestly (-0.5%), again mainly due to lower fuel.
LCC competitors are growing capacity faster than the market in Europe and, moreover, are increasing the quality perception of their own product. These factors, together with lower fuel costs, are likely to maintain a downward pressure on unit revenue, or at least to limit further significant growth in unit revenue. Vueling appears to acknowledge this: its planning assumptions from 2016 to 2020 are that it will retain only 20% of the benefit from lower fuel prices, net of revenue dilution.
Vueling – index of operating cost per ASK and fare revenues per ASK 2008 to 2014 (each indexed to 100 in 2008)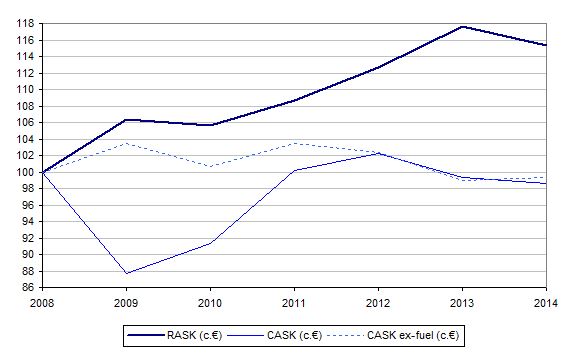 …increasing the focus on unit cost
Vueling expects unit costs to benefit from new aircraft orders, particularly the addition from summer 2015 of 220 seat A321 aircraft to its largely 180 seat A320 fleet, the arrival from Mar-2015 of new A320s with 186 seat configuration, and the planned delivery from 2020 of A320neo equipment.
It also expects cost efficiency to benefit from joint procurement across the IAG group, local crew hiring in its international bases, new crew rostering systems and its 'Darwin' cost saving programme.
Competition with other LCCs is growing
Increasing levels of competition against Europe's other leading LCCs adds to the need for a focus on unit cost. After an initial loss of market share at Barcelona in 2011, when Ryanair aggressively increased its presence at the airport following the demise of Spanair, Vueling has managed to grow its share at Europe's biggest LCC airport and to retain its number one position.
According to data from AENA, Spain's airport operator, Vueling's share of passengers at the airport fell from 25% in 2010 to 23% in 2011, but had grown to almost 37% in 2014. easyJet, the airport's number three airline, will establish a base at Barcelona from Feb-2016. Ryanair is also continuing to make strides into the business traveller market and is growing fairly rapidly at BCN.
Vueling's superior scale and pan-European network from Barcelona should still give it a strong advantage at BCN, particularly also given its reputation for premium-like product features and its transfer product. Nevertheless, growth by both Ryanair and easyJet represents a competitive threat. Vueling also faces strong competition from Europe's two leading LCCs at Rome Fiumicino (its second largest base), in spite of easyJet's decision to close its base there; but not to withdraw from serving the airport.
Barcelona El Prat Airport annual passenger numbers (million) by airline 2010 to 2014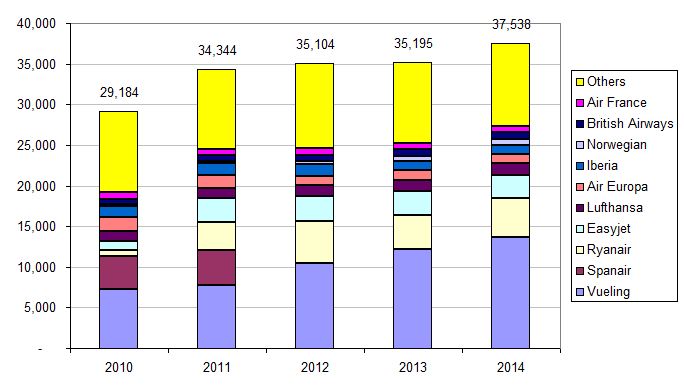 See related reports:
Ryanair's cost advantage and improving service quality will present challenges to Vueling's next CEO
Vueling has a similar level of unit cost to that of easyJet, but Ryanair's significantly lower cost base is a major advantage. Vueling has a lead over Ryanair in terms of customer service and product quality, and also offers a higher frequency service. However, Ryanair continues to improve its brand and service through its 'Always Getting Better' programme.
The challenge for Vueling will be to maintain enough of a lead in these areas to justify the RASK premium that its higher CASK demands. It will also need to bring down its CASK. Only then can it ensure margins and ROIC that are consistent with IAG's targets. Alex Cruz's replacement must be someone who relishes a challenge.
See related report: IAG: capital efficiency can help a European legacy airline group to "show me the money"
Cost per available seat kilometre (CASK, USc) for Vueling and other European airlines 2014