Vueling: a Spanish success story coveted by IAG
Analysis
Vueling's expansion continues apace, with a further double capacity addition planned in 2013 after a number of years of 20% plus growth rates in spite of a contracting Spanish market. A genuine low-cost carrier in unit cost terms, Vueling has contained its non-fuel costs in spite of moving to a more hybrid business model in recent years, including features such as transfer ticketing and VIP lounges. In 2012, it made a significant step towards pan-European status when its international passenger numbers equalled domestic passengers for the first time.
Profit margins have bounced around with changing fuel prices, but its solid net cash position has ensured its relative financial health while competitors have struggled (Iberia) or even disappeared (Spanair). Spanair's demise allowed it to grow its passenger share at its Barcelona hub from 23% in 2011 to 30% in 2012 in spite of Ryanair's expansion there, showing that it can live with its lower cost competitor.
The elephant in the room on the 2012 results conference call was the takeover bid from IAG for the 54% of Vueling that it does not already own.
Vueling management is currently prevented from discussing the IAG bid by stock exchange rules, pending the formal offer. Vueling appears to have established itself as a credible emerging pan-European LCC with a sustainable cost base in line with the likes of easyJet and Norwegian.
IAG needs Vueling more than Vueling needs IAG, but the future of one of Spain's rare home-grown aviation successes lies in the hands of its shareholders.
Vueling's near tripling of EBIT
Vueling reported a near tripling of its EBIT in 2012 to EUR33 million, driven mainly by strong capacity growth and healthy increase in unit revenues (RASK), partly offset by higher fuel costs. The EBIT margin grew from a feeble 1.3% in 2011 to a still weak 3.0% in 2012. Its net cash position grew from EUR247 million in 2011 to EUR393 million at the end of 2012 and it has a track record of strong cash balances, although this owes much to Vueling's extensive use of leased aircraft.
Vueling financial highlights 2012
| | | | |
| --- | --- | --- | --- |
| EUR million except where stated | 2011* | 2012 | Change |
| Revenue | 863.5 | 1102.6 | 27.7% |
| EBITDAR | 124.8 | 160.1 | 28.3% |
| EBIT | 11.4 | 33.2 | 191.6% |
| EBIT margin % | 1.3% | 3.0% | |
| Net profit | 10.4 | 28.3 | 172.9% |
| Net debt (minus sign indicates net cash) | -246.5 | -339.3 | 37.6% |
| Equity | 241.5 | 237.2 | -1.8% |
| ASK (millions) | 14,314 | 17,622 | 23.1% |
| Load factor % | 75.6 | 77.7 | +2.1ppts |
| RASK (c.€) | 6.03 | 6.26 | 3.7% |
| CASK (c.€) | 5.95 | 6.07 | 1.9% |
| CASK ex-fuel (c.€) | 4.18 | 4.14 | -1.0% |
Cash reserves may be useful to buy aircraft
Vueling has reported five successive years of net profits (although 2008 saw a negative EBIT result), but annual profits have fluctuated even though revenues have grown consistently and so its margins have varied quite widely. Its net cash position of EUR339 million at the end of 2012 does not factor in off balance sheet debt related to operating leased aircraft. Capitalising these at the rule of thumb seven or eight times annual lease payments would add EUR840 million to EUR960 million of debt and show Vueling in a net debt position.
It would not be a surprise if Vueling used its cash for aircraft purchases when it completes a review of considering its future fleet needs over the next few weeks. An exclusively Airbus operator currently, it is reported to be considering Airbus, Boeing and Bombardier as potential suppliers for around 60 aircraft or more. The fleet will reach 70 A320s this summer.
Vueling revenues, net profit and operating profit (EUR million) 2005-2012
Impressively rapid growth in a falling market
Vueling saw an impressive 20% increase in passenger numbers in 2012, contrasting sharply with a 3% fall in the Spanish market (which comprised a 13% fall in the domestic market and a flat Spain-Europe market).
ASK growth was higher, at 23%, reflecting increased average sector lengths. Vueling's passenger growth at its Barcelona El Prat hub was even more impressive at 37% in 2012, compared with only 2% for Barcelona as a whole. Of course, it benefited from the demise in Jan-2012 of former local rival Spanair, but also had to face increased competition from Ryanair.
AENA & Vueling year-on-year passenger evolution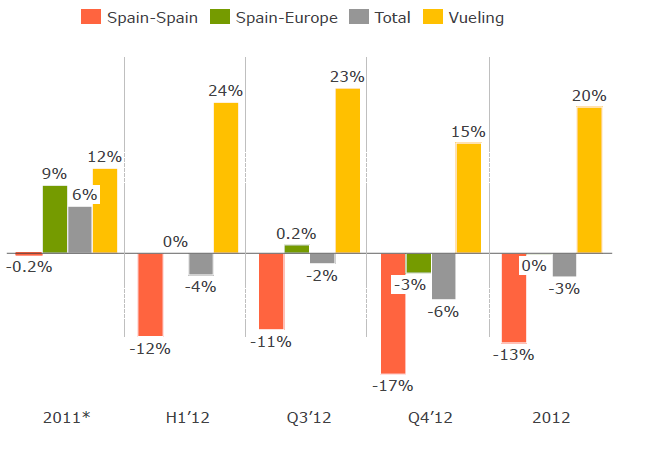 Barcelona airport and Vueling passenger evolution Y-o-Y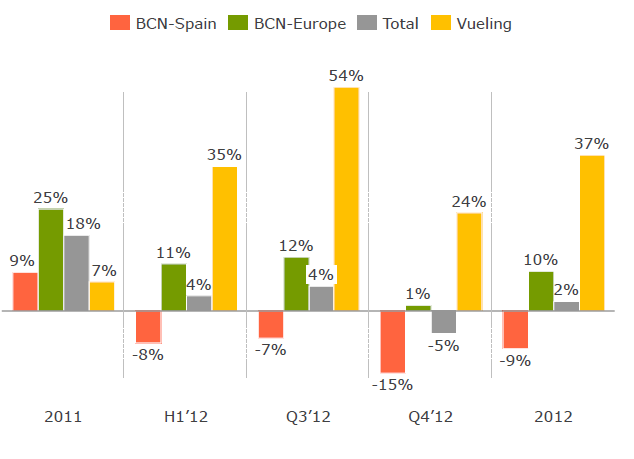 Number one and still growing in Barcelona; developing niches elsewhere
Vueling is the market leader at Barcelona, with an increased share of passengers of 30% in 2012, up from 23% in 2011. (According to Innovata, Vueling has 32% of seat capacity at BCN 25-Feb-2013 to 03-Mar-2013, with Ryanair at 25%, easyJet at 9% and Iberia at 6%). Its strength in northeast Spain is further highlighted by its leading passenger share of 30% at Bilbao in 2012.
It is also in the top four at all its other principal domestic bases and its growing international presence is now reflected in significant positions at its bases at Paris Orly, Rome Fiumicino and Amsterdam.
No longer a predominantly domestic carrier, as half of its passengers are international

International passengers accounted for half of Vueling's total for the first time in 2012. International traffic grew by 28%, while domestic passengers grew by 13% in 2012.
Vueling market share and passenger numbers at its main domestic bases 2012
Vueling market ranking and passenger numbers at its main international airports 2012
| | | | |
| --- | --- | --- | --- |
| Airport | Vueling passengers (million) | Vueling ranking at airport | Number of Vueling aircraft based at airport |
| ParisOrly | 2.6 | 3 | 2 |
| | 1.3 | 3 | 1 |
| | 0.9 | 8 | 1 |
| | 0.1 | 5 | 1 |
Vueling development of domestic and international passengers in 2011 and 2012
| | | |
| --- | --- | --- |
| Market | 2012 pax ('000) | Contribution to Vueling 2012 growth (ppts) |
| | 2,672 | 5.0 |
| | 1,758 | 1.4 |
| Benelux | 1,075 | 0.5 |
| | 344 | 2.7 |
| | 291 | 0.2 |
| Scandinavia | 278 | 2.2 |
| | 165 | 0.6 |
| Other | 852 | 0.5 |
| Total International | 7,435 | 13.1 |
| | 7,359 | 7.0 |
| Total | 14,795 | 20.1 |
Transfer traffic now accounts for 11% of Vueling's passengers
Vueling also saw strong growth in the number of transfer passengers at its Barcelona hub, which accounted for 11% of the total in 4Q2012, up from 7% in 4Q2011, and reached a total of 1.6 million passengers (2.5 times the 2011 figure).
Vueling's transfer passenger strategy is a departure from the pure LCC model. The key to the success of this has been to achieve it without adding significant complexity or cost to the business.
Vueling development of transfer passengers 2011 and 2012
Over 2008-2012, Vueling has seen compound average growth of 26% p.a. in passenger numbers and 22% p.a. in ASKs, while load factor has increased by 7.4 percentage points.
Vueling development of capacity (ASK, million) and load factor (%) 2008-2012.
Revenues grew 28% in 2012, as capacity increased only 23%

Vueling's revenues grew by 28% in 2012, driven by capacity up 23% and RASK up by almost 4%.
Ancillary and other revenues were only 11% of the total, low compared with the 20% achieved by Ryanair and easyJet, suggesting an area of possible growth in the future.
Vueling revenues (EUR million) 2011 and 2012
| | | | | |
| --- | --- | --- | --- | --- |
| | Dec-2011* | Dec-2012 | Change | % of 2012 revenue |
| Ticket revenues | 766.0 | 983.9 | 28.4% | 89% |
| Ancillary & other revenues | 97.4 | 118.7 | 21.9% | 11% |
| Total Revenues | 863.5 | 1102.6 | 27.7% | 100% |
CASK ex-fuel remained stable in 2012
Total costs grew by 26%, slower than the growth in revenues in spite of a 32% jump in fuel costs. All other cost items grew considerably more slowly than capacity and revenues, apart from maintenance, general and commercial expenses.
One of Vueling's financial goals in 2012 was to maintain 2011's level of CASK ex fuel, a goal that it modestly exceeded by reducing CASK ex fuel by 1%. Its cost reduction programme targeted EUR14.7 million of savings for 2012 and it reported that it had achieved EUR21.5 million.
For 2013, it aims to make a further EUR17.7 million of savings and to maintain ex fuel CASK at 2012 levels.
The 2012 results statement does not give full details of labour costs and headcount and so we must await the publication of Vueling's full annual report before we can update our analysis of its labour productivity.
It is unlikely that Vueling's 2012 numbers will be very different from 2011, on the basis of which it is one the most productive airline workforces in Europe.
See related article: European airlines' labour productivity. Oxymoron for some, Vueling and Ryanair excel on costs
Vueling operating costs 2011 and 2012, EUR million
| | | | | |
| --- | --- | --- | --- | --- |
| | 2011 | 2012 | Change | % of 2012 costs |
| Fuel | 253.5 | 340.0 | 34.1% | 32% |
| Handling | 127.8 | 149.5 | 17.0% | 14% |
| Airport and navigation | 123.6 | 148.7 | 20.4% | 14% |
| Crew | 61.7 | 73.5 | 19.1% | 7% |
| Maintenance | 84.2 | 115.3 | 37.0% | 11% |
| Commercial and marketing | 30.1 | 40.9 | 36.0% | 4% |
| General expenses+ advertising | 39.1 | 53.4 | 36.5% | 5% |
| Other costs | 18.6 | 21.1 | 13.4% | 2% |
| Aircraft rentals | 106.8 | 119.7 | 12.1% | 11% |
| Amortization | 6.6 | 7.2 | 7.7% | 1% |
| Total | 852.1 | 1069.3 | 25.5% | 100% |
As at 27-Feb-2013, Vueling had hedged 71% of its 2013 jet fuel needs at an average price of USD898/mt and 79% of its US dollar needs at a USD/EUR rate of 1.32.
It estimates that USD100/mt change in jet fuel prices has a EUR10.9 million impact on its 2013 EBIT at current fuel prices and exchange rates.
Four key goals for 2013: growth, cost reduction, product innovation and partnerships

Vueling's 2012 results presentation set out its four key goals for 2013. These fall into four areas: growth through international expansion, cost reduction as noted above, product initiatives around innovation and business passengers and partnerships to increase connectivity with other carriers.
Starting with growth, Vueling plans capacity expansion (ASKs) of 10% to 15% in 2013, focusing on international routes. Domestic capacity will be little more than flat (+0% to 1%), while international capacity will grow by 20% to 25% through increased frequencies and by introducing new routes to the UK, Germany, Denmark and Scandinavia. Vueling aims to have 100 destinations from its Barcelona hub in 2013 (it has 98 for 25-Feb-2013 to 03-Mar-2013 according to the Innovata database).
It is establishing a new base at Florence, which it currently serves with daily flights from both Barcelona and Paris Orly. This summer, Vueling will add a daily service to London Heathrow, four times weekly services to Berlin Tegel and Copenhagen Kastrup, and three times weekly services to Madrid and Hamburg to its Florence schedule.
Product initiatives are aimed at promoting Vueling as a high service brand without increasing its cost base. Its 'Excellence' class passengers will see new services including unlimited catering and VIP lounges. It is also planning a new cabin configuration and improved connectivity, including on-board WiFi.
Financial impact of Iberia strikes on Vueling is too early to call
As a provider of maintenance and ground handling services to Vueling, Iberia's current dispute with its labour unions are causing Vueling to cancel flights during the three strike periods.
In the first period, from 18-Feb-213 to 22-Feb-2013, Vueling cancelled 354 flights and has said that 316 will be cancelled in the second period 04-Mar-2013 to 08-Mar-2013. On the 2012 results conference call, CEO Alex Cruz said that it was too early to estimate the financial impact on Vueling of the Iberia strikes.
See related article: Iberia strikes: the challenge to one of Europe's least productive workforces
RASK trends are favourable, CASK more volatile
The chart below shows the development of Vueling's unit revenues and unit costs since 2008. RASK has been on a broadly upward trend, although it dipped slightly in 2010 when Vueling increased capacity by one third.
Although ex fuel CASK has been held fairly stable over the past few years, increases in fuel costs have led to an upward trend in overall CASK since 2009 and Vueling's margins remain somewhat hostage to fluctuating fuel costs. Vueling aims to hold ex fuel CASK at 2012 levels in 2013, but this target may not be sufficiently aggressive. Vueling's margins are still slim and profits could slump if RASK were to slip.
Vueling – index of operating cost per ASK and revenues per ASK (each indexed to 100 in year to Dec-2008)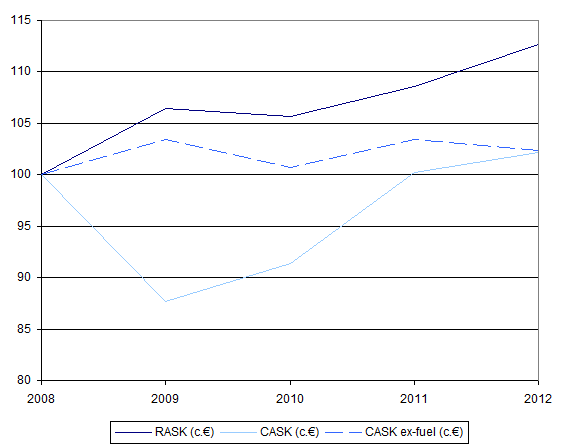 Vueling is a genuine LCC – and that is why IAG is interested
A comparison of Vueling's unit costs (operating cost per ASK) with those of the principal European legacy carriers and with other European LCCs shows it to be a genuine low-cost carrier. Although its unit costs are slightly higher than those of easyJet, it also has a shorter average sector length, which typically would mean higher unit costs. Of course, its unit costs cannot approach those of Ryanair, by far Europe's lowest cost carrier, but Vueling looks very efficient by comparison with its potential acquirer IAG.
Unit costs (cost per available seat kilometre) and average stage length for selected European legacy and low-cost carriers 2011, 2012*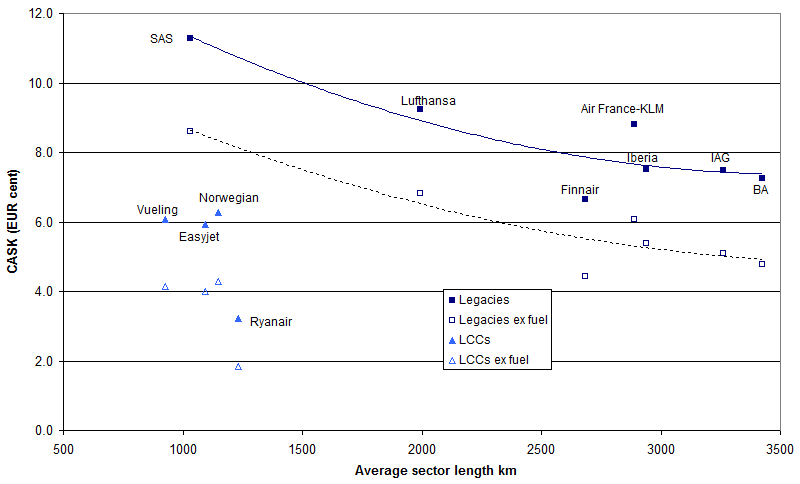 IAG is circling to buy

IAG has been reported as insisting that it will press ahead with the EUR7 per share offer announced in Nov-2012 even though Vueling's share price is now close to EUR8. An increased offer would risk further upsetting Iberia unions, who would rather see IAG's cash going into Iberia itself. The chart above helps to highlight why IAG is interested in buying the remaining 54% of Vueling that it does not already own.
See related article: IAG seeks full ownership of LCC Vueling as it cuts Iberia to the bone
IAG needs a cost-competitive operator for Spanish and European routes and to feed Iberia's long-haul hub at Madrid. It seems very unlikely that IAG could replicate Vueling's cost structure quickly with Iberia Express, even with the full co-operation of its unions, as it is sub-scale by comparison. Moreover, IAG's current cost-cutting proposals for Iberia have met with fierce union resistance. IAG may also see value in using Vueling to serve the UK and to feed BA's long-haul operations at Heathrow at some stage.
Of IAG's major European legacy carrier rivals, neither Air France-KLM nor the Lufthansa Group has a genuine low-cost carrier of scale with a short-haul focus and so the acquisition of Vueling could position IAG relatively strongly. Air France is focusing mainly on restructuring its existing operations and the cost gap to genuine LCCs may be too great to close. Although part of its strategy involves growing its low-cost Transavia leisure operator, the latter's route network focuses on leisure destinations in the Mediterranean rather than operating a truly pan-European network.
Lufthansa's transfer of its non-hub European traffic to low-cost subsidiary Germanwings is more ambitious, but Germanwings' cost per passenger of EUR98 in 2011 (Lufthansa does not give enough information to calculate cost per ASK data) compares with EUR49 for Ryanair and around EUR72 for easyJet and Vueling, suggesting that Germanwings is not as low-cost as some.
See related article: Lufthansa, Air France-KLM, IAG adopt short haul initiatives to combat LCCs: Airlines in transition
But would IAG be good for Vueling?
While Vueling would be good for IAG, it is not clear how good IAG would be for Vueling.
Vueling has grown rapidly, and mainly profitably, by being flexible and swift to react to market opportunities and by fostering healthy labour relations.
Although developing in some ways as a hybrid LCC/FSC, its business model is still very simple compared with IAG and a shift in its strategic focus to serve Iberia's long-haul hub at Madrid would constrain its ability to seize point-to-point opportunities across Europe as they arise. Vueling did get a taste of this in 2011/2012 when it provided the equivalent of two aircraft on a contract basis to feed Iberia at Madrid, but the scale and duration of that activity was very limited.
But, in contrast with the initial expectations, when the EUR7 a share bid was first raised in Nov-2012, with an offer some 28% above the market and a clear "logic" in the acquisition, Vueling's now-higher share price around EUR8 and the effects of an apparently spiralling Iberia, in synch with the Spanish economy, today the purchase is more a possibility than a probability. Iberia's fellow shareholders in Vueling might take some convincing that it will be in their best interests.