Rome Fiumicino Airport: Vueling, Ryanair, easyJet and Alitalia are locked in mortal combat
Analysis
Just as Rome was not built in a day, the battle among the airlines at its main airport will also take its time to play out.
A year ago, CAPA examined the growing levels of competition at Rome Fiumicino. The fight was not only between the disruptive LCCs and the well-established, but struggling, Alitalia. It was also increasingly between the LCCs themselves. At that time, Ryanair had just entered the airport for the first time, Vueling was about to establish a new base and to inject massive capacity growth there and easyJet also planned strong growth. Alitalia faced further erosion of its market share.
A year on and the battleground continues to be fiercely contested. Vueling plans further huge growth this summer, Ryanair is to transfer more routes to Fiumicino from Ciampino and easyJet, while taking a relative pause for breath, is still set to grow capacity at a double digit rate this summer. Alitalia's share continues to fall, but at least it has ensured its survival after receiving an investment by Etihad.
See related report: Vueling, Ryanair, easyJet square up and all surround Alitalia in Rome: the gladiators are back!
Fiumicino returned to growth in 2014, driven by EU traffic
Passenger numbers at Rome Fiumicino, by some distance the larger of the two airports serving Italy's capital, increased by 6.5% to 38.6 million. This marked a return to growth after two years of falling traffic. Rome Ciampino's traffic grew at the slightly slower rate of 5.7% to 5.0 million passengers.
At Fiumicino, both domestic (+5.1%) and international (+7.1%) markets saw growth. FCO's split of domestic to international passenger numbers remained 30/70. In international markets to/from FCO, EU traffic was the key driver, with an increase of 13.1%, while non-EU international traffic fell by 2.2%. EU traffic increased its share of FCO's international passenger numbers to 64% in 2014 from 60% in 2013. This increase in EU traffic mainly reflects the growth of LCCs at the airport.
Ciampino's traffic growth in 2014 was entirely dependent on international markets, +5.7%, while its domestic traffic declined by 4.3% as Ryanair began the transfer of some domestic capacity from CIA to FCO. International passenger numbers were 80% of CIA's total traffic in 2014, up from 78% in 2013. The EU dominates CIA's international numbers (96% of international traffic).
Rome Fiumicino and Rome Ciampino passenger numbers (million) 2009 to 2014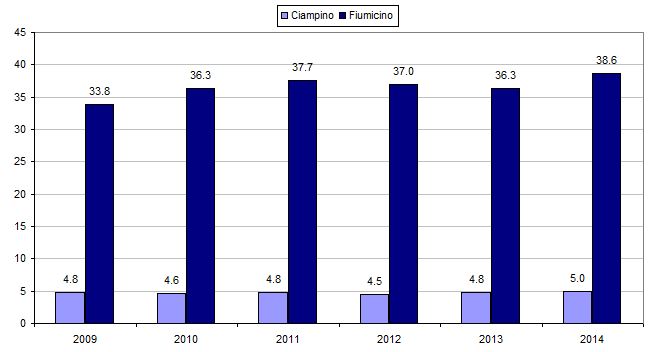 According to data from OAG on airline schedules filed for summer 2015, seat capacity at Ciampino will be around 6% less than summer 2014, while Fiumicino looks set to enjoy a capacity increase in the mid to high single digit percentage range.
Rome Fiumicino and Rome Ciampino growth in passenger numbers by market 2014 vs 2013

Alitalia is still leading airline at FCO, but its share has fallen
The rise of the LCCs at FCO has led to an erosion of Alitalia's market share. According to data from OAG, its share of seats at the airport in the week of 2-Feb-2015 is 46.6%, down from 48.9% one year earlier. Vueling's share was up to 7.2% from 1.9%, while easyJet held a steady share of 6.3% and Ryanair increased its share of seats to 5.7% from 3.6%.
Alitalia's schedule has less seasonal variation than those of the LCCs. This, together with planned route launches by LCCs in summer 2015, will see Alitalia's share fall further this summer. Although plans can change, OAG schedules data currently filed for the summer 2015 season indicate that Alitalia's share in Jul-2015 will be 39% and Vueling's 11% (week of 20-Jul-2015).
Rome Fiumicino Airport seat capacity by carrier winter 2013/2014* and winter 2014/2015**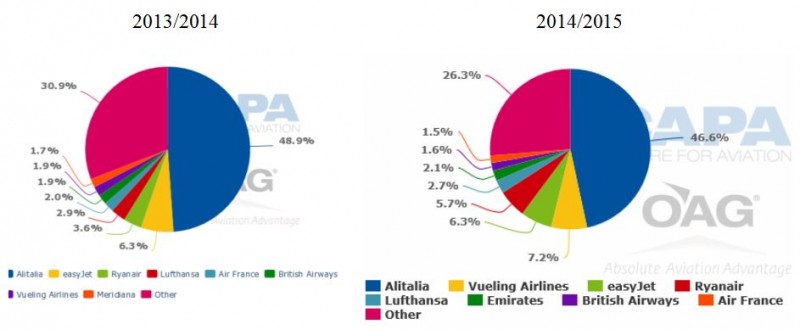 Alitalia's share of domestic seat capacity at FCO has held up quite well and remains high (72% in the week of 2-Feb-2015 versus 73% a year earlier), but its international share has fallen (down 2.5ppts to 32.5%). Ryanair and Vueling have grown their domestic share over the past year, although easyJet's domestic share has dipped (see chart below).
Italian airline Meridiana has also suffered a drop in domestic share at FCO. All three of the airport's leading LCCs - Vueling, easyJet and Ryanair - have increased their share of international seats at FCO over the past year.
Rome Fiumicino Airport domestic seat capacity by carrier winter 2013/2014* and winter 2014/2015**

Rome Fiumicino Airport international seat capacity by carrier winter 2013/2014* and winter 2014/2015**

LCC share of FCO capacity is growing fast, led by Vueling
By airline business model, full service carriers still prevail and have almost 76% of seats (week of 2-Feb-2015, source: OAG). However, this compares with 82% a year ago (week of 27-Jan-2014), while LCCs have increased their share of seats to 24% from 16%.
OAG data for this summer indicate that the FSC share will be 70% and the LCC share will be 29% in the week of 20-Jul-2015.
Rome Fiumicino Airport seat capacity by carrier type winter 2013/2014* and winter 2014/2015**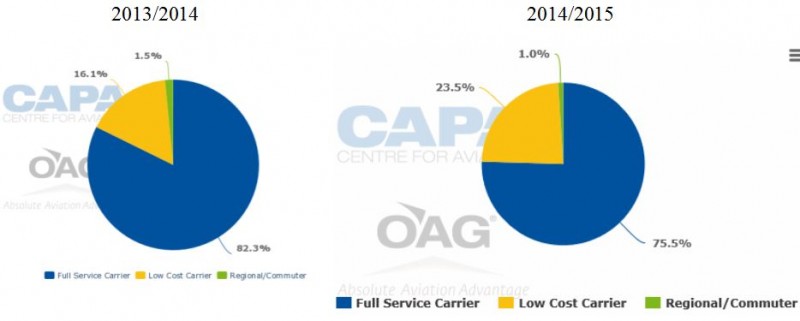 The LCC with the biggest increase in capacity at FCO over the past year has been Vueling, which has added more than 43,000 weekly seats (growth of more than 300%) since last winter (week of 2-Feb-2015 versus 27-Jan-2014, source: OAG). Ryanair has added almost 19,00 weekly seats, an increase of 71%, while easyJet's growth has been more modest at 8%.
In addition to Ryanair, easyJet and Vueling, Rome FCO is also host to operations from practically every other European LCC of any size, including Norwegian, Wizz Air, Pegasus, Transavia, jet2.com, Monarch, Germanwings, NIKI, airBaltic, WOW air and Blue air (14 LCCs in total).
While any one or more of these could take action to add further complexity to the competitive dynamic at the airport, we will focus in this report on the three LCCs with the largest capacity at FCO.
Rome Fiumicino Airport LCC seat capacity by carrier winter 2013/2014* and winter 2014/2015**

Vueling plans 21 new routes at FCO in summer 2015
Vueling plans a further huge increase in capacity at Fiumicino, with 21 new routes in summer 2015 (see table below). Its annual seat capacity will grow by 91% in 2015 to four million. It will have 56 destinations from the airport this summer (including eight domestic Italian cities). This is more destinations from FCO than easyJet and Ryanair combined (although Ryanair's CIA network gives it more destinations from Rome overall).
Vueling's new routes have a strong leisure focus, with only three destinations served daily or more (London Gatwick, Nice and Vienna) and 13 of the 21 served only once or twice weekly.
Vueling's growth is not indiscriminate and it is capable of trimming its FCO network. On 12-Jan-2915, it suspended three of the routes that it launched only last summer: Bari, Brindisi and Lamezia Terme. It seems that Vueling is not immune to the competitive impact on these routes of Ryanair. The Irish LCC has a lower unit cost and is increasingly competing head to head with Vueling on domestic routes from FCO. Ryanair will launch Fiumicino to Bari and Brindisi this summer and has operated Fiumicino-Lamezia Terme since Dec-2013.
Overall, however, Vueling's Rome base remains a strategic priority. The airline's CEO Alex Cruz again stressed this in Nov-2014 when announcing the summer 2015 schedule from FCO: "Our goal is that the future of Rome and the airport is closely linked to the growth of Vueling". This follows comments from the airline in 2014, when it called Rome FCO "an ideal base due to its geographical situation and its Euro-Mediterranean DNA, a distinctive hallmark of Vueling and its network, which connects Europe from north to south."
In addition to Rome's strengths as an O&D market, it offers considerable potential as a transfer hub. Among Europe's leading LCCs, Vueling is the only one to offer passengers transfer ticketing. Vueling pioneered its connecting product at its biggest base in Barcelona, where it has been very successful. However, Barcelona's geographical location to the west of centre in Europe limits its appeal as a transfer hub to passengers travelling between Northern Europe and southern Spain or North Africa.
Rome is more centrally positioned between the east and west of the continent and FCO is a better hub for traffic travelling between the northern and western parts of Europe to the south and east.
Vueling has an interline agreement with Qatar Airways and this relationship is likely to develop within the context of the growing commercial ties between QA and Vueling's parent IAG.
The ability to offer a wider network, including intercontinental destinations, could be a useful weapon for Vueling in its battle with the other leading LCCs in Rome. If Vueling can deepen its commercial relationship with QA, it could also provide a serious challenge to Alitalia and Etihad in long haul markets.
See related report: Qatar Airways buys its 10% stake in IAG, showing it wants a serious relationship
New Vueling routes from Rome Fiumicino summer 2015
Route

Weekly
frequency

Launch

Other competitors on city pair

2x

7-Apr-2015

3x

21-Jun-2015

3x

1-May-2015

1x

27-Mar-2015

None (Meridiana to exit Apr-2015)

1x

24-Jun-2015

None

2x

21-Jun-2015

Blue Panorama (peak summer)

2x

20-Jun-2015

3x

20-Jun-2015

Larnaca

1x

19-Jun-2015 (2x from 5-Aug to 2-Sep)

Aegean

1x

22-Jun-2015

None

10x

1-May-2015

BA (LHR & LGW), easyJet (LGW & LTN), Norwegian (LGW), Alitalia (LHE, LCY), Monarch (LTN), Ryanair

5x

1-May-2015

easyJet, Hop

2x

2-May-2015 (3x from 2-Aug to 8-Sep)

Ryanair (from CIA)

1x

25-Jun-2015

None

7x

29-Mar-2015 (8x from 1-Aug to 5-Sep)

1x

20-Jun-2015

None

2x

2-May-2015

None

2x

20-Jun-2015

Santiago de Compostela (summer only)

2x

1-Jun-2015

4x

1-May-2015

Airberlin, Germanwings

7x

30-Mar-2015
Ryanair will transfer five routes from Ciampino
Ryanair only entered FCO as recently as Dec-2013, after a long history at Rome CIA. Europe's leading LCC will also significantly increase its capacity from FCO this summer, when it plans to transfer five routes (three domestic and two international) from its base at Rome Ciampino. On FCO to Marseille and Seville, it will compete with Vueling (Marseille is also operated by easyJet and Alitalia).
In total, Ryanair will operate 51 destinations from Ciampino and eleven from Fiumicino in summer 2015 (of which six will be domestic), according to OAG data. Its seat capacity at FCO will increase by roughly 50%. Its change of strategy in Rome reflects its wider move to embrace more primary airports in its network, while retaining the lowest unit costs in Europe. This makes it a growing threat not only to Alitalia, but also to Vueling and easyJet at primary airports, including FCO.
See related report: easyJet & Ryanair: squaring up to each other as head to head competition increases
New Ryanair routes from Rome Fiumicino* summer 2015
Route

Weekly

frequency

Launch

Other competitors

14x

29-Mar-2015

14x

29-Mar-2015

7x

29-Mar-2015

None

7x

29-Mar-2015

7x

29-Mar-2015
easyJet will launch two summer-only routes at FCO
EasyJet's current plans for FCO are less ambitious than those of Vueling and Ryanair in 2015, following strong growth at the airport in 2014. Nevertheless, its seat capacity at FCO will still grow by a double digit percentage this summer versus last summer.
EasyJet launched routes to Tenerife Sur, Marseille and London Luton at the start of the winter schedule in late Oct-2014, but currently only plans to launch two new seasonal routes this summer, both of which are also to be started by Vueling: Kos and Santiago de Compostela. EasyJet will also double its frequency to Prague to twice daily at the start of the summer 2015 schedule, but withdrew its Belgrade service in Oct-2014.
EasyJet, with 109 destinations this winter, is smaller overall than Ryanair with 159 (week of 9-Feb-2015, source: OAG). Moreover, Ryanair's lower costs allow it to under-price against easyJet. However, easyJet has a stronger presence in Europe's primary airports and this may help to provide some defence against Ryanair at FCO as the Irish LCC continues to grow its presence at the airport.
See related report: Ryanair lags easyJet on business traveller & customer service initiatives; both have great potential
EasyJet's 109 network-wide destinations compare favourably with Vueling's 59, but it will have only 39 destinations from FCO this summer versus Vueling's 56 (all but two - Malpensa and Linate - of easyJet's destinations from FCO are international). Although there is probably scope for all three to continue to grow at the expense of Alitalia and other FSCs, easyJet may face the most intense competitive pressure among FCO's three big LCCs.
New easyJet routes from Rome Fiumicino summer 2015
Alitalia grows its long haul network, but is vulnerable to LCC competition on short haul
Alitalia commenced new routes to Berlin Tegel and Duesseldorf in Dec-2014, but plans only one new short haul route (Tbilisi) in summer 2015. On long haul, it plans new services to San Francisco, Mexico City, Santiago (Chile), Beijing and Seoul, but schedule data is not yet available on these routes. Alitalia will also increase frequencies to New York, Chicago, Rio de Janeiro and Etihad's hub Abu Dhabi.
Rome FCO is Alitalia's most important hub and its relationship with new shareholder Etihad has given fresh impetus to its return to growth at the airport. Nevertheless, its European network remains vulnerable to LCC competition and further market share erosion seems inevitable. In turn, this could also have a detrimental impact on its ability to feed the long haul network, both its own and that of Etihad.
See related report: Alitalia's "new" strategy realigns it to feed Etihad, but needs to change loss-making mindset
New Alitalia routes from Rome Fiumicino summer 2015
Route

Weekly

frequency

Launch

Other competitors

3x

31-Mar-2015 (increase to 4x from 4-May-2015)

None
Rome Fiumicino: a microcosm of European competition
Rome FCO continues to be a microcosm of many of the competitive developments in the European airline industry: LCCs versus FSCs; the influence of Gulf carriers, particularly Etihad's equity alliance; and the battle among the pan-European LCCs to embrace new markets in order to widen and strengthen their presence across the continent.
Perhaps the most dynamic of these themes at FCO currently is the battle between Vueling, easyJet and Ryanair, three of Europe's most important LCCs.
Each has strengths that offer something slightly different. Vueling has its service quality, transfer product and growing links with global network carriers (BA, Iberia, Qatar Airways). EasyJet has its wide network of primary airports across Europe and a growing reputation for service quality. Ryanair has the lowest unit costs in Europe and a financial track record to show that it can maintain this advantage as it adds primary airports and improves its service quality. This would seem to give Ryanair the edge in the longer term, if it can successfully and sustainably continue to move up the quality curve.
This is a story that could run and run - and there will be much value in watching how it plays out.