Iberia: the Futuro looks bright for IAG's star pupil as its confidence and growth are transformed
Analysis
Iberia is emerging as the star pupil in the IAG airline academy, studiously following its 'Plan de Futuro' restructuring programme. It has learnt how to achieve labour productivity improvements and unit cost reductions. With Iberia Express, it has demonstrated it is possible for legacy airlines to launch subsidiaries that combine an LCC cost base with a full service brand.
After receiving punitive beatings in the form of capacity reductions, its diligence is now being rewarded with new aircraft orders and double digit ASK growth in 2015, thanks largely to Latin American expansion (and returning to routes suspended during its restructuring). Brimming with new-found confidence, Iberia is IAG's biggest contributor to ASK growth in 2015.
Iberia is not yet qualified to graduate by recovering its cost of capital, but is on track to achieve this, in accordance with IAG's target, by 2017. As with all airlines, sustainable profitability may require some benevolence from the macro environment, which can deliver harsh movements in unit revenue and in fuel prices. However, Iberia's sharp focus on labour CASK, fuel efficiency and non-fuel overheads should soften the impact of any deterioration in external conditions.
Iberia's tentative return to operating profit in 2014 should accelerate in 2015
Iberia's 2014 operating profit of EUR50 million was its first positive result since 2007. In the intervening years, 2009 to 2013, its cumulative operating loss was more than EUR1.1 billion.
Iberia reduced its annual loss in 2010, the last year before its merger with British Airways to form IAG, but the first two years after the 2011 merger saw losses increase once again. This led to dramatic capacity cuts in 2013, which finally started to set Iberia on an improving path of profitability and its operating loss was more than halved that year.
With a more competitive cost base in place in 2014, it made the long-awaited return to black ink. The improving trend has continues into 2015, with a reduction in the loss reported for the seasonally weak first half. Iberia's 1H2015 operating result almost reached breakeven, its loss of EUR4 million representing an improvement of EUR91 million versus 1H2014.
See related report: IAG grows quarterly profit once more. Iberia long-haul growth to accelerate with additional aircraft
Iberia revenue and operating result (EUR million) 2005 to 2013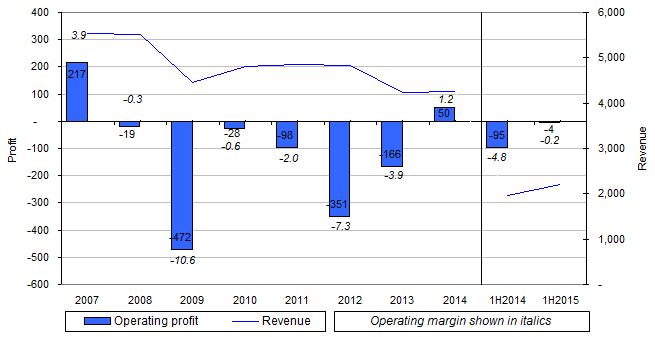 But Iberia is not yet achieving sustainable profitability
However, Iberia remains considerably behind its sister company British Airways, whose 1H2015 operating result was a profit of EUR570 million, a year on year improvement of EUR243 million). Iberia's 2014 operating margin of 1.2% compares with BA's 8.3%.
Nevertheless, Iberia improved its 1H2015 margin by 4.6ppts and, if it can match this in 2H2015, by the end of this year it should be around half way towards its 2017-2020 target margin range of 10%-14%. This margin range will be consisting with IAG's target for all of its airlines to achieve a return on invested capital of more than 12%, ahead of its cost of capital and what would be seen as sustainable profitability.
Capacity cuts started pre-IAG era and gathered pace under restructuring plan, but are now reversing
Iberia cut its capacity in ASK terms by 21% from 2007 to 2013. These cuts were concentrated on 2009, when ASKs were down by 6.0%, and 2013, when the cut was a more severe 14% under the IAG-directed Iberia Transformation Plan. Capacity cuts in 2013 also partly reflected the impact of strikes as unions initially opposed the restructuring programme.
See related reports:
Iberia strikes: the challenge to one of Europe's least productive workforces
Iberia: a new hammer can crack an old nut, but sometimes the new ones taste better
Iberia resumed cautious ASK growth of 3.6% in 2014. This growth is accelerating in 2015, with a 10.6% increase in ASKs for the first eight months and planned full year growth of 10.0% this year (according to IAG's 1H2015 results presentation). Much of the growth is now the result of Iberia's resumption of long haul routes withdrawn during the restructuring.
These include Havana, Montevideo, Santo Domingo and Medellin/Cali (in a triangular service from Madrid) in addition to European routes such as Amsterdam, Stockholm and Istanbul. Iberia has also added frequencies to destinations in Panama, Chile and Mexico.
For the period 2015 to 2020, IAG plans ASK growth for Iberia at a compound average growth rate of 7.0% pa. This growth plan was increased in Jul-2015 from its previous plan of 6.5% pa, a sign of IAG's growing confidence in Iberia's turnaround.
Iberia available seat kilometres (ASK, million) and passenger load factor (%) 2007 to 2020e* and 8M2014 and 8M2015**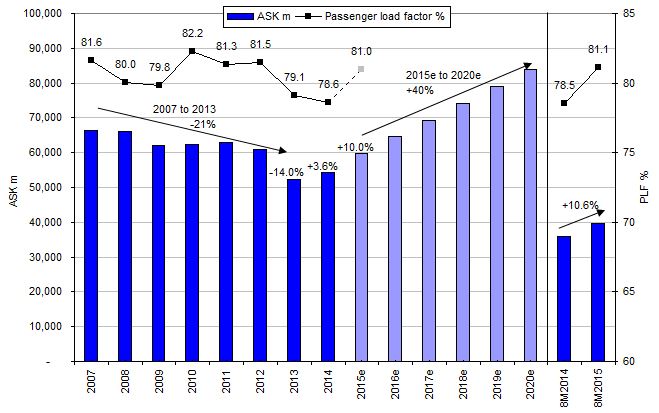 Iberia has increased its reliance on long haul
Iberia's capacity cut of 2009, during the most challenging time of the global financial crisis, was driven mainly by a reduction in its domestic and medium haul networks. ASKs were down around 11% for both of these networks in 2009 as Europe's leading LCCs capitalised on the economic downturn to capture increased market share in Spain and Europe. Iberia cut ASKs in its long haul network by only 3% in 2009.
Iberia then kept its total capacity broadly stable until 2011, with further reductions in the domestic and medium haul networks balanced by growth in its long haul network. However, in 2012 the long haul network also trimmed its ASKs, as did the other regions apart from the domestic network.
In 2013, all parts of Iberia's network were cut by a double digit percentage. In 2014, a return to modest growth was enjoyed by all parts of the operation, with the exception of the domestic network and the very small Africa & Middle East network.
Iberia available seat kilometres (ASK, million) by region 2007 to 2014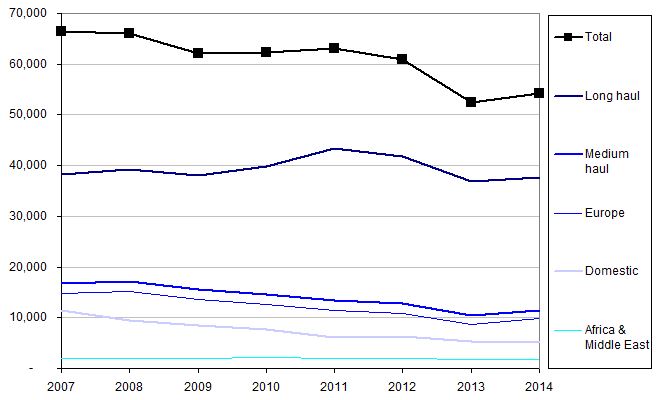 Domestic and medium haul are less than one third of ASKs
As a result in the changes to Iberia's network since before the global financial crisis, long haul increased its share of the airline's total ASKs from 57% in 2007 to 70% in 2014 (the large majority, 80%, of the long haul network's ASKs were Latin America, making up 55% of total ASKs in 2014). Over the same time frame, medium haul fell from 25% to 21% of ASKs (driven by Europe's decline from 22% to 18%, while Africa & Middle East remained at 3%) and the domestic market's share of ASKs almost halved from 17% to 9%.
Iberia percentage of available seat kilometres (ASK, million) by region 2007 to 2014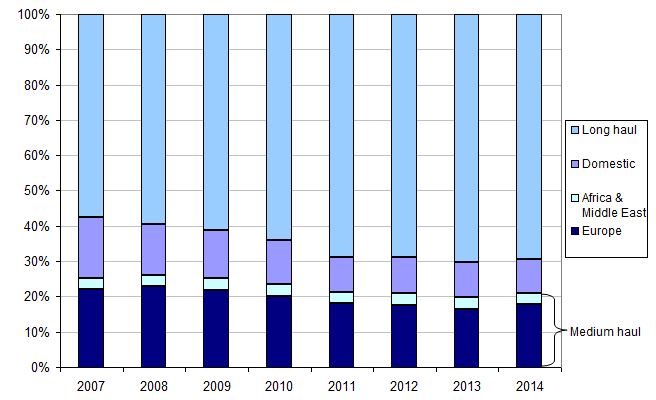 Iberia Express has increased its ability to compete with LCCs on short/medium haul from Madrid
Iberia's cuts in its short and medium haul network have focused on reducing capacity on point to point routes, particularly outside its Madrid hub. LCCs (including Vueling, acquired by IAG in 2013) have grown strongly in the Spanish point to point markets and Madrid also has a higher penetration of LCCs than the main hubs of other large European 'flag carrier' airlines.
Iberia's short and medium operations from Madrid have been enhanced by the establishment of the cost efficient Iberia Express in 2012. Although it does not report separate traffic figures, Iberia Express has grown to become a significant part of the Iberia operation. An IAG presentation on Iberia in Dec-2014 said that "the LCC of Madrid" had 3.5 million annual passengers (compared with a total of 14.3 million for Iberia overall in 2014). For the week of 21-Sep-2015, Iberia Express operates from Madrid to 30 destinations, out of an Iberia total of 109 from its main hub.
A strong motivation behind the establishment of Iberia Express was to defend the vital short/medium haul feed into the hub for long haul routes from the impact of growing LCC competition (two thirds of Iberia's long haul passengers connect to/from short and haul routes). However, point to point is very important to Iberia's total short/medium haul operation, accounting for 56% of all passengers on this network, and around 80% of Iberia Express' activity is point to point.
An IAG presentation on Iberia in Dec-2014 claimed that Iberia Express had 1H2014 stage-length adjusted CASK below the levels of Norwegian and easyJet, after also removing business class/feeding related costs. It did not provide the data with which to substantiate this claim, but it seems reasonable to accept that Iberia Express has a significantly lower unit cost than the mainline Iberia, while retaining the advantages of its premium branding.
Its establishment also helped Iberia management in negotiating changes to labour terms with its mainline employees, who saw that a cost efficient operation would be rewarded with growth, while inefficiency meant cuts.
2015 is finally reversing a long period of load factor decline
IAG will be pleased with the recovery in Iberia's load factor in the first eight months of 2015, when it gained 2.6 ppts to reach 81.1%. After reaching a peak of 82.2% in 2010, the IAG years had been characterised by a declining load factor trend for Iberia. Somewhat counter intuitively, the biggest fall came in 2013 when load factor shed 2.4ppts to 79.1%, with all regions suffering a decline, just as capacity was cut most severely. In 2014, Iberia's load factor slipped a little further to 78.6% (when BA's was 81.5%).
The long haul operation has the highest load factors in Iberia's network, but its high weight in total ASKs has been a strong factor in Iberia's overall load factor decline. Long haul load factor fell by 6.4ppts between 2007 and 2014 (when it was 80.8%). Over the same period, domestic load factor lost 2.2ppts, the medium haul load factor managed a modest gain of 0.8ppts and total load factor slipped by 3.0ppts.
Based on the improvement in the first eight months of 2015, Iberia looks on course to recover its overall load factor back to around the 81% mark.
Iberia passenger load factor (RPK/ASK, %) by region 2007 to 2014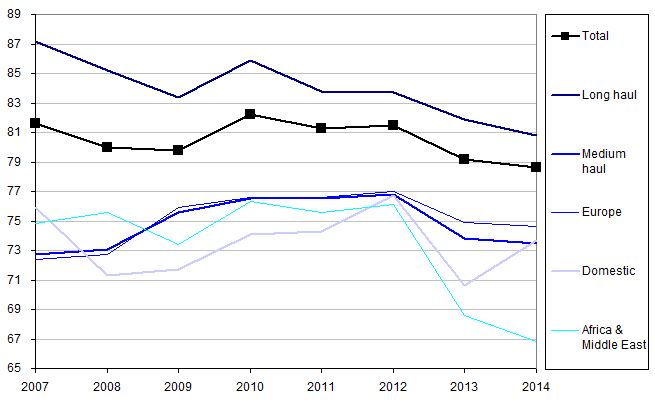 IAG (excluding Aer Lingus) plans total ASK growth of 5.2% for 2015, with 10.0% for Iberia, 2.1% for BA and 14.8% for Vueling. For the first time, Iberia will be IAG's biggest contributor of growth ASKs in 2015. Its planned year on year increase of 5.4 billion ASKs is or 42% of the Group's 13.0 billion of incremental ASKs in 2015.
IAG capacity by ASK (million) 2010 to 2015e*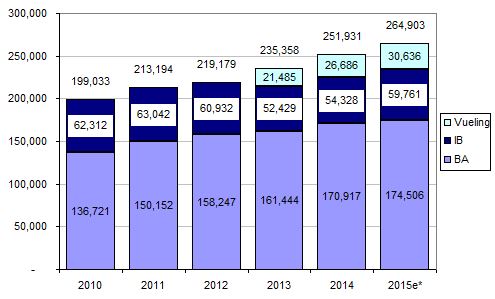 Iberia has 27 wide bodies on order
Iberia's capacity growth to 2020 will be driven by higher growth on Iberia's long haul network. To facilitate this, in Aug-2015 IAG ordered three additional A330-200 aircraft for growth and eight A350-900 aircraft as replacement capacity for Iberia through the exercise of previously negotiated options with Airbus. According to the CAPA Fleet Database, this brings Iberia's A330-200 orders to 11 and A350-900 orders to 16 and these wide body deliveries are due between 2015 and 2021.
Iberia has none of either variant currently in service, but it does have eight A330-300s and 24 A340s in its current fleet. Its narrow body fleet consists of 44 A320 family aircraft (not including 20 A320-200s operated by Iberia Express).
Iberia fleet at 24-Sep-2015
| Aircraft | In Service | In Storage | On Order* |
| --- | --- | --- | --- |
| | | | |
| | | | |
| | | | |
| | | | |
| | | | |
| | | | |
| | | | |
| | | | |
| | | | |
| | | | |
| Total | 76 | 1 | 27 |
Iberia projected aircraft delivery dates at 24-Sep-2015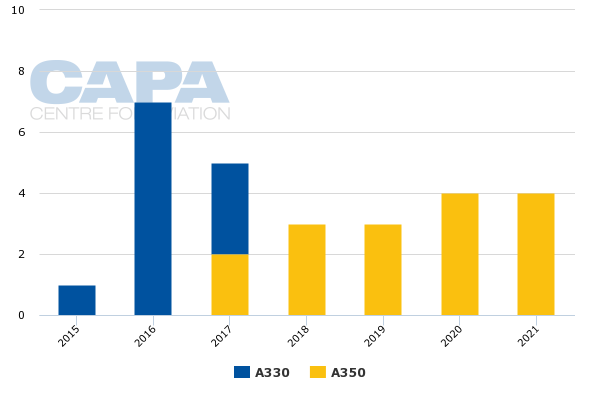 Iberia's workforce 25% smaller in 2014 vs 2007, still shrinking
In the early period after the merger between Iberia and British Airways, IAG recognised that Iberia's labour productivity was low and salary levels were uncompetitive (analysis supported by a CAPA report on the labour productivity of European airlines in 2012).
The Iberia Transformation Plan and the subsequent Mediation Agreement of Mar-2013 identified and agreed with the workforce tough targets for headcount reduction and productivity improvement. Under its so-called Plan de Futuro, which evolved fro the Transformation Plan, Iberia has a target to lower its labour cost per ASK in 2020 by 35% relative to its 2012 level.
See related report: European airline labour productivity: CAPA rankings
Although Iberia's year end headcount fall by 2,000 from 2007 to 2010, the early years of the merger saw a relative stabilisation in its workforce, with a net reduction of only around 600 employees over 2011 and 2012. The process then gathered pace once more and, by the end of 2014, Iberia's headcount was some 3,700 lower than at the end of 2012 as a result of the restructuring programme under IAG, a 17% fall.
Average headcount for the year in 2014 was 2,900 lower than in 2012 (down 15%). From 2007 to 2014, Iberia's workforce shrank by a quarter. In total, Iberia plans 5,471 exits, of which more than two thirds were complete by the end of 2014, leaving close to 1,700 to be achieved in the period 2015 to 2017.
Iberia average and year end headcount 2007 to 2014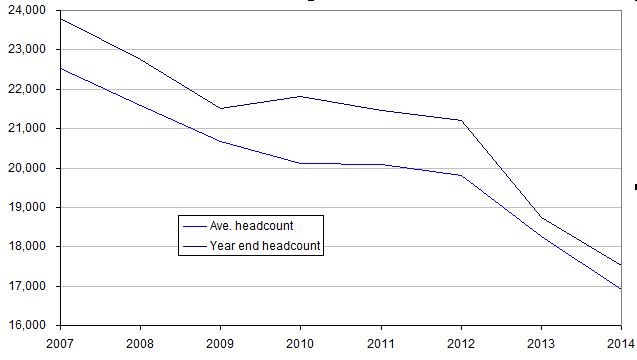 Labour productivity rose sharply in 2014
Iberia's reduction in average headcount from 2007 to 2011 mostly outpaced its reduction in ASKs, driving an increase in labour productivity as measure by SDK per average manpower equivalent (MPE). As is often the case when capacity cuts are very severe, the exception to this rising productivity trend was in 2009, when a 6% capacity cut was too fast for the 4% average headcount cut. In spite of this blip in 2009, Iberia improved its ASK per MPE by 6% from 2007 to 2011.
However, it proved too difficult to cut headcount quickly enough in 2012 and 2013 to keep pace with the capacity cuts of those two years (particularly in 2013) and ASK per MPE fell by 9% from 2011 to 2013. Continued headcount reduction in 2014, accompanied by ASK growth, led to a sharp (12%) increase in this measure of labour productivity to a new high, demonstrating the impact of the transformation programme on labour productivity.
Iberia ASK per manpower equivalent ('000) 2007 to 2014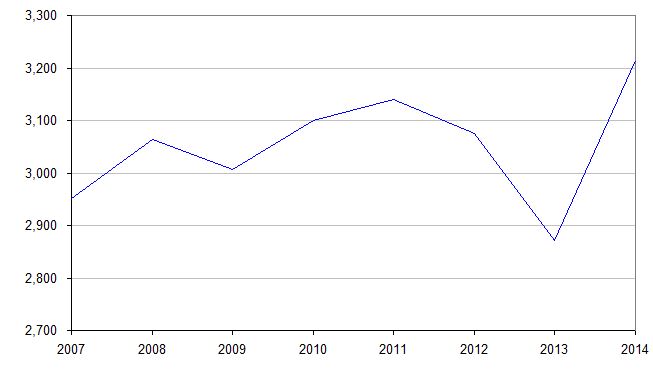 Iberia targets 35% labour CASK reduction in 2020 vs 2012
Of course, the ultimate aim of labour productivity restructuring must be to lower the labour cost per ASK. Improving ASK per employee is vital, but all too often the benefits are eroded by increases in labour cost per employee.
Fortunately, Iberia's Transformation Plan included controls over wage levels, helping to being employee cost per employee down by 11% from 2012 to 2014. The combination of rising ASK per employee and falling labour cost per employee led to a reduction in labour CASK of 15% in 2014 versus 2012, in line with Iberia's target for the year.
Iberia labour cost* per ASK (EUR cent) 2007 to 2014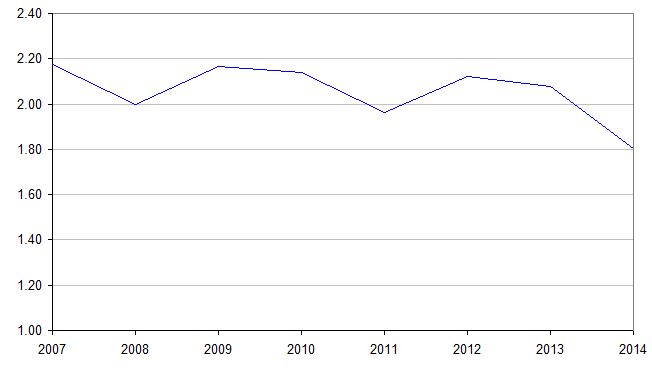 Iberia's target for 2015 is for labour CASK to be 22% below its 2012 level and it has clear targets for labour CASK to continue to fall until 2020, when it aims for it to be 35% below its 2012 level. The labour measures in the Transformation Plan, together with Iberia's accelerated ASK growth plan, make its labour CASK targets feasible.
Nevertheless, these targets are ambitious, particularly when compared with British Airways. We calculate that Iberia's labour CASK was EUR1.80 cent in 2014 (excluding restructuring provisions from labour cost), already similar to BA's EUR1.76 cent. BA's average trip length is around 10% longer than Iberia's , which (all other things being equal) should naturally give it a lower CASK.
Ambitious targets are more effective than easy ones and Iberia's management appear determined to meet its labour CASK targets. Moreover, BA also has scope to lower its labour CASK further (although it has no explicit target for this measure).
See related report: British Airways: IAG's favourite child should follow reformed sister Iberia's unit cost example
Iberia labour cost* per ASK (EUR cent) 2012 to 2020f** and British Airways labour cost per ASK (EUR cent) 2012 to 2014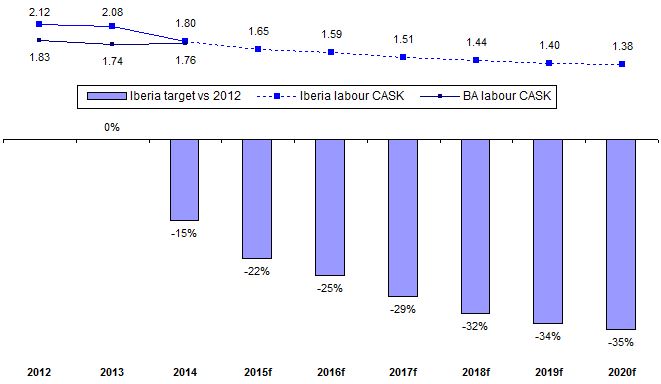 Unit cost reduction was key to Iberia's return to profit in 2014
Iberia's heavy loss in 2009 was the result of a sharp drop in unit revenue (revenue per available seat km, RASK), while unit cost (CASK) did not fall quickly enough (in spite of a drop in fuel CASK in 2009). From 2009 to 2013, RASK increased modestly, but did not recover its pre-crisis level and did not grow enough to offset CASK increases. Although labour CASK fell during this period, fuel CASK and other CASK (ie non-labour ex fuel costs) both increased (see chart below).
The improvement in 2014 was noticeable. Iberia returned to operating profit in spite of a 2.7% fall in RASK in 2014, thanks to an 8% fall in CASK. Certainly, unit cost reduction was assisted by lower fuel prices (fuel CASK was down 9%), but Iberia also managed to cut labour CASK by 13% and all other CASK fell by 4% in 2014.
Although RASK recovered somewhat in the years following the slump of 2009, a positive operating profit did not return until Iberia's CASK fell, as illustrated in our chart. The lesson is that CASK reduction is likely to remain the key to restoring sustainable profitability to Iberia.
Iberia total revenue per available seat km (RASK, EUR cent) and cost per available seat km (CASK, EUR cent) 2007 to 2014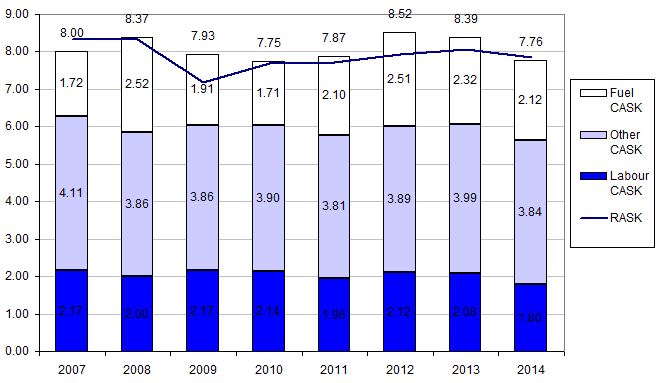 In order to achieve this, it will be vital for Iberia to continue to reduce not only labour CASK, but also non-labour ex fuel costs per ASK. Only than can it build a margin with which to defend its profitability against the ebb and flow of fuel CASK and RASK. Initiatives under the Plan de Futuro to improve fuel efficiency, in particular through fleet renewal, and to enhance unit revenue are welcome, but fuel CASK and RASK are only controllable to a limited extent.
To its credit, Iberia has both clear labour CASK reduction targets (described above) and a clear aim to reduce non-labour overheads by around 25% in 2016 relative to their 2014 level.
Since the formation of IAG, Iberia has established a better track record than BA in reducing unit cost and it must continue to build on this achievement. In a report on the then still loss-making Iberia in Mar-2013, CAPA commented as follows:
"It seems that the battle to save Iberia from losses mired in an unproductive labour force is on the way to being won. This is an all-too-rare example of an airline management team setting a clear path and sticking to it, in the face of strong opposition from unions."
See related report: Iberia: six successive years of losses. Now will 2014 finally see a return to profit?
That battle was won: Iberia was saved from losses. But it must continue to fight the battle repeatedly in order to win the war to deliver itself onto the sunlit plains of sustainable profitability.